South of France co-operative cellar Vignobles Foncalieu is making a virtue of the switchover phase to certified organic farming. It's launched a range of wines honouring the growers who are making the commitment and are in their second or third year of conversion.




The Green Gang range of white, red and rosé wine was launched at Wine Paris earlier this month, with 100% bio-based and recycled packaging. The new label celebrates growers who "have made a pledge to protect their area", according to chairman Michel Servage, and meets the increasing demand for 'green' wines that the company is witnessing.
Audrey Arino, who's responsible for the marketing, said: "The idea was to focus on winegrowers who are trying to become organic. They are like superheroes searching for a new vision of the world, to be more respectful of the planet and more responsible."
Currently, Foncalieu has 134ha in the switchover phase and has set a target of 172 certified hectares for 2020.
The new label is part of a programme to push its 700 winegrowers to be more sustainable and better prepared for climate change. So far, 150 have signed up to farm organically.
Foncalieu, Languedoc's rosé and white wine specialist, is offering them financial and technical support to make the change.
Foncalieu also has nearly 1,000 of its 4,000 hectares of vines certified High Environmental Value (HVE3), a voluntary scheme which promotes environmentally-friendly practices in four key areas of farming: biodiversity conservation, plant protection strategy, management of fertiliser use and management of water.
'It confirms that farming promotes biodiversity'
"This officially recognises the environmental performance of our winegrowers and wineries. It confirms that farming promotes biodiversity through techniques that safeguard and use natural areas within the vineyards and in the surrounding areas," explained Michel.
With 47,000 hectolitres from the 2019 vintage stamped HVE ready for release – primarily wines in the Les Extraordinaires range (the Sillage Albariño-based label and Griset made from Sauvignon Gris) – the group's objectives have been laid bare and they are nothing if not ambitious. "Our Foncalieu branded wines will all be HVE certified by 2021 – that's 3.2 million bottles," said Michel. And he hopes the whole group will be HVE certified within three years.
This year, 110 of its growers are due to reach the highest HVE level (HVE3), representing 1,600ha of vines. These vineyards lie between the Corbières mountain range and the shores of the Mediterranean, straddling three appellations (Minervois, Saint-Chinian and Corbières) and four PGIs (Pays d'Oc, Coteaux d'Ensérune, Vallée du Paradis and Cité de Carcassonne). They supply three wineries: Les Vignerons du Pays d'Ensérune near Béziers, Les Celliers du Nouveau Monde in Puichéric and Les Vignerons de la Cité in Carcassonne.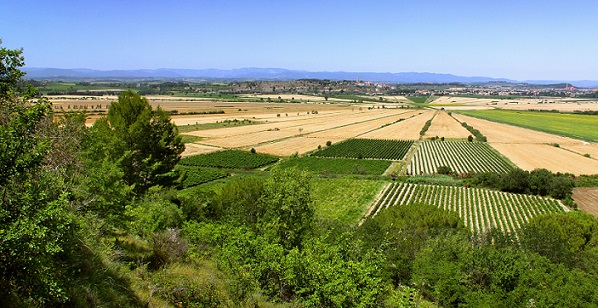 However, this strategy has pushed up costs and made life more complicated in these wineries (keeping the organic, non-organic, nearly organic, HVE, and non-HVE-certified juice/wines separate), with little obvious uplift in grape quality, lower yields and a "less than we hoped for" increase in selling price.
Disease-resistant varieties
To prepare for further climate change, Foncalieu started planting French-bred disease-resistant varieties from the Resdur 1 selection programme developed by INRA in 2016, beginning with 1ha of mildew-resistant red Artaban vines. This was followed by the planting of Vidoc in 2017 and the German-bred hybrids Souvignier Gris and Monarch in 2018.
They started selling the Artaban in 2018 and an Artaban/Vidoc blend in 2019 under the new NU.VO.TE label, with no added sulphites.
Foncalieu is also working with the Languedoc wine marketing board CIVL to plant single-gene Bouquet cultivars as part of the disease-resistant variety planting programme Oscar Oc being rolled out in the Occitanie region. Foncalieu now has 30ha of hybrid varieties, but not all are in production yet. As they are expensive to plant, Michel reckons it will take ten years to see a return on their investment.
Even so, as they only require a couple of sprays a year for guaranteed protection, Michel says: "This is a better answer than organic because you are respecting the soil, you're respecting nature, and you're respecting the winegrower who's not going to be getting all that pesticide sprayed on him when he goes out and sprays the vines."
Forward thinking
To give the cooperative due credit, it's been thinking ahead for the past decade.
In 2009, Foncalieu's head viticulturalist Gabriel Ruetsch started introducing grape varieties better suited to climate change, such as Piquepoul Noir, Albariño and Sauvignon Gris.
The purchase of Château Haut Gléon in the heart of the Corbières in 2012 signalled its intention to move upmarket. Its €3m investment in restoring the property to its former glory, restructuring the 36ha of vineyards and renovating the winery showed it meant business.
Also in 2012, the Puichéric and Vignerons du Pays d'Ensérune wineries began to use mating disruption to combat the European grapevine moth, bringing an end to spraying for this pest in 1,100ha.