A stunning new winery – designed for "both world-class winemaking and immersive visitor experiences" – is taking shape in Canada's Okanagan Valley. Phantom Creek Estates, which released its first wines from a temporary facility within its Becker Vineyard this spring, aims to open the new winery for private tours and appointments-only tastings this September and fully open to the public in April 2020.
The project – one of the most ambitious winery developments in Canada – has been more than three years in the making.
Perched on the brow of a hill with commanding views of the valley, the 45,000sq ft winery is in the last stages of construction. It will have a capacity to produce 35,000 cases of wine a year, but production will grow in small steps from 2017's 5,000 cases.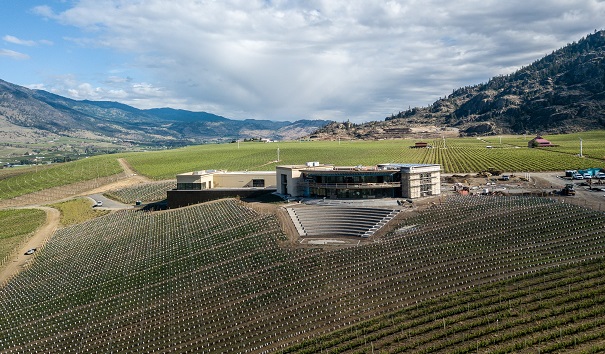 The architecture
From the beginning, British Columbia's newest winery was conceived as a site-specific building that embraced the surrounding Okanagan landscape.
Designed by noted winery architect John Taft, principal of Backen & Gillam Architects, the winery is located on the edge of a plane formed by glacial sands, deposited by "phantom" creeks created as the ice melted, and follows the natural paths of these long-forgotten waterways.
Production areas are underground to diminish the overall scale and to take advantage of cooling temperatures and three levels of gravity flow. Above the production areas sit two levels of hospitality space, including a tasting room, restaurant, and private upper floors, accessible via a spiral staircase that rises from the barrel ageing cellar to the roof.
Visitors can see artist Wu Ching Ju's soaring sculpture, 'Pro Terra et Natura', as they approach the winery's courtyard before embarking on a tour that begins in the Estate Room, where the focal point is a bronze topographical model of the south Okanagan and Similkameen valleys, highlighting Phantom Creek's six vineyards. The room also has soil profiles from some of these sites.
From the Estate Room, guests will be led into the vineyards to learn about the estate's transfer to organic and biodynamic farming before returning back to the winery and entering the crush pad. After that, visitors follow the gravity flow of wine to the 'Alsace' cask room, red oak fermentation and barrel fermentation rooms. They then descend the grand staircase to the circular barrel cellar, before taking a lift up to the top floor for a private tasting with sweeping views of the vineyards and valley.
When the winery fully opens next year, Phantom Creek will also have an indoor/outdoor restaurant, as well as a 526-seat outdoor amphitheatre.
The estate's owner is Richter Bai, a Vancouver-based businessman formerly involved with mining in China. He established the winery business in 2016 as a legacy project for his family in his adopted Canada, and has hired a top team to produce the wines.
The team
The winemaking team includes Alsace's Olivier Humbrecht MW and Napa Valley couple Anne and Cameron Vawter.
Olivier Humbrecht, France's first Master of Wine, is owner of Domaine Zind-Humbrecht and the president of Biodyvin (a biodynamic certifying body). In his first consulting job, he is overseeing the transformation of the vineyards to organic and biodynamic farming, and is also leading the white winemaking.
'If you can't do organics in the Okanagan Valley, where can you?'
"Having visited several times, I know the Okanagan and Similkameen valleys are capable of producing exceptional Pinot Gris and Riesling with great vineyard character," he said. "And if you can't do organics in the Okanagan Valley, where can you?"
The 'red' team is led by Napa consultants Cameron Vawter (Dana Estates) and wife Anne (Oakville Ranch, Red Mare), who are enjoying the opportunity to learn from Olivier.
"I was trained at UC Davis (California) to be a typical winemaker," Anne said. "But Olivier has shifted my perspective. He is very intelligent, very technical and gets involved with the details of the winemaking like a cellarhand."
To complete the team, the estate will name a new in-house winemaker in the coming weeks.
The winemaking
Minimal intervention, native fermentations, elegant Bordeaux-style reds and textural Alsatian-style whites that showcase a strong sense of place are the aims.
Harvesting is by hand with very selective picking – some blocks receiving six or more passes. In the winery, grape clusters are hand sorted, then put through a Pellenc de-stemmer and, if necessary, an optical sorter that ejects berries that don't conform to the ideal size, shape and colour.
Among the winemaking techniques that set Phantom Creek apart are long press cycles and very long indigenous yeast fermentations for the whites. The white wines are kept on their lees in Austrian foudres from Stockinger for 40 to 50 days with temperatures down to 8-10°C.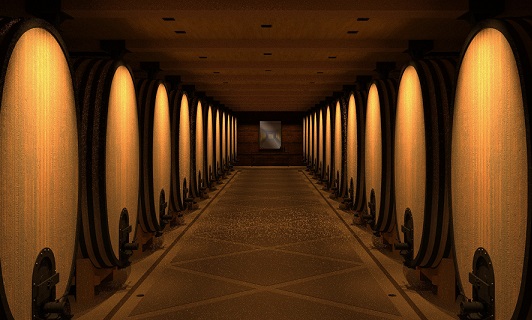 For red winemaking, much of the wine is fermented and matured in one to two-year-old oak vats with frequent punch-downs to help manage the significant tannins of south Okanagan. The reds are also made in a fairly reductive style to help preserve aromatics. They are racked and returned to the same barrel under nitrogen to lessen oxygen exposure.
Anne Vawter told
Canopy
: "Our approach is more about finesse and elegance, with the aim of allowing our estate vineyards to express themselves by using a deferential hand in the winery."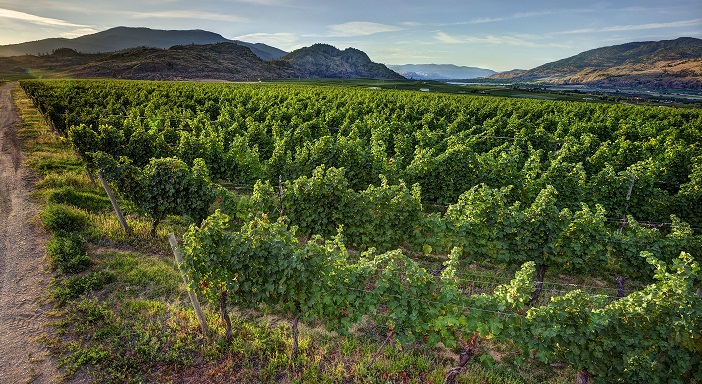 The vineyards
Two of Okanagan's more historic, acclaimed sites – Phantom Creek and Becker (
above
) – were purchased in 2016: 59 acres (nearly 24ha) in total.
Established in 1996 by leading viticulturist Richard Cleave, Phantom Creek Vineyard has been consistently recognised for producing some of the best red wines in Canada. Becker Vineyard was originally planted in 1977 as part of the Becker Project, which demonstrated that traditional European white grape varieties could thrive in British Columbia. However, by 1993, Becker Vineyard's potential for late-ripening red varieties was realised, and the vineyard was replanted predominantly to Cabernet Sauvignon and Merlot.
Since then, Bai has acquired a large site on the Golden Mile Bench and a substantial patch of steep-sloping land in the Similkameen Valley near Vanessa Vineyards. After renowned soil consultant Dr Paul Anamosa dug numerous soil pits at these new sites, they have been planted with the most appropriate varieties.
The estate now has 81 acres (33ha) in production and 113 (46ha) in development.
The wines
Phantom Creek focuses on single-vineyard Cabernet Sauvignon, Merlot, Alsatian whites and the Okanagan's benchmark varieties of Viognier and Syrah.
Prices range from $30 to $100 a bottle.
Star wines include the 2016 Phantom Creek Vineyards Cuvée ($100) and the 2016 Phantom Creek Vineyard Cabernet Sauvignon ($80), blended from three different clones to achieve complexity and depth. The 2016 Phantom Creek Vineyards Syrah ($75) is sourced from 1.2 acres which helped to establish the Okanagan as a source for Syrah with savoury complexity.