Australian wine producer Penfolds has taken its multi-regional winemaking approach one step further by blending grapes from different continents and hemispheres. Two of the four wines in Penfolds' inaugural California Collection – due to be launched at the beginning of March – contain grapes from both California and South Australia.
But chief winemaker Peter Gago tells
Canopy
this wasn't something they planned to do until they did it "by quirk of fate" during blending trials.
Making wines in California to "an Australian winemaking template" was all they planned when they started dabbling in California more than 30 years ago – acquiring a stake in Geyser Peak winery in 1988 and purchasing the large Creston 600 Ranch in Paso Robles in 1997. To accentuate the Penfolds influence here, they shipped out vine cuttings from the prized Magill Estate and Kalimna vineyards near Penfolds' spiritual home in the Adelaide Hills and planted them in the 11.5-acre Block 30 at the newly-named Camatta Hills vineyard (
below
) in Paso Robles.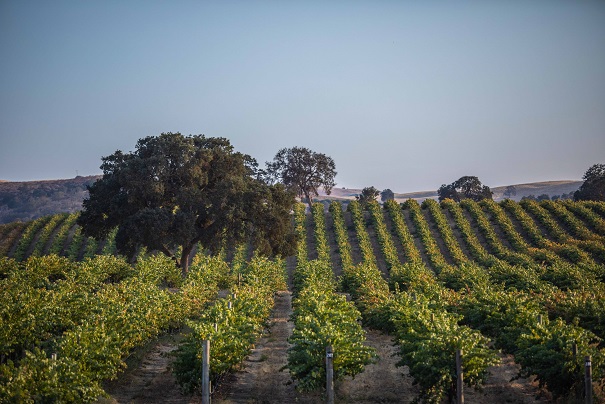 Wines from these vines were made in 2006 and 2007 but were never released commercially.
"That was the best thing that could have happened," Peter says, "because a decade and a half later we are now making wines that are at much higher quality levels using Cabernet as well as Syrah".
In 2006 and 2007, Penfolds was new to the Treasury Wine Estates fold. By 2018, Australia's most famous wine brand could continue its California dreaming and Peter – along with senior winemaker Stephanie Dutton and winemaker Andrew Baldwin (
below
) – re-established Penfolds' US footprint and embarked on the 2018 California harvest, sourcing grapes from prime vineyard sites in the Napa Valley AVAs of Oakville, Diamond Mountain, Howell Mountain and Rutherford, as well as Camatta Hills and Sonoma.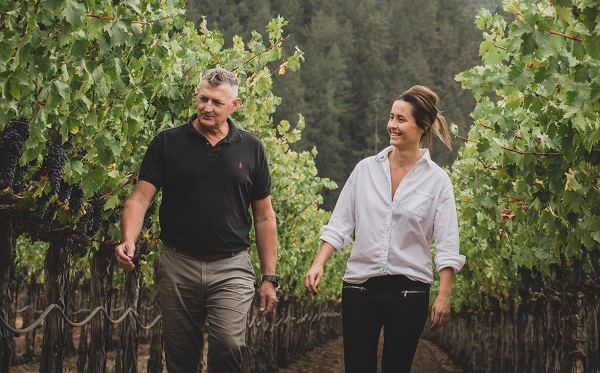 "Now (as part of TWE) we have access to grapes from Etude, Stags' Leap, Beringer vineyards – in other words, vineyards with proven track records," Peter confirms.
"We go in very sensitively, very quietly, very humbly. We don't say we're going to show you how to make red wine, what we say is: 'We'd love to make a Penfolds expression of that… Can we use that block there or those ten rows there or that part of that vineyard over there'. And, with their cooperation, we've got this wonderful quilt of amazing vineyards."
The four wines in the initial release are:

2018 Quantum Bin 98 Cabernet Sauvignon (US$700)
2018 Bin 149 Cabernet Sauvignon (US$149)
2018 Bin 704 Cabernet Sauvignon (US$70)
2018 Bin 600 Cabernet Shiraz (US$50)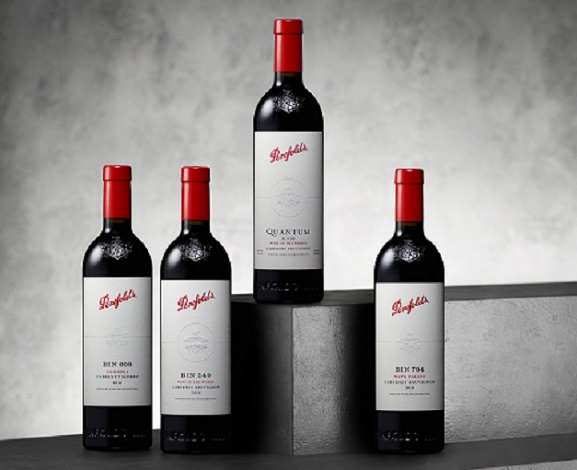 Penfolds refers to the collection's two flagship wines, the Quantum Bin 98 and Bin 149, as a 'Wine of the World' because of the way they were blended. Made from predominantly Napa Valley Cabernet parcels, each wine contains a significant dollop of A1-grade Aussie juice – 13% Shiraz in the case of Quantum and 14.9% Cabernet Sauvignon in the case of Bin 149.
But Peter, who joined Penfolds in 1989 and rose to chief winemaker in 2002, emphasises it was never planned.
"It happened at the eleventh hour," he says. "We never thought we would do that up until 2018."
But it is something they are continuing with in the 2019 vintage, which has less Aussie wine, and the 2020, where they are yet to grade the batches.
"It could go up; it could go down. Nothing is formularised here but we have a direction, we have a template for the blends," Peter says.
'We have a template for the blends'
Peter explains they found the direction while using the same blind tasting method in California as they do in Australia when they work "top-down" from Grange. "We don't know the volume, variety or vineyard," Peter states. "Accountants hate this; winemakers love this technique."
He adds: "This programme is the natural progression of what we already do: single vineyard, single region, multi-region and now multi-continent – or, if you like, two hemispheres."
But making a wine from grapes grown in two hemispheres "was not done intentionally", Peter reveals.
The flagship Cabernet Sauvignon was nearly there, but Peter thought something was missing.
"I remember, the blend looked fantastic but it really was the sum of the parts. And all the parts were quite disparate and my words at the time were: 'It's pretty good. I like the fruit, I like the intensity and the character but,' I said, 'it's all arms and legs; it needs to come together'."
He reached across the table to the samples he'd brought from Australia to help the Californian winemakers calibrate the different grades of grapes and "threw in" 10-15% of A1-grade Cabernet Sauvignon from South Australia.
"What is winemaking?" Peter reflects. "Yes, it's a bit of science in the background, a bit of alchemy but every now and then there's a little bit of magic and that's what happened here. This blend transformed. It's analogous to an artist adding two colours and ending up with an altogether different colour and pattern. But jaws dropped around the table when this material was added.
"How lucky were we that we had those A1- and A2-grade Cabernet and Shiraz components available?"
The final blend includes 14.9% of Aussie Cabernet Sauvignon and that is why the wine is called Bin 149.
As a dash of Australian wine had worked so well for Bin 149, they also tried it with the range's new flagship wine, Quantum – adding A1-grade Aussie Cabernet to the best of the best from Napa. "It didn't work as well," Peter confesses, "so we scratched our heads, tried a few other things and, you know what blending is like, it's as much trial and error as anything. We went to some A1-grade Shiraz and low and behold it worked. Even that wasn't done provocatively, to be different, it just worked in the blend."
'I'd like to say it was strategically planned'
He adds: "So that's how it came together. I'd like to say we were a little bit cleverer than that, and it was strategically planned, but in many ways these things are sort of meant to happen. A little bit of this and a little bit of that, and really that's what blending is. Quite often blending isn't what you put into the blend, it's what you don't put in or what you take out.
"The South Australian element improved the blend. It's not about the storytelling, although the story now is a good one, it was about the wine, it was about the blend."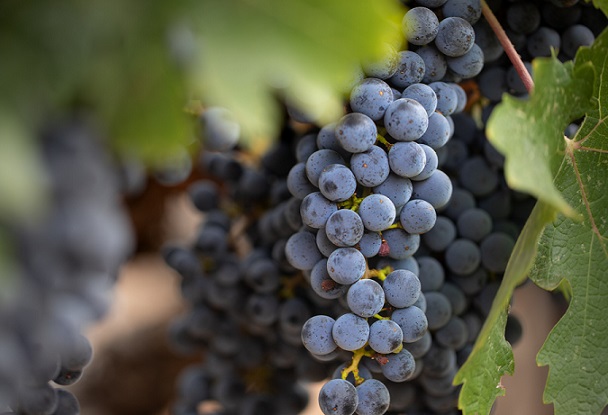 How they made the wines
The wines are made to Penfolds' "house style" using "time-proven techniques" or, as Peter explains: "Californian sky above, Californian soil below. But everything in between is Penfolds."
The Penfolds process involves:

Sending Penfolds winemakers to California.
Looking for grapes from low-yielding vineyards producing smaller berries with thinner skins.
Sprinkling a little PMS on grapes that aren't handpicked to protect them before they get into the winery.
Using the same oak barrels in Australia and California (that means French oak barrels sent from France and American oak barrels sent from Australian cooper AP John).
Inoculating large blends "to take the risk out of it", but using native yeasts in the "small, quirky" reserve range.
Using stainless-steel fermenters with stainless-steel headerboards to submerge the cap.
Daily racking and returning.
Making the wine oxidatively during fermentation.
Relatively short time on skins – including pressing some reds while they are still fermenting – "because we don't like long time on seeds".
Using a variety of barrel sizes, origins and ages – "it's another way of teasing out differences and maintaining style year to year," according to Peter. For example, Bin 149 in 2018 is 80% new French oak, 20% new American oak while Quantum is 80% new American and 20% new French.
Never fining reds. "Bring on the sediment, for me it's a sign of the real thing," Peter says.
Only coarse filtration to remove larger objects, such as splinters. "But if something needs to be crossflowed, we will do it to provide a safety net," Peter adds.
Minimum necessary SO2 added in one hit after fermentation (before it goes from stainless-steel fermenter into barrel). "If we go in with it, we'll go in with a big slug rather than smaller increments which we find aren't as successful." But barrel-fermented wines are left on lees without sulphur.
"We run a tight ship when it comes to hygiene and SO2 is part of the armoury," Peter says.
Reductive-style winemaking after fermentation – ensuring barrels are topped up and regularly checked for "anything that can induce anything nasty".
SO2 levels under 100mg/L at bottling.
"It's all about the one per cents, so we use as many Penfolds one per cents as we can to optimise what we're doing and we're quite pleased, not in a smug way, with the blends and the way they've come together," Peter tells me.
For Penfolds, it's the house style that's important.
After a sniff and a sip, Peter wants people to think Penfolds first – not about the wine's origins. "That's the objective," he offers.
And, for him, Penfolds is about generous mid-palate, rounded and ripe tannins. In the case of the new wines, it's "Penfold style with Californian tannins and fruit".
He adds: "It's a time-honoured style that you can trust; it's a brand style. And now we're using it in California."
He continues: "I thought it would be hugely controversial and provocative, but people are actually lunging for it. I thought all the purists would come out of the woodwork, but people are saying, 'Hang on, I really like that. It's a bit different, it's been made through a Penfolds lens to the Penfolds style but it's different'."
The other Penfolds trait is these wines have been made to age gracefully.
"We believe longevity comes through balance – pH, acidity, tannins, fruit, flavour. If you get all of that nicely balanced, it doesn't matter whether it's a year old, five years old, 50 years old… But we try and get it right from day one if possible."
What's next?
Peter, who joined Penfolds in 1989 to make sparkling wines, also revealed that Penfolds is investigating winemaking opportunities in Bordeaux and Champagne.
Penfolds' joint venture in Champagne with Thienot will see the release of a non-vintage rosé in the second half of 2021.
The acquisition of 65ha Chateau Cambon la Pelouse in the Medoc region gives Penfolds a base in France to source red fruit.
And, as for California, a single-region wine could be the next step.
"This is our next 175 years," Peter concludes. "It says something about the ambition going forward, it's not about world domination, it's future-proofing, spreading the risk."