'It's just the smart thing for us to do'

Hunter's releases 2023 Sauvignon in 390g bottle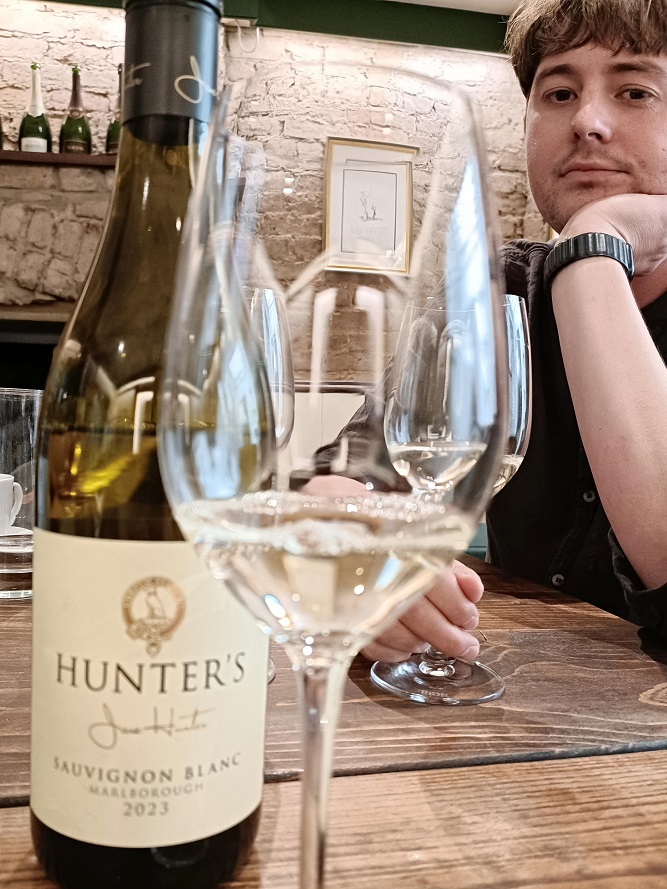 One of the pioneers of the New Zealand wine industry, Hunter's Wines of Marlborough, has moved from a 420g to a 390g bottle for its 2023 Sauvignon Blanc.
General manager Ed MacDonald (
above
), who's in charge of export and the bottling line at his auntie Jane Hunter's estate, told
Canopy
: "It's a no-brainer for us. Across the year – 150,000 cases or so – it's about 45 tonnes of weight-saving in shipping."
The bottles look like those used for the 2022 Sauvignon Blanc, so there were no issues using Hunter's own bottling line or regular cartons.
Canopy
asked Ed, whose brother James makes the wines, what the reaction from customers has been. "We're not putting anything on the bottle saying this is 30g lighter, but it's something our distributors are very pleased about because they are the ones paying for the freight," he replied.
He added: "It's just the smart thing for us to do… There are lighter options, but they don't look very good – they've got no punt, they've got no shape to them."
This bottle contains 40% recycled glass.
Catena releases Malbec in 380g bottles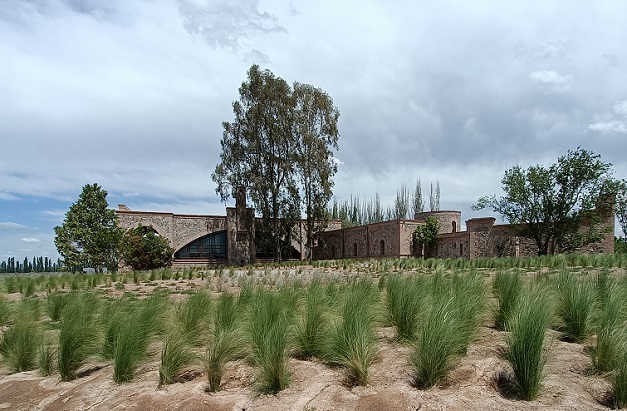 The new bottle for trendsetting Catena is slightly lighter than Hunter's. The bottle for its Appellation Malbec has been slimmed down from 700 to 380g in some markets. This 45% lighter bottle will be poured at "Angélica – cocina maestra", the estate's restaurant in Mendoza, Argentina, and will be sold in the USA (Winebow on-trade) and Holland (Gall and Gall off-trade).
The move will reduce average CO2 emissions (before boat transport) by 21%, the company says.
Meanwhile, the weight of the bottle for the Catena High Mountain Vines Malbec and Cabernet Sauvignon – which are distributed in 72 countries – will go down 33%, from 700 to 480g. This bottle is "a bit taller and thinner, and very elegant in appearance", according to the winery.
The winery reckons this initiative will save 1,200 tonnes of glass a year.
The launch of the lighter bottles next year will be accompanied by an education campaign for restaurant and shop staff, as well as consumers. The campaign will focus on the environmental benefit of lighter-weight bottles.
A refillable glass bottle reuse system

Oregon start-up Revino is designing a refillable glass bottle reuse system for the state. At the heart of the system are the RGBs (Returnable Glass Bottles), which are designed to be reused multiple times without compromising quality or integrity.
The bottles offer emissions reductions of up to 85% compared to single-use bottles and can be refilled up to 50 times, breaking even on carbon emissions after the third reuse.
Upon being received, the RGBs will undergo an advanced washing and label removal process – returning bottles "that are cleaner than new" to winery partners for reuse.
"Revino's vision is to revolutionise the wine industry by offering a seamless and environmentally friendly alternative to the conventional 'single-use' mindset," stated Keenan O'Hern, co-founder of Revino. "Our innovative RGBs will enable wineries to embrace circular economy principles, significantly reducing their carbon footprint and contributing to a healthier planet for future generations."
Revino's aim is to mirror the sales and distribution process of new bottles while significantly reducing their environmental impact.
Revino will team up with the Oregon Beverage Recycling Cooperative (OBRC) to use Oregon's existing deposit-return infrastructure to retrieve the bottles. OBRC is the beverage industry steward of Oregon's Bottle Bill and operates the BottleDrop network, a convenient state-wide system of redemption centres and bag drop-off sites to collect containers and credit consumers for their refund values.
Revino will purchase 2.4 million RGBs to supply more than 30 wineries with reusable bottles for their 2024 bottlings. Consumers will be able to identify the refillable bottle (
above
) by its leaf-inspired design and the word 'REFILLABLE' embossed around the base. RGBs can be returned to one of Revino's partner wineries or return locations so they can be sorted and cleaned at the company's sanitation facility, set to be constructed in Q3 2024.
Morgen McLaughlin, executive director of the Willamette Valley Wineries Association, commented: "Revino's arrival will fill a crucial hole in Oregon's wine industry by introducing a sustainable solution for glass bottle reuse. Their commitment to excellence in washing processes and quality control ensures that wineries can embrace a new packaging option with confidence."
John Paul, owner of Dundee producer Cameron Winery, said: "Making wine bottles reusable seems like a pretty obvious endeavour. It's a way for consumers to make a difference in an alliance with the wineries...that is, the consumers return the bottles and the wineries buyback and reuse the bottles. Win-win!"
Once Revino has shown what's possible with small producers in Oregon, O'Hern wants to expand into northern California.
'Shipping glass around the world just doesn't make sense'

In-market bottling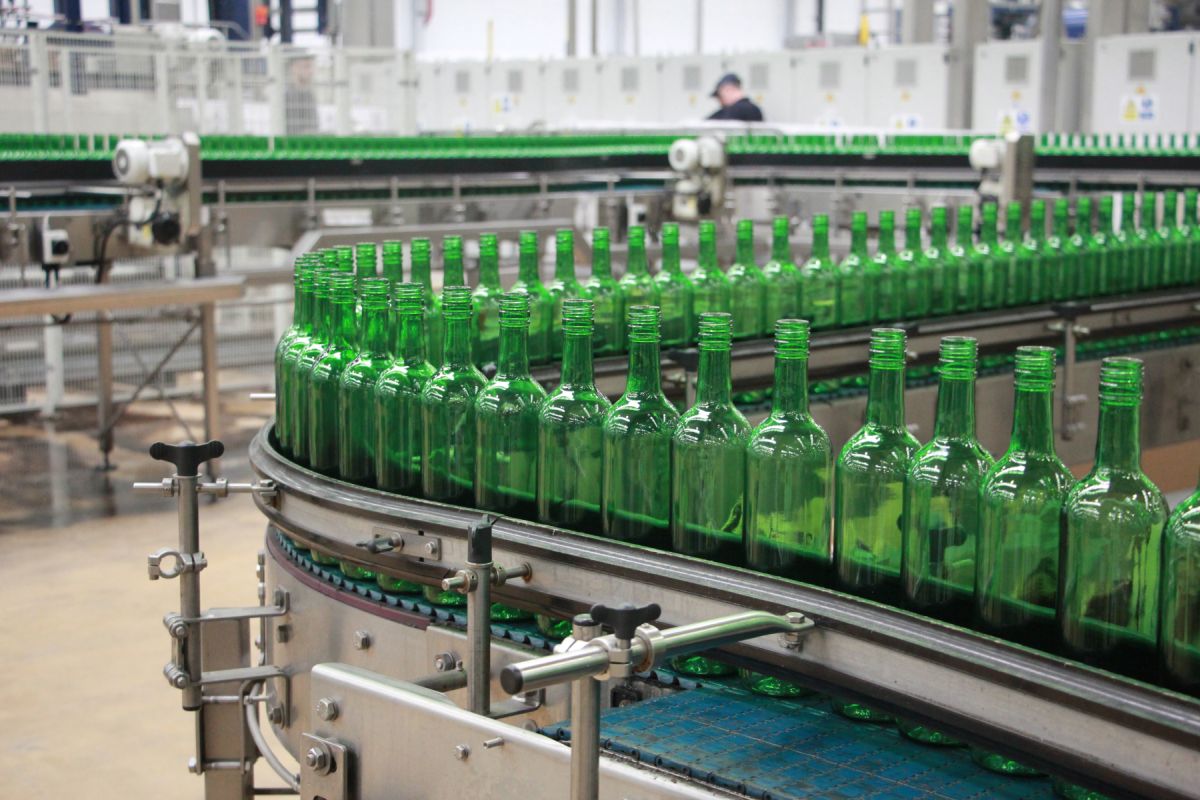 New Zealand wine company Indevin Group plans to begin bottling Villa Maria wines in the UK from early 2024. Bottle manufacturer Encirc's site in Cheshire, in northern England, has been selected for the operation, which should reduce Villa Maria's CO2 emissions by 27% for each shipment to its largest export market, the UK.
Gareth Insley, chief supply chain officer at Indevin Group, told
Canopy
other brands and wines could also be bottled in-market, if this test is a success. "The UK has been selected as the first for in-market bottling for Indevin brands due to the size/volume of this market and resulting sustainability improvements. It's a significant project, and once we have proven its concept in market, there may be the potential to build on this in other markets and other products/varieties," he said.
Indevin's other major export markets are USA, Australia, Ireland, Canada, and Europe.
The project came about after several years of research into more eco-friendly ways of shipping wine from South Auckland to the UK. An important consideration for Indevin and its UK agent Hatch Mansfield was to ensure excellence of service levels for UK customers.
Villa Maria, the UK's no1 New Zealand wine brand, says it has a firm commitment to upholding exceptional quality standards and wine bottled in the UK will be held to the same credentials. Insley (
below
) said: "Quality wine remains paramount, consistent and will still be held to our high standard of sharing the best of New Zealand wine with the world."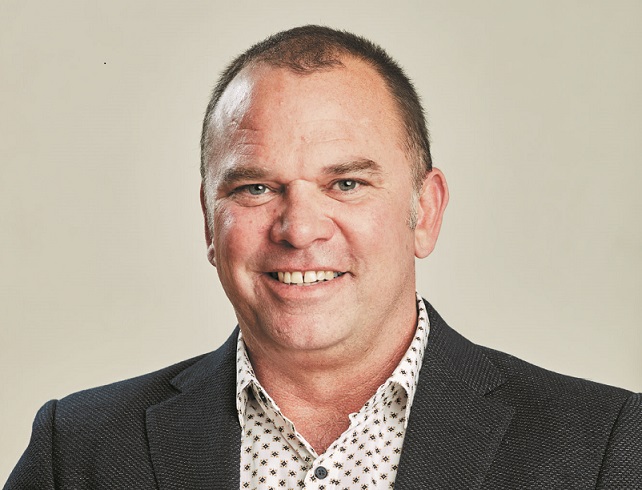 Indevin plans to send eight current SKUs – six Villa Maria varietals, as well as one each from the Vidal and Leftfield brands – to the UK in Flexitanks carrying 24kl of wine. The Flexitank, which is fitted inside an A-grade 20ft general purpose container, will be recycled in the UK. The containers do not have a cooling jacket but Insley said they are "priority stored away from heat sources, and below the ship's deck". He added: "Shipping in bulk is proven to be less susceptible to thermal variation when compared to individual bottles."
Since acquiring the business in 2021, Indevin's vision for Villa Maria has been to see it become one the world's most valued wine brands and, in doing so, create a sustainable business for the future of the New Zealand wine industry.
Indevin CEO Duncan McFarlane commented: "The transport of wine has changed considerably over the years to be more innovative, sustainable, and efficient to keep up with global demand. We think shipping glass around the world just doesn't make sense."
'Bottling wine in the UK market is a no-brainer for the industry'
Adrian Curry, managing director of Encirc, added: "Bottling wine in the UK market is a no-brainer for the industry, but it requires pro-active collaboration from across the sector to realise its potential and cut emissions right across the supply chain. This partnership is a great example of just what is possible."

Patrick McGrath MW, CEO of importer Hatch Mansfield, said: "We see this move as a logical and very positive next step in Villa Maria's evolution and growth in the UK. After facing some of the unexpected challenges which our industry has experienced in the last few years, I am excited about the flexibility this gives us for ensuring our customers can be looked after as effectively as possible and for the longer-term potential this offers for Villa Maria's continued success."
How Australia aims to reduce its CO2 emissions by 40%
The Australian wine and viticulture sector emits as much carbon dioxide annually as a large passenger aircraft flying 609 times around the world. These emissions come from four main areas: 49% from packaging and 29% from transport, while the winery accounts for 12% and the vineyard 10%.
To address this problem, the state organisation Wine Australia has unveiled a roadmap to reduce the industry's CO2 emissions by 40% by 2030. The roadmap, developed with 200 members and the sustainability consultancy Edge Impact, suggests using lighter bottles and producing the glass with renewable energy. Shipping wines in larger containers and bottling them closer to consumers is also recommended.
Dr Sharon Harvey, Wine Australia's research and innovation program manager, said: "We all need to consider the emissions costs of our products to reduce our impact on the climate and ensure access to key markets in the future."