The Birichino winery in Santa Cruz, California, started with "possibly the worst business plan in the history of the wine business and yet somehow we survived".
Business partners Alex Krause and John Locke, who met while working for Randall Grahm at Bonny Doon, started in 2008 with one customer in Canada who was crazy about the obscure Italian grape variety Malvasia Bianca di Piemonte and wanted the wine for 440 shops throughout Québec.
Using grapes from the Delicato family's San Bernabe Vineyard near King City and a friend's custom crush facility – another Bonny Doon veteran, Ian Brand – they focused on Malvasia Bianca for two years and "exported everything" to this one buyer.
The Malvasia Bianca is always picked when "the flavour spectrum includes flowers, sweet citrus, and still a touch of mint". The winemaking involves overnight skin contact, dual stream pressing, and an extremely cold fermentation in stainless steel.
Alex, talking at a tasting in London ahead of the widespread lockdowns, also admits the difficult-to-pronounce company name wasn't their finest decision either. Looking in an Italian dictionary for a name that began with 'A' or 'B', so they would appear early in any alphabetical list, they considered 'Arpent' (an archaic measure of land abutting a river) and Alluce ('big toe') first, but "they just weren't well received by our sole customer", says Alex. So, they settled on Birichino (pronounced b
eer-a-keen-o
), which means 'naughty' or 'mischievous' in Italian and seems to fit this unorthodox winemaking duo.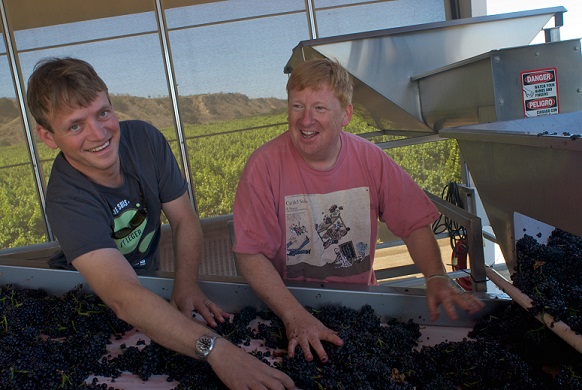 After a couple of years, they began to diversify, adding an old vine Grenache and a pretty pink Vin Gris to their portfolio.
This rosé is the wine that kicks off our tasting at the 'Essential California' wines event in London. The 2018 Vin Gris Rosé is a blend of Grenache (79%), Cinsault (9%), Vermentino (7%), and Mourvèdre (5%). What's unusual about the making is the co-fermentation in a single stainless-steel tank – as the grapes are picked more than six weeks apart. "The first fruit (the Cinsault) is hand-picked at the end of August, whereas the Grenache comes in early to mid-October," Alex explains.
Originally, they used this approach for logistical reasons – "we don't have the space" – and because it's "more problematic to have small lots – you have to pay attention to five different lots instead of one".
The system worked well and they continue with it, even though Alex admits "the saner way to do it would be to ferment the five varieties separately and blend them".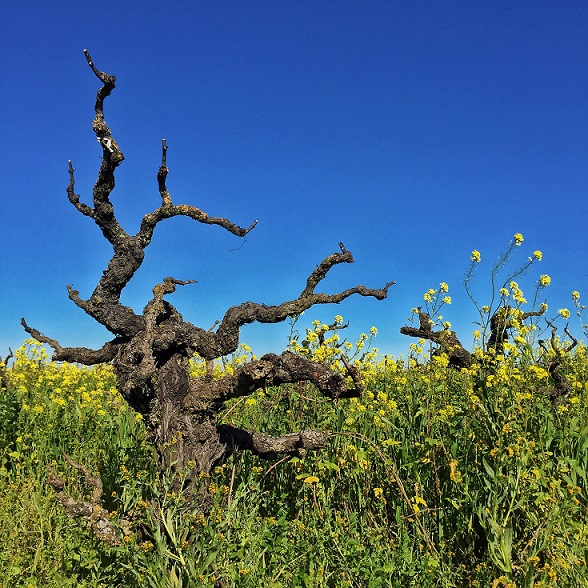 Rhône varieties
Because Alex, who hails from Boston, fell in love with wine in Provence, while his father was teaching in Paris, the Rhône varieties are his weak spot and he sees this rosé as a homage to his time in the south of France.
The other significant thing about this blend is the large percentage of fruit from old vines – it contains "a lot of late 19th century and early 20th century fruit". The Grenache comes from a vineyard planted in 1910; the Mourvèdre from a 1922 vineyard; and the Cinsault (
above
) from a vineyard planted in 1886.
Old vines, from marine-influenced appellations hundreds of miles apart, tend to be "less susceptible to heat and drought and cold and stress," according to Michigan-reared John, who also caught the wine bug while studying in France. John also believes their smaller crops mean "more intensity of flavour".
The vineyards they use also tend to be family-owned and organically farmed.
"We know a lot of second, third and fourth generation Italian, Portuguese, Spanish and German families who have old vineyards in California but are no longer making wine for themselves," Alex states.
All the varieties are picked specially for the rosé – "it's not a by-product of our red wine production" and all – apart from the Cinsault – are pressed directly. The Cinsault is destemmed and obtained through the saignée method.
As with the rest of the range, native yeasts are used for the fermentation. Alex says they know what to expect now as they have been working with the same 15 growers for 20 years.
"We're fairly confident that by picking at the right time and ensuring they are farmed impeccably that we can ferment wild and get a more interesting, nuanced, layered expression of that place than you could get with a safer, more commercial approach," he says.
John and Alex try to keep the fermentation cool "so it doesn't race ahead". Alex also says they don't encourage or block MLF.
'We still own nothing'

Expanding
After focusing on Québec for the first couple of years, Alex and John gradually expanded to the United Kingdom, Sweden and Denmark before selling in their home market. Now they export about a third of their 100,000-bottle output – with Sweden, Canada, UK, Norway, Denmark, Finland, France, Belgium, Poland, Japan, and Singapore their main overseas markets.
"We still own nothing," Alex admits, as we start tasting the second wine, a Chenin Blanc from the Santa Ynez Valley.
The company's major asset is a Ram pickup, which they use to transport the 200 tons of grapes they gather from all over California, clocking up about 26,000km during the harvest season. "It's rather labour intensive but it's worth it," Alex comments.
The Chenin is from one of their newer sites – planted (ungrafted) near an oilfield in "the late disco era", 1978.
"I find it both important and interesting to try to hold on to and preserve these old vineyards as much as possible," Alex says. "They are just hitting their stride. We are trying to find a home and create value for those old Italian and Portuguese families to hold on to these vines."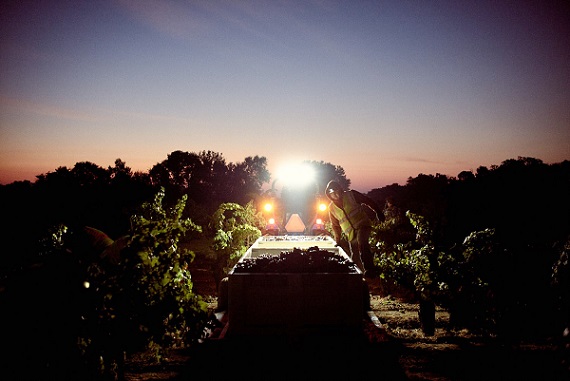 Birichino made its first Chenin in 2013, but the 2017 vintage we're tasting has some "modest yet meaningful early botrytis". Alex and John picked the grapes by hand in early October. "We picked it at night to retain the acidity, at 2am with lights, loaded it onto the truck, drove to a beach where we ate burritos and watched the sunrise. Then we slowly drove up to the winery, meaning the grapes had about 12 hours of skin contact."
The grapes were pressed gently and fermented with native yeasts in stainless steel at a relatively modest temperature. The wine was matured in a mixture of eight stainless steel barrels and two seven-year-old Hungarian oak barrels. Probably because of the botrytis, it has 5g/L of residual sugar.
Moving on to the reds
The Bechthold Vineyard Cinsault 2018 comes from an organic, dry-farmed vineyard in Lodi, planted in 1886. "It reminds me of Cru Beaujolais," Alex says.
Again, the winemaking is fairly simple: grapes picked at night, destemmed and crushed, with the free-run bled off for the rosé. Fermentation is with native yeasts, with the temperature allowed to rise to 28-29°C after 10 to 12 days. Fermentation and maturation are in 450L neutral barrels. Bottling usually takes place the following June or July, without filtering.
"No wine is more emblematic of the Birichino style than Bechthold Cinsault Rouge," according to a company statement.
For the fourth wine in the tasting, the Besson Grenache 2018, they use 35% whole clusters while another 10% undergoes a short
appassimento
. They started to do this to add "a little more grip, extraction, and aromatic impact" to the wine. Fermentation is in cement and stainless steel, and the élevage is in cement and 225L and 500L neutral oak barrels.
'It doesn't particularly make sense'
Fizz to finish
The tasting finished with some aromatic fizz. The Birichino Pétulant Naturel Monterey Sparkling Malvasia Bianca started as an experiment. John and Alex had some Malvasia Bianca juice in their freezer in February, when they were about to bottle the still wine. Alex continues: "John had the brilliant idea to take it out, let it warm up, let it start fermenting again and then quickly mixed 5% actively fermenting juice with the base wine."
The pét-nat is one of about 23 wines they made last year. However, threequarters of their sales come from the Vin Gris, Malvasia Bianca – and a Pinot Noir from the Central Coast.
"We have a lot of three-, five-, ten-barrel lots," Alex says. "It doesn't particularly make sense from a business perspective but what does in the wine business?"
Making small batches, co-fermenting five varieties picked more than six weeks apart, choosing a difficult-to-pronounce company name, and putting all your eggs in one basket to get your business off the ground – none of it makes great business sense… but it has worked for Birichino.
It's probably because Alex and John appear to have fun while working together and share the same philosophy.
Old vines, obscure (for California) grape varieties, indigenous yeasts, neutral barrels, minimal intervention, minimal racking and fining, and no filtration are their hallmarks. They are natural 'natural-wine makers' in all but name.
John says: "We have never referred to ourselves as 'natural-wine makers', though our protocols are almost always consistent with the tenets positively associated with those wines. We believe the choice between 'natural wines' and 'clean wines' is a false choice. We add SO2 in small doses to nearly all our wines; occasionally at the crusher/press, when fermentation has reached its destination and at bottling.
"We also make a few zero/zero wines. But, generally, there are no other additions except for strict vigilance and oversight. The wines are not inoculated. The reds are neither fined nor filtered."
But he adds this caveat: "They cannot be boring, they cannot be dirty, they cannot be fatiguing."
From the wines I tasted, Alex and John have succeeded on all three counts.