'Oak in wine should be like a ghost. You sense its presence, but you don't actually perceive it'
Vérité, part of Jackson Family Wines, is the creation of international winemaker Pierre Seillan and Jess Jackson. Born in Gascony in 1950, Pierre was raised near Saint-Émilion in a farming and winemaking family. Leaving school at age 16, a fascination with terroir had already set strong roots – "a sort of inspiration and aspiration," he recalls.
As an intern for a relative in the Médoc, he became one of the first exchange students between the US and France, so headed to California for eight months. Based in the Temecula Valley, an area he saw as too hot for growing good quality grapes, this nevertheless proved a positive experience. "When you quickly learn what not to do," he explains, "you save time in your life!"
Returning to France, Pierre became technical director at Château de Targé in the Loire Valley, spending three years learning about the terroir, particularly the influence of tuffeau and canopy management. Then moving to Bordeaux for 20 years, Pierre made wine at eight châteaux, but nevertheless became frustrated. "[There was] too much input of only oenology and not speaking about soil, terroir, micro-crus, message of the soil and the different energy you put in [each] wine."
Origins of Vérité
Meeting Barbara and Jess Jackson in the mid-1990s allowed Pierre to pursue his dream of making wines with "distinction, elegance and complexity," based on the diverse terroirs of California. Choosing Sonoma with its cooling Pacific Ocean breezes and post-sunset humidity which helps leaf respiration and photosynthesis, Vérité was born.
Micro-crus at Vérité
Vérité, French for 'truth', echoes Jess Jackson's belief in reflecting the 'truth of the soil' in wine. Founded in 1998 with first plantings the following year, Vérité combines the winemaking traditions of France with the large diurnal range, diverse microclimates, soils and hillside aspects of Sonoma. More than 50 small, hand-farmed, low-yielding vineyard blocks across the region, 'the micro-crus', with many different soil types allow over 100 expressions between the different varieties. Wines are produced separately, tasted blind and blended.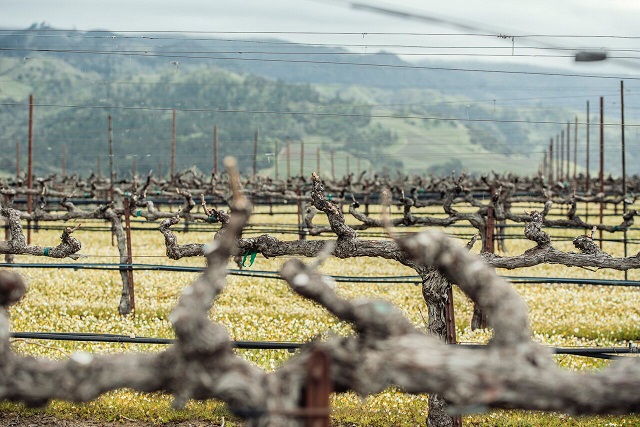 Subregions
•
Bennett Valley
Cooled by the nearby Pacific Ocean with a large diurnal range, vineyards lie between 580ft and 850ft on northwest facing foothills on well-draining, sandy loam soil, ideal for plantings of Merlot.
•
Knights Valley
Known for warm afternoons and cool evenings, southwest facing slopes at 500-960 feet with well-draining, gravelly volcanic soil encourage complexity and fruit concentration in Cabernet Sauvignon and Merlot.
•
Chalk Hill
The area is named for its unique soil of chalky white volcanic ash, which Pierre says "provides elegance and truffle notes in wine that's 15 years old". Other soil types include sandy loam, clay and basalt. The vineyards benefit from cool mornings and warm, sunny afternoons moderated by coastal breezes. Separate plantings of grapes at 160-500 feet optimise the expressions of each variety – Merlot faces northwest, Cabernet Franc east and Petit Verdot south.
•
Alexander Valley
Rocky, red volcanic soil at 900-2,400 feet and climate variations allow Merlot, Cabernet Franc and Cabernet Sauvignon to thrive.
Canopy management
A close eye is kept on shoot sizes to observe the health of each individual vine. "You have to consider each wine like a [different] person.
Il ne faut pas généraliser au pluriel
!"
Pierre favours the single guyot pruning method. "Single guyot is perfect," he explains. "It [lets you] alternate the cane from one side to the other for two consecutive years. With a maximum of 8 to 10 buds per vine, this type of pruning does not demand too much… When you want to have a signature of your terroir in your wine, you need to manage the vines with a certain quantity of buds for just a small quantity of clusters."
Irrigation
Pierre developed a method of irrigation for the first five years of a vine's life, after which dry farming is used. This delivers just the right amount of water needed directly to the roots using a stake and dripper line extending 30cm underground. "When I developed 90 acres in 35 blocks at Jackson Park in Bennett Valley, we had a 98% success rate for developing the vines."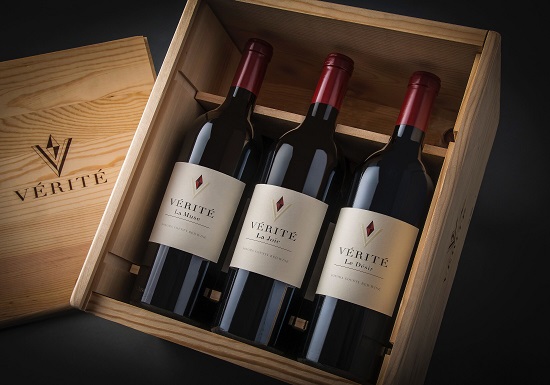 Micro-cru philosophy extends to the wood
Pierre controls the sourcing, labelling and toasting of his 'cool climate' wood. Once a tree is cut, it's scanned and goes to the stave mill created by Jess Jackson and the Boswell family of Missouri, makers of US whiskey barrels. In order to classify the exact type of grain, he uses an optical sorting machine. The barrels are then manufactured in Bordeaux at a cooperage established by the Boswells.
Pierre has taken the micro-cru concept and applied it to the wood, fully recognising the terroir effects on oak and the differences in grain, vanillin and tannin levels. "The message of the soil has an influence on the wood as well." Each barrel is individually labelled with the name of and location within the forest where the wood came from and a code showing the grain type. Additionally, Pierre has several toasts he prescribes, including his own custom toasts which are denoted on the barrels as PS plus a number.
Vérité's three Bordeaux-inspired blends – La Muse, La Joie and Le Désir – are aged in new French oak, used for its softening influence, not for flavour. "Oak in wine should be like a ghost. You sense its presence, but you don't actually perceive it," says Pierre.
Inspiration
Pierre hopes that his approach may inspire others in California to improve quality and produce wines with greater subtlety and less heavy mouthfeel. "Not everyone can afford the Vérité style, but it can influence the style of many winemakers with lower alcohol, shorter barrel ageing and more finesse."
Great wine relies on the quality of those troublesome little berries. "I am not an oenologue, but a vigneron," he says. "When you're a vigneron, don't take the best grapes in your vineyard, but make the best grapes!" Who will argue with that?