English wine producer Kinsbrook opened a farm shop and eatery earlier this month. The West Sussex estate, one of Nyetimber's neighbours, has also given Canopy details of how it made the most of the appalling 2021 vintage.
The new Kinsbrook Farmhouse, near Thakeham, is open seven days a week, offering local produce and seasonal dishes in its rural vineyard setting. There is a deli counter with a wide range of antipasti, local flowers, artisan cheeses, a selection of wines, craft ciders and spirits, and fresh produce – all supporting the local community. The shop also has a butchery counter, opening this week (November 17), which will use only local, ethically and sustainably sourced meat. Next year, it will sell lamb that has grazed on Kinsbrook's land.
Upstairs, the laid-back, dog-friendly eatery will offer a lunch menu from Wednesday to Sunday, masterminded by head chef Greg Round of Spring London and Bonhams. On the other days of the week, customers will still be able to enjoy a coffee or glass of wine with a small and simple food offering. Saturdays and Sundays, brunch will begin at 9am and run until 11am with simple breakfast cocktails and a selection of juices and shakes.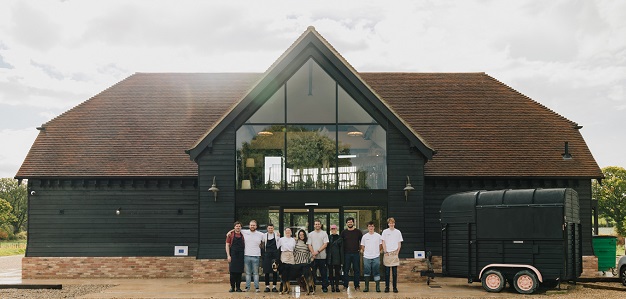 Kinsbrook founder Joe Beckett, who runs the Sussex-barn-style venue with partner Rebecca Dancer, explained: "Kinsbrook Farmhouse has been a labour of love over several years. We've curated every detail of this building and we couldn't be more excited to share it with the public. It's a dream to be able to support local or small producers and put sustainable food on the map in West Sussex."
The building project was made possible with the final tranche of EU Grant Funding via the Rural Development Payments Agency, which was won by the couple in late 2020. "It's surreal to see Kinsbrook Farmhouse finally becoming a reality after so many setbacks during the pandemic," Rebecca reflected. "There have been moments where we've wondered if we will ever get it open, but we're finally there. We're beyond grateful to the RDPE for the funding they've provided to make this project a reality and that has driven us on in moments of doubt to make Kinsbrook Farmhouse the best it can possibly be."
'Everything from the tiles to the lighting to the layout was all designed by ourselves'
Joe added: "We had to carefully budget throughout the project – we weren't able to afford interior designers, for example – so every detail within the building has been chosen by us. That means everything from the tiles to the lighting to the layout was all designed by ourselves. I have a love for vintage furniture, so I sourced a lot of the larger items myself and upcycled them to add as much authentic character as possible to the building."
He went on: "It's important to us that Kinsbrook Farmhouse doesn't feel like a commercial building but rather that we're welcoming guests into our home; like we've created a space where people feel they can be themselves and fill their cup."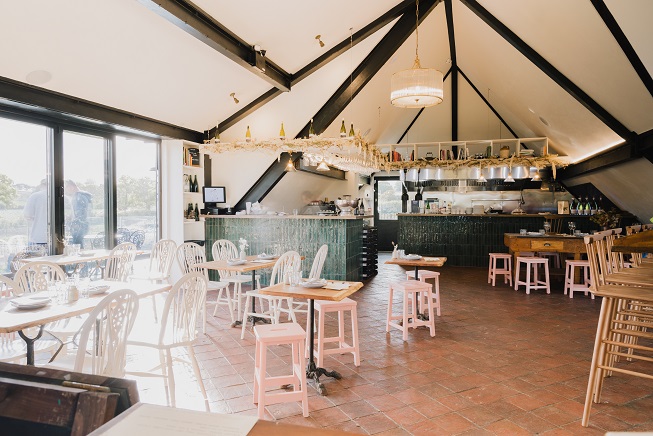 Overlooking the vines and the South Downs, the farm shop and eatery are located in a newly built barn in the heart of the vineyard.
The Kinsbrook land at Picketty has been in Joe's family for generations and he aims to return parts of it to farmland and market gardens, "using the most modern, environmentally conscious approach to the soil and to veg growing".
The exterior is in-keeping with a traditional Sussex barn in style, with black cladding and terracotta roof tiles with brass farmhouse lights and a minimalist balcony overlooking the vines. The building features large windows and bifold doors to showcase the stunning scenery all year round. "We wanted it to feel open and light but with a lot of homely touches," Rebecca said, "so we chose Cotswold-style flagstones for the shop and terracotta tiles upstairs which are the same as Joe's parents have in their kitchen at home." The couple have introduced plenty of quirky touches such as painted school stools and a herb wall with a ladder attached so that the chefs can climb up and pick fresh herbs each day before service.
The eatery can accommodate up to 35 covers inside and a further 30 outside. The menu will change on a regular basis, depending on what is available and in season. The Farmhouse will also try to minimise wastage by integrating the butchery into the kitchen, where the chefs will design plates around the less popular cuts of meat or surplus meat from the butcher counter.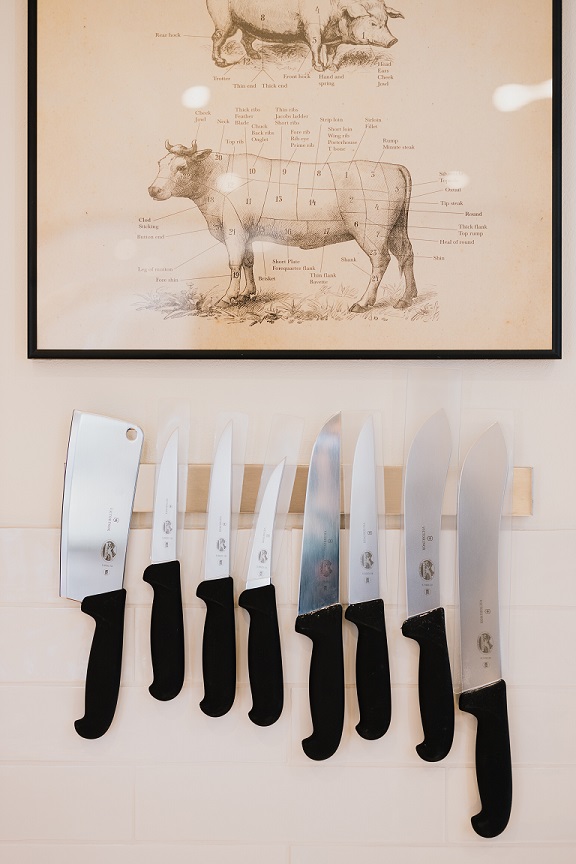 "Becca and I are massive foodies," Joe commented. "One of our greatest joys in life is seeking out amazing little places to eat and enjoy a bottle of wine. Although initially we hadn't quite known what the eatery would be like, it has felt like a very natural process bringing it all together because we have ultimately wanted to create the kind of place that we would enjoy.
"The fresh produce will initially be sourced from only the best, most sustainable suppliers, until our own gardens are fully functioning on their own. We'll have a more extensive wine list than we've ever had before, with red wines from abroad as well as local craft beers and ciders from small producers including our good friends from down the road, Trenchmore Farm."
The farm shop will stock local honey from a small supplier just over the hill, freshly baked sourdough from Gwyn's Bakery in Horsham and Mesto Olive Oil from Brighton. It's particularly important to Kinsbrook to showcase products from businesses with a meaningful social cause such as Holos Kombucha, which employs survivors of slavery, and Two Fields Zakros, an olive oil producer based in Crete with a social regenerative project in which they teach ethical farming methods on the ground, ensuring farmers are able to build secure livelihoods.
'We're not going to pretend we weren't affected by frost and had the perfect harvest, because that's not always the reality of grape-growing'

Kinsbrook's wines
Kinsbrook Vineyard, founded in 2014, produces a range of wines from grapes grown on Joe's third-generation family farmland. Kinsbrook Farmhouse will act as Kinsbrook's cellar door for promoting and selling the wine and offering tours and tastings. Their latest release, the limited-edition '21', is a Bacchus-dominant white blend that also features Pinot Gris (20%) and Pinot Noir Précoce (20%).
It comes from the tough 2021 vintage in England, where producers were struck by repeated frosts, heavy rain, high humidity and a summer with virtually no sun. The yields were modest at harvest time and Kinsbrook was unable to justify making their usual varietals, but saw an opportunity to create something new instead.
Joe said: "It is the only still wine we will be releasing from our 2021 harvest. It is really quite an exciting wine; it has the recognisably aromatic elderflower notes from the Bacchus when your nose is first in the glass. Then, on the palate, it's medium-bodied which gives it the 'luxe' quality we know to be from the Pinot Gris grapes. It also has a tropical component to it from the Gris that is almost sherbet-like, which is aided by the crispness from the high acidity. And then the Précoce, being a red grape, adds a further level of complexity, texture and perfume to the wine.
"In the winery, the grapes were crushed, de-stemmed and vinified separately and then blended. The wine is vegan and we used low-intervention winemaking techniques to allow each grape variety to express itself as clearly as possible."

Rebecca, the creative director at Kinsbrook, described the creative process behind the wine: "We decided to name the wine '21' as it tells the story of 2021. The label features the bare bones of our first building, Kinsbrook Farmhouse, at the time of harvest in autumn 2021. The build suffered so many delays and setbacks due to the pandemic and it felt like a nice parallel to draw. It's important to us to be honest and to share and celebrate every part of our journey with our customers – the good and the bad – and 21 is the perfect example of this.
"We're not going to pretend we weren't affected by frost and had the perfect harvest, because that's not always the reality of grape-growing. However, if we can take the setbacks and make something beautiful then that's what we will always aim for."
They made the decision to blend the three varieties "long before harvest", according to Rebecca, "when we made initial yield estimates with our vineyard manager and came to the conclusion that we would not have sufficient tonnage of the individual varieties to make our single-variety wines".
Joe added: "It was better to have one wine than three in tiny quantities. 21 is the most complex wine we've made so far and it's been a valuable lesson for us as to the importance of trying new things."
'It's been a valuable lesson for us as to the importance of trying new things'
They made just under 3,000 bottles of the £25 wine with winemaker Tom Bartlett of Stopham Vineyard steering it through vinification.