Lamberto Frescobaldi, who represents the 30th generation to head the renowned Tuscan winegrowing group Marchesi de' Frescobaldi, has some interesting views on the use of oak during the élevage stage of winemaking.
He expressed these views during a tasting of the wines from Tenuta Perano in Chianti Classico and Castello Nipozzano in Chianti Rufina, two the estates that make up Frescobaldi's impressive Tuscan portfolio, which also includes Castello Pomino (Pomino), Rémole (Sieci), Tenuta Castiglioni (Montespertoli), Tenuta Ammiraglia (Maremma), CastelGiocondo (Montalcino) and Super Tuscans Ornellaia and
Masseto
.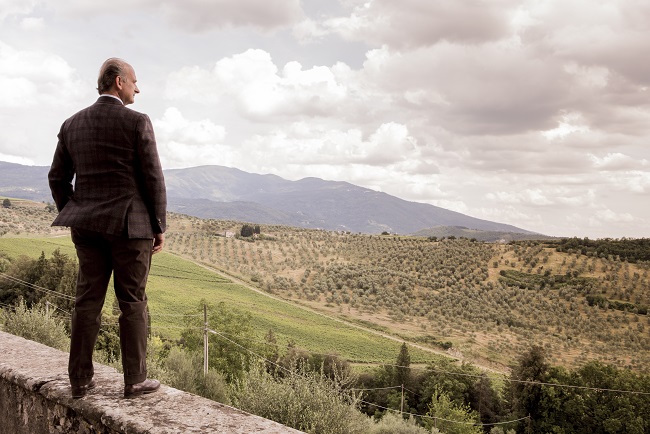 The wines of Castello Nipozzano (
above
), the Frescobaldi's most historic property, are known as fresh and elegant; Tenuta Perano's wines are generally more robust, full-bodied and structured. The vinification stage is similar. The predominantly Sangiovese wines are generally fermented with native yeasts in stainless-steel tanks at, typically, 28-30°C, with a few pump-overs. It's after MLF, in the élevage stage, where the subtle differences occur. Then, the wines are aged for different lengths of time in different sizes of used barrels.
What was particularly striking for me during the tasting was the well-judged use of oak, whatever the protocol.
There are separate winemaking teams at the different estates – winemakers who know the local terroir – and they prefer to do things slightly differently "to express the uniqueness of that location". At Nipozzano, it's two to three-year-old barrels for the Chianti Rúfina Riserva and large oak casks for the old-vine, single-vineyard Vecchie Viti. At Perano, it's a mixture of small and large casks, but generally mature barrels. This, Lamberto explains, is for "the complexity of the ageing but without having the taste of oak".
He adds with a grin: "I say if you really like vanilla you should walk down your street and have an ice-cream. It's going to be much more affordable and you can have a great vanilla taste."
He continues: "Oak is a very important component in ageing wines because oak adds a tannic component… Wines that are aged in oak age much better and they can age a long time."
'We have great fear of oak'
With so many vineyards and cellars under the family's control and 700 years of winemaking history to fall back on, I wonder about the group's general winemaking philosophy. Lamberto, who joined the family business in 1989 and took over as president in 2013, says: "It's important to respect each location and each location needs to do what is best in that location. So, when somebody comes up to me and says, 'Ah, you have quite a big number of estates, quite a big number of SKUs,' I say, 'I don't really agree on that because if you break up our portfolio and look at it according to location, then it becomes a much smaller estate, much smaller portfolio and in every location we are trying to give the best of what we can."
We start the tasting with Nipozzano Riserva 2018 from Chianti Rufina, one of the smallest subzones in Chianti. It's Sangiovese with "complementary varieties" such as Canaiolo Nero, Colorino and Merlot.
Is this the wine's distinguishing feature, I wonder?
"So, when in Tuscany you say my wine is produced with Sangiovese, you do not really add anything to your story – everybody makes Sangiovese," Lamberto explains. "So, you start mentioning the appellation, in this case Chianti Rufina… yet you're not really adding anything. So, one has to start mentioning the estate, in this case Nipozzano. So, you are really trying to restrain your view of where you are producing your Sangiovese in certain lands. That's very important."
Nipozzano, north-east of Florence, has a special place in Lamberto's heart. "I grew up there," he says, "So I can't say anything bad about that place."
The Nipozzano Riserva 2018 "represents the soul of this estate", he adds.
Its well-balanced components include an intense ruby-red colour, aromas of red and black berries with hints of citrus, violets, rosehip and black pepper, and a sensation of elegant freshness that's supported by extremely elegant tannins.
As soon as the grapes were harvested, they were immediately taken to the winery for destemming and fermentation with native yeasts in thermoregulated stainless-steel vats. The wines remained in their separate tanks on skins for 15-20 days.
After racking, malolactic conversion took place in steel. At the end of the year, the wines were transferred to barriques, where they aged for 12 months. Then they were blended and bottled.
With élevage being an important topic during the tasting, I wonder why we're opening wines which still seem in their youth and have had only three years of ageing.
Lamberto admits it's "probably not enough". The reason is purely pragmatic: "Every time we build a cellar and we think 'Oh my God, how big it is', when the painter has left we say, 'Oh my God, we built it too small'. So, it's really a question of space and storing bottles is something, unfortunately, that we cannot do all that much about."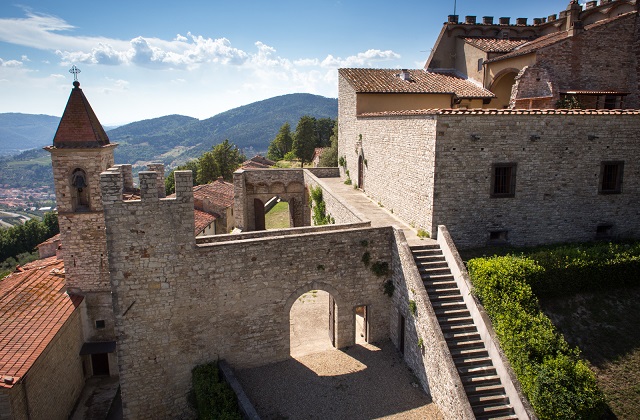 Castello Nipozzano's Vecchie Viti is from the estate's oldest vineyard. The estate's higher-density replanting programme, started in 1991, was about to hit this vineyard. The warm 2011 vintage was scheduled to be its last – but the vines' long roots suffered less in the heat "and the wine that came from this vineyard came out quite amazing. I think it was a message from this vineyard saying, 'Damn you, don't pull me out'," Lamberto says.
They listened to it and, since 2011, the Vecchie Viti has become a mainstay of the range. Mostly Sangiovese, with a little Colorino, Canaiolo, and Malvasia Nera, this is a highly complex, balanced wine, which is matured for 24 months in oak barrels "in accordance with longstanding Tuscan tradition".
Vecchie Viti 2018 has a beautifully intense and radiant ruby-red colour. The main fruity notes include red and black currants, raspberry and black cherry. There are also hints of violet, rosehip and acacia, as well as white pepper, cardamom, juniper and black tea. This is a very elegant wine with an impressive acid-alcohol balance, as well as minty and balsamic sensations that enhance its freshness. The tannins are rounded but noticeable, and the minerality on the finish is morish.
Once harvested, the grapes are taken to the winery for destemming and fermentation in separate cement tanks, using native yeasts.
The wine remained on skins in the vats for up to 25 days before racking and ageing in big oak casks.
The two years in wood preserves "the richness of the wine that comes from the old vines but at the same time adds finesse and roundness", according to Lamberto.
Further ageing in the bottle enabled all the components to harmonise.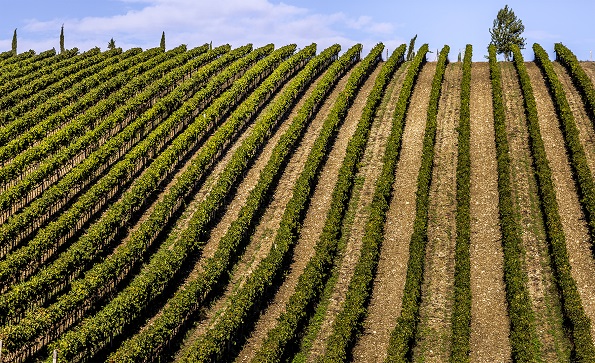 Tenuta Perano (
above
) is about a 45-minute drive away by car in the hills of Gaiole. Purchased in 2014, the Frescobaldi family had previously rented the vineyards which are higher and cooler than most in the Chianti Classico region. The south, southwestern exposure and the amphitheatre-shaped layout magnifies the exposure to the sun and concentrates its heat.
It's this combination of 500m-above-sea-level elevation, exposure, and the shape and slope of the vineyards that lead to brilliant purple wines with intensely fruity aromas and a great tannic structure rife with elegance.
Tenuta Perano's Chianti Classico 2018 is aged for 24 months in used barriques and stainless-steel tanks to give "complexity and ageability".
Its Chianti Classico Riserva 2016 – Sangiovese with a splash of Merlot to give "an extra little touch of texture, weight in the mid-palate" – is fermented in stainless-steel tanks at a controlled temperature of 28-30°C with "few and gentle pump-overs": twice a day at the beginning.
After further ageing in bottle, the bouquet becomes complex and intense. There are floral scents, ranging from sweet violet to dog rose, as well as blackcurrant and blueberry notes. Over time, the emphasis shifts to tertiary notes such as nutmeg, black pepper, and cocoa powder. A balsamic sensation adds elegance and freshness to the wine, which has a lengthy finish and dense tannic texture.
'Absolutely astonishing'
Tenuta Perano's Chianti Classico Gran Selezione, Rialzi – launched in 2015 – is 100% Sangiovese. It is named after the vineyard which was once a dumping ground for stones dug up during the construction of a nearby road. The Frescobaldi family noticed that the Sangiovese coming from this vineyard was "absolutely astonishing".
The 2016 is bold, elegant, and vibrant. It has an intense, bright ruby-red colour. The bouquet is complex and well-balanced: berries, violet flowers and spices are the dominant aromas, followed by notes of toasted coffee beans and tobacco. The wine's taste also has richness and depth, and the texture is intense, with smooth, rounded and perfectly integrated tannins. The finish is clean and persistent.
The Sangiovese grapes were carefully handpicked. Once they arrived at the cellar, they were carefully sorted again.
Fermentation took place in stainless-steel vats at a controlled temperature of 28-30°C with maceration on the skins for a total of 21 days and careful pump-overs to ensure the best possible phenolic extraction.
Afterwards, the wine was aged for 36 months, 24 of which was in barriques – a mix of new and one-year-old barrels.
"Having clean oak that is new allows us to be more relaxed about having a full tank," Lamberto points out. "If the oak's clean, you don't have bacteria, you don't have things going on, and the oak can interact with the wine quite well."
However, when Lamberto talks about new oak, he points out it's not totally new: "We are always very careful we never put our wine in a new barrel, we always rinse the barrel for at least a month or two with another wine, so the oak is never aggressive. We have great fear of oak."
As for the 225L size, he says: "This small size allows us to be very, very demanding on (grape) selection. So, within the Rialzi, we were able to pick only the fillet of that vineyard."
Only after a further period spent ageing in bottles was the Rialzi Chianti Classico Gran Selezione 2016 released for sale.
As we sip it and wind up the tasting, Lamberto reflects: "Playing with oak is like playing with a knife with two edges. You have to be very careful because you can cut but you can also cut yourself."