The case for autonomous agricultural robots is clear.
There's the sustainability case – most are powered by electric, cause less soil compaction than diesel-powered tractors and are designed to lower chemicals use.
There's the economic case – even though they are expensive, they may still work out cheaper than the combo of hard-to-recruit vineyard labourers and conventional tractors. They are also quiet and could work through the night.
There's the healthy and safety case – the machines are autonomous, have huge numbers of safety features built in, and many can safely manoeuvre on steep and slippery slopes.
After three years of writing about the prototypes, it was great to be able to see some of most advanced models in action.
I recently attended the World FIRA event in Toulouse, France, where 30 robots were presented – and 20 of them were demonstrated on five cultivated plots over two days. Not all the machines are destined for vineyards, but even those that weren't showed the ingenious minds at work in this field.
The autonomous InsightTRAC Rover roams through an almond orchard removing worm-infested nuts by firing biodegradable pellets at them.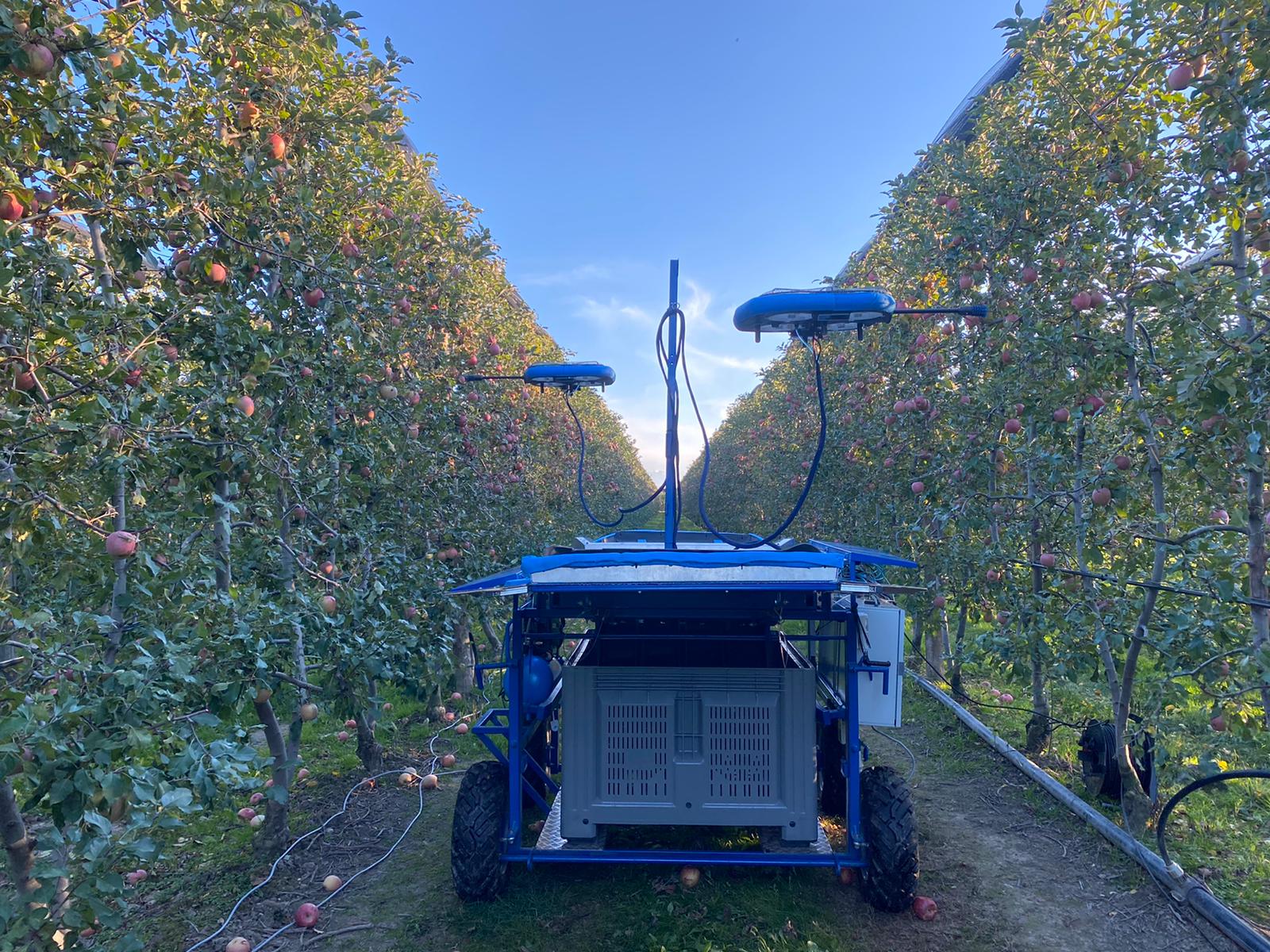 Tevel's automated fruit picking system (
above
) includes a Kubota self-driving machine (or tractor) that trundles through the orchard, transporting two autonomous flying robots. These are armed with artificial intelligence that can identify ripe fruit and pluck it from a tree.
The range of functionalities on the other machines on show varied from mechanical or laser weeding to plant analysis, row or inter-row tillage, seeding or spraying.
My six favourite machines were: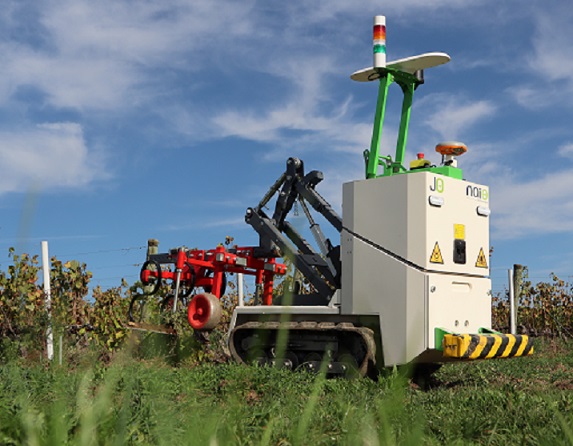 Naïo Technologies' crawler
Jo
(
above
) is a robot that takes tillage tools into narrow, sloping vineyards. It can work more than ten hours at a maximum speed of 2.2km/h.
The French manufacturer also showed its autonomous straddle robot
Ted
(
below
), which is now in production. It can be used for mechanical weeding and pruning up to eight hours a day.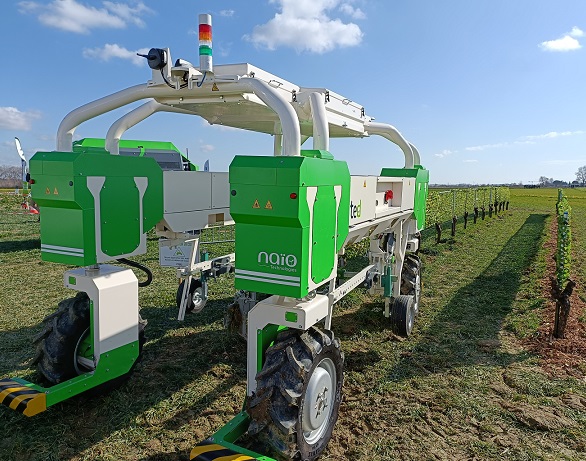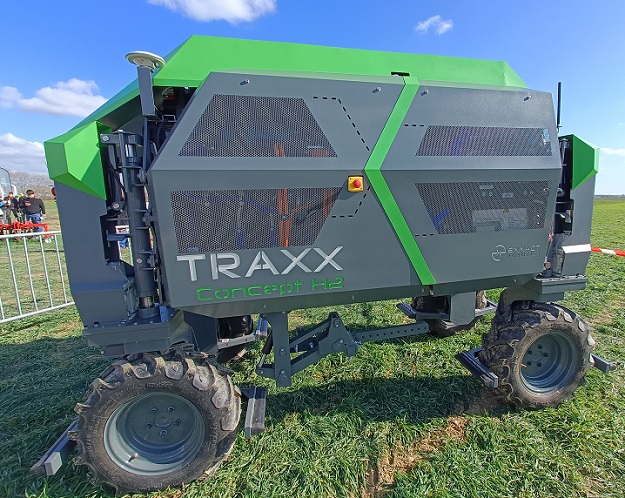 Another French manufacturer, EXXACT Robotics, unveiled a new concept with
TRAXX Concept H2
(
above
), the first autonomous hydrogen-powered straddle tractor for vineyards. Prototypes will be tested in vineyards this season. They should be able to work for 12 hours in a row.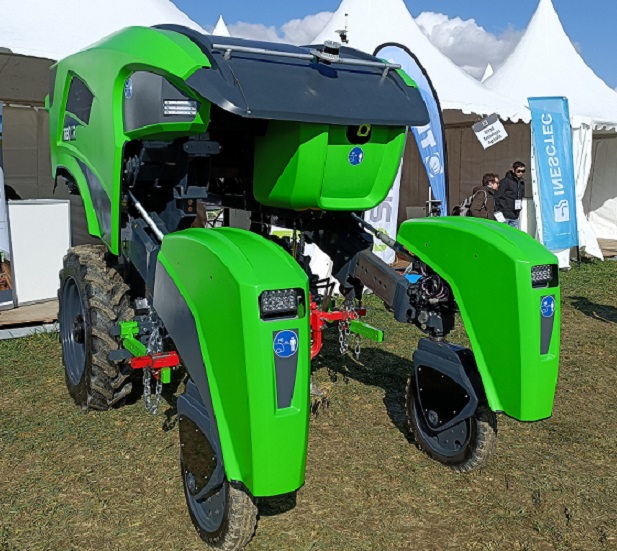 This autonomous, variable-height tractor,
TREKTOR
(
above
), has an electric motor which is recharged by an on-board diesel generator. It allows for up to 24 hours of autonomous work in the vineyard, with an array of sensors helping it in navigation, localization, perception, maintenance and security. It is made in Nantes, France, by SITIA, which is looking for a major industrial partner so it can increase its production numbers.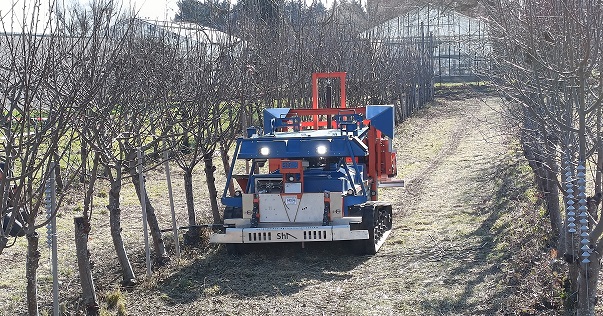 PEK Automotive from Slovenia demonstrated its solidly made
Slopehelper
(
above
), an electric robot that performs all the tasks of the annual cycle in vineyards (spraying, mowing, mulching, cultivation). Pruning and harvesting tools are on the drawing board – as is a smaller, cheaper version which could be a game-changer if it hits the market at the target price of €45,000.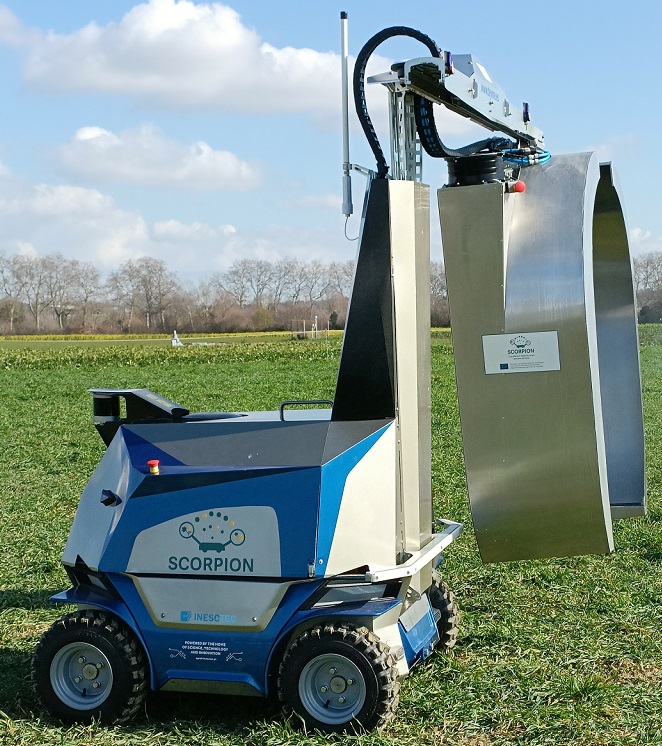 Scorpion
(
above
), an autonomous robot that can be used for precision spraying (
pictured
) or ultraviolet light treatments, has been tested in Spain and Italy and will go out to Sogrape in Portugal for a long-term pilot test this season.
The first impression of these machines, on seeing them up close and in action, is that they are very slow. But that's the nature of precision viticulture – and it doesn't matter how long it takes to do the job when you are not paying for the labour. The main thing is that it performs the task well, and as safely and sustainably as possible.