Francis Ford Coppola's new winery cave, at his Inglenook estate in Rutherford, California, is ready for this year's harvest. Creating it in the hillside – under a vineyard – and next to the old winery was a complex feat of engineering. For a start, the design includes 30 miles of electrical and communications wiring running through six miles of conduit, underneath more than 1,000 cubic yards of low CO2 concrete, and a separate room for white wine fermentation.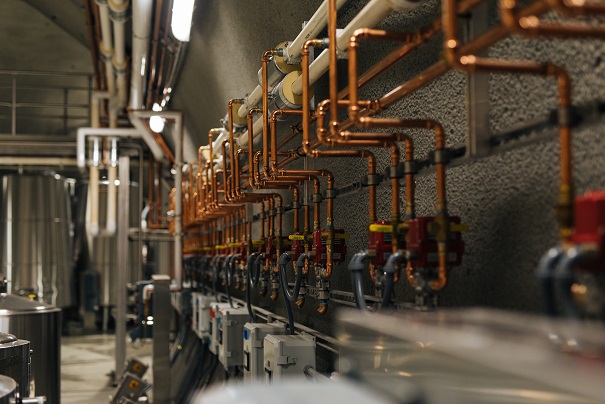 This is a cave designed for making wines, not just ageing them.
"Our contiguous 235 acres of prime Rutherford vineyards are divided into 120 parcels, and now we have a winery with 120 separate fermenters, so that we can achieve the control we wish, by having a tank for each parcel," the acclaimed movie director said.
"Our goal is to keep each parcel in its own fermenter – and to keep each parcel separate for months until we're ready to blend – giving us unprecedented control. The new cave winery enables us to do that."
The director of The Godfather and Apocalypse Now added: "Most wineries design caves for barrel ageing and storage, but we are proud that ours stands out as a 22,000sq ft production cave where our winemaking team can craft Inglenook's world-renowned, elegant wines…
"Together with my family, I am just the third steward of this legendary estate. Since it was founded in Napa Valley in 1879, Inglenook has been recognised around the world for its innovation and industry leadership. This new production cave is another shining achievement in Inglenook's illustrious 143-year history."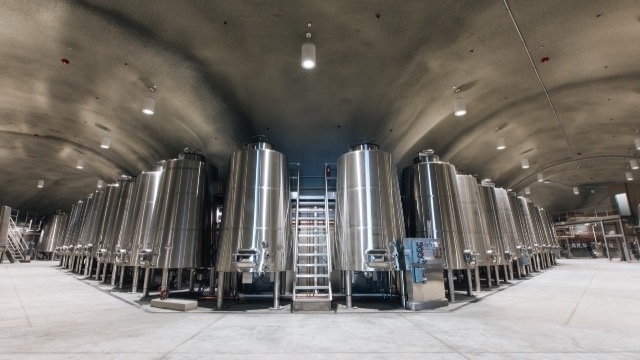 'This new production cave is another shining achievement in Inglenook's illustrious 143-year history'

The details
Taking a cue from winemaking facilities from centuries ago, Inglenook's new winery is eco-friendly and does not require heating or cooling, as caves naturally maintain cooler temperatures throughout the year. Tucked beneath a knoll on the south side of the estate, the cave is also safe from the occasional threat of wildfire. No flammable elements were used, and the entire cave is protected by sprinklers.
Because winery caves are not usually equipped for production, adapting Inglenook's new winemaking facility to a cave environment was an intricate engineering challenge that ultimately centralised winemaking operations to optimise production flow. One of the most notable features is the addition of 120 brand new insulated, remotely-controlled stainless-steel fermentation tanks – each assigned to a different block in Inglenook's 235-acre organically-farmed vineyard. For a winery that produces fewer than 30,000 cases of wine per year, this is extraordinary in Napa Valley.
Each fermentation tank is equipped with a dedicated pump for pump-overs and thermal regulation hardware. Software allows the winemaking team to remotely monitor subtle fluctuations in fermentation dynamics and they will be notified immediately if a fermentation stalls in the middle of the night, so they can remotely and instantly increase the temperature within the tank, ensuring the quality of the wine at a critical time in the winemaking process.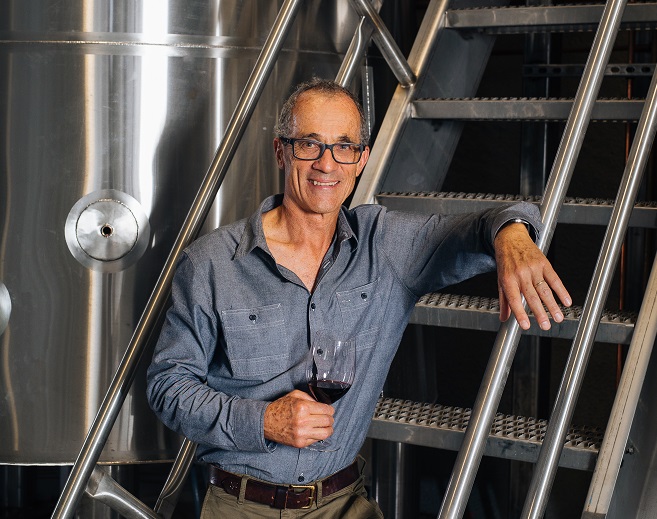 The tanks range in size from one-half ton to 27 tons and are proportionately tall and narrow in diameter. Inglenook's director of winemaking, Philippe Bascaules, favours tanks for red wine fermentation that are somewhat taller and narrower in diameter, which results in a smaller extraction surface relative to the juice volume. This gives Philippe and the winemaking team greater control over the extraction, ultimately leading to more elegant, nuanced wines.
Raising the bar on quality winemaking even further, Inglenook has a separate temperature-controlled room devoted exclusively to the making of Inglenook's white wines, which are fermented in barrels and stainless-steel drums.
"To have each tank allocated to one specific vineyard block is extraordinary, and this level of customisation in our winemaking is an important advantage that enhances our ability to make the world-renowned wines for which Inglenook is known. We now have infinite possibilities, which will lead to even more complex wines," Philippe said. "I am very proud of everything the Inglenook team and our partners have accomplished in designing this new winery cave."
The Inglenook team broke ground on the new winery at the end of 2018. The cave was excavated under a hillside vineyard near the estate's chateau, which was built in 1887. For structural integrity, a diamond-shaped cave was excavated around a solid, central mass – making it similar to a baseball diamond. The "pitcher's mound" is the solid central support, surrounded by a diamond-shaped tunnel that extends from "home plate" at the cave's eastern entrance, north to "first base", west to "second base", south to "third base", and back to the home plate, the cave's portal. The portal's look was inspired by the design of the entrance to the caves at Château Lafite Rothschild. During harvest, the fruit will be sorted by hand in the portal and bottling will occur in that same area later in the year.
An elaborate panel that controls the electricity, utilities, Wi-Fi, and customised controls for each tank, extends along the wall near "first base", in the northern corner of the diamond-shaped tunnel. This is also where Inglenook's new cave connects with the winery's pre-existing 16,000sq ft cave, which was excavated in 2003 to house the wines as they age in barrel beneath the estate's chateau.
A gentle 2ft slope from the back of the winery to the front, plus trench drains throughout, ensure that run-off from the winery and its crushpad will not flow into the estate's storm drains.
The project began with excavation of the cave by Nordby Wine Caves and work progressed with Nordby Construction Company as general contractor for the project.
Innovation at Inglenook
Inglenook has a rich history of innovation in the wine industry. Many of founder Gustave Niebaum's innovations there in the 1800s became industry standards: Inglenook instituted the first sterile bottling process in Napa; it was the first to separate field debris from grapes; Inglenook planted Napa's first Merlot in 1882; and Inglenook built its iconic chateau – the first gravity-flow winery – in 1887. At the time, it was considered one of the greatest winery structures in the Western Hemisphere.
More recently, Inglenook – which has been farming organically since the 1970s – was one of the first estates in Napa Valley to be certified organic (in 1994). Since then, Inglenook has earned a LandSmart certification and has initiated Napa Green certification. In 2011 Inglenook amassed a fleet of electric cars to transport employees and guests around the estate, and in 2012 added larger electric people movers. In 2018 electric vans were added to the collection. Inglenook employees are also encouraged to ride bicycles on the estate. Recently, Inglenook acquired several new Ford F-150 Lightning All-Electric trucks.
The new winery cave uses 480-volt electricity instead of 240-volt electricity, which increases energy efficiency.
High-temperature steam is used to sanitise barrels, saving a significant volume of water that would traditionally be used to clean each barrel, and winery wastewater is recycled for vineyard irrigation.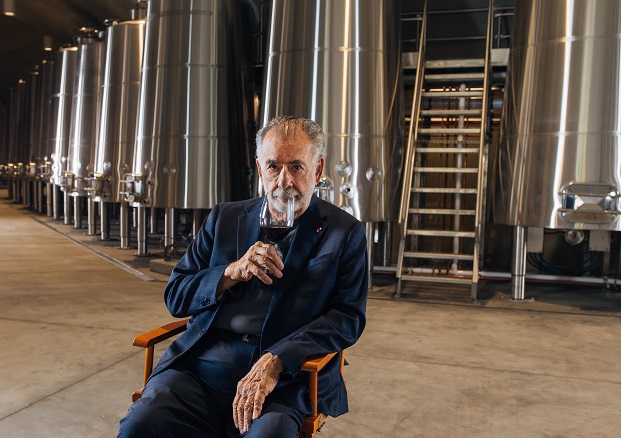 Coppola and Inglenook
Inglenook's founder, Gustave Niebaum, won accolades in Paris and Australia and swiftly garnered international acclaim for Inglenook's wines in 1889, just ten years after he founded the Napa Valley estate. That success was continued by his nephew, John Daniel, Jr. Most notably, Daniel's 1941 Cabernet Sauvignon is still widely regarded by wine critics as one of the best wines of the 20th century. Sadly, Daniel sold Inglenook to a corporation in 1964 and for 11 years the people running Inglenook dismantled the original estate and strayed from its previous leaders' commitment to excellence.
In 1975, Francis Ford Coppola (
above
) and his wife, Eleanor, were searching for a modest vacation cottage and instead ended up purchasing Gustave Niebaum's home and a portion of the original Inglenook estate. The Coppolas soon discovered the inherent treasure in what they had acquired and vowed to reunite the vineyards of the original estate and restore Inglenook's esteemed reputation. Over the next 47 years the Coppola family produced their first vintage of Rubicon, Inglenook's premier wine (1978); purchased the estate's iconic chateau (1995); reunited all of the contiguous vineyards of the original Inglenook estate (1995); and bought back Inglenook's name and trademark (2011).
The wines to try
Inglenook's top wines are: Rubicon, Cabernet Sauvignon, RC Syrah, Sauvignon Blanc, and a distinctive Marsanne-Roussanne-Viognier blend called Blancaneaux.