Australian winery De Bortoli Wines has planted nearly 17,000 trees following sales of wines from its new label, 17 Trees.
The new range of sustainably produced varietal wines come with a commitment to plant one tree for every six bottles sold, supporting essential regeneration projects in its homeland after the devastating 2019-2020 bushfire season.
The fourth-generation family business, which has wineries in Victoria's Yarra Valley and Rutherglen regions, and at Bilbul in the Riverina region of New South Wales, has launched three vegan-friendly varietals – a Shiraz, Pinot Grigio and Chardonnay – under the new label, which takes its name from its carbon-offset commitment in 2008 to plant 17 trees for each company vehicle.


De Bortoli has partnered with not-for-profit organisation Trillion Trees for the project to replant native trees in areas such as Whiteman Park in Perth, Western Australia.
The company says it's the latest manifestation of its ongoing efforts "to innovate and excel" in the area of sustainable viniculture.
The 17 Trees wines come in lightweight bottles made from recycled glass supplied by O-I Glass, while the recycled paper for the labels, supplied by Multi-Colour Corporation, was created from natural fibre-based pulp, sourced from sugar cane waste.
"Sustainability is at the core of the De Bortoli Wines' drive for innovation, and we're widely recognised and commended for our endeavours to become a zero-waste wine company," managing director Darren De Bortoli said.
More than simply jumping on the "green" bandwagon, the 17 Trees label is the latest in a string of eco initiatives that third-generation winemaker Darren has implemented since becoming managing director 27 years ago, at the age of 33.
His first foray into this space, a solution for wastewater generated from cleaning processes at the De Bortoli plants, was rolled out 15 years ago.
"That was really the start of this long journey," Darren commented. "We had a problem with our wastewater and what to do with it. When we started looking at solutions with the help of consultants, it became quite obvious that if we replaced the sodium hydroxide from our cleaning regime with potassium hydroxide, we could use that water to grow crops. We were one of the first wineries to switch to using potassium hydroxide."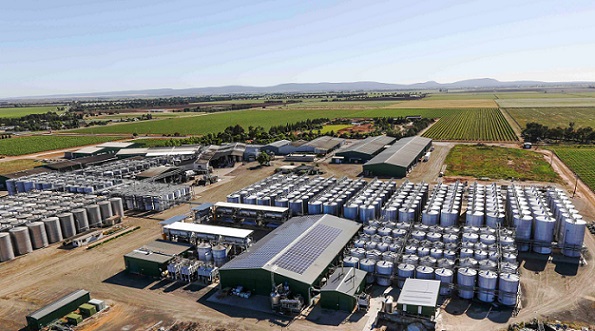 A raft of initiatives has rolled out in the years since. This has included:
A complete overhaul of packaging and labelling processes;
The upgrade of an effluent aeration system, which resulted in a 90% energy reduction;
And the installation of a 230kW solar system and 200kW solar thermal preheater.
Lindsay Gullifer, De Bortoli Wines' health, safety and environmental manager, said the business's ultimate goal is to become a zero-waste winery, establishing a kind of "greenprint" for the industry. It's an ambitious target, and one that is already delivering fantastic results.
Through a mix of recycling programmes, greater operating efficiencies, and an insistence that third-party suppliers reduce excess packaging wherever possible, De Bortoli Wines has reduced its waste sent to landfill from 150 tonnes in 2005 to less than 30 tonnes a year.
Other initiatives include:
Encouraging employees to bring their recycling to work to create an amount that is sufficient for supply to recycling companies. The result has been an 80% drop in waste to landfill.
Converting selected vineyards to organic viticulture. 6.2% of De Bortoli's 1,172ha of vineyards have been converted so far – the Shiraz and some Petit Verdot. The aim is to have most of the vineyards at Bilbul farmed organically (representing about half of the family's total vines).
Using improved film technology on dams, reducing water loss from evaporation by 30-50%.
Darren said these initiatives show the company's "commitment to a future where great wine and a healthy environment can be enjoyed by everyone".
To support the launch of 17 Trees, De Bortoli is releasing 17 stories across social media channels highlighting its sustainability initiatives and journey to producing eco-friendly wines.


Click here to see De Bortoli's results from last year's International Wine Challenge.