'With this grape you need to be ambitious because it is shy'
Trebbiano Toscano, one of the most widely planted grapes in Italy, is often described as a "bland and neutral" variety or "better suited to brandy and balsamic vinegar production". But Fattoria La Leccia, the 20ha estate run by the Bagnoli family in the hills of Val di Botte, uses a mixture of barrels (acacia and oak) and stainless-steel tanks, as well as a large portion of vine-dried grapes to raise its flagship Trebbiano, Cantagrillo, to new levels of delightful unrecognisability.
CEO Paola Bagnoli tells me: "The idea was to treat this grape as if it was a red grape."
Most of the organic Trebbiano Toscano grapes for this wine come from 20- to 25-year-old vines on the hills near Montespertoli, which separate the Val di Pesa from the Val d'Elsa. Some also come from the family's oldest vineyards, where Trebbiano is found on the same rows as Sangiovese and other varieties used (at least traditionally) in the production of Chianti.
Half the grapes are allowed to partially dry and overripen on the vine, using traditional techniques such as 'cutting the canes' and 'pinching the stems'. They are harvested manually in the early morning after two weeks of hanging.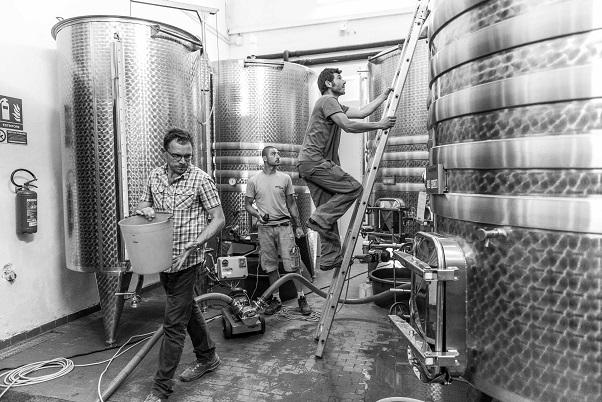 The other 50% is picked early "to get a fresh and balanced wine", according to winemaker Gabriele Gadenz (above, left). These grapes are destemmed, crushed and sent to the press for 18 hours' pre-fermentative maceration at 8°C.
The partially dried grapes undergo three days' pre-fermentative maceration (until the cap rises) in a 3,000L stainless-steel tank at 15°C.
Once the fermentation with native yeasts is under way, the wine is racked off the skins and into 50% stainless steel (1,500L tank), 50% wood (two-thirds in oak barriques and one third in acacia).
The fermentation temperature is maintained at 16-17°C and there is daily bâtonnage.
The wine ages on lees with weekly bâtonnage for 6-8 months and is prevented from undergoing malolactic conversion.
The wines are then blended, stabilised and bottled about 10 months after the harvest.
All the wines are left in bottle for a year before release, so the 2020 vintage will be bottled in November and released next year.
The result is a surprise to anyone who normally turns their nose up at Trebbiano. The dried grapes, long cold soak, low fermentation temperatures, ageing in acacia and oak give it a remarkable structure, a strong character, and a complex bouquet.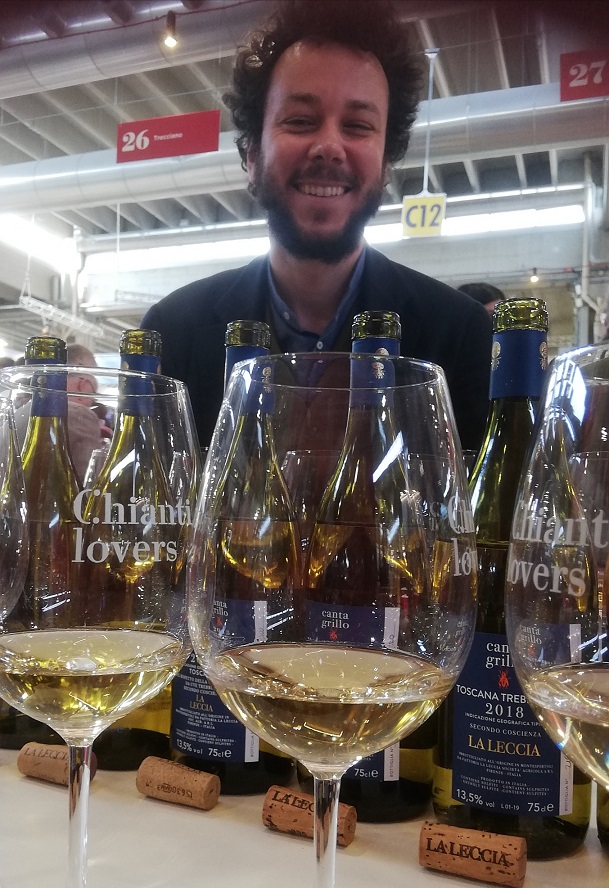 At a tasting last month in Vinitaly – where sales director Lorenzo Bagnoli (
above
) poured Cantagrillos from 2013 to 2019 – it was easy to follow the progression of this wine.
The 2013 is a good but fairly basic Trebbiano, vinified totally in stainless-steel tanks. But Lorenzo, a fan of white Burgundies, said they wanted to aim higher and make an "important white wine" for the region.
In 2014 they fermented in stainless steel but introduced wood for the élevage stage. And not just oak, they also experimented with acacia, cherry and mulberry barrels.
In 2015 the must was fermented in 50% barriques (of acacia, oak, mulberry and cherry) and 50% stainless steel, and the wine was matured for six months in the same barriques.
They didn't produce this wine in 2016 but in 2017 they harvested later and cut a portion of the vines ten days before picking "to concentrate the sugars in the grape". They repeated this technique in 2018, still fermenting and maturing the wine in a mix of wood and stainless steel.
In 2019, however, Lorenzo says "we found our way", and have settled on the protocol outlined above. They dropped the 100L barrels of mulberry and cherry because, Lorenzo says, they were "too much" and they didn't like the powerful aromas.
The tasting also showed this wine, from a single vineyard, has good ageing potential.
'Now we have achieved a great and unique wine'
I asked Paola if the winemaking techniques were employed to make an uninteresting grape more interesting. "You are right," she admits. "Trebbiano is known as the wine of the 'three-i': "incolore, insapore, inodore" (colourless, tasteless, odourless). But since the beginning, we thought that there was an incredible potential behind this grape. The idea was to treat this grape as if it was a red grape, to make a great white wine thinking about a great red wine. Moreover, we have the ambition to relaunch a cultivar that has a long and famous history."
She points out that work on the fabulous dome of Florence Cathedral was started after a meal featuring Trebbiano, before continuing: "We try to rediscover old wine production techniques and to mix them with some modern technologies. I must say that now we have achieved a great and unique wine of which we are very proud."
Although the methods used to make Cantagrillo add costs, Paolo hopes it will inspire her neighbours, some of whom have grubbed up Trebbiano in favour of Sangiovese. "With this grape you need to be ambitious because it is shy," she adds. "But with a massive potential. As more producers understand how to manage this peculiar grape, we will speak – and drink – more about Trebbiano."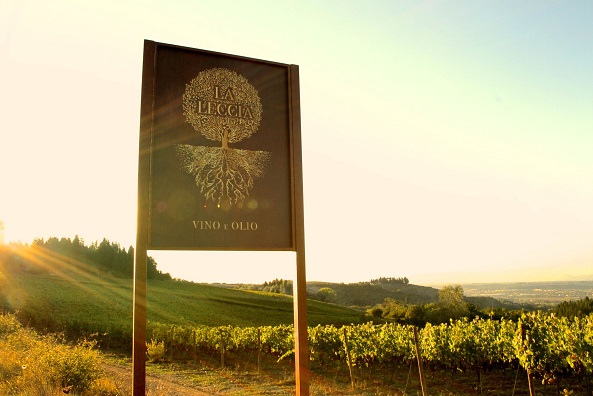 Fattoria La Leccia,
where the main focus is Sangiovese, has also been experimenting with their red wines.
Boh is a sparkling Sangiovese made with the long Charmat method (six months' ageing on lees) using grapes harvested early.
Gota Rossa is a blend of Sangiovese, Merlot and Syrah.
Rubedo is the winery's first 'classic method rosé pas dosé', made from 100% Sangiovese grapes and aged on the lees for at least 36 months.
The story behind the estate
The historic estate was purchased in the 1970s by the three Bagnoli brothers, Renzo, Sergio and Loriano. For them, the estate not only represented a "return to the land", an homage to their roots, since they were native to this side of Tuscany, but also a place to bring the family together, to spend their free time and to bring up their children in a pristine environment. But, in 2009, the estate was rented out and fell into disrepair.
While hiking in the hills in 2013, Paola spotted the problem and encouraged the family (owners of the Sammontana group) to take it over again. She explains: "Our family roots are from this particular land, that is famous for wine and olive oil productions. We used to spend our holidays here since we were kids. For this reason, I must say, it is an important place for our family. Despite that, the property has been rented to other producers, mainly due to a generational change within our family. After some years, I was hiking in the hills near La Leccia and I could not recognise it at all: the vineyards and the olive trees were almost abandoned and they were more similar to a forest than an agricultural field. The day after, I spoke with my family and I said: 'From tomorrow we take over the farm because we must do the right thing!'"
The right thing involves organic-certified vineyards and 3,500 olive trees surrounded by 40ha of woodland, plus a couple of beehives.
'We try to adopt particular actions that have a positive effect on biodiversity'
Paola puts great store in the beekeeping: "It is a fundamental aspect of one of our values – to preserve the biodiversity of our terroir. Vineyards and oil trees are, for some aspects, a sort of intensive agriculture. For this reason, we try to adopt particular actions that have a positive effect on biodiversity, such as the sowing of green manure and, of course, the beekeeping. At the moment we have two hives that are managed by my cousin Lorenzo. From springtime up to summer, we need to visit them once per week. From autumn to winter time, it is enough once per month. For now, we do not produce honey because we introduce them only for the environment and not for production reason. Finally, it is important to mention that bees do not pollinate either the vines or olive trees, but their impact on the ecosystem of the property is spectacular."
Paola runs the estate with her cousins, Sibilla (who's in charge of communications), Angelica (who's in charge of the olive oil production), and Lorenzo (who acts as sales director).