Two biodynamic estates in Germany are using a drone to protect their vines and grapes.
Organically certified and biodynamic VDP wineries Heitlinger and Burg Ravensburg are testing the €25,000 machine on their steep vineyards, spraying treatments such as chamomile, nettle and field horsetail teas.
The main advantage, they have found, is the ability to spray the vines when it's too dangerous and wet for tractors to work on the steep slopes. As well as being dangerous, using a heavy tractor in such conditions would compact the soil, which would have a negative impact on soil fertility, drainage, and biodiversity, and promote erosion.
Winemaker Claus Burmeister says: "Our soil is our most precious asset. We are happy with every treatment that we can perform with the drone and believe that we are only at the beginning of this technology. It benefits our soils and our grapes, which get the treatment and protection they deserve, without compromise."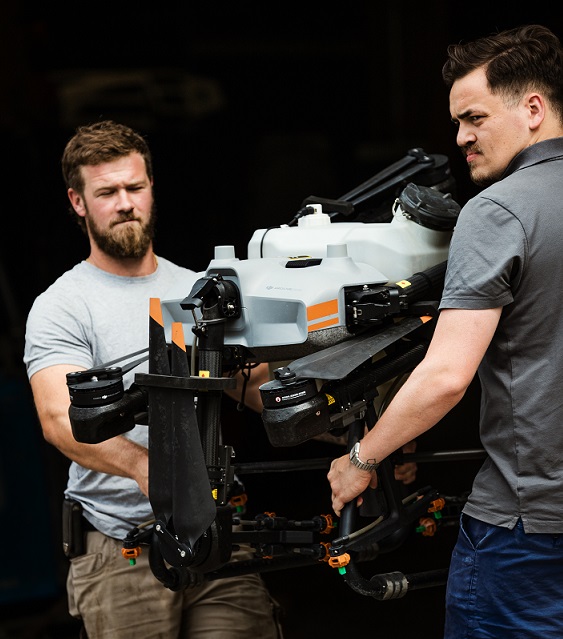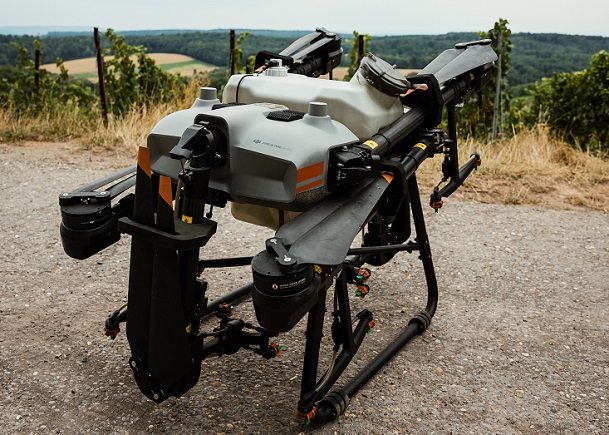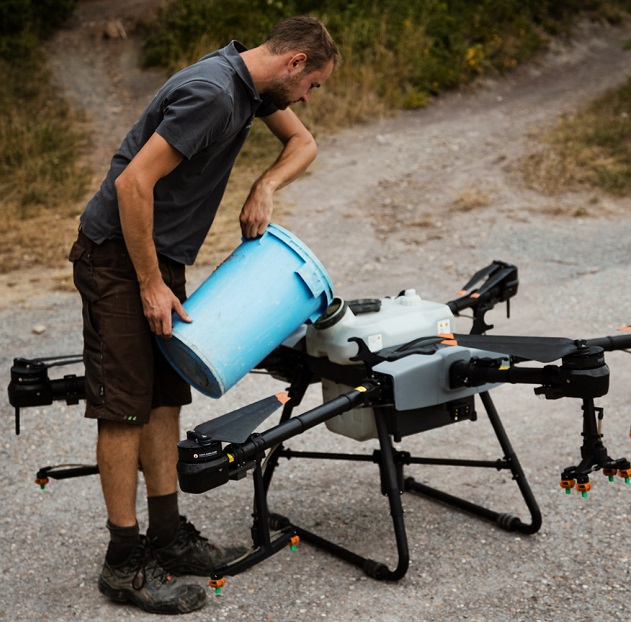 The large machine, a DJI Agrars T30 with a 30L tank, can apply various organic sprays in a relatively short time.
It is being tested in cooperation with the LVWO (Germany's state research institute for viticulture and fruit growing: Landesversuchsanstalt für Wein- und Obstbau). The flight planning and setting of the flight and spray parameters are done on the tablet of the remote control. After starting the software on site, the area is delimited using waypoints and the trajectories are planned in the desired direction. The application rate, the spray mode and the flight speed can also be set. The data is transmitted to the drone by radio. Flight plans are stored in the software and can be retrieved at any time. To control the device, a drone driver's licence and a permit from the Federal Aviation Office are required. For insurance reasons, two pilots are needed per drone.
Previously the VDP wineries would have to wait for dry or passable soil conditions to drive tractors and machinery into the vineyards, meaning the vines were unprotected when they needed it most and, in 2021, Heitlinger and Burg Ravensburg lost 60% of their grapes as a result of this delay.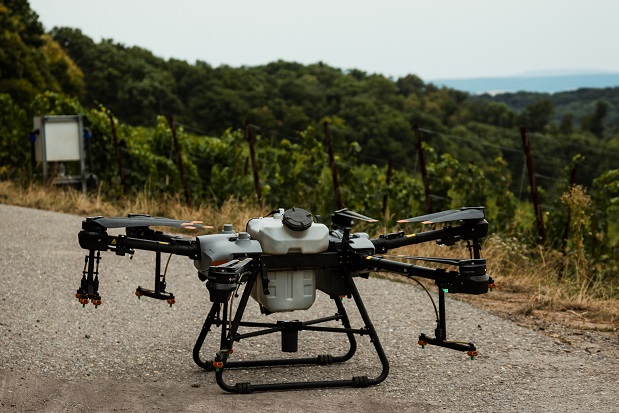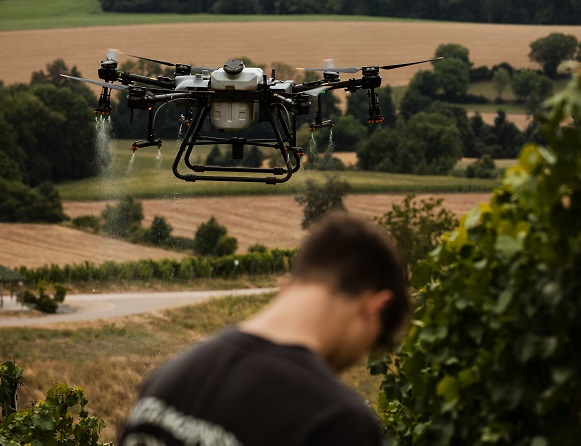 'The traditional methods have their limits'
Patrick Jacklin, third generation of the owner-family at Heitlinger & Burg Ravensburg, is one of the three drone pilots in the company. We asked him about the cost and effectiveness of the drone.Canopy: When did you start testing the use of drones?
Patrick:
"We only started this year in May. The main reason was our poor harvest in 2021. As it was very wet, we were unable to upkeep an effective crop protection and therefore only harvested around 40% of what we consider to be normal."
How effective are they?
Patrick:
"Unfortunately not as effective as the tractors, but we have realised that the drone can support our crop protection, when the soil is wet or when we don't want to stress our soil unnecessarily."
How big is the spraying area?
Patrick:
"The area in which we have used the drone is about 10ha. We are only allowed to use it in our steep slopes (30% and more). In total we have 120ha in both vineyards. More than 10ha are actually steeper than 30% but we wanted to use an area that we can actually reliably cover with one drone, so we limited ourselves to 10ha for now."
How many times does the drone need to return for more liquid or charging?
Patrick:
"The current batteries only last for approximately 15-20 minutes. With the 30L tank it strongly depends on how much we are spraying, but usually one battery lasts for two full tanks."
What biodynamic preparations or treatments do you spray?
Patrick:
"So far we have used different teas with our crop protection treatments (chamomile, nettle and field horsetail) but we haven't really brought out too many biodynamic treatments, as we were focusing the drones on crop protection, but we are looking forward to exploring this possibility more in the next season."
Do you own the drone, or hire it, or is it just a research project for now?
Patrick: "The drone was bought by the LVWO in Weinsberg and given to us, so that the practicability of agricultural drones in an organic winery of our size can be tested."
What are the costs of the machine?
Patrick:
"The drone itself, including four batteries, costs around €25,000. The required licences consist of two separate licences (A1-A3 – €35; A2 – €320). For insurance reasons there must always be two pilots present, so that's at least €700. You are also required to get an extra insurance.
"You also need a long list of permits – because we're in Germany. They don't necessarily cost a lot of money, but plenty of nerves and most of your happiness."
What other surprising benefits have you noticed?
Patrick:
"Firstly, the application of our treatments works better than expected, which is a pleasant surprise. But what was a lot more surprising to us is how interested, curious and fascinated others were to see our new technology in action. Whether it was journalists, people passing by, 'boys with toys' fans and especially other winemakers.
"Many colleagues reached out to us saying that they had obviously heard of the technology but so far haven't really thought of it actually being practical in their vineyards. They were really interested but sceptical of what the drone can do. Especially after 2021 – a very wet year in Germany – many winemakers (us included) were looking for ways to improve their crop protection, as they realised that the traditional methods have their limits. So, it was very surprising to see how much attention our drone got from all different people for different reasons."
See the drone in action
This short video, narrated by Patrick Jacklin, shows how the drone works.