The drama behind the 2019 vintage at New Zealand wine producer Villa Maria has been captured in an hour-long documentary.
The documentary, called 'Vintage', has been given the red-carpet rollout this month with premieres in London, Dublin, Helsinki, Moscow, Sydney, Melbourne, Brisbane and Sofia. Tomorrow (February 26), the film will be screened in New York, ahead of its release on Amazon Prime on February 27, 2020.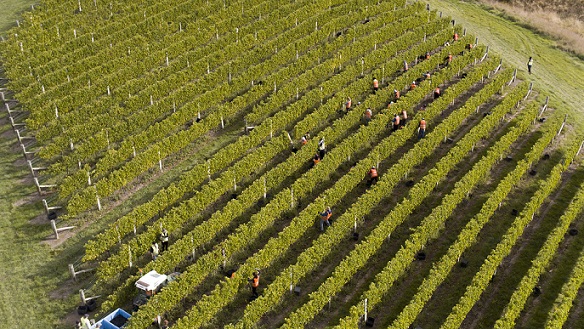 Vintage shows the highs and lows of Villa Maria's 40-day pick in 2019. Focusing on the skill, dedication and personal sacrifices of four of the team – viticulturists Stu Dudley and Ollie Powrie, chief winemaker Nick Picone, and harvest intern Jessica Marston – the footage from American filmmaker Colin West totally deglamourizes the harvest but shows what's required to make top-quality wine in New Zealand's rugged landscape.
SPOILER ALERT:
By the end of the film they all look extremely tired. 
Stu sums it up this way: "This documentary truly encapsulates, for the first time, the mighty undertaking, long hours, passionate people and remarkable skill behind quality New Zealand wine. It gives a voice to a fascinating group of wine specialists and gives wine lovers a new perspective behind their favourite wines."
For three weeks it's a 24-hour operation – with two 12-hour shifts for the machine-harvesting crew (about 15 people on each shift), and about 60 hand-pickers.
IWC co-chair Oz Clarke MBE, who also appears in the documentary, comments: "New Zealand's vineyards have rarely looked more alluring. The winery processes seem challenging and intriguing and are explained in an easy, lucid style, and the bunch of local Kiwis and foreign drop-ins the director has assembled to talk us through the 40 days from picking the first grape to closing down the final vat, are an engaging crew who tell us really interesting, personal stuff."
I attended the London premiere, hosted by the family-owned winery's UK agent Hatch Mansfield, with about 200 other wine lovers, and grabbed Villa Maria's Marlborough viticulturist Stu Dudley for a quickfire Q&A… 
'It's a lot more complex than even I realised'
Canopy: Is it how you remember the 2019 vintage?Stu:
Yes, I think it is. It definitely shows all the ups and downs. It was interesting for me because I never normally get to look at it from a different perspective, you're usually just in the thick of it. It was good for me to see it from the winemaker's angle, the chief viticulturist and harvest intern.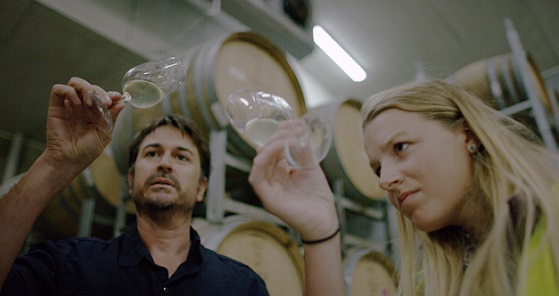 Being interviewed as you went along gave you time to reflect every few days. Would you recommend that?
Yes, it's a really interesting process to go through. All the way through vintage you're getting someone asking you questions about how you're feeling, how's the vintage. We're usually working at such high speed and going forward, we never usually ask ourselves those questions, so it was quite interesting to be talking to people about what's going on. It taught me that it's a lot more complex than even I realised.
Did you change anything because you were being followed by a film crew?
I probably didn't swear as much. We were very lucky with the 2019 vintage. With the 2018 we may have come to the point where we said we can't do this as we were under so much more pressure. No, what you see is kind of how we are.
Do you get involved in other parts of the business?
My role is looking after all the grapes and getting them to the winery in the highest quality we can. I'm lucky, once the grapes are in the winery, I hand them over to the winemaking team and they can take control. But I also get involved at blending time – taste through all the wines and think back to the vineyard.
How's the 2020 vintage looking?
It's looking really good. It's been very dry in New Zealand. Yields will be down a little bit because of the extended heat but the concentration is going to be amazing.
Where are you at with this vintage?
The North Island has started picking Chardonnay. Hawke's Bay will start picking in about a week, which is early. And Marlborough will start early to mid-March. Because it's been dry it's going to come on really fast.
Can you afford to be away from it at this crucial time?
Just. I'm only away for four days. When I get back, I will be straight into it.
Have you been affected by the smoke from the Australian bushfires?
It's heart-breaking what's happening over there. We definitely could see the smoke. Around the new-year period there was a haze, it covered the sky, but it hasn't affected our grapes. It was much too far away.
On the way to the event I'd been reading about Villa Maria's trials using native plants and cover crops as an alternative to herbicides or labour-intensive weeding at two sites in Hawke's Bay. Native species such as Carex comans (brown sedge), Leptinella squalida (Platts Black), Lobelia angulata, Muehlenbeckia axillaris and two varieties of Coprosma acerosa, and cover crop mixes (fescues, clovers, plantain, sheep's burnet and alyssum) are being tested to see if they are beneficial for soil integrity and structure, moisture retention and biodiversity. The trial, which started in August 2019, is due to finish in June 2020.
What are you doing in Marlborough?
We've definitely changed the way we look at our vineyards from looking after the vines and now we're a lot more focused on the soil. In winter, we're growing more oats and lupins down the mid-row to fix carbon and nitrogen in the soil, getting away from using synthetic nitrogen. With our permanent grass we're focusing more on things like clover and wildflowers. We used to just have ryegrass down the rows because it was easy to manage but now we're recognising it's the soils that are growing the vines.
Does being organic make your job more difficult?
No, I think it makes it more rewarding. It does add complexity, but it makes you more aware of how you're farming, how you're carrying out your tasks. Being organic, we don' have these Band-Aids and quick fixes that conventional agriculture can give you. You've got to understand the soil and understand the plant. But I think the more we're doing, the easier it's becoming.
What about your under-row management?
We're trying to move away from herbicides, obviously, be it through under-vine cultivation or under-vine mowing. It's quite site specific as we have some very stony blocks. We're currently investigating planting low-growing native grasses.
What do you use for fertiliser?
We mulch the cover crops back in. We do use compost. If it's low on nitrogen, we use fish meal and seaweed.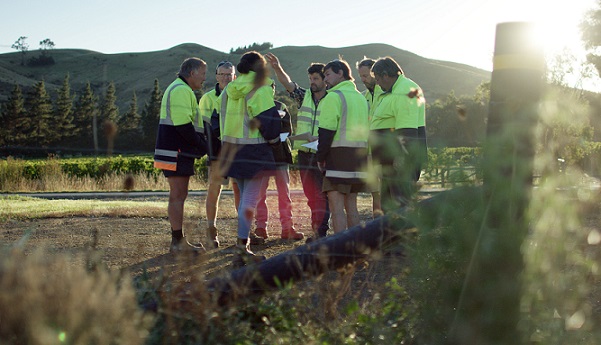 Is there anything different you do with your Sauvignon Blanc grapes?
We definitely treat Sauvignon Blanc differently to the way we grow Pinot Noir and Chardonnay. A lot of the Sauvignon characters come from the skins and the vigour of the plant, so we don't remove as many leaves – we hide it from the UV, and it's generally a bit thirstier than Pinot Noir and Chardonnay. With the picking decision, you're definitely looking for different things – that flavour profile is so distinctly different to everything else. The key thing with Sauvignon is we can't lose that freshness, so as you saw in the documentary, we're constantly eating grapes and that's all about making sure we haven't missed that moment, because it can fall away quickly.
How do you add complexity?
We're really lucky at Villa Maria because we have lots of vineyards spread throughout the province, and it's the sub-regionality that gives us our variation of flavour. Vines close to the coast give you that jalapeno, smoky green character. Wairau gives us that passion fruit. We're really lucky, we get to pick and choose from these sub-regions.
What about some of the other grape varieties?
We treat Pinot Gris like Pinot Noir. We expose the fruit and we hand-pick most of it. Pinot Gris, if you don't grow it right, can be a bit non-descript, but if you do it right it can be quite rewarding. If you do it right, you end up with these quite rich wines that are quite textural. Chardonnay and Pinot Noir are varieties that can break your heart because they are so fragile. But I think that's why we love them – because they are so good when they are good. Pinot Noir is the most reflective of the season.
Did you always want to be a viticulturist?
No, I trained as a scientist. I studied genetics and biochemistry at university. But I didn't want to work in a laboratory. I went away travelling and when I was in Mendoza, I saw the wine industry there and thought maybe I can use my science background to do winemaking, so I went back as a post-graduate and studied winemaking and viticulture. Halfway through the course I thought, 'Hang on, maybe I can spend all my time outside, that looks like a lot of fun'. So, I've ended up doing that, which is great. I love the outdoors.
What's your least favourite part of the job?
Frost fighting – spending the night watching the fans turn round and round. That's pretty lonely and cold. 
The trailer
Where to see the documentary
New Zealand
Available to stream on ThreeNow.
Also available on Air New Zealand's in-flight entertainment.   
USA and UK
Available on Amazon Prime from February 27. 
Ireland
Available on Virgin Media Three from March 1. 
Globally
Available on iTunes, Google Play, Vimeo On Demand and Somm TV from February 27.