Nearly 200 small bottles line the long table. They contain samples of white wines and must from the fermentation tanks at Tikveš, North Macedonia's largest and oldest winery.
I try 22 Chardonnays from different sites and at different stages of the fermentation process before I give up – skipping the Rieslings, Viogniers, Sauvignon Blancs, Temjanikas, Muscat Ottonels, and the wines filtered from lees. It's 9.30am and this is the morning routine for three of the 15 winemaking team during harvest. They taste each and tinker with the fermentation temperature to ensure that the sugar levels decrease in a straight line on a graph. One sample is nearing the end of fermentation, so they make the decision to transfer the wine from tank to barrel now, knowing the remaining yeast will take care of any oxygen  gathered during racking.
The spreadsheet accompanying the samples shows the fermentation dynamics, with temperatures ranging from 13 to 16˚C and the figure for 'oxidation' below 0.04mg/L.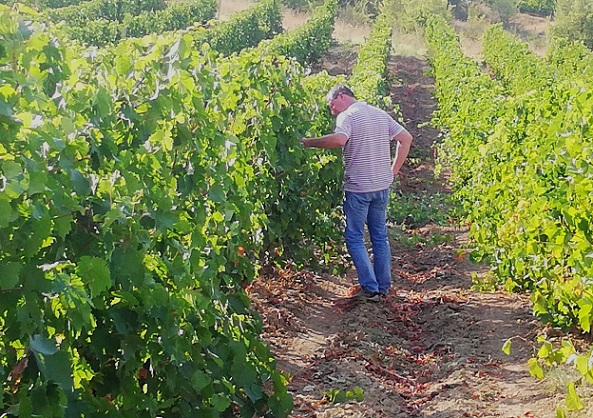 The elimination of oxygen is one of the keys to producing fresh white wines from grapes grown during North Macedonia's long, hot summers, according to Dr Klemen Lisjak (
above
) from Slovenia, who has been carrying out research at Tikveš since 2005.
They measure the oxygen at every stage of the process, from the empty tanks (after sparging with nitrogen) to the finished bottles. They are looking for less than 1mg/L of TPO (total package of oxygen) in all wines after bottling.
One consequence, Klemen says, is they have been able to halve the levels of SO2 in the finished wines – now it's around 25mg/L of free and below 90mg/L total for the whites and below 60mg/L total for reds.
Nearly two-thirds of Tikveš's annual production of 20m bottles is white. Which is remarkable given that North Macedonia is classified by the European Union as being in wine-growing zone C-III-b – along with southern France, Corsica, southern Italy, Spain and Greece.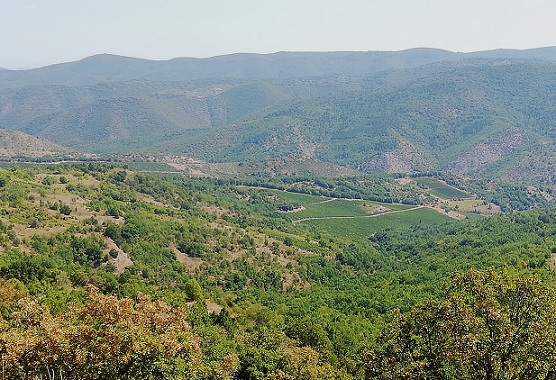 Here are some of the other things they do to help make refreshing whites in a hot climate:
Use high vineyards (Tikveš's top site, Barovo - above - is 500-700m above sea level);
Grow Sauvignon Blanc on east-facing slopes;
Reduce yields to 6-8 tonnes per hectare;
Chill the harvested grapes for 20 hours (to 8-10˚C) (photo below shows Chardonnay grapes chilling);
Use inert gases to sparge the tanks and presses before filling;
Press gently with an inert system (so-called hyper-reduction);
Use selected yeasts;
Ferment at 12-14˚C for the traditional line and 14-16˚C for the terroir wines;
Keep on fine lees for three to six months after fermentation;
Gentle filtration with high attention to oxygen management;
Use a modern bottling line for bottle filling;
Storage of wines at 12-14˚C, and selling within a year.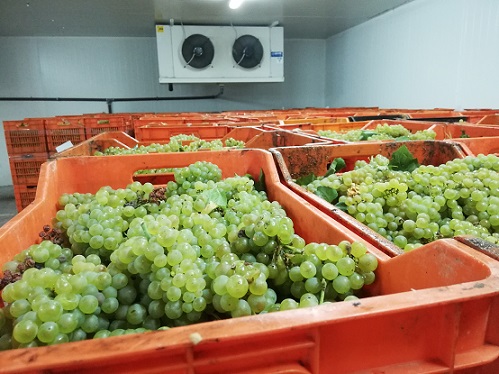 Marko Stojakovic, the head winemaker, says: "We don't have the ideal climate for white wines but we have very good technology."
Since acquiring Tikveš in 2003, the owner, M6 Investment, and its president Svetozar Janevski have invested €40m in winery equipment, new vineyards and replanting old vineyards, as it switches from producing bulk to more premium wines.
Tikveš produces 70 wines from 28 different varieties, in a mixture of wood and inox, and restored cement tanks lined with stainless steel.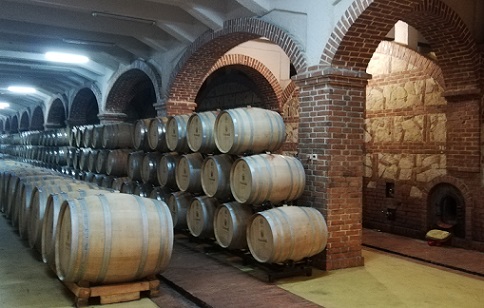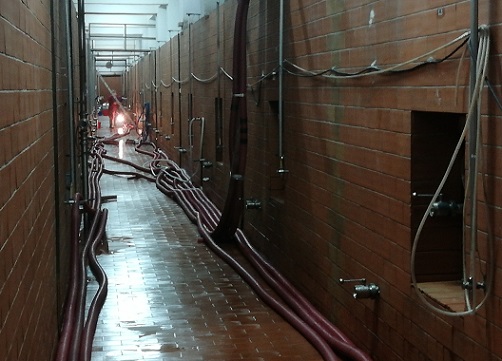 Flagship grape
The grape that will put this former Yugoslavia state on the wine map, however, is red: 
Vranec.
Marko, who came with French consultant Philippe Cambie in 2010, had previously worked in Bordeaux and the Rhône, and so was more familiar with Merlot and Syrah. He told
Canopy
it has taken him five years to understand Vranec. Now he knows the best sites and terroir, the ideal yields and the right picking time.
"It's very difficult to make a good Vranec because it's very robust, there are a lot of tannins," he says. "You have the colour from the beginning, tannins – but not ripe tannins – and you have a lot of acidity. For oenologists it's difficult to understand this type of grape. But when you use small tanks it's easier, and the reduction of the yield is important – Vranec can produce 25 tonnes per hectare, but then you have only colour. When you reduce it to 5-7 tonnes per hectare you have a very good wine and ripe tannins. Now I'm happy with Vranec."
He also believes it's a good grape for blends. Currently it's used in blends with Plavac Mali, Kratosija (Primitivo), and Merlot/Cabernet Sauvignon. But he is thinking of blending it with Syrah and Grenache. (M6 Investment, which also owns Château de Gourdon in Côtes du Rhône, France) has also planted Rousanne and Syrah at Barovo).
Klemen thinks Vranec is a "very promising" grape for climate change "because red wines around the world are losing acidity, losing freshness, but Vranec has these attributes".
To promote the variety – 'Vranac' in its homeland, Montenegro – Wines of Macedonia is organising an event to launch the first
World
Vranec Day on October 5, 2019
. Tikveš and other wineries from North Macedonia, including Stobi, Popov, Venec, Bovin, Dalvina, Ezmit, and Chateau Kamnik, are hosting events for press and wine professionals in the lead-up to the day. Wineries from Montenegro, Serbia, Bosnia and Kosovo will also present their best wines made from the grape.
New wine tourism offer
Tikveš aims to increase wine tourism in the area with its own wine route linking its winery in Kavadarci, which dates back to 1885, with its two premium sites: Barovo and Lepovo. At Barovo, the highest vineyard in the Balkans, there will be a restaurant, glamping in large wooden barrels, and a cycle route. Lepovo, the newest addition to the estate, is getting a new tasting room.
The wine tourism project is due for completion this December.
Next stop on our #harvest19 tour: A new winery in Serbia with modern ways of making Pinot Noir. Make sure you receive all of our #harvest19 series by signing up here. It's free!
First stop: A boutique winery in northern Greece with a 'do nothing' approach.