Night harvesting of grapes is fairly standard operating procedure for wineries and growers in California.
Reasons include:
Keeping grapes cooler, and
Protecting vineyard workers from the heat of the day.
Grapes that arrive at the winery in a cool state are better able to retain their shape and acidic integrity – and cool grapes also reduce the need for energy-intensive refrigeration at the winery.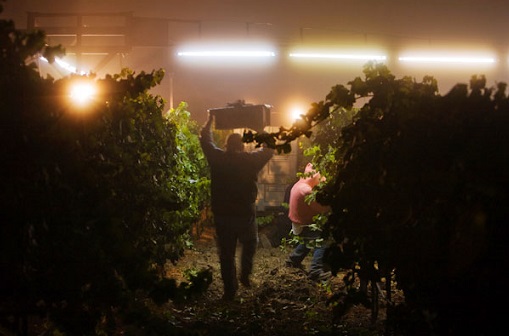 Night harvesting is also part of California's Code of Sustainable Winegrowing Practices, established by Wine Institute and the California Association of Winegrape Growers.
However, not everyone can do it. Linda McWilliams, owner/winemaker at San Pasqual Winery, in San Diego County, told
Canopy
: "The vineyards we harvest are situated on a steep slope, which is difficult to navigate during daylight so night harvest is not a choice. We do begin just before sunrise and stop mid-morning or when the heat comes on and return the following day to complete the job."
Here, Linda and three other California vintners explain how they've been preparing for this year's harvest...
'The key in this business is to be flexible and ready for anything'
Linda McWilliams
Owner/winemaker, San Pasqual Winery, San Diego County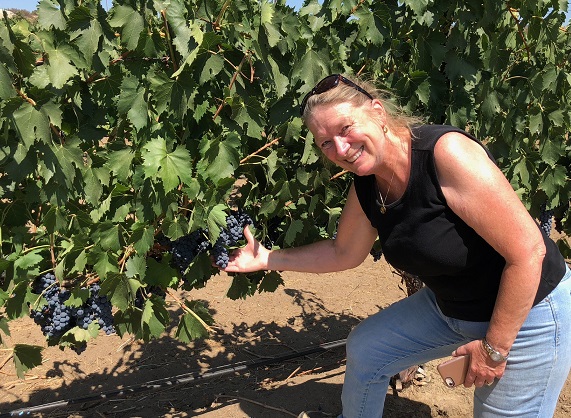 Linda McWilliams (
above
) normally starts her harvest preparations around mid-July, after veraison, by estimating the crop size.
She explained her calculating technique to
Canopy
: "When we have a history with a vineyard, it is much easier to gauge the crop size against previous harvests by visual inspection. With a new vineyard or when doing more fine-tuning on a known vineyard, it is helpful to get a count of viable (evenly ripened, not sunburned, no powdery mildew, no bird damage) clusters on a few randomly selected vines in a block of the same varietal, count the number of clusters and estimate cluster weight (about 1/3lb for most, 1/2lb for large cluster varietals such as Malbec, then multiply by the number of vines in the block. This is just a very rough estimate for small vineyards. On some very small vineyards we actually count viable clusters using a hand tally counter."
Then, she decides how that fruit will be handled in the cellar. "Is it going to be in stainless steel tanks or in barrels?" she says, "And how much space do we need to allocate and have ready?"
Around the same time, Linda and her team empty barrels and try to bottle as much wine as possible to free up barrel space for the incoming juice.
"In the vineyard, the team is gearing up for harvest, making sure that fruit thinning is done, that we're into veraison and keeping powdery mildew in check," she says.
Once veraison is under way, new concerns emerge. "We're worried about attack by birds," says Linda, "so netting or sound systems are applied.
"Bird aversion techniques we have used on small vineyard sites include Mylar streamer strips tied in random places around the vineyard to trellis stakes, netting, and bird sound deterrent systems that broadcast sounds of birds in distress or of bird predators. Netting is most prevalent. We have had good luck with both netting and audio systems."
'Labour shortage is a critical issue state-wide'
Lining up harvest help is another crucial part of the preparation – especially in San Diego County, where the wine industry is smaller, and labour can be hard to come by. "Labour shortage is a critical issue state-wide but especially in San Diego which is a 're-emerging' wine region," Linda says. "Typically friends, family and staff are recruited to assist in harvest for small vineyards. A couple of large commercial vineyards in the county now use mechanical harvesters for most and charge more if a winery requests hand-harvesting.
"To address the long-term labour shortage in San Diego County, we have developed a two-year Viticulture Technician Apprenticeship Program, to train interested persons for work in vineyards, wineries and tasting rooms. We are beginning our fourth year and the program continues to grow. Currently we have six apprentices enrolled and three graduates with Community College VTAP certificates. During the program, the apprentices complete 1,500 paid hours per year at vineyards and wineries throughout the county to get on-the-job training."
Picking usually begins for white grapes just after Labor Day (September 2), but in recent years, heat spikes have accelerated it to as early as the third week of August. This year the harvest started on August 19. "The key in this business is to be flexible and ready for anything," Linda concludes.
'There's always something that needs attention'
Mark Houser
Vineyard manager, Alexander Valley Vineyards, Sonoma County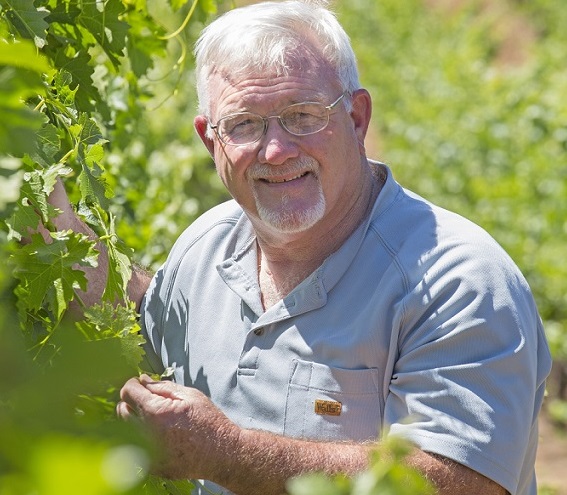 At Alexander Valley Vineyards, the most intense harvest prep begins around late July.
"It's kind of like grooming," says vineyard manager Mark Houser (
above
). "We're going through and taking a few leaves off, removing ugly fruit, looking for mildew."
The vineyard team also estimates the size of the crop to help determine the amount of tank and barrel space needed for the harvested fruit. Along with historical data, the calculation is based on the average number of clusters per vine, average weight per cluster, number of vines per acre and the total number of acres.
Other pre-harvest prep includes getting the equipment ready, from reserving rental trucks and trailers to cleaning grape bins. "There's always something that needs attention," says Mark, "so you start early to make sure it's going to work."
A typical harvest for Alexander Valley Vineyards begins just after Labor Day with Chardonnay or Pinot Noir, and this year's timing appears to be right on target — barring any last-minute weather changes.
The night harvesting is carried out by machine, while the day harvesting is usually by hand. This allows them to pick in a more timely manner, be more efficient with their equipment, and minimise labour costs in the vineyard. They pick about 50% of their fruit by machine.
'I have a very simple rule for the pickers'
Cameron Parry
Director of winegrowing, Groth Vineyards & Winery, Oakville, Napa Valley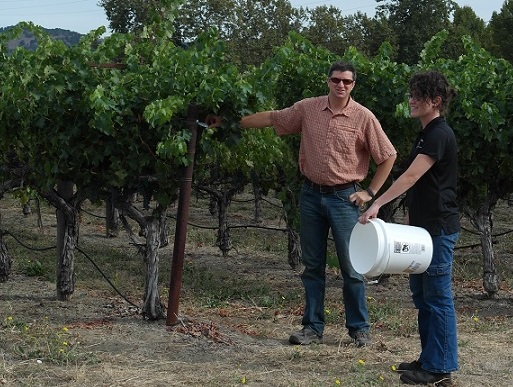 Cameron Parry (
above
) starts planning for next year's harvest immediately after the current one ends.
"Shortly after we finish, the winemaking team gets together and has a debrief," he says. "We talk about what worked, what didn't and what we need to fix. Then we get it down on paper while it's fresh."
In June and July, harvest preparations begin ramping up. Cameron and his team check and repair winery and vineyard equipment as necessary and start ordering supplies such as yeast and nutrients. The vineyard team starts pulling unwanted shoots that can potentially produce a second crop of inferior fruit — and removing extra vine leaves to ensure the appropriate amount of light is hitting the grape clusters. When the reds begin the onset of ripeness and the grapes change colour during veraison, there's more work to do.
'We'll drop any clusters behind in maturity, just to ensure good uniformity'
"We'll make a crop-thinning pass to eliminate undesirable fruit once we're at about 50% veraison. We'll drop any clusters behind in maturity, just to ensure good uniformity and homogeneity," Cameron says.
A month from the start of harvest, the Groth team spends lots of time walking the vineyard rows and tasting in order to determine the optimal picking dates. "Closer to harvest, we'll start taking bigger fruit samples for analysis of sugar, pH and acidity levels," Cameron explains.
Days before harvest, he'll make a last sampling and decide the picking schedule. Because harvest is done at night, when it can be difficult for the crew to see the clusters, the vineyard team goes through a few days in advance and strips the extra leaves from the fruiting zone, removing any clusters that are damaged, sunburned, raisined or mouldy.
Groth's harvest typically begins with Sauvignon Blanc in late August, but Cameron predicts a later start this year—around September 6.
"We harvest all of our fruit – both estate fruit and purchased fruit – by hand in order to ensure that only the highest quality grapes arrive here at the winery," Cameron tells
Canopy
. "I have a very simple rule for the pickers – "If you wouldn't eat it, don't pick it". This eliminates almost all of the potential undesirable fruit (rot, raisin, underripe, etc). We pick everything at night in order to provide better working conditions to the crews, to ensure that the fruit is cool and plump, and so that we can start processing earlier in the day."
Birds, he says, are not a problem. "We are fortunate here that we do not have any recurring issues with bird damage," he states. "We do occasionally see some bird damage in young vineyards, but normally once they are older (over five years) the canopy growth is sufficient to hide the fruit from hungry eyes… Additionally, we have raptor perches and owl boxes installed in our vineyards in order to encourage birds of prey, though this is mainly for gopher and ground squirrel control."
Recruitment is not a problem either. Cameron says: "Our harvest crew in the vineyard is reasonably stable. The same crew that harvests the fruit for us also works in the vineyard throughout the year – pruning, suckering, tying, etc – though the ranks do swell a bit for the actual harvest. Mostly the recruiting is through word of mouth – friends and family of our current employees."
'The cleaning just doesn't stop'
Chris Eberle
Winemaker, Eberle Winery, Paso Robles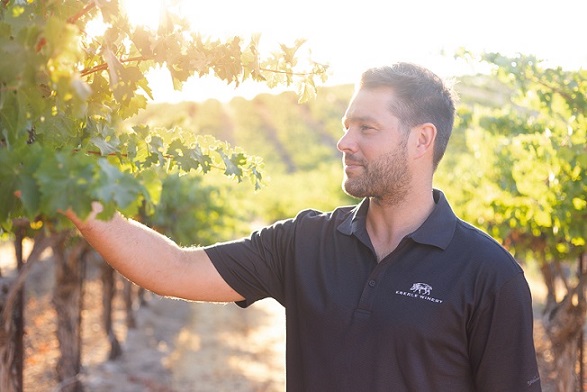 At Eberle Winery, harvest preparations begin as early as February, when winemaker Chris Eberle (
above
) places his annual barrel order for the coming year. Planning ahead helps him avoid last-minute surprises — such as strikes at the docks — and helps save money with certain discounts by ordering far in advance or accepting barrels early. "When you're talking about a $100,000 order, a 3% discount adds up," Chris says.
A month or a few weeks out, Chris schedules yearly maintenance on presses, destemmers and other essential equipment.
Around the same time, new harvest interns arrive for training, which usually involves reviewing important safety procedures and washing tanks. "There's lots of cleaning — clean, clean, clean — and it just doesn't stop," Chris says.
Walking the vineyards is essential in the weeks leading up to harvest, so Chris will spend time among the rows each day, checking on fruit development. "We've got about 30% of our production in estate fruit, and the rest is contracted," he says, "so I deal with 15 different growers and 50 different vineyards."
Along with monitoring crop sizes, he checks that the vines are in balance and decides whether or not to adjust the canopy or drop fruit. Two weeks from the estimated harvest date, he'll start sampling white grapes and early-ripening reds such as Zinfandel and Grenache to check progress.
While harvest normally begins between the end of August and mid-September, Chris predicts this year's crush will kick off closer to mid-September.
California's sustainable practices include:
Using cover crops between vine rows to add nutrients, control vine growth, attract beneficial insects and prevent erosion. Many growers also use compost, including grape pomace recycled from wineries, to build organic matter in the soil.
Maintaining green corridors to ensure that wildlife – deer, fox, coyote – have access to forestland and water. Growers avoid planting around existing trees and away from waterways and vernal pools.
Protecting trees for owls, falcons and other natural predators that help reduce otherwise harmful rodents.
Preserving native habitat and plants for beneficial insects that control pests.
Using beneficial insects, such as predatory mites, spiders, wasps or ladybugs, in vineyards to help control the population of harmful bugs and insects. This is accomplished by introducing insect populations into the vineyard and/or providing habitat, such as cover crops and native grasses, to attract beneficial native insects.
Using chickens to control destructive insects such as cutworms, as well as weeds.
Using sheep to control weeds.
Using a variety of tools to measure water needs and use, such as weather stations to monitor evapotranspiration, probes that track water availability and depletion in the soil, devices that quantify plant leaf water stress and flow meters for wells and pumps. These tools provide data that helps growers precisely determine the vines' water needs and apply water through drip irrigation only when necessary.