Weingut Braunewell, one of Germany's top sparkling and still wine producers, has built two new cellars on the site of an old barn. Throughout the three-year restructuring and modernisation programme, the Braunewell family prioritised three things: sustainability, efficiency and working conditions.
Stefan Braunewell (
below, left
), who runs the business with brother Christian (
below, right
) and father Axel, says the new cellars are for their wooden barrels and give them "better conditions for the fermentation and development of our wines".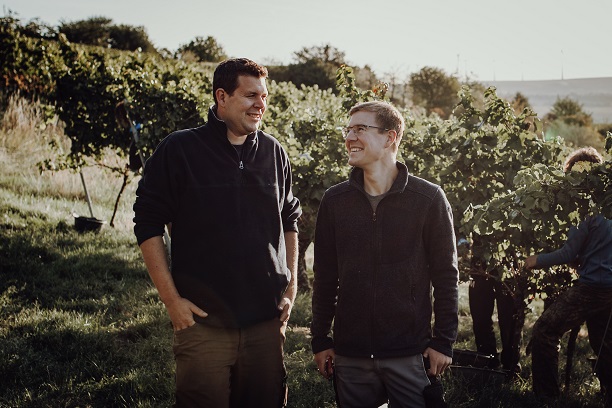 "One cellar is for traditional German oak barrels, Stückfässer, for a controlled fermentation of whites and barriques from the latest vintage," Stefan explains. "It has been built as a cellar, to minimise the need of cooling the rooms and to have a stable humidity. In the end this minimises the evaporation from the barrels and so the need of refilling the barrels, which is better for a straightforward fruit, especially Pinot Noir.
"The other cellar has been built with low-energy underfloor heating to improve the conditions of the final fermentation and malolactic."
In addition, the old cellars have been renovated as part of the project, which lasted from 2018-2021, and will be used for white wine and the sparkling fermentation. It also gives Weingut Braunewell, which produces 250,000 bottles a year from 28ha of vines, additional space for producing its reserve and sparkling wines.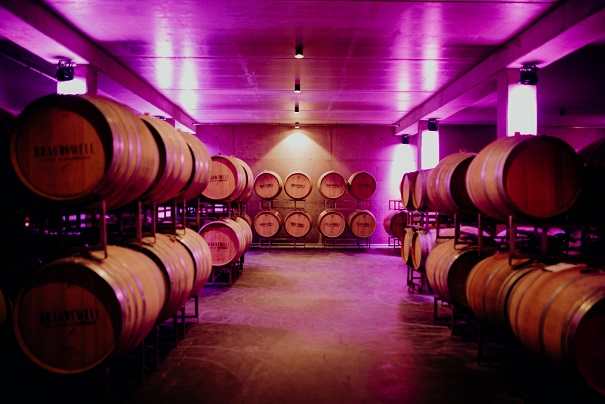 The new cellars were built on the site of an old barn, where Stefan's grandfather Adam kept pigs and chickens. "Not to waste land. Not to steal more land," Christian comments.
Sustainable measures were part of the criteria.
A site-wide switch to LED technology to save energy.
1,300hl of rainwater tanks added to save fresh water for crop protection, irrigation of the garden and pre-rinsing of materials.
A new cooling machine installed to manage the fermentation and stock temperature, with the warm air taken to heat the office, tasting room, new seasonal workers' accommodation and the second barrique cellar through a low-energy underfloor heating system.
Hot water produced to clean the tanks, so they no longer need chemical cleansers.
The winery covers an impressive 70% of its energy needs through solar panels and aims to increase this with a second photovoltaic system together with batteries for storage. Some of the rest comes from burning woodchips made from prunings and dead vines.
For the future, they are also looking at using alternative sources of fuel for their vehicles and tractors.
Weingut Braunewell's commitment to "treading more lightly on the earth" has earned it a FAIR'N GREEN certification for sustainable viticulture standards.