World's Best Vineyards will unveil its 2023 Top 50 list in Rioja this year. The announcement will take place in July and the Top 50 wineries have received their invitations. Ahead of the event, Canopy contacted Tom Perry of Inside Rioja to learn more about the region's wine tourism pioneers. He told us of plays being staged in one winery, which also offers a summer cinema season on its lawns. Another organises themed parties to familiarise young people with the culture of wine. Another has actors telling sensual tales to diners around Valentine's Day…
Undoubtedly, the most famous and best attended cultural events in Rioja, Spain, are its wine harvest festivals in September. There is one in Logroño celebrating San Mateo (St Matthew) and the Rioja Alavesa Harvest Festival. Besides these, the Rioja region offers numerous artistic and cultural events based on wine, including theatre, film and music festivals, museums, art exhibitions, and literary awards. Here are some inspirational examples…
Teatro con Diamante and Cine de Verano at Bodegas Franco-Españolas
Bodegas Franco-Españolas was founded in 1890 and borders the Camino de Santiago (the Pilgrims' route to Santiago de Compostela). The winery is a five-minute walk, across a bridge over the Ebro River, to downtown Logroño. This easy access makes the winery a popular spot for tourists and local residents alike.
Franco-Españolas is also a wine tourism pioneer in the Rioja region. Its innovative events, under the direction of the winery's dynamic wine tourism manager, Elena Pilo, have made Franco-Españolas the second most popular tourist destination in Logroño.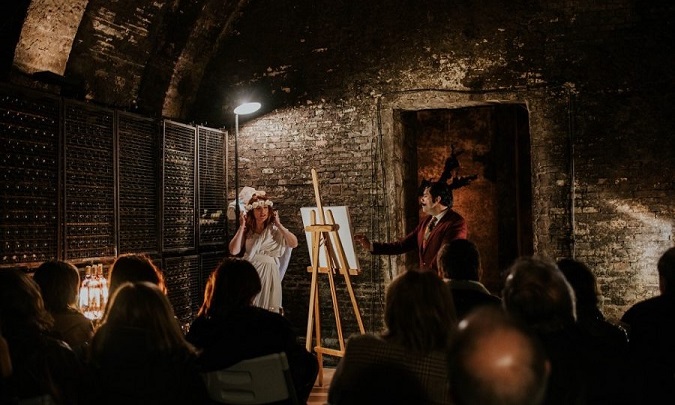 Teatro con Diamante (Theatre with Diamante) at Franco-Españolas is a one-act play competition. Each May, five spaces inside the winery are transformed into stages. There, theatre companies perform short plays for 15 minutes, after which spectators vote to choose the winning performance.
In 2022, more than 500 theatre lovers attended the ninth edition of Teatro con Diamante, won by the El Mono Habitado troupe for their play 'La Buena Letra'.
In Spain, 'After work' gatherings are popular activities. Here, we call this 'tardeo'. Franco-Españolas has given 'tardeo' a new twist by transforming one of the winery's lawns into an impromptu outdoor event: el Cine de Verano — Descaradamente Clásico (Summer Cinema). Every Thursday in July, movie lovers gather to watch original language films with Spanish subtitles. As a first act, attendees are treated to live music with tapas and glasses of Rioja from the winery.
The Vintae Wine Fest
The Vintae Wine Fest looks like a party, but its real purpose is to familiarise young people with the culture of wine.
Vintae is a winery in the village of San Vicente de la Sonsierra, run by 40-something brothers Ricardo and José Miguel Arambarri. The winery is known for its innovative wines targeted mainly at millennials and Gen-Xers. Winery management says that it does two things very well: "make wine and organise parties".
As everyone knows, Spaniards know how to party, enjoying probably the best work/life balance on earth. The Vintae Wine Fest embodies this festive spirit with an annual October weekend of music, tapas crawls, dancing, wine tastings and other entertainment that envelops the whole village in an atmosphere of fun.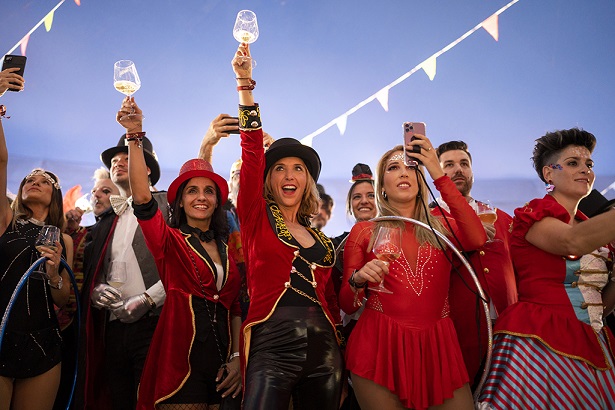 Every year the theme changes. Past fests have centred around the 'Wild Wine West', the 'Wine Gatsby' (the Roaring Twenties), the 'Wine Olympic Games' and the 'Democratic Wine Festival' (the hippy era). The 2022 fest was created around the theme of the 'Wine Circus' (
above
), including a show inside a giant tent and other circus-related events around the village.
Vintae says: "With this event, our aim is to present wine culture to a young adult audience with a wine-related ambiance that fits their tastes and lifestyle preferences. It is unlike any other wine or music fest in that it succeeds in creating fans who add wine consumption to their free time activities, associating it with gastronomy."
MUWI (Music + Wine)
In 2015, local entrepreneurs José Pancorbo and Rafael Bezares weren't sure if they wanted to create a special music festival or a special wine festival. So, they created both: MUWI La Rioja Music Fest, an annual event that fuses music, Rioja wine and tourism.
MUWI takes place at the end of August on the grounds of Bodegas Franco-Españolas. Here, DJs and a diverse blend of musical genres, including indie, pop-rock and electronic groups, perform throughout the weekend. The festival is a 'must' in music lovers' diaries in northern Spain.
MUWI has tailored the festival's wine experiences to people with a wide range of wine knowledge. Absolute beginners compare aromas in wine with fruit aromas while those with more knowledge are led through tutored tastings. For experts, Bodegas Franco-Españolas offers tastings of the top of its range. Everyone can take a tour of the winery's old cellars to learn about the history and traditions of Rioja.
An important challenge for the organisers of the festival has been weaving attractive wine events into the structure of MUWI for their primarily 25- to 45-year-old audience, a group more interested in beer and fizzy drinks than wine. José Pancorbo is proud that MUWI is a unique festival in many ways, but as a Riojan, he's especially happy because, at MUWI, wine is served in wine glasses!
The Confessor Erotic Stories festival at Vinícola Real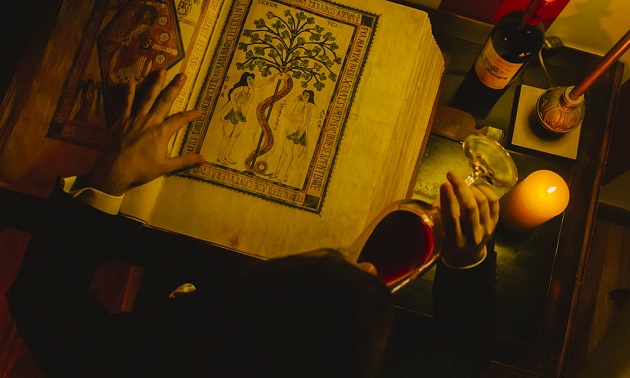 Most Rioja wineries offer special gifting opportunities to celebrate Valentine's Day. Bodegas Vinícola Real-200 Monges in Albelda de Iregua (La Rioja) goes one step further.
For the weekends before and after Valentine's Day, Vinícola Real has created a Confessor Erotic Stories Festival. 2023 was the sixth festival, with two storytellers relating adventures guaranteed to enchant the audience, awakening feelings of sensuality and delight, enhanced by good food and wine.
Each evening begins with a candlelight dinner, followed by two sensual tales narrated by award-winning actresses. In the words of the winery, "the beautiful atmosphere of our winery is transformed into a unique cultural experience based on the enjoyment of the senses, through listening to the spoken word, a tradition as old as the origin of humanity."
To top off the evening, guests have the possibility to stay overnight in La Casa del Cofrade, a charming hotel located inside the winery.
Villa Lucía Museum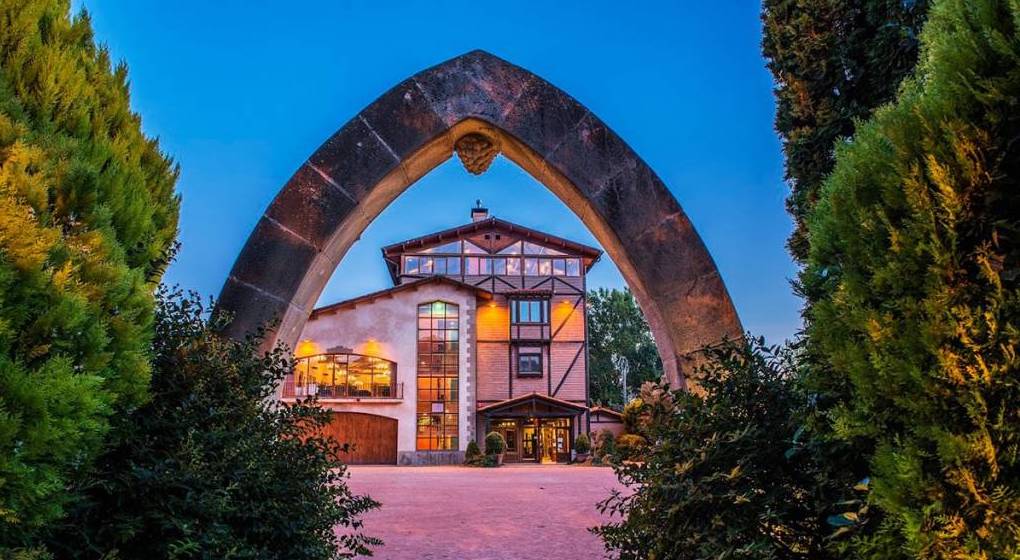 Villa Lucía in Laguardia (Rioja Alavesa) houses an extensive wine museum featuring a 4D film, 'In the Land of Dreams' that surrounds spectators in an experience involving not only sights and sounds but also one's sense of smell. The film has won more than 18 international awards at festivals in Portugal, Warsaw, New York, Berlin, Vienna, Napa Valley, and 'The Best of the Fest 3D Shorts' at the 3D Film Festival in Hollywood.
The Villa Lucía Museum is also innovative for its fully inclusive, universally accessible experience for visitors.
The Vivanco Museum of Wine Culture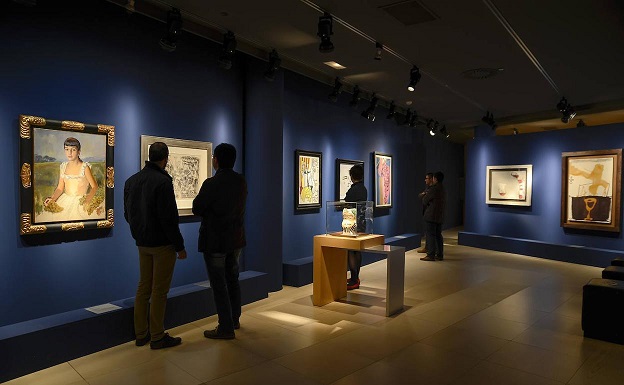 The Vivanco Museum of Wine Culture in Briones (Rioja Alta) – number 44 in the World's Best Vineyards' 2022 list – is arguably the world's most famous museum devoted to the culture of wine. It houses an extensive range of exhibits showing the history of wine from ancient times to the present day, videos explaining the grapegrowing and winemaking process, a priceless art and ancient artefacts collection featuring the theme of wine, a movie theatre showing excerpts from wine-themed films, the world's largest collection of corkscrews, wine jewellery and winemaking equipment. This amazing compendium is the result of the Vivanco family's patient pursuit of wine-related art for the purpose of "giving back to wine what wine has given to us".
In addition to its impressive permanent exhibition, the Vivanco Foundation organises events including the Pedro Vivanco International Engraving and Wine Awards and temporary exhibits by well-known artists.
A slightly different version of this article appeared first in the Great Wine Capitals newsletter. You can read it here.