Increased downy mildew (Plasmopara viticola) pressure is one of the many challenges we face as a result of climate change, so it's no surprise that there is renewed interest and research into this major grapevine disease. In this article I will focus specifically on the very latest research into the weather conditions affecting downy mildew infection and development.
For many years the European 3-10 model (shoots at least 10cm long, above 10°C, 10mm of continuous rain over a 24-48hr period) and the Australian 10-10-24 model (above 10°C , 10mm of continuous rain over a 24hr period) have been used to predict the occurrence of a downy mildew primary infection.
These models are still very useful for growers due to the ease of monitoring. However, as you would hope and expect, the search for an even more accurate model continues. This is particularly the case with the modelling of secondary infections. Weather monitoring combined with airborne spore sensors is also opening up a new generation of tools for vineyard managers.
Perez Exposito J P 2017
developed and tested an algorithm for predicting the development of downy mildew based on the 3-10 model and the Goidanich Index (see summary table
here
). The flowchart below presents the logic behind the algorithm used in the study. The process starts with the assumption that a 3-10 event has occurred, ie. a downy mildew primary event has occurred and uses the assumptions of the Goidanich Index to predict the development of secondary infections.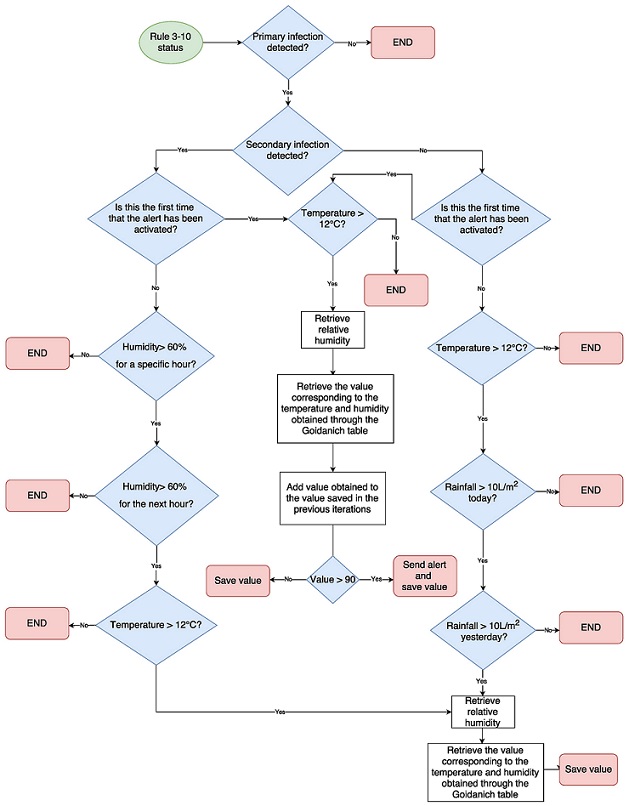 In a study conducted in the Montilla-Moriles Protected Designation of Origin (PDO) area in southern Spain, 
Martinez Bracero M 2019
 found that spores of
P. viticola
were most frequently recorded in spore traps prior to flowering and spore counts were more strongly correlated with humidity, dew point and average temperature than other weather parameters. The study also compared the effectiveness of different spore traps.
In a study conducted in commercial vineyards (non-treated vineyards) in Bordeaux, France, between 2010 and 2017, 
Chen M 2019
 found that the timing of the onset of downy mildew varied significantly between years and was significantly affected by the summation of precipitation in spring. The authors go on to suggest that because of this finding pre-programmed spray applications in springtime should be reviewed.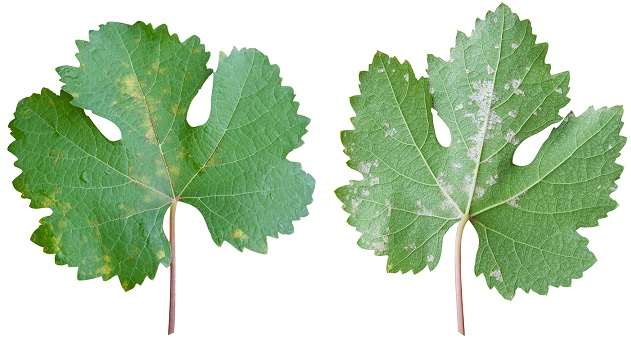 In a study from China observing the infection and severity of downy mildew in two
Vitis davidii
(Spine grape) cultivars, 
Yi T 2019
also identified relative humidity as the best correlated weather parameter for the infection phase and temperature and heavy precipitation events as those best correlated to symptom development and sporulation.
In a further study from Spain applying the Goidanich Index,
Fernandez Gonzalez M 2019
showed clearly what we are up against with climate change – during the 2009 vintage there were 16 primary infection events, and the lower incidence years still had 13 primary events. The Goidanich Index also predicted a large number of secondary infection cycles during berry development and ripening.
P. viticola
spore concentrations were measured by a collection sensor and were most strongly correlated with the average temperature 5 days before and rainfall 2 days before.
The Goidanich Index and spore measurement in combination accounted for 95.9% of the spore concentration variation.
Summary
The 3-10 model for primary infections combined with the Goidanich Index for secondary infections remains a solid approach to predicting the development of downy mildew.
In other words, now is the time for Northern Hemisphere growers to closely monitor temperature, precipitation and relative humidity.
In addition, the commercialisation of spore traps will open up an exciting new pathway to take downy mildew risk management to the next level by directly monitoring secondary infections.
James Wright is an international viticulture and management consultant and author of www.vitisynth.com and the newsletter VitiSynthesis.