Winemaker Szilárd Nádas greets me with the exciting news that a Michelin-starred restaurant in Hungary has requested a sample of his 2018 Pearl of Victoria sparkling wine.
"They want something nobody else has" and Szilárd's Nádas Borműhely is the only winery in the world producing a classic-method sparkling wine from Viktória Gyöngye, a Hungarian crossing of Seyve-Villard 12375 and table grape Pearl of Csaba.
Szilárd shows me into his cellar, which dates from 1879. He takes me through all his base wines, as I've come here to put a blend together for my first sparkling wine.
The wines have completed their fermentations, been racked off the gross lees and have had some SO2 added.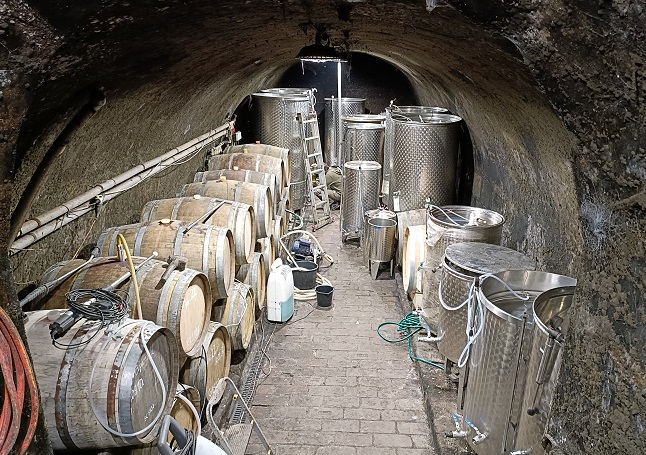 The Chardonnay and Pinot Gris taste amazing and are destined for Nádas Borműhely's Etyeki Pezsgő (the collective name for top sparkling wines from Etyek-Buda, Hungary's first PDO for sparkling wines). Although Szilárd usually makes varietals, he is barrel-fermenting and blending these two varieties – two of the four grapes permitted for Etyeki Pezsgő – to create his new flagship sparkling wine. "We choose the two best barrels for the blend. That will be our crown wine," he says.
All the base wines taste great. When I raise my concerns about my ability to blend a good base wine, Szilárd reassures me: "If the base wines are good, the sparkling wine will be good."
Although I could be like a child in a sweet shop and take a bit of everything, I am wedded to the idea of producing the world's first sparkling wine made from Viktória Gyöngye and Grüner Veltliner. It's what I came here for at the beginning of September, when
my crazy #harvest2022 adventure
began.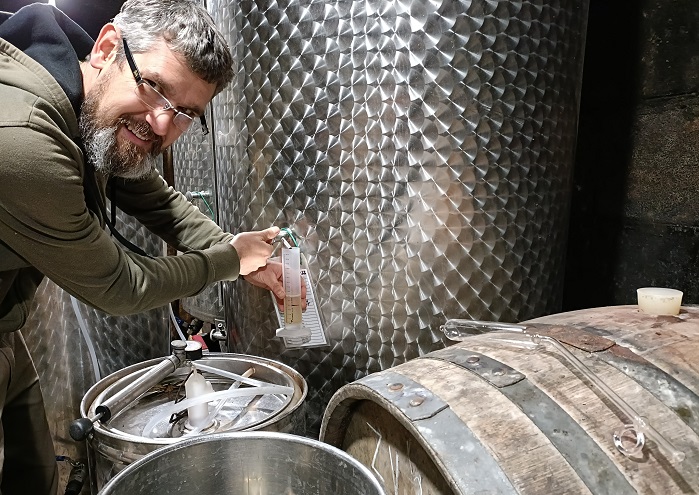 Szilárd (
above
) pours me the '22 Pearl of Victoria sparkling base. "It's beautiful," he says with a smile as he hands me the glass.
I agree. I'm genuinely surprised by how delectable an unknown grape variety can be. "That's my favourite sparkling base of the year," Szilárd adds.
It has "the perfect" amount of alcohol for a base wine (10.16%), "beautiful, nice big acidity" (8.59g/L) and a pH of 2.88.
The aroma is particularly intense because the wine is still cloudy.
It's a real revelation
The Pearl of Victoria, I think, tastes fantastic as a base wine. It's got crispy apple aromas and flavours. It's a real revelation. The Grüner in oak is on the edge of being a lovely still wine. The Grüner in stainless steel is also mouth-wateringly appetising. They both have pear aromas and flavours, with notes of cinnamon in the barrel-fermented version (which has higher alcohol and slightly lower acidity, probably as a result of the yeasts). But will the apples and pears complement each other? Will the sum of the parts be greater than the parts themselves? Is there a reason they aren't considered natural blending partners?
Szilárd puts me on the spot and asks what blend I had in mind. I pluck some figures from thin air: 60% Pearl of Victoria (because I was so impressed with the flavours of the base wine), 20% Grüner from the tank and 20% Grüner from the barrel. "If there is a little bit of oaky part, that's always good," Szilárd nods.
We taste the blend. Something is missing.
"I would put more barrel," Szilárd declares.
I suggest 60% Grüner and 40% Pearl of Victoria.
Szilárd seems inspired as he takes a 100ml measuring cylinder to the tanks again. He returns with a blend that's 50% Pearl of Victoria, 25% Grüner from the barrel and 25% Grüner from the tank. This version sings. There's no other word for it. Like the Grüner from the barrel, it's on the edge of being a good still wine. "You can feel the barrel," Szilárd says. "It's not too much, it's quite elegant. I prefer this."
It's balanced and has a long finish. I can imagine it with bubbles and more autolytic influence.
"Acidity is good, alcohol level is good, nice flavours. I like it," he adds.
We continue to sip our samples.
"Very fresh acidity, very citrusy. The flavours of both (varieties)," Szilárd concludes.
"It's a blend I have never done."
I've only been in the cellar 40 minutes and we've come up with the blend at the second time of sampling. I feel like we should go through a few more options but Szilárd is so excited by this blend's potential that I can't suggest a change. We decide that we'll leave the wines where they are for another couple of months to clarify naturally and also so the Grüner can soak up a little more structure from the oak. The wine in the barrel will be stirred every other week "for more contact with the lees".
There is only one barrel of barrel-fermented Grüner, so Szilárd has to check that he has enough left for his own Grüner sparkling wine. It works out fine. He can produce 600 bottles for me. He will put the blend in bottles for the second fermentation in the spring (after pruning).
After ten minutes discussing the next steps, we raise our glasses and toast each other. The Pearl of Victoria aromas are beginning to show… "It's beautiful. I could drink it now," Szilárd says.
A few weeks later I call him to check on the wine's progress. Szilárd tells me the three different wines have now been blended and, when the cellar warms up to 10°C, he will add some Bentonite to clarify the wine, then do the first filtration.
I ask him about the Michelin-starred restaurant. "The sommelier loved it," he replies, "but there was pressure by the owner, so they had to choose a Prosecco!"