As part of Moët Hennessy's search for solutions to adapt its vineyards and winemaking "and Champagne savoir-faire" to the inevitable rise in temperatures, it has opened a research centre in the heart of Champagne.
The Robert-Jean de Vogüé Research Center, named after one of the group's former presidents, is "dedicated to advancing knowledge and evolving practices" and will help the premium Champagne, wines and spirits division of LVMH "understand and anticipate the major challenges of the decades ahead".

Representing an investment of €20m, the 4,000sq m building "will support all Moët Hennessy Houses as they continue to transform their businesses through sustainability," according to Philippe Schaus, CEO of Moët Hennessy.
The research centre will be a hub for sharing knowledge both between the group's 25 maisons and with researchers from bodies such as the CIVC (Comité Interprofessionnel du Vin de Champagne), the University of Reims Champagne Ardennes and INRAE de Colmar (France's National Research Institute for Agriculture, Food and Environment).
Mr Schaus adds: "Its mission is a critical one: to study and identify the most efficient solutions to meet challenges in viticulture and oenology."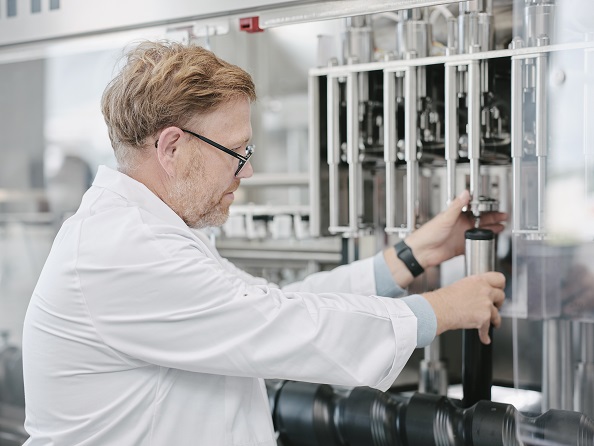 The centre, next to Moët Hennessy's Mont Aigu production site, will cover four main areas:
Microbiology and biotechnology, analysing micro-organisms to understand their impact on vineyards;
Plant physiology in order to mitigate the impact of climate change on vines and grapes and address the challenges of global warming;
Process engineering to optimise wine production and promote recyclability in packaging;
Sensory analysis and formulation to study the sensorial profile of products at different production stages.


The building
The centre, designed by architect Giovanni Pace, has been built into a gently sloping earthen embankment to give natural insulation, with all materials used meeting strict standards in thermal performance and energy consumption. The dirt extracted for its construction was reused. Glass covers half the building, with a patio area at the centre diffusing light and opening up the spaces "to invite dialogue". Inside, the modular spaces are designed to meet the future needs of the Moët Hennessy group and its external partners.
More than 40 people are expected to work there.
Moët Hennessy also has a research centre in Cognac.
Sustainability at Moët Hennessy
The project is closely aligned with the Living Soils, Living Together programme Moët Hennessy launched last year. This is a commitment to sustainable viticulture and sets ambitious goals concerning inputs to vineyards, water management, energy consumption, supply chain, packaging and traceability.
Mr Schaus explains: "This program brings our global communities together around a major challenge: passing on healthy soils and vineyards to future generations, thus perpetuating the vision of our Houses' founders."
The man behind the name
The new research centre bears the name Robert-Jean de Vogüé in honour of this avant-garde thinker in Moët Hennessy history. As president of Moët & Chandon, de Vogüé innovated for the common good of the group, as well as for different wine regions. 
Mr Schaus says the building is a "tribute to the man who always thought a quarter-hour ahead. A great figure in the world of wine, he left an indelible impression on his era with his innovative spirit and activities with Maison Moët & Chandon in France and around the world."
Robert-Jean was born in 1896 in Ardèche to one of the oldest families of the French aristocracy. He studied science and prepared for a career in the military. He enlisted at 20 years old and was awarded the medal the Croix de guerre 1914-18, and then pursued a career in artillery.
In the 1930s, Robert-Jean took over management of Maison Moët & Chandon and, shortly after his arrival, came to an agreement with employee representatives for a 'contrat collectif' (collective contract), the precursor to what would later become a branch collective agreement, the basis for the social status of employees in France.
Based on his conviction that a House is nothing without irreproachable product quality, Robert-Jean launched a research project that he entrusted to Renaud Poirier.
He aimed to master malolactic fermentation, a little-known process at the time, often random, that impacted wine quality. Viticulture would also benefit from extensive research under his leadership, for example the creation of the first straddle-tractor which would revolutionise work in the vineyard.
In 1941 he helped create the CIVC, a model which has since been replicated by other French wine regions.
His entrepreneurial spirit helped him to consistently identify opportunities to develop business activity. This is how he came to be a pioneer in the 1950s when, unable to convince his peers to enlarge the Champagne appellation area, he sent his teams to prospect abroad. In Mendoza, Argentina, he established the basis for the Chandon brand that today counts five other effervescent wine production sites around the world: in Brazil, the United States, Australia, China and India.