'We believe that wine tourism, in all its forms and styles, is central to encouraging knowledge of, and building loyalty to, each property and its wines'
Three of my most memorable wine-related experiences were at properties owned by the French-based AXA Insurance Group. Two were at its Quinta do Noval estate, high above the town of Pinhão in the upper reaches of the Douro Valley, and one was at its estate in Hungary's Tokaj wine region.

During my first visit to Tokaj I wanted to meet László Mészáros, an agricultural chemical engineer by training who has been running Disznókő, one of the largest estates in the region, since 1995.
He's a busy man and the only time he was free was 8.30am. When I went to his office, he poured four Tokaji Aszú wines, each made with one of the region's six permitted grape varieties, and asked me to name them. It's quite a challenge after breakfast but really clicked my brain into gear. Guessing correctly they were Furmint, Hárslevelű, Yellow Muscat (Sárgamuskotály), and Zéta (a Furmint-Bouvier cross) is one of my highs in blind tasting. Well, it's probably the only time I've been 100% correct.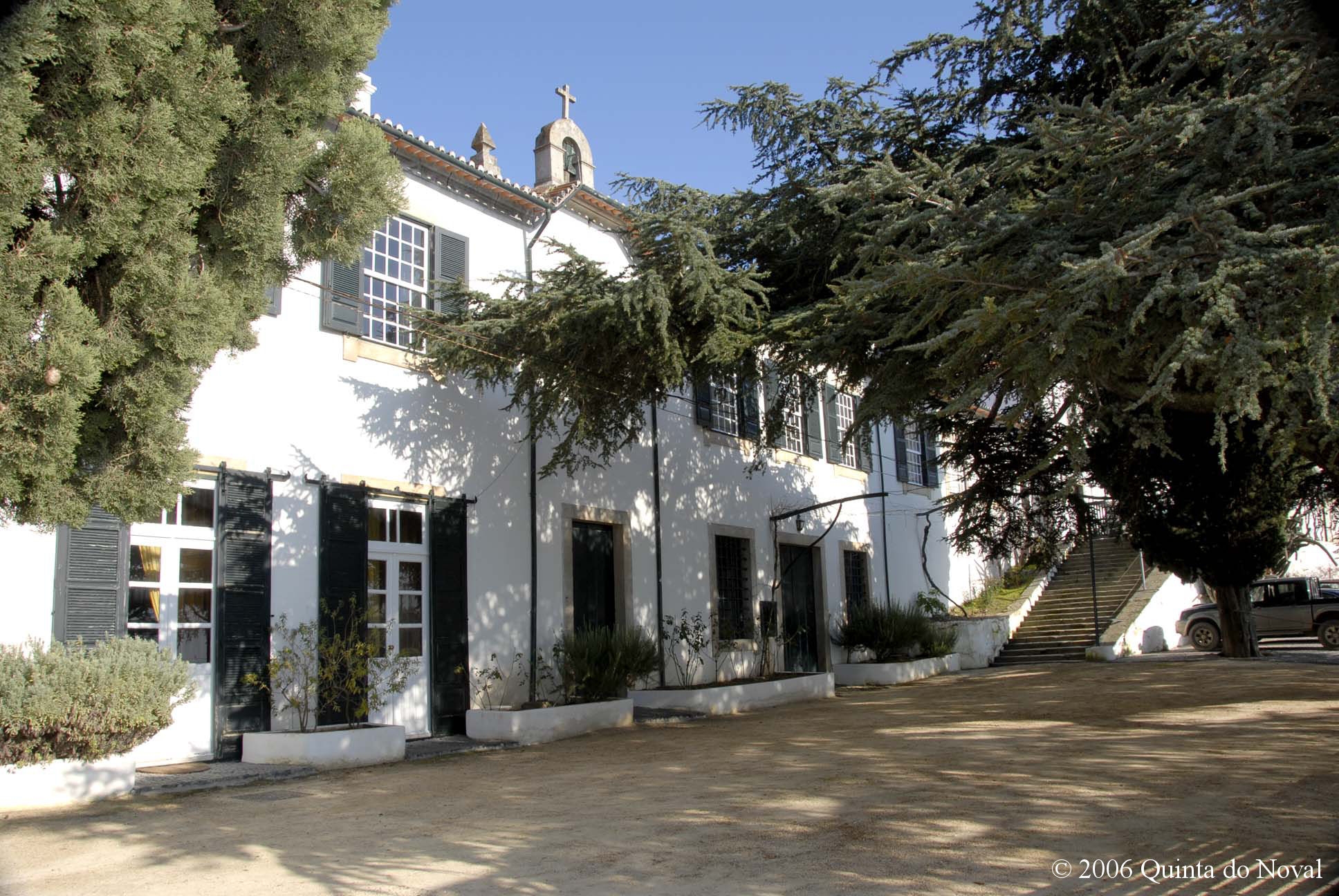 At Quinta do Noval I did a short shift in the lagar, joining the team of grape stompers as they marched slowly and methodically across the concrete pool and back again before the capataz (foreman) called "liberdade" and we were allowed to go where we wanted, chat and drink. It's an experience that should be on every wine lovers' bucket list. This was followed by a meal in the main house (
above
), with each course paired with a port, and sauces made from vintage ports and red wines left over from earlier tastings.
After these experiences, I wasn't surprised when, this summer, two of the AXA Millésimes properties appeared for the first time in the World's Best Vineyards
list
, nominated and voted for by international wine and travel experts. Quinta do Noval came in at number 49, while Château Pichon Baron took 19th place.
The philosophy of AXA Millésimes is to buy properties with promise, restore them to their former glory, and help them realise their potential to produce great wines.
Here, we take a look at the company's wine tourism offer at five of its estates: in Bordeaux, at Château Pichon Baron and Château Suduiraut; in Portugal, at Quinta do Noval; in Hungary, at Disznókő; and in California's Napa Valley, at Outpost Wines.
Although these properties are primarily working estates, they come with beautiful houses, around which ultra-modern visitor facilities have been developed, to enable guests to experience the terroir, the wines and the jewels in the cellars for themselves.
The visits are intended to be a particularly personal experience, with each guest or group booked in separately so that the tours can be private and memorable. And wines can be shown according to preference and request. But AXA Millésimes doesn't have a formula – the facilities and experiences differ at each property.
'We try to give our guests a highly memorable, and different, experience'
As Corinne Ilic, the communications director at AXA Millésimes who is responsible for setting up and overseeing all the visitor centres, told
Canopy
: "At all our properties, we know it is really important to communicate with our wine-loving followers, and to welcome them to our world. We try to give our guests a highly memorable, and different, experience – something they will always recall as they drink a glass of one of our wines in the years to come.
"But our estates themselves have very different characters, as each one is independently run under the AXA Millésimes umbrella. So we show that to our guests – for instance, the private visits, tastings and masterclasses that we can hold in Château Pichon Baron, where we were one of the first Bordeaux properties to welcome visitors in the 1990s, or the contemporary sensory experience matching smell and taste at Suduiraut.
"We believe that wine tourism, in all its forms and styles, is central to encouraging knowledge of, and building loyalty to, each property and its wines."
CHATEAU PICHON BARON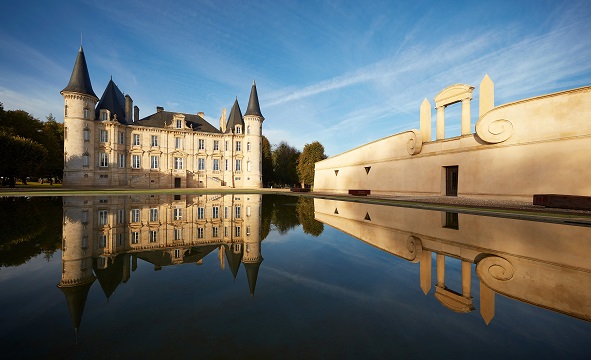 One of the great historic vineyards of Bordeaux, with 73ha of mainly Cabernet Sauvignon and Merlot, with a small amount of Cabernet Franc and Petit Verdot. 
The original estate was founded in the late 17th century, divided into two parts in 1850 and the imposing château, with its two emblematic turrets, commissioned in 1851.
The Pauillac estate was bought by AXA Millésimes in 1987, and an architectural competition was launched, in collaboration with the Paris Pompidou Centre, to provide the estate with new operational buildings. The comprehensive reconstruction of the fermenting room and cellar, and renovation of the château, began in 1988.
Today, the 19th century château's image can be seen reflected in an ornamental lake in front of it. And now, its silvery expanse conceals an underground cellar, reminiscent of Jules Verne's Nautilus, with views of both the water and the sky.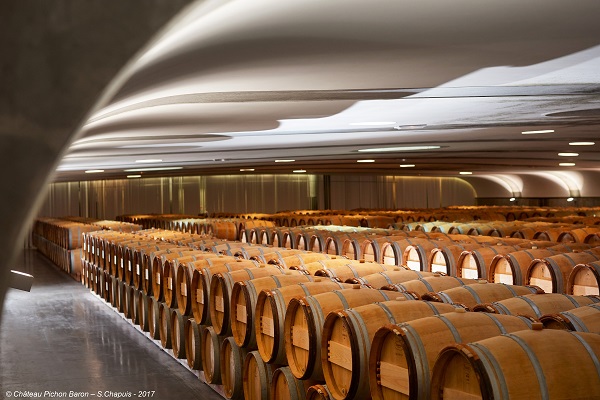 Château Pichon Baron is open every day of the year, by appointment – one of the very few Bordeaux châteaux to offer this facility. The reception building is staffed by multilingual and knowledgeable guides, trained by the estate's technical team, who lead the individual tours - starting in the vineyard, which is at the heart of everything at this 2ème Cru Classé property. After also visiting the vast winemaking facilities, barrel store and scenic cellars below the clear water, guests can learn more about the château by tasting three wines in the stunning tasting room with its circular bar. The price of this visit is €25 per person.
In addition to touring Château Pichon Baron, visitors can also reserve a special tailored tasting of its Grand Vins. This seated, commented tasting is led by a member of the team, and provides an opportunity to discover some exceptional vintages. The price depends on the wines selected.
CHATEAU SUDUIRAUT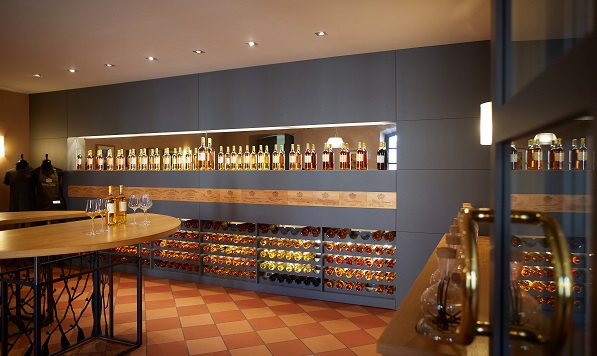 This historic estate, set in the woodlands and streams of the Sauternes region, south of Bordeaux city, was first named Suduiraut in 1580. Remaining in the same family through the centuries, the elegant château was rebuilt in the 17th century, surrounded by magnificent gardens designed by Le Nôtre, Louis XIV's renowned gardener. Château Suduiraut acquired First Growth status in the Grand Crus Classé of 1855 – the first official wine classification in the Gironde.
Today, Château Suduiraut – acquired by AXA Millésimes in 1992 – consists of 91ha of vines, principally Sémillon with 10% Sauvignon Blanc, planted on gravelly, sandy clay soil. 
While the estate's château is now used for residential conferences, the visitor reception takes place in the vast chais next door, where the wines are made, blended and stored.
Private tours, by appointment, are conducted every day of the year and include a tour of the vineyard, winemaking facilities and the cellars where these liquid gold treasures are stored. Tours finish with a tasting of the Premier Cru Sauternes and the second label. Price is €12 per person.
The Aroma Gallery (
main photo
) is an exciting opportunity for Château Suduiraut visitors to discover the extraordinary palette of aromas characteristic to this First Growth property. Using nine specially selected aromas, visitors to this room can take part in a simple workshop or a masterclass, and then match those aromas to wines in the glass. Depending on the wines chosen, prices range from €15-23 per head.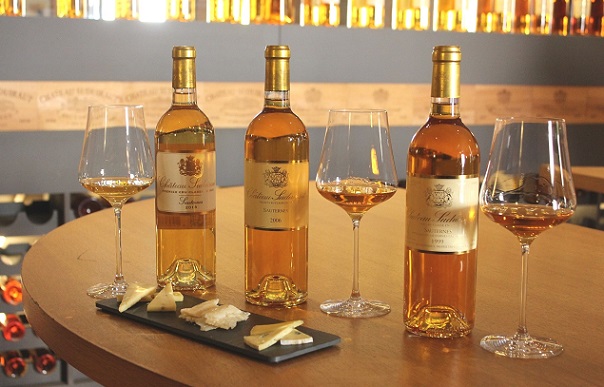 A recent addition to the Suduiraut experience is L'Atelier Trois Fromages – a wine pairing of three great vintages matched to three different cheeses. Each cheese is carefully selected to pair with the freshness of the 2013, the complexity of the 2006 and the purity of the 2000. Price is €28 per person
QUINTA DO NOVAL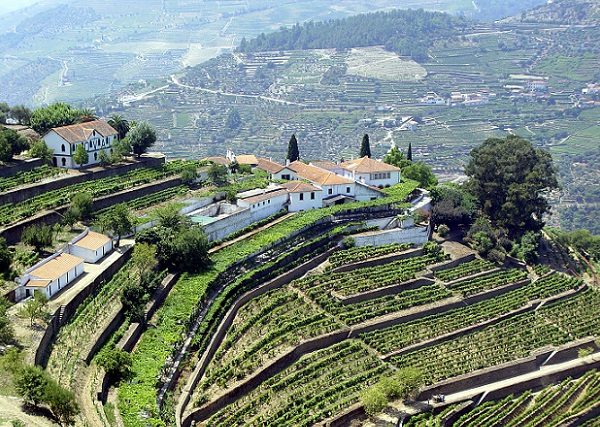 The stunning and remote Quinta do Noval estate is considered by many as one of the jewels in the crown of Port. Situated high above the town of Pinhão, its steep terraces and historic whitewashed walls are an iconic sight in the region, and reminiscent of Port's glory days in the 1920s and 30s.

Indeed, the 1931 Nacional – from Quinta do Noval's pre-phylloxera vineyard parcel, and on which its internati
o
nal reputation was built - remains one of the most expensive bottles of Port ever sold.
Since 1993, Quinta do Noval has been a part of the AXA Millésimes group.
A new bottling line and warehouse were completed in 1997 in Alijo, near Pinhão. This project made Quinta do Noval the first of the traditional Port shippers to centralise all its activities in the Douro Valley. In the 90s, around 100ha of the domaine were replanted, adapting pruning methods to suit each parcel. Today, the quinta produces top quality grapes for Quinta do Noval Ports and also a range of table wines, launched in 2004.
The estate welcomes private guests to the house and tourists to its two wine shops. The first, located at Vila Nova de Gaia, on the banks of the River Douro, opened in 1995.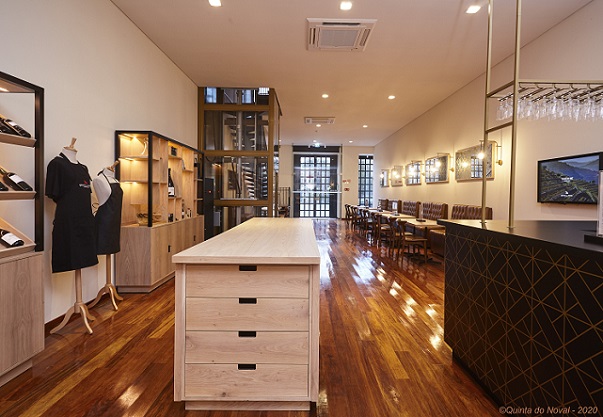 A second shop opened this summer on the river quays at Pinhão (
above
). A complete range of Ports and wines from Quinta do Noval and of wine-related products is on offer.
With interactive tools, including an immersive 3D video set to Fado music, visitors can discover the terroir and the unique character of the estate without traipsing through the vineyards in the heat. 
DISZNÓKŐ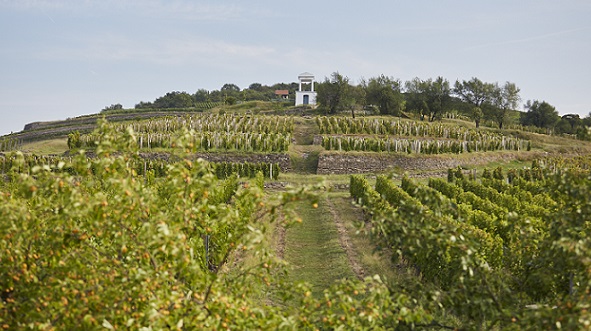 Since its acquisition in 1992 by AXA Millésimes, the Disznókő estate has been revived to its former glory, creating one of the most significant investments in wine production in Hungary.
The estate comprises 150ha, 110 of which are cultivated. Situated in the south of the region, in the shadow of the Zemplen mountain range with the rivers Bodrog and Tisza nearby, Disznókő is in the ideal position to attract the botrytis so vital to the region's famous aszú wines.
Visible from afar with its 19th-century white belvedere alongside the huge 'Wild Boar Rock' from which Disznókő takes its name, the stunning three-level winery and renovated stone terraces mark the gateway to the region.  
But it's the tractor shed (
below
) which always grabs my attention. If there is a better-looking tractor shed in the wine world, I want to know about it.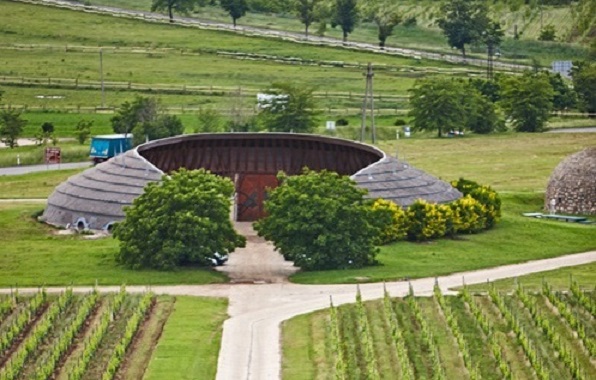 The result of an architectural design competition, it reflects the contours of the surrounding volcanic hills.
The winery, tractor shed and vineyards can be seen by visitors through a series of guided tours, followed by a wine tasting in the historic cellars under the original press house.
Guests can take the classic Disznókő Tokaji flight, or an Eszencia or vertical aszú tasting. In consultation, visitors can also create their own Disznókő wine list.
The wine shop, stocking the Disznókő range since 1992, is open from May 1 to October 31, from 10am to 6pm.
OUTPOST WINES
Established in 1998 on the top slopes of Howell Mountain in the Napa Valley, Outpost produces fruit of incredible intensity and richness, with a highly distinctive spice.
The 11ha estate is organically farmed and hand cultivated, creating world-class Cabernet Sauvignon, Zinfandel, Petite Syrah and Grenache varietals.
Nestled in a rural, peaceful setting, 2,200ft above the valley floor, Outpost offers visitors wine tastings and the chance to see the natural and sustainable environment from which they come. Appointments, for a maximum group of 6, are by reservation only.
AXA Millésimes also owns Château Pibran in Pauillac and Domaine de l'Arlot in Burgundy, which have no facilities for visitors, and Quinta do Passadouro (Quinta do Noval's neighbour), which is undergoing a massive renovation and is expected to open with tourist facilities next year.