Acclaimed Chilean winemaker Adolfo Hurtado shows me his new business card. It's a bold red and black design with a QR code in the centre. There are no contact details; they are found through scanning the QR code.
He explains that during lockdown MontGras has had the chance to reimagine its portfolio, brand, image, message, wines, packaging, and tagline. The Pure Sunshine message has been eclipsed by a new tagline – 'Boldly Attractive Wines'. It means everything must be bold and attractive – including Adolfo's business cards. Even if it's going to be a while before he hands one out. 
I'm talking to Adolfo via Zoom as Chilean winery MontGras, set up by brothers Hernán and Eduardo Gras in 1993, prepares to launch its fourth new range this year.
Adolfo, formerly chief winemaker and general manager at Cono Sur, has been working on the wines since he joined MontGras a couple of years ago. Firstly, he checked the vineyards, then the vinification methods, then the styles – moving "from over-extracted to much more delicate". Lockdown has given them time to put together a comprehensive package to support the new range of wines, which "really reflect this new era and this new style that MontGras wants to show", he says.
The Handcrafted limited-editions feature grape varieties that are "uncommon, rare and different" for Chile; varieties specially selected by MontGras's winemakers and consultant – some of whom have chosen unusual techniques to showcase a different side of these varieties and Chile.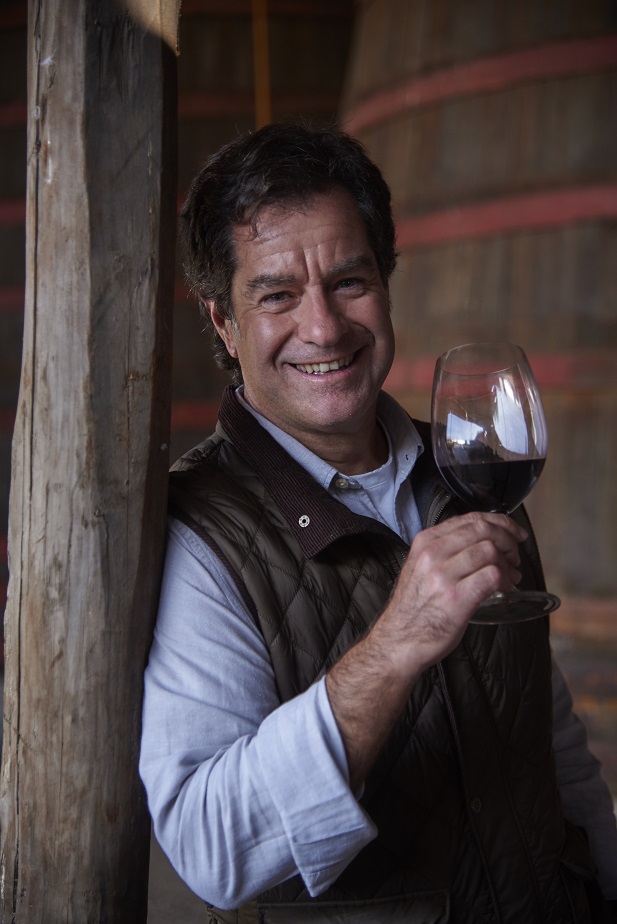 Adolfo (above) – not so surprisingly – has made a Pinot Noir from a single vineyard in the Leyda Valley, using six-to-seven days of carbonic maceration, manual crushing and pushdowns, and 70% barrel-ageing.
Cristián Correa, who joined MontGras in 2002 and is responsible for the Intriga range, has also used some carbonic maceration on his Cabernet Franc from the Intriga Vineyard in DO Linderos, Maipo Valley.
Carla Dosque has made a Carignan from Crucesillas in the Cauquenes Valley.
Santiago Margozzini has made a Riesling from DO Mulchén in the Bio-Bio Valley, using native yeasts which left about 7g/L of residual sugar.
And Italian consultant Alberto Antonini has made a Cinsault from 80-year-old vines in Guarilihue in the Itata Valley.
The autumn launch of Handcrafted follows the launch of three new wine ranges earlier this year:
MontGras Organic
Day One
DeVine Reserva
These new lines were introduced to make the brand more relevant to today's consumer and to underline MontGras' commitment to sustainability. To go with the modern, eye-catching labels, Adolfo has refreshed the wine style.
He says: "This is an exciting time for MontGras as we redefine the brand. These three new collections are supported by very powerful oenological concepts."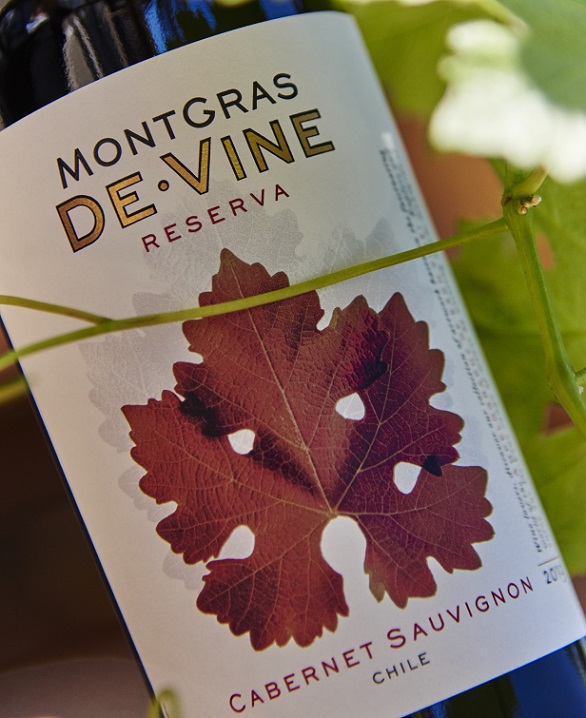 The three ranges are also spread over three price points, with the MontGras DeVine Reserva wines at "the bottom of the pyramid". Inspired by the world of ampelography and featuring an image of the appropriate leaf on the labels, the collection features 11 different varietals – including Sauvignon Blanc, Viognier, Pinot Noir, Cinsault, Cabernet Sauvignon, Zinfandel, Carménère, and Malbec. The idea behind these wines is to showcase the variety and the diversity of grapes that Chile offers.
"They are really nice wines, really easy to drink, really commercial and they reflect the variety," Adolfo tells me.

The MontGras Organic range is the most obvious of the three concepts. It comprises Sauvignon Blanc and Pinot Noir from DO Mulchén (Bio-Bio), and a Red Blend from the Maipo Valley. As well as using grapes from organic vineyards, these slightly more complex wines are packaged in lightweight bottles with sustainable labels.
The MontGras Day One collection is probably the most unusual. It is inspired by the first day of harvest. Friday, April 12, 2019 in the case of the Cabernet Sauvignon.
Once Adolfo and his team have tasted "the aromas" and had deep conversations about when the grapes "will reach their maximum potential quality in terms of aromas, maturity, acidity, sugars, etc", the date is set.
Handpicked grapes from selected vineyards in a specific valley are vinified using standard techniques to reflect their place of origin – according to Adolfo, "the best valley to produce each of the varieties": Sauvignon Blanc and Chardonnay from DO Leyda, Pinot Noir from DO Casablanca, Merlot and Carménère from DO Colchagua, and Cabernet Sauvignon from DO Maipo.
The symbol on the colourful packaging is a pair of harvest scissors (
main photo and below
).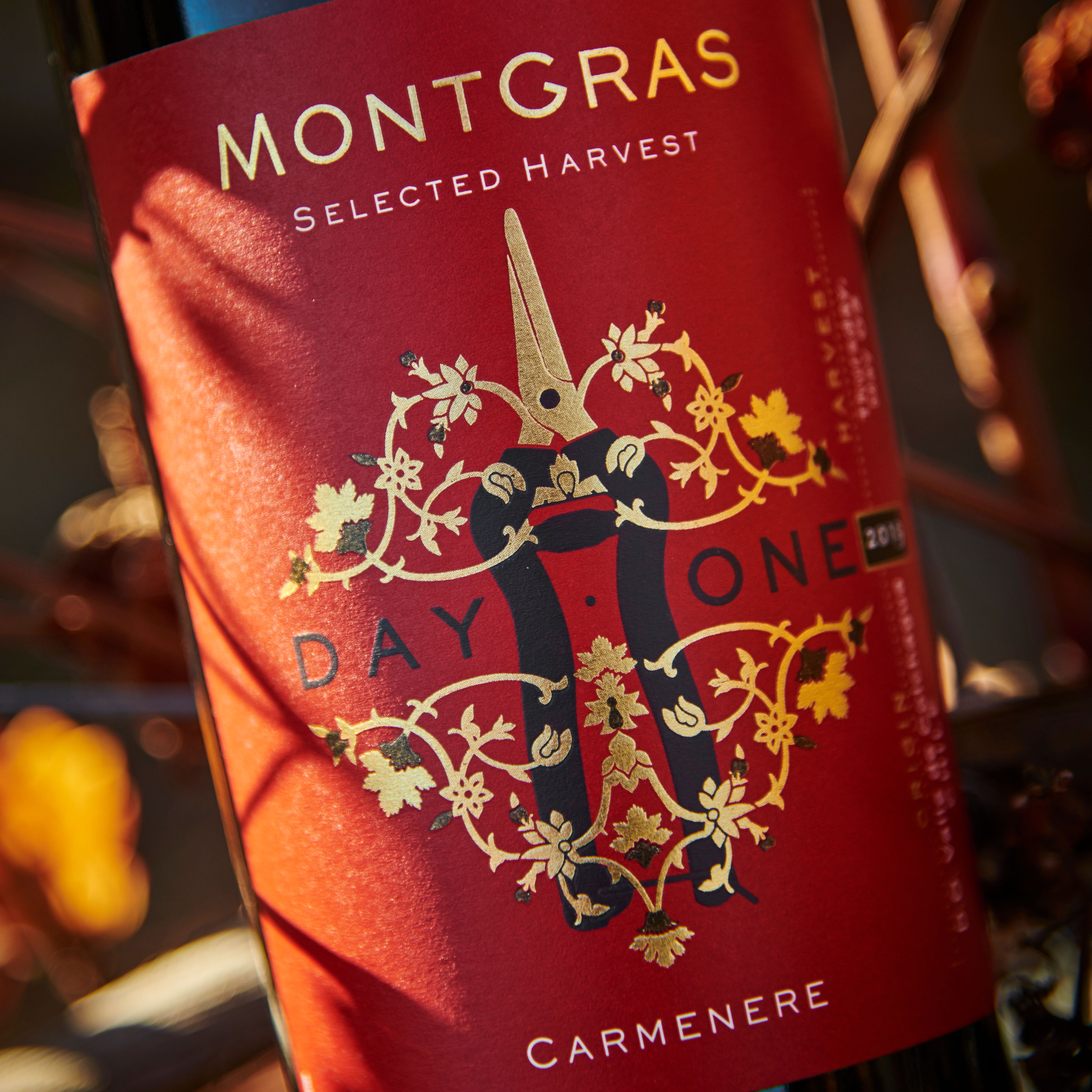 From the 2020 vintage, all the wines are certified vegan.
Adolfo says the four concepts came from refreshing the tagline, while the lockdowns and lack of travelling meant they were able to think long and hard about the concepts and the wines.
"We were not just looking for a nice design; we were looking for concepts," he tells me.
Bold concepts, attractive packaging and good, sustainable wines at attractive prices. From what I've seen – and tasted – so far, they seem to be exceeding the brief.
"We're really happy because each of the wines overdelivers," confirms the proud winemaker, as the sun finally sets on the Pure Sunshine logo that put MontGras in the spotlight.