Black Chalk, one of the most exciting sparkling wine brands in England, is a "winemaker-led project", according to co-owner Jacob Leadley.
I've driven to the beautiful Test Valley, in Hampshire, to chat with Jacob and his assistant winemaker Zoë Driver about managing acidity in a cool-climate wine region where harvesting ripe grapes is the biggest challenge. Zoë has been researching MLF, the main tool for tackling high acid/low pH, and discovered some things that could be useful to small producers.
But I'm also intrigued by the rise of Black Chalk from a winemaker's side project in 2015 – making small production classic-method sparkling wines from Chardonnay, Pinot Noir and Pinot Meunier grapes grown in the chalklands of southern England – to a brand that's exported to Japan and Norway, and has a new winery costing over £1m ($1.3m). Not to mention going from purchasing grapes to 12ha of their own managed vines – including a 'vine circle' (
below
) for events.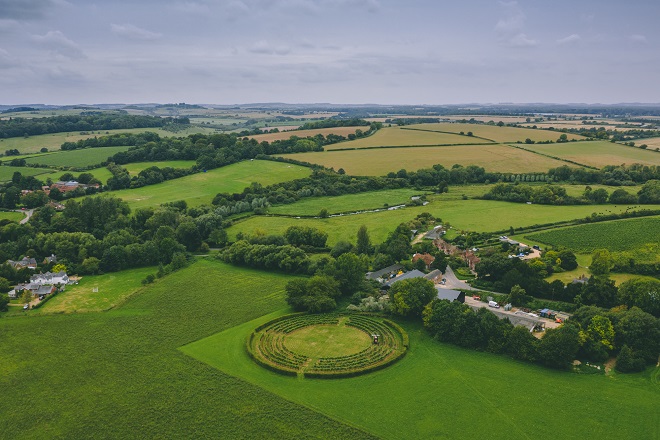 As we sit down in the new tasting room, Jacob explains what he means by a "winemaker-led project": "I sit with all sorts of hats on in this business. Zoe and I make the wines. I'm a strong believer that the team makes the wines, it's not me. But I also sit with the CEO hat on and I'm a director and co-owner (with brother-in-law Andrew Seden), so a lot of the decision-making – a lot of the business aspect of Black Chalk – is done with a winemaker's decision-making at the forefront.
"Obviously we want to make wines that people like and people will buy but we aren't looking necessarily at the market to determine what we make. I think the whole way that this has been done from the beginning is, 'Can we make wines that really showcase what Hampshire is all about and what England can do incredibly well?' If we keep those ideals at front of mind in everything we're doing but with the complete freedom to be able to do what we feel is best to make the best wine in any particular vintage... For example, to hone in on clones – Zoe's (forthcoming) blanc de noir is a particularly good example of that with a 777 Pinot Noir the backbone…"
"The star," Zoe interrupts.
"Yes, the star – and to hone in on that and say we're going to make this wine about that," Jacob continues. "There aren't many winemakers in England who aren't employees and aren't answering to people who have invested a lot of money in the business."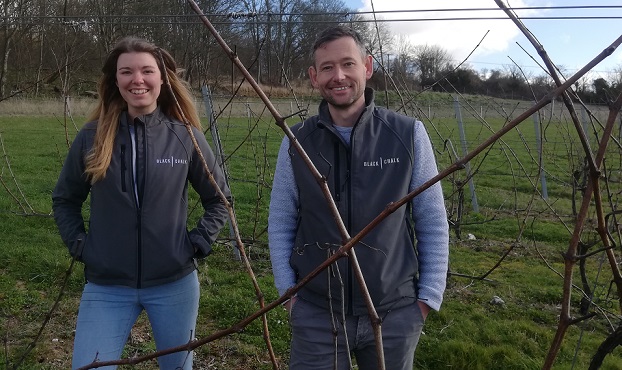 Jacob and Zoë (
above
) are working on a range of seven wines with fruit from the 2020 harvest. They expect to release this extended range in spring 2023, after the wines have had 20-30 months on lees.
That big leap represents the next chapter for Black Chalk, which Jacob started while he and Zoë were working at Hattingley Valley Wines, also in Hampshire. "It's going to be very exciting," Jacob says, hardly able to believe what has happened to the brand since its debut four years ago.
"To be brutally honest, I don't think I ever envisaged moving on from Hattingley at the time. It was always just a bit of a personal dream to start something and if it was going to work, who knows? It was such a big risk… I remember launching in 2018 (with the 2015 vintage) and how nervous I was about the whole thing – launching and everyone maybe going 'what a waste of time'."
Zoe recalls the brand was launched at the same event "and right next to Rathfinny (one of England's most ambitious estates) and obviously their budget for marketing and everything was quite different to Black Chalk's. But it was really well received."
This gave them the platform to sell more wine, but Jacob had to decide whether to stay where he was or focus on Black Chalk – and accept the risks and challenges that come with a winemaker running his own wine business.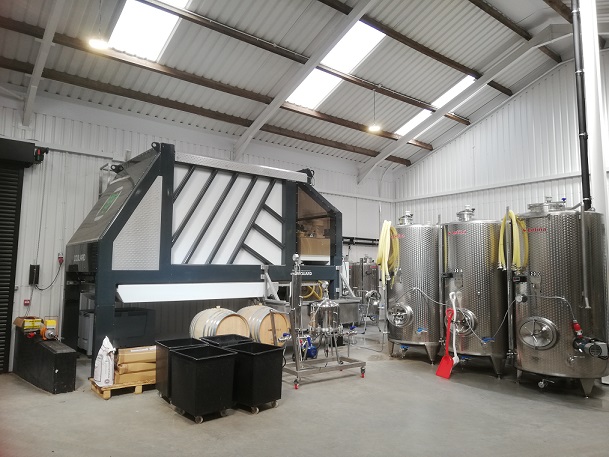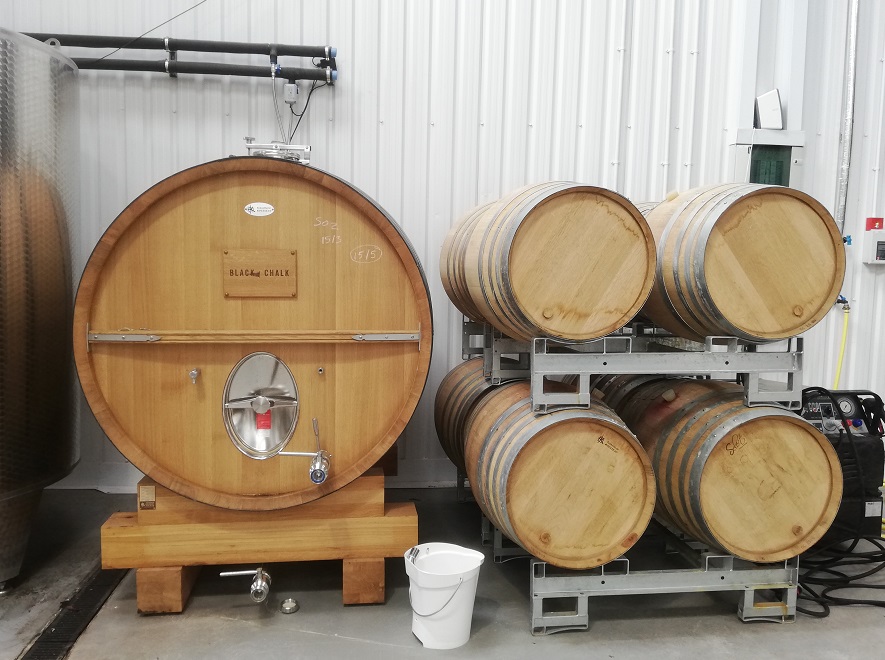 "The biggest challenge has been trying to keep it true to what it was supposed to be at the beginning," Jacob says. "I think we really have managed to do that, and that's the most important thing. Honestly, at the moment, sitting here today thinking what could it be in ten years' time, there's huge potential for it because we're not just a Hampshire producer producing wines that we're selling to a few local outlets here anymore, we're exporting to Japan, to Norway, hopefully to Canada and Ireland over the next couple of months."
Although they have 12ha of vineyards on long lease from Cottonworth Farm, they sell a lot of the grapes so they can focus on crafting high-quality vintage wines.
'Last year was an absolute nightmare in some ways'
"We've decided to stick with vintage-specific wines, partly because it is a challenge to produce something of a decent enough quality that we are happy with every single vintage," Jacob explains. "Last year was an absolute nightmare in some ways but tasting around the base wines – I honestly couldn't be happier with them compared to what came in. We thought some of the Chardonnay was an absolute nightmare."
"But we had really good, clean malo," Zoe adds.
Unlike other sparkling wine producers in Hampshire, such as
Exton Park
, they don't want the security of reserve wines.
Jacob admits reserve wines make sense from a commercial point of view, as it would give them the ability to produce good wines in difficult years and to have consistency across their portfolio. "But," he says, "I'm not sure a consistency of style is necessarily exactly what we're looking for. Consistency of quality, yes. But I don't think there's any harm in having a wine that speaks of the year that you make it, especially when we're talking about the consumers that we're selling it to. We've sat and tasted the 2015, 2016 and 2017 with people. They're quite different wines but they're all good in their own way, and people actually found it quite interesting. You can tell they're all Black Chalk because they do have that sort of silver thread through the middle that links them together but they are quite different wines and they're evolving differently because of the year, and the different acid levels, how much malo they've been through, and things like that. And for us, as winemakers, I think the challenge in making those wines as good as we possibly can reach in those years is a lot more interesting than trying to make a wine that tastes the same every single year."
As the conversation comes round to the crucial role of putting wines through MLF to reduce the concentration of L-malic acid and improve the wine's balance prior to the secondary fermentation in the bottle, I ask Zoë about her research project for her MSc degree in viticulture and oenology at Plumpton College, England's leading wine education and research centre.
She wanted to know whether blending sparkling base wines prior to MLF impacts the chemical and sensory profile of the wines positively; if they are cleaner and of better quality than wines that are blended after MLF.
The research was conducted on the main grapes for sparkling wine in the UK – Chardonnay, Pinot Noir and Pinot Meunier. In England, as elsewhere, the standard method is to blend the base wines after MLF. But as many of the producers in this relatively young wine-producing country are small – producing approximately 20,000 bottles a year on average – and use contract wineries to make the wines for them, Zoë says: "Many producers ultimately blend all their varieties together, despite processing them separately." 
'This is potentially an option that could save time, money and space and actually improve wine quality'
Zoë found:
The blend of the three varietals had a significantly faster rate of MLF than the separate treatments.
The chemistry of the base wine that was blended before MLF was significantly different from the chemistry of the wine blended after MLF; it had more favourable pH and TA values, and lower levels of spoilage compounds.
But the sensory analysis found no significant differences between any of the treatments.
Zoë concluded: "There is no denying the results from this research support the contention that blending before MLF produces cleaner wines of better quality – to a certain extent. Its other positives include bringing down production costs, and improving sustainability. Conversely, it does limit blending options, particularly for bigger wineries, and is of no use to producers creating single varietal wines, such as blanc de blancs. However, for those that only make a 'classic' blend or ultimately put all their base wines together, this is potentially an option that could save time, money and space and actually improve wine quality."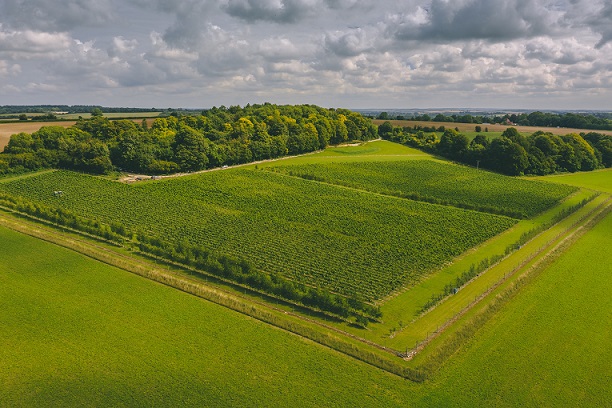 Jacob and Zoë used this research for their new still rosé, due to be released on April 6. This 2021 wine is a tweaked and more serious version of their 2020 debut still wine, which was Pinot Noir Précoce (
from the Hide vineyard, above
) and Pinot Gris co-pressed for four hours. This produced "an absolute fruit bomb and screamed rosé", according to Zoë – which they tamed with some Pinot Noir (clone 779) that had been hanging on the vine a little longer than other Pinot Noir clones. "It was almost too ripe," Jacob recalls.
Zoë describes the 2020 as "a fun" rosé with 4g/L of residual sugar after fermentation. But in 2021 the acids were higher so the three varieties were blended and put through malo together, giving a bone dry wine that's "a bit more serious," according to Jacob.
"It went through malo very cleanly and very successfully," Zoë says with pride. "I'm really pleased with the outcome, so I definitely think this is something that could be incorporated in either contract winemaking facilities or some of the smaller producers out there."