'Our reaction has been one of wonder and pride'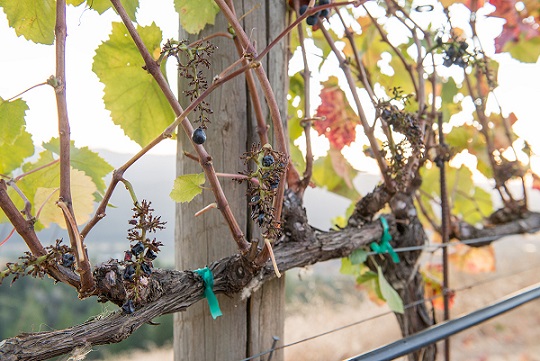 A black bear with "a refined palate" has stripped this vine of fruit. The bear's night-time antics, captured on video (below), show he has a penchant for high-elevation Pinot Noir. He has harvested the grapes from 300 to 400 vines at Navarro Vineyards' highest site in Anderson Valley, California. It represents less than 1% of the estate's Pinot Noir crop, but as its top Pinot Noir sells for $35, it's a significant hit.
The 95 acres of vineyards at the 950-acre ranch are protected by deer fences – but Navarro Vineyards has installed 'bear-ladders' either side of the gates (
see the photos below
) so the bear can enter and exit the vineyards at will.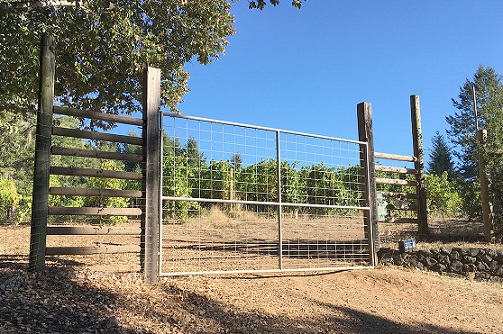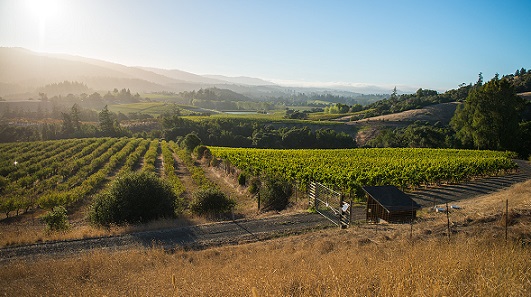 Aaron Bennett, co-owner of the family business, told
Canopy
: "When we began planning our high-elevation vineyard planting, we knew that our solution to vineyard pest management had to be agreeable with Mother Nature. Instead of being hard-handed, we encircled each vineyard block in its own 8ft deer fence. This created nature 'corridors' that wildlife could pass through the entire ranch, less the vineyard acreage, without impediment. The vineyard manager at the time also suggested that 'a bear is going to go where a bear wants to go' and we designed a 'bear-ladder' on either side of each gate entering the vineyard.
"The theory is that without the ladders, a hungry bear will tear down the fence and allow deer – or the sheep that also graze the ranch – into the vineyard, and that would be a real problem. A secondary function of the bear ladders is allowing mountain lion and bobcat over the fence which in turn keep populations of rodents and jackrabbits to manageable levels."
Aaron said they have deterrents for other creatures, but there is only one way to deter the bear… "Our other deterrents are for birds: We play recordings of bird distress calls, which attract a few species of eagles and red-tail hawk which prey on the smaller grape-eating birds and rodents. We also have bird perches and nesting boxes that promote a healthy predator bird population and healthy harvest. As for the bear, so far the only deterrent is when we harvest the last of the Pinot, by next week, at which point he'll probably find the next bounty – pumpkins and gourds or late-season apples."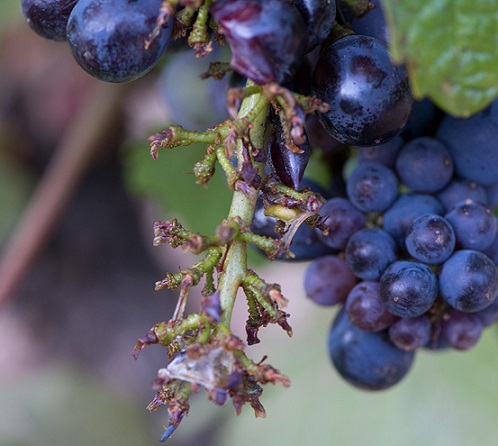 Aaron also told
Canopy
that the bear's munching habits are a good guide to ripeness levels in the fruit.
He said: "We start to see bear scat about 3-4 weeks prior to harvest, and it's clear the bear has been eating apples. As the season progresses, we start to see more and more vines that have been nibbled on (
above
), and the droppings begin to indicate a very Pinot-rich diet. It all seems to culminate a week before harvest where he's on the cameras every few nights, sometimes only a few hours before our night-harvest crew arrive."
The bear's activity centres on the 30 acres of high-elevation vineyard sites. "We selected these locations, approximately 800-1,000 feet above the valley floor, because of the temperate climate, typically above the fog and frost," Aaron said. "This reduces Navarro's need for irrigation and overhead frost protection water. This year has been marked with a substantial yield, but early rains and wild temperatures. We don't have an official count, but our estimates are the bear has cleaned off about 300-400 vines in total."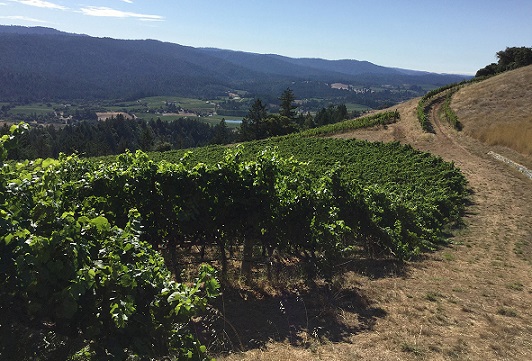 Navarro Vineyards produces about 40,000 cases annually, of which 20%-25% is Pinot Noir. From the Pinot acreage, they also make a rosé, Pinot Noir grape juice, and occasionally a blanc de noir sparkling wine. The estate grows six other varieties – Pinot Gris, Pinot Blanc, Gewürztraminer, Riesling, Chardonnay and Muscat Blanc – but the bear (or bears) definitely prefers the Pinot Noir.
It could be because the most remote, higher-altitude vineyards only have Pinot Noir and Pinot Gris. The most remote of these, Upper Marking Corral (
above
), is 1,200ft above sea level, and the furthest from civilization. "This is the bear's preferred dining location," Aaron said. "Perhaps it's because Pinot is Anderson Valley's premiere wine grape, often priced at more than $4,000 per ton, or perhaps it's because he'd rather stay elusive. In truth, we have seen him pick off the ripest berries and leave any rotten fruit on the vine, so we know he has a somewhat refined palate. In years past, we've seen him eat Pinot Gris and once left a footprint near the pond only about 500ft from our tasting room."
Aaron adds: "There are many growers with bear problems, like
your story
last year, but we shrug our shoulders and accept it as part of coexisting with the wildlife. Our reaction has been one of wonder and pride."
The video


Aaron says the bear has been using the vineyard as his personal snack bar for years, but the business only installed security cameras this year. The video shows the black bear (or possibly bears) making his rounds and returning to munch on Pinot Noir grapes before exiting over the 'bear-ladder'.