Pierce's disease is one of the destructive grapevine diseases caused by a bacterium called Xylella. It is considered the greatest threat to the wine industry in the southeastern United States.
The disease goes by different names according to bacterial strains and crop affected, eg. oleander leaf scorch, coffee leaf scorch, phony peach disease, citrus variegated chlorosis and Pierce's disease (PD) in grapevines. The disease (bacterium) is transmitted exclusively by several species of xylem-feeding insects, predominantly leafhoppers but also spittlebugs.
The bacterial growth/colonisation is limited to the plant xylem (water conducting vessels). The major vector in USA is the glassy-winged sharpshooter, a large leafhopper insect from the family
Cicadellidae
that is native to North America. While the bacterium has been present in California for more than 100 years, PD became a more serious threat with the arrival of the glassy-winged sharpshooter that carries the bacterium from plant to another. The disease was endemic (native) to North America; however, in 2013, Xylella was detected in Europe but on other crops such as olive trees (southern Italy) where it is causing serious economic losses in olive culture. The major vector transmitting the disease is a spittlebug (family:
Cercopidae
).
Severe PD symptoms on grapevines include shrivelled fruit, leaf scorching, and premature abscission (fall) of leaves, with bare petioles remaining on stems. Symptoms of PD vary by season – most notably from spring to fall. Older leaves exhibit patchy, often interveinal, chlorosis (a condition in which leaves produce insufficient chlorophyll and therefore appear light green/whitish/yellowish) and then necrosis (death of plant tissue) that usually starts at the leaf margins; then leaves turn brown and then die inwards; hence the name fire bacteria because leaves look as if they were scorched/burnt.
'Leaf symptoms vary according to grape varieties'
Leaf symptoms vary according to grape varieties; for example, Pinot Noir and Cabernet Sauvignon show regular zones of marginal discolouration and drying on blades, while on Thompson seedless and Sylvaner discolouration and scorching may occur in the middle of leaf blade. Fruit shrivels and non-uniform wood maturity can be observed on grapevine canes, where green islands (immature wood) are present.
After winter dormancy, infected vines may show one or more of the following symptoms: delayed and stunted growth, irregular bud break and smaller leaves with chlorosis.
Climatic differences between regions can affect the timing and severity of symptoms. Hot and dry climates accelerate symptom development. Some vines infected during the season appear to recover from Pierce's disease the first winter following infection; however, recovery depends on grape variety and the time of infection before the winter. The longer the time between initial infection and the onset of winter, the greater the chance of the disease persisting over winter. Vines infected shortly before winter can be recovered and free of the bacteria in the following spring. This is because physiological changes in the vines induced by cold weather can cause death of the bacteria.
'Mild winters that help survival and spread of vectors'
Studies focused on long-term effects of climate change on plant pathogens showed that PD is increasing in severity in the southeastern Unites States over the past 6 years as a result of warmer winter temperatures that allow the bacterium to persist (survive). Moreover, it is assumed that climate change may favour the increase of PD severity and spread due to mild winters that help survival and spread of vectors.
All varieties grown commercially are susceptible to PD but they vary in their level of tolerance. For example, Sylvaner, Riesling and Zinfandel are known to be least susceptible (most tolerant), while Chardonnay and Pinot Noir are most susceptible. Tolerant varieties is the best way to proactively manage PD.
According to some studies, pruning and root grafting are possible means of infection but are considered to be of limited importance. However, although impractical, cleaning tools with bleach solution was shown to reduce mechanical transmission during canopy management such as hedging or trimming.
If PD-intolerant cultivars are planted, leafhopper vectors should be intensively scouted for and managed, while PD-infected vines should be immediately rogued out of the vineyard. In addition, quarantine measures regarding importing plant material from infested areas should be followed.
New grape varieties resistant to Pierce's disease
Researchers at the University of California, Davis, have released five new varieties of wine grapes - three reds and two whites – that are highly resistant to Pierce's disease. The university says these traditionally bred varieties also produce high-quality fruit and wine.
"People that have tasted the wine made from these varieties are extremely excited," said Andrew Walker, geneticist and professor of viticulture and oenology at UC Davis, who developed the new Pierce's disease resistant varieties. "They are impressed that they're resistant but also that they make good wine."
To create the new varieties, Walker crossed a grapevine species from the southwestern US and northern Mexico,
Vitis arizonica
, which carries a single dominant gene for resistance to Pierce's disease and was used to cross back to
Vitis vinifera
over four to five generations. It's taken about 20 years to develop the five patent-pending selections that are now being released.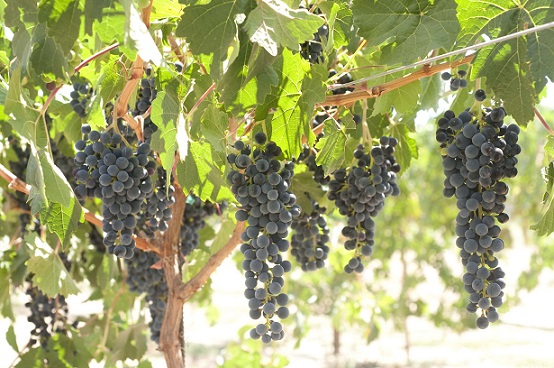 The three new red varieties are Camminare Noir (
above
), Paseante Noir and Errante Noir.
Camminare Noir is 94%
Vitis vinifera
and makes wines with characteristics of both Cabernet Sauvignon and Petite Sirah. The variety is 50% Petite Sirah and 25% Cabernet Sauvignon.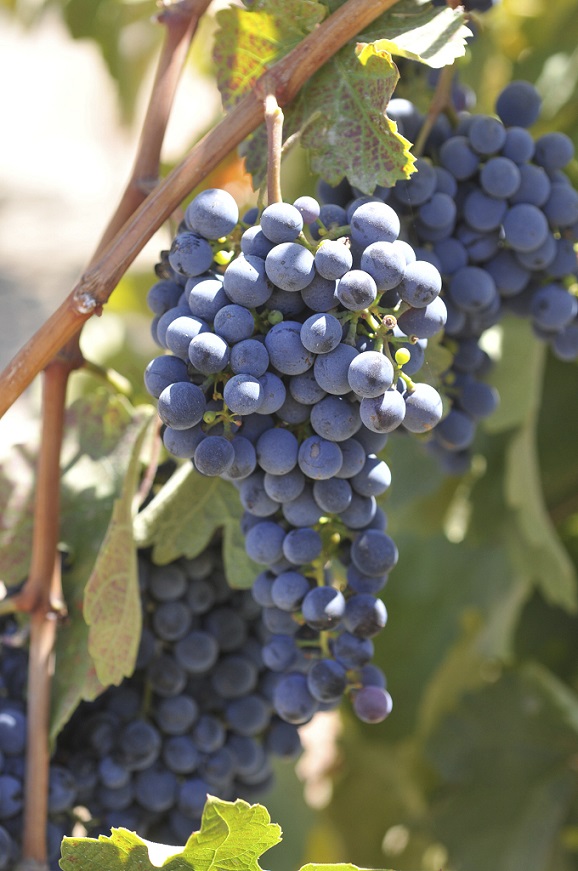 Paseante Noir (
above
) is 97%
Vitis vinifera
and has characteristics of Zinfandel and Cabernet Sauvignon. It is 50% Zinfandel, 25% Petite Sirah and 12.5% Cabernet Sauvignon.
Errante Noir is 97%
Vitis vinifera
and is said to have "great blending potential". It is 50% Sylvaner and 12.5% each of Cabernet Sauvignon, Carignane and Chardonnay.
The two new white grape varieties are Ambulo Blanc and Caminante Blanc.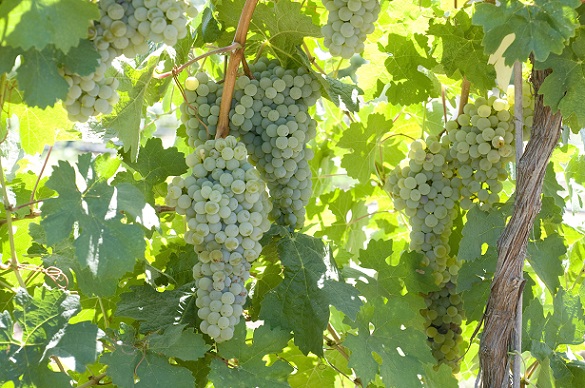 Ambulo Blanc (
above
) is 97%
Vitis vinifera
and is said to be like Sauvignon Blanc. The variety is 62.5% Cabernet Sauvignon, 12.5% Carignane and 12.5% Chardonnay.
Caminante Blanc (
below
) is also is 97%
Vitis vinifera
and has characteristics of Sauvignon Blanc and Chardonnay. The variety is 62.5% Cabernet Sauvignon, 12.5% Chardonnay and 12.5% Carignane.