Since the start of the new Millennium, as average temperatures continue to rise, harvests in Champagne have been starting earlier, average potential alcohol has been getting higher, while acidity levels fall.
The Comité interprofessionnel du vin de Champagne (CIVC) says that over the past 30 years harvests have started on average 18 days earlier. At the same time, potential alcohol has increased on average by 0.7% vol and total acidity dropped 1.3g/L while the average temperature has risen 1.1°C. Average rainfall is unchanged at 700mm a year, the CIVC says.
The average rise in temperature may not sound that much, but the effect of the warming climate on the Champagne vineyards, located just south of the 50th parallel, has been dramatic. Since the 2003 harvest which began on August 18, 2003 – before that you had to go back nearly two centuries to 1822 to find the previous earliest, when grape picking began on August 20 – we have had four further August harvests starts in 2007, 2011, 2015 and 2018 and a run of other warm vintages. This month, Eric Lebel (
below
), head winemaker at Krug, in London to launch its 2006 vintage, commented: "In 2006, we had 23 days when the temperature in Champagne reached over 30°C compared with the average for the region of seven days."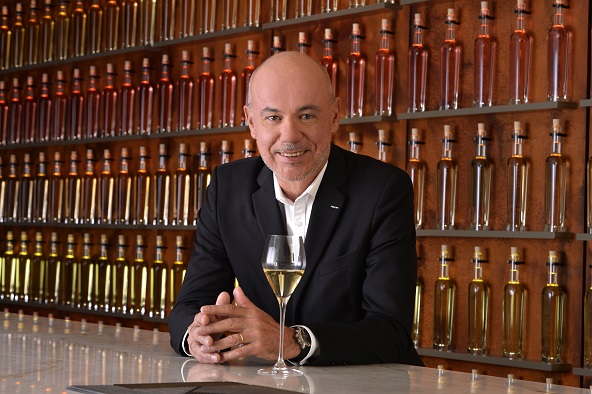 During the 2019 harvest just completed there were three heat spikes with the temperature reaching 42.9°C in the Vitryat village of Glannes to the south-east of Châlon in the last week of July, the highest ever recorded in the Champagne region. And the length of time between flowering to when picking starts has been steadily coming down from the 'textbook' 100 days to an average of 92 days currently.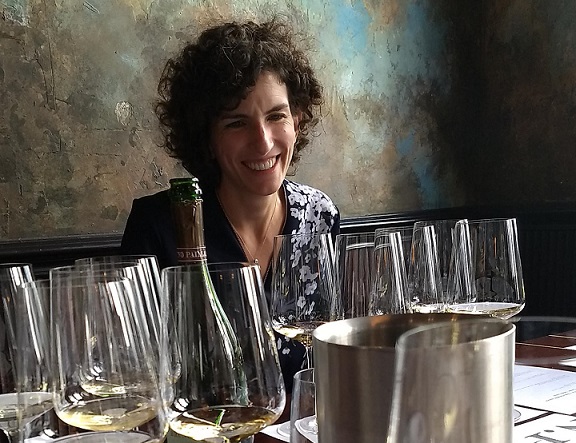 Speaking to Alice Paillard (above) at the launch of Bruno Paillard NPU 2004, she said: "We used to talk about 100 days and that's come down to between 90 and 95, while this year (2019) it was between 80 and 85."
Rodolphe Peters (
below
), who runs grower-producer Pierre Peters in Le Mesnil-sur-Oger, concurs. "Generally we are now looking at around 92-93 days (in the Côte des Blancs) but, in 2019, it was down to 81-82 days." He notes, however, "this year there was a disconnection between sugar levels and phenolic ripeness," you had to wait to achieve the latter and keep tasting the grapes. He started picking the ripest plots in Le Mesnil on September 11, 86 days after flowering. The average potential alcohol level this year (from holdings he has in Le Mesnil, Oger, Cramant and Avize) was a high 11.52%.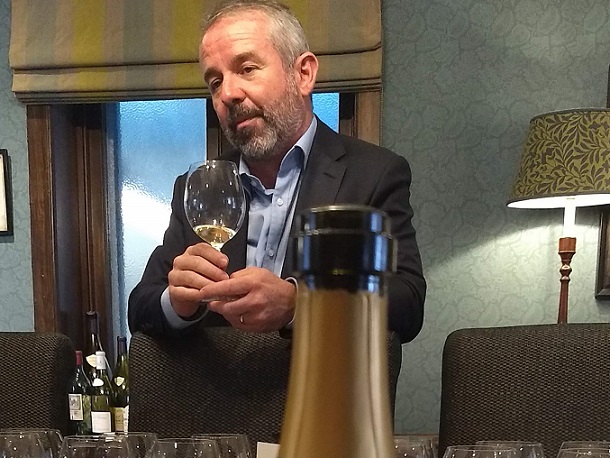 Rapid advance in sugar levels
The very rapid advance in sugar levels in the grapes was another feature of the 2019 harvest. The Champenois have a system known as Le Réseau Matu, whereby grapes from up to 484 different plots spread across the appellation are analysed periodically from around mid-August, to help decide when the harvest will start in every single cru. This year, when they looked at 227 plots in the first sampling on August 19, 2019, the average sugar levels were already high with Chardonnay at 5.1% vol, Pinot Noir 6.4% and Meunier at 5.8%.
The arrival of the third heatwave in Champagne in the second half of August saw potential alcohol increase dramatically in just one week. When the second sampling of 484 samples was taken on August 26, it showed sugar levels rising by +2.6% in the case of Chardonnay (to 7.7), +1.8% for Pinot Noir (to 8.2); and +1.9% vol for Meunier (to 7.7).
The issue was when to start picking. Alice Paillard says: "The decision was tricky since maturation suddenly increased very quickly in the last four days of August, gaining in some areas more than 2.5 degrees in six days, which is absolutely unheard of. A more normal rate (in Champagne) would be to see sugar advance one degree in a week, while 1.5 degrees is fast."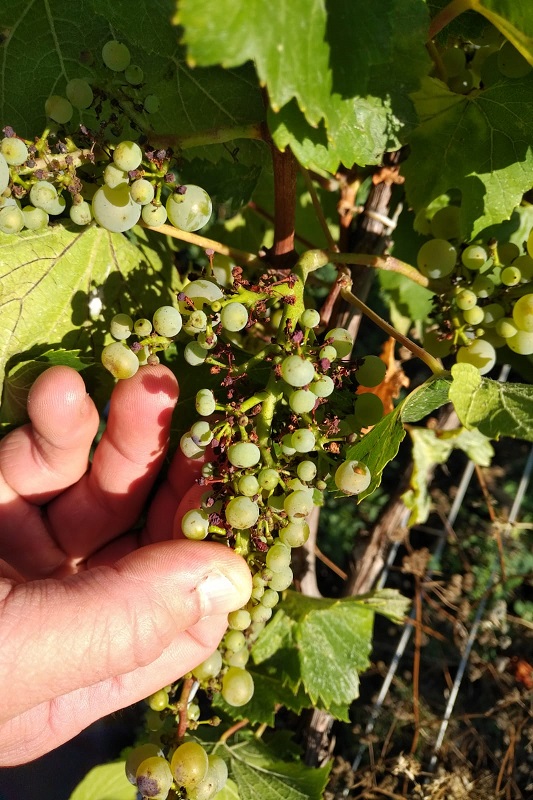 Volume loss
The picture was complicated for Chardonnay in Côte des Blancs as a result of a wide discrepancy in yield from cru to cru and parcel to parcel, with vineyards hit by the triple whammy of frost, unveven flowering due to poor weather in early June, which led to millerandage (
above
) and then heatwave scorching (échaudage) of the grapes, all resulting in some volume loss. Paillard says for Champagne Bruno Paillard, with more than 100 vineyard parcels spread across 16 different villages, the yields' variance was between 50% down and 20% up, on the official maximum yield set for the 2019 harvest of 10,200kgs/ha. The yield for Pinot Noir, which flowered later, sucessfully, in good conditions, wasn't effected by millerandage.
A cautious approach with a careful planning of what to pick when (l'ordre de cueillette) was particularly important in 2019. And for Paillard, like Peters, "tasting the grapes became a key parameter (in deciding if true phenolic ripeness had been reached)".
They started with the Chardonnay where yields had been severely diminished because of poor flowering, where the vines carried much less fruit and the tiny berries were ripe and concentrated, already reaching 11.5% potential by September 9. What Paillard calls the 'real start' began on Thursday, September 12 with Pinot Noir parcels carrying a 'normal full yield' in the Montagne de Reims like Verzy and Verzenay but also further west in Damery and Cumières, which all had three to six days extra maturation. Then it was back to the Côte des Blancs for those Chardonnay parcels which had a perfect flowering and could thus continue their maturation.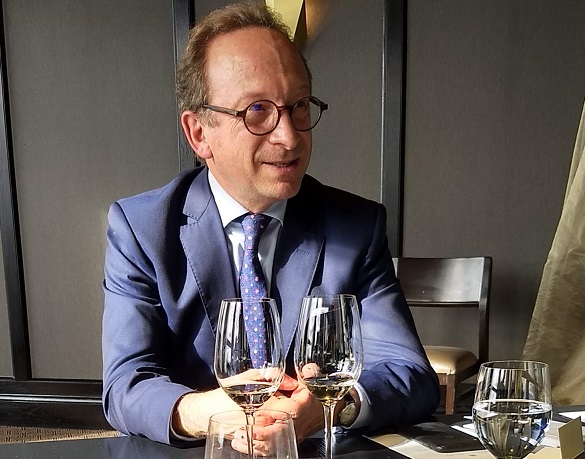 'So far climate change has been favourable for Champagne'
Is there anything the Champenois can do to slow the fast ripening of a harvest and extend the growing season - floraison to harvest - back towards the perceived optimum of 100 days? Is this even desirable? I put this to Charles Philipponnat (
above
), CEO of the eponymous house. "Firstly, 100 days is not an ideal value. It's the historical average before the 90s, and it includes cold, bad seasons. So far climate change has been favourable for Champagne, allowing better ripeness, flexibility to wait for ideal sugar levels, not harvesting too early, and picking in drier conditions, thus avoiding rot and dilution before autumn settles in with cold and rainy weather."
"The main adjustment is precisely to harvest earlier and accept higher ripeness at the same time (a blessing in my opinion)," believes Philipponnat. "Higher yields, which may be an option in other regions is not an option, they are already high enough in general in Champagne. Things like adopting a higher canopy have already been implemented, and may be pushed further, along with wider space between rows. Tilling and growing grass between the vines reduces vigour and may increase the ripening period by a few days. Also cultivating the soil, tilling and using more reasonable fertilisation with less nitrogen, has the effect of lowering pH, increasing freshness and purity.
"In the winery, one obvious and significant option (to combat overly rich wines, lacking freshness) is foregoing the malolactic fermentation on part or all of the base wines, thus increasing the acid balance."
'I'm wary of varietal innovation'
In the vineyard, "selection of slower vegetal material is also a long-term possibility, either massal or clonal," says Philipponnat. "However, I think that it should be limited to the current traditional varietals: I'd personally be a bit wary of varietal innovation. Importing varietals from other regions with a longer flowering to picking period is a step away from tradition and local typicity in my view. Creating new varietals, even by natural hybridation of vitis vinifera, is going too far. Anyway, it is not needed now, but I understand that if temperatures continue to rise 2, 3 or even 5°C, we may have to consider such approaches."