With budburst in the Northern Hemisphere, harvest in the Southern Hemisphere and Covid-19 everywhere, what are wine producers doing?

Bourgogne
The sap is rising, buds are emerging from their downy cocoons and there are things to be done in the vineyard and cellar. In the vineyard, cuttings must be cleared after pruning, trellising has to be repaired, the canes need tying down, the ground needs ploughing. And, in the cellar, there are barrels to top-up.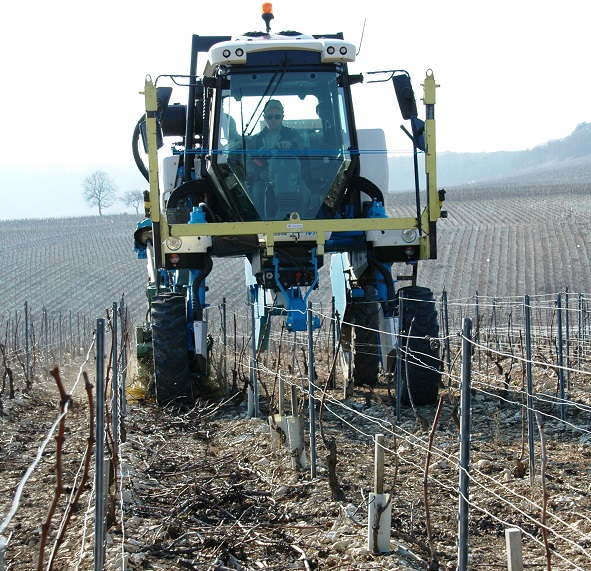 But the work is continuing with strict adherence to safe-distancing measures.
Nicolas Rossignol, in Gevrey-Chambertin, has reorganised his team: "I have asked everyone to use their personal vehicle to get around. In the vines, it is one to a plot, or else we leave two or three rows between us (2-3m) if we have to work in the same place. In addition to tying up and fixing trellising, we are also starting to plough. I have two tractors, so each driver has their own."
And for a touch of local ingenuity, he reveals that instead of using commercial hand-sanitizer, he dug out some of the "head" distillation liquid from a batch of marc de Bourgogne. "It's around 80% alcohol, so it's ideal for disinfecting hands and equipment. In the same vein, we no longer eat together. Since we've had fine weather, everyone has lunch outside. You just have to go one at a time into the kitchen to reheat your dish."
He concludes: "The growth cycle has begun, although the cold which came at the start of last week slowed it a little. But overall, we are working at the same pace as usual."
Bordeaux
Bordeaux producers are dealing with several chaotic and unexpected weather events – with hot sunny days followed by spells of snow and frost.
Due to a mild winter and generally good weather, budburst is already well advanced in Bordeaux (about 15 days ahead). Depending on the plots and grape varieties, the buds are either still at the cotton stage or the first leaves have already appeared. The vine remains very vulnerable to frost at this stage in the growth cycle and growers were forced to deploy equipment on the ground to reduce or even eradicate frost damage by heating the ambient air (anti-frost towers or wind machines, paraffin candles or gas systems). However, it appears as if most of the growers were able to save their crops.
Austria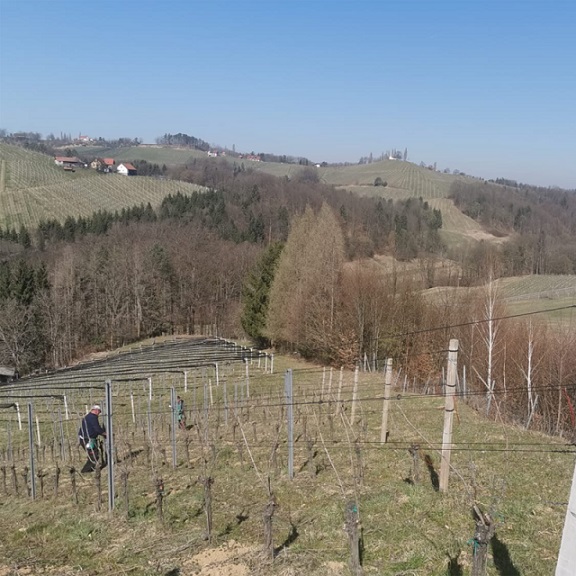 At the Lackner-Tinnacher estate in Steiermark, there is a team of eight in the vineyard of Ried Steinbach (
above
). They are taking advantage of beautiful weather to bind the vines to the wires. And although they worked side by side last year, this time there is a safe distance of two to three rows of vines – about 5-7m – between them.
"All of our workers are being marvellously cooperative and responsible. Everyone pays attention to the other. It's interesting; even though we keep our distance, we feel very close to each other," says winegrower Katharina Tinnacher (
below
).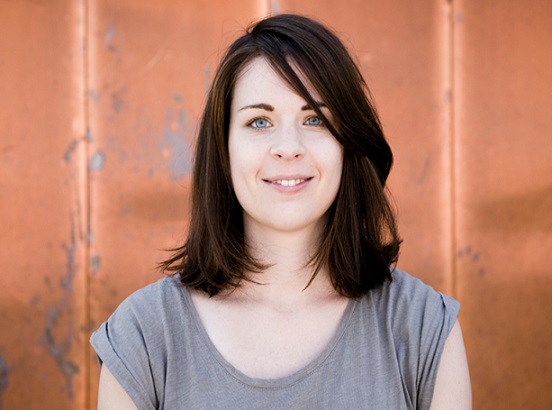 'The world will keep turning'
Another Steiermark winemaker, Wolfang Maitz, is standing in his vineyard, Ried Hochstermetzberg, with a smile on his face as he gazes upon a cluster of bright yellow daffodils between the rows of vines. Every year these harbingers of spring return to bloom in the same place – in the middle of the vineyard next to the old Sauvignon Blanc vines. "I look forward to these daffodils every year, but this year they mean a lot to me. These small, delicate flowers give me the confidence that the world will keep turning."
Some 10km further along the Kranachberg, winegrower Hannes Sabathi is also ruminating. "I haven't been this much of a farmer in 20 years," he says. Hannes usually spends this time of the year in the car or on airplanes – in a rush from presentation to presentation promoting his wines – and has had employees to work in the vineyards. But this year, when many of his workers have to stay at home and all presentations have been cancelled, the wine producer can once again get his hands dirty.
Hannes enjoys having more time to work at the basics – and to finally find the necessary tranquillity to reflect: "For me, this unimagined break is liberating, and I wonder: is the hectic pace of the past few years really necessary? Might less of it be enough?"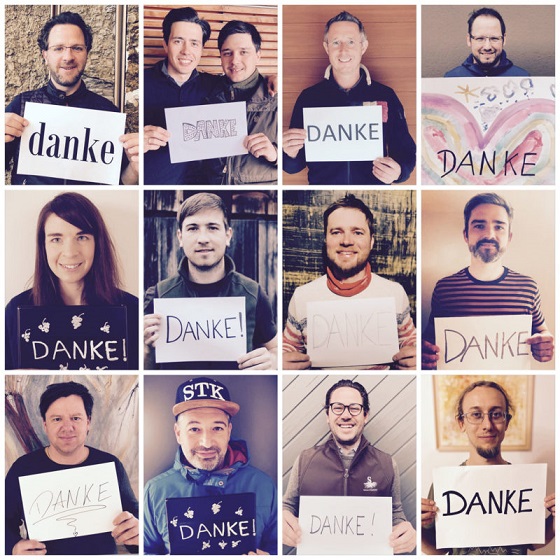 While everyday life is slowing down for most of us, people working in health care are currently doing particularly intensive work. To thank them, the STK group of producers (Steirische Terroir- und Klassikweingüter) have come up with a special campaign.
These 12 wine producers (
above
) – Frauwallner, Gross, Maitz, Lackner-Tinnacher, Neumeister, Polz, Erwin Sabathi, Hannes Sabathi, Sattlerhof, Tement, Winkler-Hermaden and Wohlmuth – are donating a delivery of 300 bottles of STK wine to KAGES, the Styrian Hospital Partnership, for the benefit of doctors and nurses.
Armin Tement, who co-founded the programme, says: "At the moment we have a lot of time for thinking. The main thing that comes to mind involves the people who are making an irreplaceable contribution to community survival in this crisis. We would like to thank these helpers and heroes."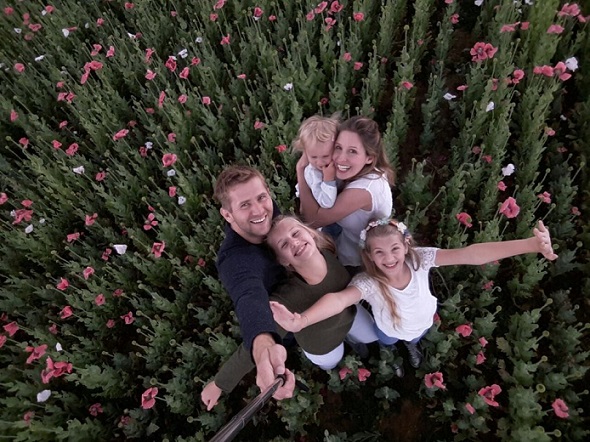 Traisental grower Markus Huber, who has grown his estate from a small sideline business into one of Austria's leading wine exporters, has discovered one positive thing in this difficult period.
"Usually I am only infrequently at home from March to June, because it is the time of the big wine fairs and presentations all over the world. From Düsseldorf to San Francisco, I have to present and promote my wines," he explains. But, this year, all these trips have been cancelled – and he is appreciating the time he's now spending with his family (
above
).
"I have three daughters. The youngest (who is four years old) just learned to ride a bicycle with me today. That makes me so happy that I am almost grateful for the crisis," he says.
'We have to protect our people'
New Zealand
The wine industry here has been cleared to operate as an essential service amid the Corvid-19 lockdown, allowing growers to harvest their grapes.
New Zealand Winegrowers' chief executive, Philip Gregan, says: "It means we can continue to function, there is a pretty fundamental prerequisite though. We have to protect our people and we do not, through our actions, transmit the virus."
The grapes that are coming in appear to be of high quality.
Neudorf Vineyards' Rosie Finn says: "Fruit wise, 2020 looks great. We've been blessed with the weather right through summer and early autumn."
Blackenbrook Vineyards' Daniel Schwarzenbach adds: "We are just really happy with how vintage has gone and with the fruit we have, the biggest challenge for the whole industry is going to be selling the beautiful wines we are making this year."
One of the biggest problems has been providing suitable accommodation for seasonal workers.
Philip Gregan reveals: "We have had dozens, if not hundreds of questions from our members about shared accommodation arrangements."
The association has advised members to take a strict precautionary approach, and to isolate workers so they were not contributing to the spread of the virus.
'Some hope for the future'
Australia
National producer body Australian Grape and Wine has asked the federal government to give wine businesses a temporary break from paying the wine equalisation tax (WET) so they will have "some hope for the future".
The slump in sales from the coronavirus crisis comes after many have seen drought, fire and smoke damage to their crops. Tony Battaglene, the association's chief executive, says: "Removing the requirement to pay the WET, even for 12 months, would be a game-changer for many businesses currently looking at how they can retain their staff, pay suppliers and stay afloat in what is likely to be a very difficult environment."
South Africa
Viticultural and cellar work has been deemed "essential to prevent the wastage of primary agricultural goods", so wineries in South Africa will be allowed to complete the 2020 harvest and make the wines. 
Christo Conrad, manager of wine cellars at wine producers' body Vinpro, says: "Our interpretation of this amendment is that the wine industry would be allowed to complete the harvest and also the necessary cellar processes to ensure that the crop is not 'wasted'. Agri-workers that are required to harvest grapes and/or to operate as cellar workers, will be considered essential workers, during the lockdown period."
However, the export of wine, while not expressly forbidden, is taking a hit because of the ban on the transport of alcohol during the lockdown. The lockdown has also come during the high season for wine tourism.