'We define the colour of the end product at the start and work back from there'
With more than 30% of its production earmarked as rosé, Languedoc producer Vignobles Foncalieu aims to spearhead the category in Occitania with a sales target of 10 million bottles by 2025.
The co-operative cellar produces a wide range of pink wines from 14 grape varieties, spanning every segment, from high-end to real aromatic bijoux. Each with its own assertive style, some of them are single varietals, some blends, labelled IGP or AOP.
Under IGP Coteaux d'Ensérune, Vignobles Foncalieu has revived forgotten or novel grape varieties like Piquepoul Noir for the Piquepoul Rosé and Cabernet Franc for the Ensédune label. Sauvignon Gris is showcased in Griset and blended in the Domaine Haut-Gléon IGP Vallée du Paradis.
Vignobles Foncalieu's organic IGP Pays d'Oc range has newcomers such as Les Cardounettes, a single varietal Syrah, along with Instant Sud, Hera and O Natura, blends bound for export markets. And the category's flagship, the saignee-method AOP Corbières rosé by Château Haut-Gléon, provides Vignobles Foncalieu with a gastronomic wine for France's Michelin-starred restaurants.
Steering these wines into life is 50-year-old Nathalie Estribeau (
below
), who studied in Bordeaux and trained in Australia "where I was lucky enough to learn with very openminded winemakers among some of the best wineries (including Penfolds)". She joined Foncalieu in 2018.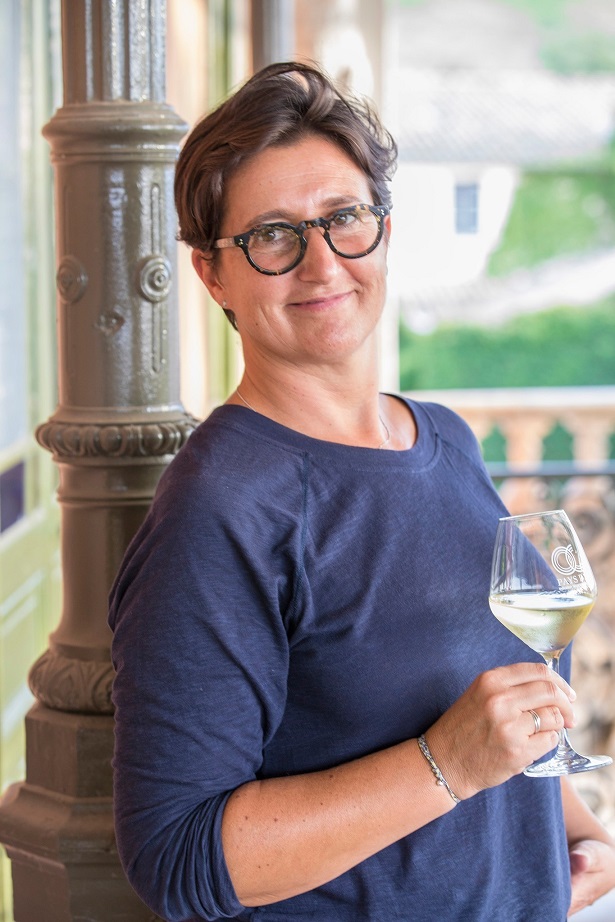 Regarding the rosé winemaking, she tells me: "The first step is the selection in the vineyard, with juicy fruit from well-balanced vineyards. Maturity is also key as while we need good fruit maturity and avoid green characters, we need freshness. So up to now we have not made any late harvest rosés!
"Then colour potential of the grape variety is essential. Today, most of the rosés we make are pale, so colour management is key and monitored all the way through from the pressing to the end product in the bottle. We define the colour of the end product at the start and work back from there to monitor the colour during the process, taking into account the colour loss during fermentation (normally 50% of the colour drops during AF) and the effect of SO2 addition at the end of the fermentation, which also reduces the colour.
"With Grenache and Cinsault, having low rates of anthocyanins, we can press them like white grape varieties and monitor the colour at the end only, separating the last pressings. With red grapes having a greater colour potential like Syrah, this is more tricky and we now do some sequential pressings. A bit like in Champagne, we have two or three sets of juices depending on the year and colour potential. These different juices will be fined differently. Generally, while the first batch has got the perfect colour, the second batch needs a small fining using vegetal protein and the third batch is either fined with a higher rate of protein or fermented as a light red and reintroduced to red blends later on."
This extensive range of varieties is matched by a diverse array of soil types. "The 4,800ha farmed by our 794 member winegrowers cover a propitious variety of vineyard sites – a diversity that forms the linchpin of Languedoc's success – from Carcassonne to Béziers, the Minervois to the Corbières and over to the coast," confirms Nathalie, director of winemaking.
The diversity of grapes and soils leads Nathalie to a variety of winemaking techniques, like ageing on the lees for some wines, co-fermenting grape varieties and using barrels "to add greater complexity and longevity to rosé wine".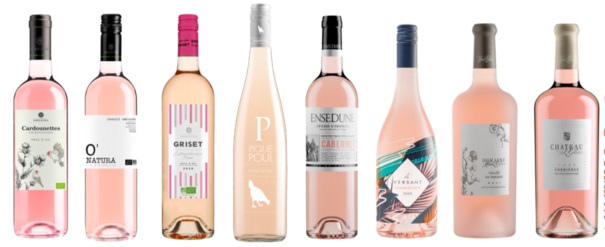 She continues: "Red grapes have different flavours and colour potential and different winemaking techniques can be adapted to unveil most of their potential, depending on the end result that needs to be obtained. It seems quite obvious but the variety of techniques for making rosé styles has evolved quite a bit within the last 10 years…
"Juicy berries with low colour potential and more subtle aromas such as Cinsault can be pressed like white grapes (at full press pressure) and fermented at cool temperature quite classically.
"Grape varieties with thiols potential like Syrah will benefit from stabulation at low temperature – pre-fermentation – to develop the full grape varietal flavours.
"Fermentation in oak can be used for adding richness, complexity, and also give rosé wines more ageing potential, exactly like white wines."

In the Le Versant range of single varietal IGP Pays d'Oc, the star is the limited-edition Grenache rosé (
above
). Made from single-vineyard selections on north-facing hillsides, the wine's livery has been given a makeover by French street artist Nerone. The company says: "His colourful designs are the perfect fit for the multi-tasking Le Versant, which sits equally well alongside tapas and cold soups as it does white meats, tandoori chicken, monkfish tagine or a crumble. It owes its outstanding freshness to the clay-limestone marl soils in its vineyards, and its smooth palate to the stirring of its fine lees."
Here's how this wine is made, according to Nathalie:
Harvest at night.
Light airbag pressing with SO2 added.
Pre-fermentation stabulation with juice and solids for 5 to 7 days at low temperature followed by static clarification. This is an interesting technique to help release aroma precursors, especially thiols. Varietal thiol aromas will then continue to be released by the yeasts during fermentation through natural enzyme activity.
Alcoholic fermentation is conducted at controlled temperature, not too low to again help the release of the thiol aromas.
Wine is then aged on fine lees to add a softer mouthfeel, but only for a short time – 2 or 3 months – to keep the freshness and vibrant fruit flavours.
She concludes: "Here, the pre-fermentation technique is really helping to develop the thiol aromas which are present in some red grape varieties like Grenache."
Compare this technique to a couple of her other rosés:
Domaine Haut-Gléon Rosé 2020
A blend of Cabernet Sauvignon, Merlot, Pinot Noir, Sauvignon Gris and Marselan.
Grapes harvested at full maturity, juices obtained using an open basket press.
The musts are cold settled for 24 to 48 hours and racked off their solids.
Sauvignon Gris and Pinot Noir, picked within a couple of days, are blended just before fermentation. "This allows yeast activity to work on more aroma precursors and get different fruit flavours at the end, giving more complexity and enhancing some flavours that would be less obvious (or not perceived) if the juices were fermented separately. In this wine it does enhance some white peach, citrus fruit and raspberry fruit aromas, with a touch of tropical fruit."
Marselan and Merlot are more coloured, so the press is very gentle and the pressings are used to make reds. The free run is gently fined using vegetal proteins (patatin and peas) to eliminate phenolic acids and stabilise the colour.
Fermentation and ageing are made in stainless-steel tanks. Wines are bottled at the end of winter following harvest.
Nathalie notes: "Co-fermentation, by combining different precursors before fermentation, enhances different flavours in the wine."
Château Haut-Gléon Rosé 2020
A blend of Syrah and Grenache.
The grapes are harvested separately.
The Grenache and Syrah are pressed gently, then cold settled for 48 hours.
While the Grenache goes through fermentation in stainless-steel tanks, the Syrah is inoculated in tank and transferred into second-use 300L French oak barrels for fermentation in the oak room. Wines are then aged on lees for 4 to 6 months, with SO2 addition at a late stage.
"Oak barrel fermentation adds structure, complexity and length to the Syrah," Nathalie says. "The lees ageing will soften the wines that naturally show a good minerality from the Haut-Gléon terroir."
The two wines are blended one month before bottling, which takes place in early spring after harvest.
Nathalie adds: "With barrel fermentation we are firstly looking at strengthening the structure and complexity of the wine. Our objective is to make a great wine while being young, showing red fruit flavours with a savoury long palate but also a wine that will age perfectly through the development of different flavours while keeping a good mouthfeel and freshness."
'This help us increase the ageing potential of our rosé'
How a boutique producer in Provence does it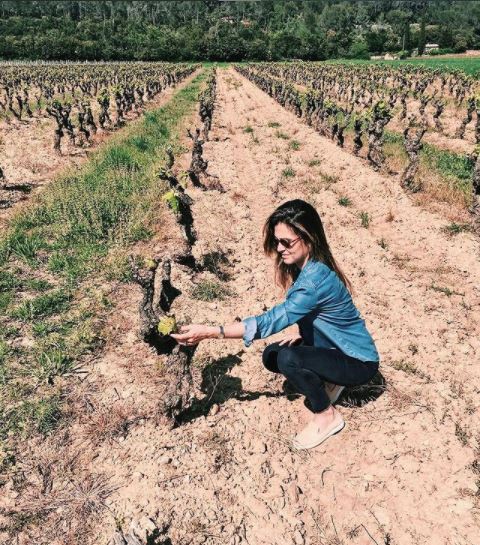 "We did not want to produce a simple 'thirst-quenching wine', but an elegant wine with a contemporary vision, that perfectly balances the best Côtes de Provence terroir, grapes and winemaking."
So says Franco-Swiss entrepreneur Aline Gutowski (
above and main photo
), who released her first Provence rosé under the Maison Gutowski label in 2016. The top-end M-G Grande Cuvée Rosé is a blend of 40% Grenache, 35% Syrah, 15% Cinsault, 10% Rolle (Vermentino) from specially selected old vine sites and diverse terroirs from across the Côtes de Provence AOC.
Aline comments: "Having been born and raised there, Provence holds a special place in my heart. My dream was to return one day to make a wine which reflects the very best of Provence."

The pale salmon pink wine, made with consultant winemaker Johanna Dayer, is packed with fleshy peach, ripe apple and pink grapefruit – with the Rolle giving a floral lift.
Aline says the keys to this wine are:
Perfectly matching the soil and grape variety. "Thanks to the diversity of soils on the appellation Côtes de Provence, we are doing a rigorous selection among some of the most qualitative terroirs to create a blend using traditional grape varieties on the soils where they best express themselves," she tells Canopy.
Very early picking to keep the grapes fresh at low temperature, but still at the optimal level in order to get a crisp acidity, moderate alcohol with peach, citrus and stone fruit aromas.
Very gentle pressing to release "only the purest and brightest aromas and give a pale colour".
No MLF – "to maintain the brisk acid character".
Extended lees ageing. "As I wanted to have a wine with more volume and roundness on the palate, we are ageing the wines on full lees after fermentation for at least four months prior to bottling, which is bit longer than other rosés from the region," Aline reveals. "But there is no stirring in order to avoid fat, flabby character. It's all about getting the perfect balance in our wine while working with delicacy with the lees."
Paying attention to the bottling process. Aline says it's essential to prevent almost all oxygen from getting in the bottles if you want to preserve "the fresh fruit character longer and avoid any oxidation". She adds: "This helps us increase the ageing potential of our rosé, which was also a goal. Having a rosé that can be enjoyed with gastronomy and drunk not strictly the year after release."
For Aline, the balancing act extends to the packaging and communication. "I wanted… the design and communication to reflect the delicate and elegant nature of the wine in a contemporary brand and packaging," she says.
Using Tinto Cão
A rosé of superior quality must have "good fruit, good natural acidity, complexity, some structure and an appealing colour," according to Portuguese winemaker Ricardo Macedo. "To achieve this, it is essential to have varieties that make it possible to obtain these characteristics, to have grapes of excellent quality and, not least, well-established vines."
Douro-based producer Kopke has launched a limited-edition rosé made from 100% Tinto Cão as part of its Winemaker's Collection. The fourth in the series, and the second release of single varietal Tinto Cão, Kopke Winemaker's Collection Rosé Reserva 2020 proves Portugal's ability to make serious, food-friendly and world-class rosés that are unique in the world due to being made from a Portuguese grape originally grown for Port production.

Kopke Winemaker's Collection Rosé Reserva 2020 has a beautiful light salmon colour and is 'aromatically elegant' with aromas of pomegranate and hibiscus. On the palate, it proves to be subtle and elegant and impresses with its creaminess due to six months of weekly bâtonnage. Its finish is long and fresh, due to its excellent acidity.
For Ricardo, Kopke's still wines winemaker, the challenge in producing a great rosé is "to find the balance between the fruit, the freshness, the structure and the complexity that the wine must present", something he feels he has achieved in this wine. "My objective for this rosé was to obtain an elegant and seductive colour, a light salmon. To achieve this hue, factors such as harvesting at the optimum time, the appropriate grape variety and ensuring a very soft pressing to avoid extracting the colour all contribute," he says. "The variety itself influences the colour with Tinto Cão giving a redder hue because it has higher acidity than, for instance, Rufette, which gives a more orange hue."
The winemaking behind Kopke's rosé:
The grapes, from 30-year-old vineyards in the Cima Corgo, are harvested by hand at the beginning of August.
Looking for grapes in perfect health and ripeness, a first selection is carried out in the vineyard before the grapes are transported in 20kg crates to the winery in Quinta Sao Luiz. A second selection takes place at the winery's sorting table.
The grapes are whole-bunch pressed to avoid colour extraction.
80% of the juice is fermented in stainless-steel vats, the temperature controlled at 10-14°C.
The remaining 20% goes into used barrels of 300L French oak.
After alcoholic fermentation, the wine ages for six months in a stainless-steel vat with weekly bâtonnage, which adds to the complexity and structure of the finished wine.
The Winemaker's Collection is a project that emerged from a decade of monitoring and studying the potential of each grape variety from different micro-terroirs in the Douro, vinifying and ageing them to test the results and selecting the best grapes according to the wine they wish to produce. Tinto Cão is a particularly resistant variety, with small bunches, dense skin and late maturation, which makes it possible to achieve the desired acidity level and excellent freshness and is why this grape was chosen for this rosé over other traditional Port grape varieties.
For this collection, only the best wines of Reserva and Grande Reserva quality are considered, and all editions released have limited availability, are numbered and signed by the winemaker.
There are only 5,372 bottles of the Kopke Winemaker's Collection Rosé Reserva 2020.
Blending red and white grapes
The wines from Bodegas Protos' new rosé winery in Spain's DO Cigales – specially designed for rosé production – were released earlier this year. Oenologist Pedro Martin (below) says the aim with the new winery in Cubillas de Santa Maria is to redefine the Cigales rosé category and make a modern interpretation of the traditional clarete.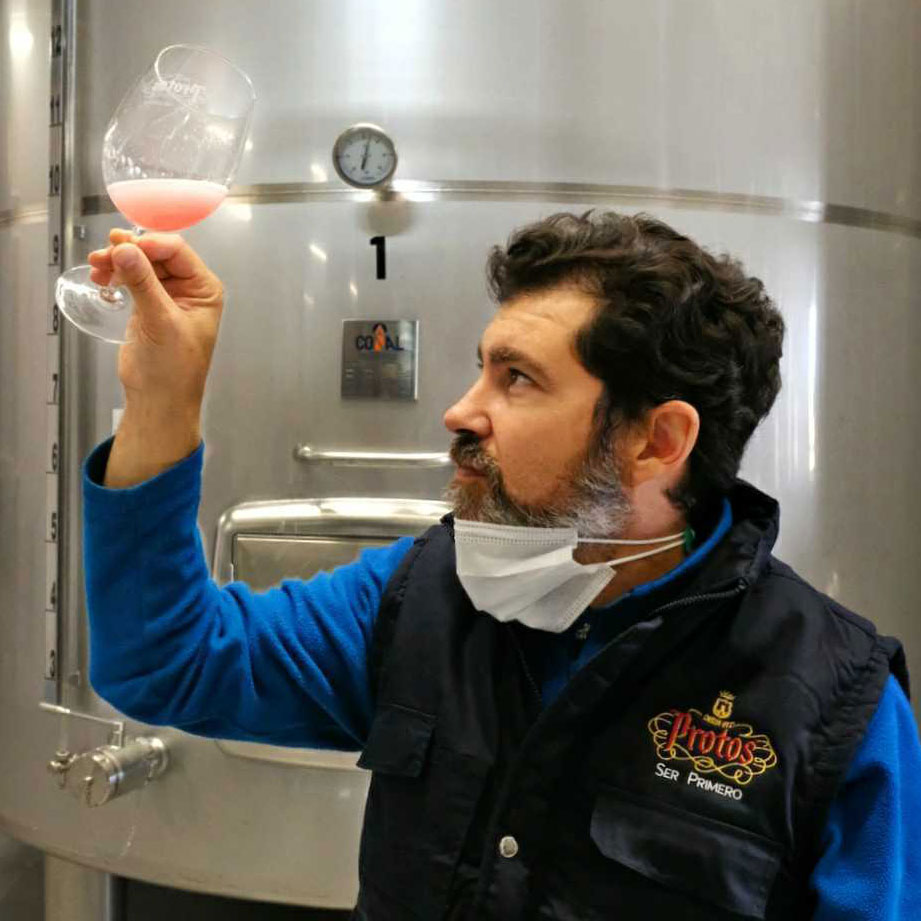 Pedro tells 
Canopy
: "Clarete wines have a long history in this part of Spain, but we are seeking to create a modern interpretation for today's wine drinkers. 'Clarete' was once banned by the EU, who supposed it was too close to Claret, but we have succeeded in bringing it back as our brand name."
The 2020 harvest in Cigales – completed a week after the new winery opened – got under way about 10 days earlier than Bodegas Protos' red-wine harvest in Ribera del Duero, so they could have "a more contained alcohol content and a fresher style", Pedro says.
Director general Carlos Villar adds: "All the details of the winery are focused on obtaining fresh and balanced clarete and rosé wines, with an attractive colour, good aromatic intensity, a wide variety of aromas and unctuous complexity on the palate.
"To obtain this we are working with up to six varieties this year, focusing more on a maturity that provides us with more intensity and more of an aromatic quality than polyphenolic."
The traditional clarete blend is Tempranillo-Albillo-Garnacha, but Cigales permits a wide variety of grapes in rosé production, including Tempranillo, Garnacha, Merlot, Syrah, Verdejo and Sauvignon Blanc. Pedro and his small team (two oenologists, one cellarmaster and a cellarhand) added Syrah and Merlot in with Tempranillo "to give the wine greater complexity and elegance".

Regarding the colour, Pedro says: "In the Clarete (
above
) we look for the typical colour, a consequence of a greater quantity of red varieties and a greater maceration with the skins. Ideally, it's an intense bright strawberry colour. On the nose it will probably be more intense, but with a less diverse and more fruit-forward aromatic palate. In the mouth, something more structured, better for pairing with food, even cuisines with strong flavours.
"For (the rosé) Aire, we look for a pale rosé, the result of less maceration, early harvesting and the use of white varieties and other reds with less colour such as Garnacha and Syrah. We seek greater aromatic complexity and diversity of fruit and floral aromas. On the palate it will be fresher but serious and unctuous to be enjoyed both as an aperitif and with dishes of medium intensity."
The rosé colour (
above
) comes from a four-hour cold soak at 8°C with the mostly (80%) Tempranillo grapes protected from oxidation by nitrogen.
"For rosé, the preservation of the must from oxidation and its cooling are crucial," Carlos says. "Hence, we harvest at low temperatures, at night, and if it is by machine, with trailers with double base to separate the must and treat it, in the correct hopper, with the addition of nitrogen."