'Here we are talking about quality, continuous improvement, excitement, passion – terms that rarely go together with cost efficiency'
This stunning new winery in Spain's DO Cigales has been specially designed for rosé production. It complements Bodegas Protos' wineries in Ribera del Duero, which makes red wines, and Rueda, its white wine production centre.
The rosé winery's oenologist, Pedro Martin, says their aim with the new winery in Cubillas de Santa Maria is to redefine the Cigales rosé category and make a modern interpretation of the traditional clarete.
Pedro told
Canopy
: "Clarete wines have a long history in this part of Spain, but we are seeking to create a modern interpretation for today's wine drinkers. 'Clarete' was once banned by the EU, who supposed it was too close to Claret, but we have succeeded in bringing it back as our brand name."
The 2020 harvest in Cigales got under way early – and was completed a week after the new winery opened.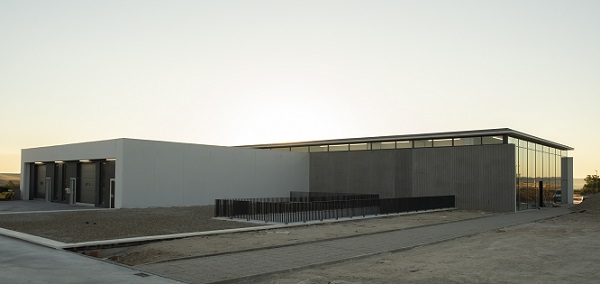 "We harvested early to preserve maximum aromatic potential in the wines, rather than deep colours," said director general Carlos Villar.
He added: "All the details of the winery are focused on obtaining fresh and balanced clarete and rosé wines, with an attractive colour, good aromatic intensity, a wide variety of aromas and unctuous complexity on the palate.
"To obtain this we are working with up to six varieties this year, focusing more on a maturity that provides us with more intensity and more of an aromatic quality than polyphenolic."
Cigales permits a wide variety of grapes in rosé production, including reds Tempranillo, Garnacha and Syrah, plus whites Albillo, Verdejo and Sauvignon Blanc. This gives Pedro and his small team (two oenologists, one cellarmaster and a cellarhand) the opportunity to blend the best characteristics from French and indigenous varieties to create "unique and complex rosés".
"We harvest at low temperatures and we have a de-stemming hopper to separate and add nitrogen to the musts to prevent oxidation and preserve aromas," Carlos continued. "We cool musts and pulp separately, we send them to inert presses and with cooling covers. We work with selected yeasts, looking for fruit and floral aromas.
"We have tanks of different sizes to vinify different plots and varieties. All tanks have built-in agitators for lees ageing."
The inaugural vintage of Protos Cigales rosé and clarete will be released in January 2021. Regarding the rosé, Carlos said: "Although the highest proportion is Tempranillo, this year we have worked with six different varieties, four reds (Tempranillo, Garnacha, Merlot and Syrah) and two whites (Verdejo and Albillo). We had also approved some Sauvignon Blanc but we did not take it because its health was not ideal this year. Some varieties are being vinified together and others separately to be later incorporated into the final blend. All the grapes come from the DO Cigales and nothing from other Protos wineries."
Pedro told
Canopy
how the two wines are looking:
The rosé Aire (80% Tempranillo)
Alcohol: 12.5-13%
Acidity: 5.5-6g/L
Sugars: <2g/L
pH: 3.2-3.3
The Clarete (90-95% Tempranillo with the rest Verdejo)
Alcohol: 13-13.5%
Acidity: 5-5.5g/L
Sugars: <2g/L
pH: 3.3-3.4
Regarding the colour, Pedro said: "In the Clarete we look for the typical colour, a consequence of a greater quantity of red varieties and a greater maceration with the skins. Ideally, it's an intense bright strawberry colour. On the nose it will probably be more intense, but with a less diverse and more fruit-forward aromatic palate. In the mouth, something more structured, better for pairing with food, even cuisines with strong flavours.
"For Aire, we look for a pale rosé, the result of less maceration, early harvesting and the use of white varieties and other reds with less colour such as Garnacha and Syrah. We seek greater aromatic complexity and diversity of fruit and floral aromas. On the palate it will be fresher but serious and unctuous to be enjoyed both as an aperitif and with dishes of medium intensity."
The timing is opportune, according Carlos: "This category keeps increasing year after year, reaching 9.6% of the world's total wine production. And 80% of all its sales are divided between France, Spain, USA and Italy, so we see a great opportunity to present really good quality wines."
Previously the Clarete was made in Ribera del Duero, as this label from 1974 shows (
below
).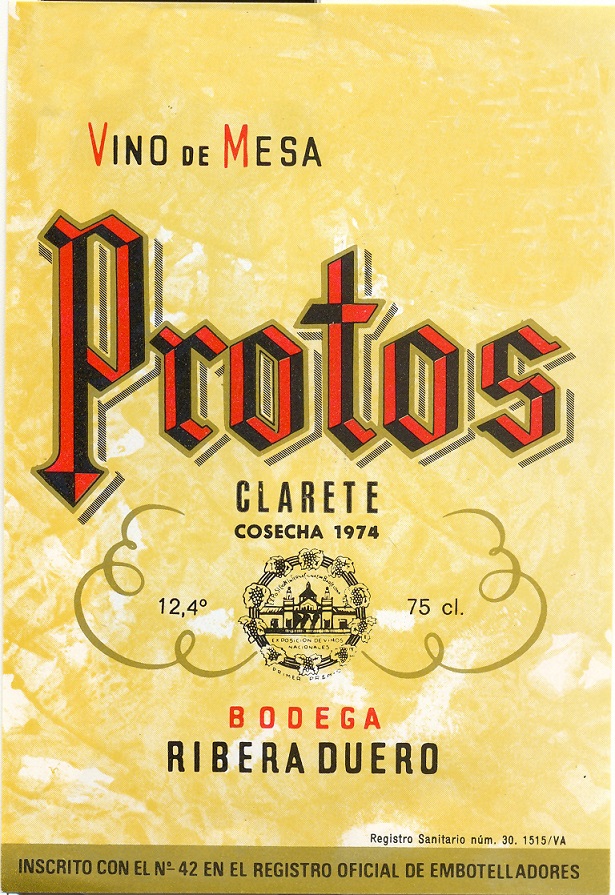 Quizzed about the strategy behind having separate wineries for red, white and rosé, Carlos told
Canopy
: "The idea of specialising in wineries for reds, whites and rosés is to obtain the best possible wines from facilities that are differentiated, taking advantage of the full potential of distinct zones that specialise in each type of wine.
"If Ribera de Duero has always been famous for its reds, Rueda for its whites and Cigales for its rosés, it is with good reason – there is the viticultural potential and the know-how of its vinegrowers and winemakers. What Protos intends to do is to provide specific technology to these grapes and the knowledge to obtain great wines."
Canopy: What are the advantages and disadvantages of this strategy?
Carlos:
"The advantage is being able to focus on and try to be the best at something specific. Our investment in the winery, the grape selection, the time of the harvest – it was all made with the sole purpose of making fantastic rosés.
"The main drawback is the cost: new facilities, new trained personnel, not taking advantage of synergies, etc, but it will be worth it if we achieve our goal."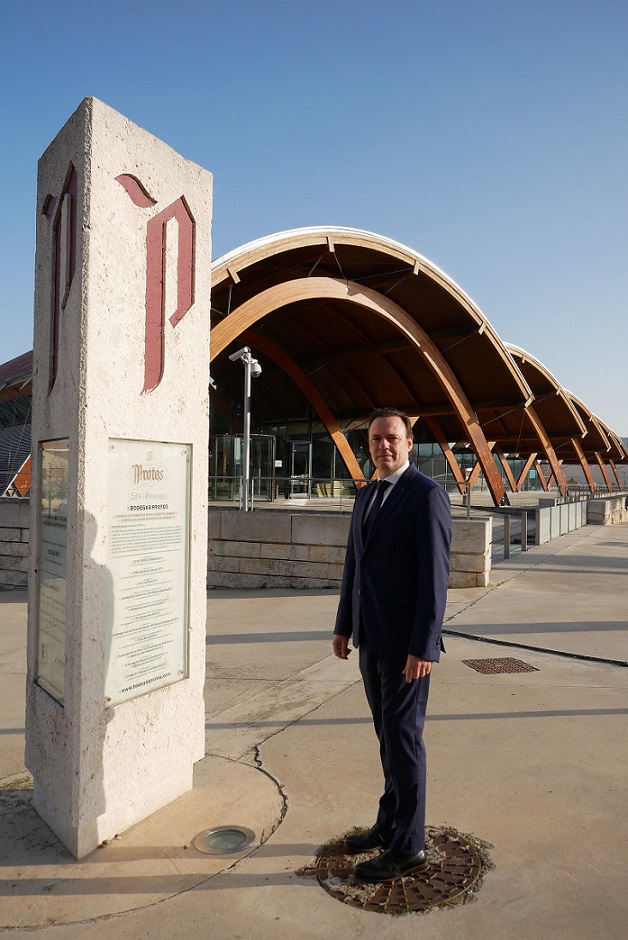 Why can't it all be done in one huge winery?
Carlos (above):
"In theory it could be done, but with worse results because the proportion of grape varieties used are different, the maturation and harvest time are different for each type of wine and grape variety. The technology used also changes in its importance and the focus of the staff on the specific project is not the same.
"In addition, there are many bureaucratic obstacles in the Spanish denominaciónes de origen that do not allow you to do it well. For example, in Ribera del Duero 90% is Tempranillo and there are few other varieties that improve rosés and their wineries are more designed for reds and the only white variety that can be used is Albillo. In Rueda there are almost no red grape plantings – and the few that exist are Tempranillo. In Cigales, there are more varieties of grapes permitted and in many cases they remain mixed in the vineyard because it is traditional to make rosés here.
"Wine has a lot of tradition and know-how because, after so many years, popular wisdom reaffirms why some areas are better than others depending on the wines you want to make."
But wouldn't it be more cost-effective?
Carlos:
"Of course it would be more cost efficient to do it in another way, but here we are talking about quality, continuous improvement, excitement, passion – terms that rarely go together with cost efficiency."
It doesn't look as if much expense has been spared at the new winery. Built to process 500,000kg of grapes, Pedro says: "We can expand to one million". For its first vintage, it started with 200,000kg.
The gravity-fed winery has a lab and reception area on the upper level, overlooking the fermentation tanks on the lower level. On the other side of the tank area, a bottling centre is rapidly being constructed for the new wines, and a warehouse is due to be finished in December.
Features of the winery include:
Nitrogen generator to displace oxygen with inert gas;
Roller separation table to remove plant debris so that only fruit reaches the press;
Tubular exchangers for cooling grapes and must to 8°C;
Separate vinification of must according to quality, colour, variety and parcel.
"For rosé, the preservation of the must from oxidation and its cooling are crucial," Carlos said. "Hence, we harvest at low temperatures, at night, and if it is by machine, with trailers with double base to separate the must and treat it, in the correct hopper, with the addition of nitrogen, with the exchanger not only of must but also of pulp, with the inert vats with cooling cover, agitators for lees ageing..."
We only have a few more months of waiting to see if all this technology has helped them to achieve their goal of producing fresh, balanced, aromatic and classically tinted clarete and rosé wines in this beautiful work-of-art winery.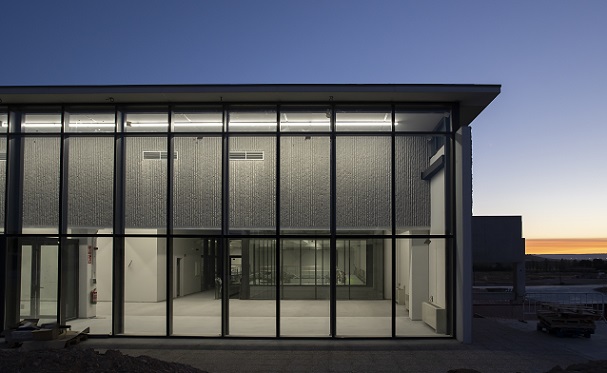 Click
here
to see Bodegas Protos' top wines in last year's International Wine Challenge.