Having created and tested its lightest bottle yet, Champagne Telmont believes it can 'drastically reduce' the carbon emissions of the industry if it can encourage widespread adoption of the new design.
Together with French glassmaker Verallia, the house has successfully completed testing of the lightest Champagne bottle that weighs 800g (28.2oz) – which is 35g (1.2oz) lighter than today's standard Champagne bottles. It is now starting to use the new bottle for its latest cuvée.
The new bottle is part of the brand's ambitions to become the first net positive Champagne house by 2050. This means the house wants to remove a greater amount of greenhouse gas from the atmosphere than it produces. As a steppingstone, it plans to become climate positive by 2030.
The glass used for bottles is one of the major sources of carbon emissions in the industry (for Telmont, representing about 24% of total emissions). Lighter bottles contain less glass, and therefore generate less carbon emissions during the glass melting and production processes: around 4% less CO2 per bottle produced, estimates the brand.
Plus, these lighter weight bottles require less fuel for transport, upstream and downstream, leading to additional energy savings and environmental benefits.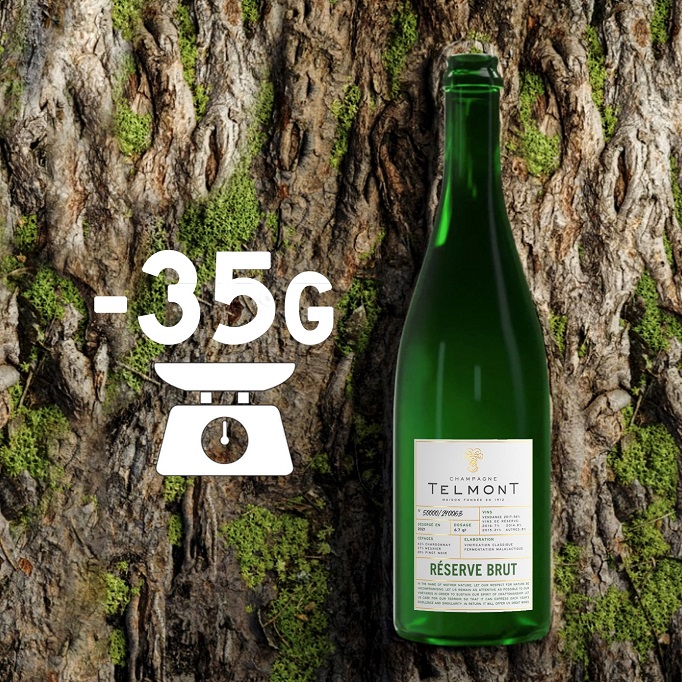 A reduction of 35g may not sound a lot, but that's on top of the reduction from 900g to 835g already achieved over recent years, and in fact the latest 35g reduction (and thus total reduction of 100g / 3.5oz) represents 'incredible technical prowess'.
That's because lightweighting Champagne bottles is not just about simply removing the volume of glass used, but because of the pressure from the sparkling wine inside that the bottle must withstand, explains Ludovic du Plessis, president of Maison Telmont.
"There are technical constraints which make it very difficult to reduce the bottle's weight. The bottle needs to keep its mechanical resistance in order to withstand the huge pressures created by gas inside the bottle – twice as much the pressure of the air inside a car tyre! So, it's quite a technical feat to have reduced the bottle's weight by 35 grams without reducing its mechanical resistance.
"We wanted to reduce the weight of our bottles because less glass means less CO2. And in this field, every gram counts!"
'Every gram counts'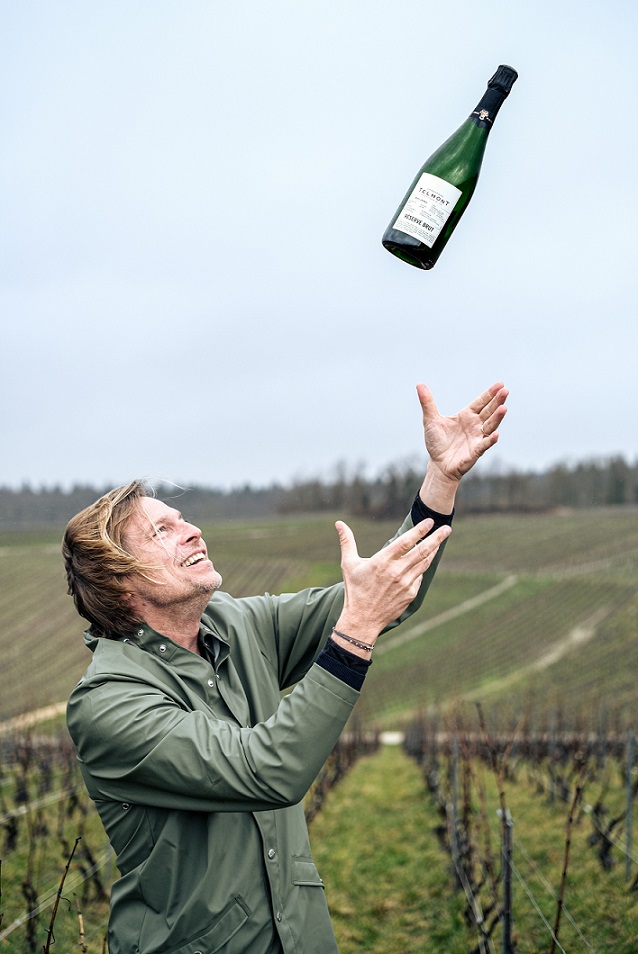 The new Champagne bottles – which are produced by Verallia at its local Champagne factory in Oiry – has been successfully tested with a trial run of 3,000 bottles. While the brand is pleased with the technical properties of the new bottle, consumers are unlikely to notice the difference.
"Visually, there is practically no difference – the shoulder of the bottle is a little thinner, but it is really hard to notice. Consumers won't feel any difference either when handling the bottle. The only real difference is the carbon content of the bottle," said du Plessis (
above
).
Telmont, which is located near Épernay, is now producing its first batch of 30,000 Champagne bottles for the certified organic cuvée 'Réserve de la Terre'. With three years for ageing, these bottles are expected to hit shelves in 2026.
"We need time for the yeast to give complexity and maturity to the wine; and at Telmont, three years of ageing is the minimum to give the wine its personality. So, today, the first lightweight bottles are sleeping in our cellar, and they will stay there for at least three years," du Plessis says.
While founded in 1912 and steeped in Champagne traditions, Telmont also wants to be a frontrunner in sustainability – an initiative supported by Hollywood star Leonardo DiCaprio, who has been an investor in the house since early 2022 and is strongly committed to environmental protection.
"Reducing the weight of the bottle is part of a wider plan meant to reduce our environmental footprint," du Plessis adds. "Our ambition is to produce champagne of the highest quality in the most sustainable way.
"In June 2021, we launched a lifetime project, called 'In the Name of Mother Nature', which encompasses action in many different dimensions to be more sustainable.
"This led us to make bold, radical decisions. For instance, we are converting our vineyards and one of our winegrower partners to organic agriculture, which means no herbicides, no pesticides, no chemical fertilisers – and in Champagne, this is tough.
"But we are also working very hard to reduce our carbon footprint, with the goal to be the first Champagne house to become net positive, by 2050. To achieve this, we are addressing in priority our main sources of emissions, in a radical way, and in particular the bottle and the packaging. In June 2021, we stopped bespoke bottles, which use too much glass. We stopped transparent bottles, which contain 0% recycled glass. We are adopting progressively the lightest bottle, designed with our glassmaker partner Verallia, to further reduce the bottle's carbon footprint. We completely reviewed our packaging, stopping all giftboxes; best packaging is no packaging. We reviewed all our logistics, including stopping the use of airfreight. Our wines are shipped to the US and to Japan by sea, because this reduces CO2 emissions significantly."
But du Plessis hopes the brand's lighter bottle can make a bigger impact by being adopted by other Champagne houses as well as inspiring further change.
'I'd like to think we can inspire others'
"Champagne is progressing fast on sustainability, organic viticulture, and packaging," says du Plessis. "I'd like to think we can inspire others to follow our example. But what really matters is that many producers are moving forward today, taking bold steps toward greener winemaking, individually, and collectively through our interprofessional Union, the CIVC.
"Beyond Champagne producers, many professionals from the food industry – green star chefs, oenologists, wine critics, influencers, journalists – (and) people from the whole ecosystem are knocking at our door. They want to be part of the movement, and this is very important, because true change will only happen if we act together in the Name of Mother Nature."
'True change will only happen if we act together'
This article first appeared on our sister publication Beverage Daily's website. For the original article, click here.