After Canopy's roundtable discussion on sustainable wine tourism in Rioja this summer, a tourism agency in France asked me: "What does the future of wine tourism look like?"
I replied: "I hope there will be more wine tourism destinations like Chateau Feely – with meaningful claims to being sustainable."
Chateau Feely is an organic and biodynamic estate in Saussignac, in southwest France (about 90 minutes from Bordeaux). It's run by husband and wife, Sean and Caro Feely, who met in South Africa, moved to Ireland and then bought a rundown chateau in the Dordogne. Caro, a writer, yoga teacher, wine educator and organic farmer, has documented her journey in eight books, including
'Cultivating Change: Regenerating Land and Love in the Age of Climate Crisis'
and
'Vineyard Confessions: Tales of Menopause, Love and Natural Wine'.
Her first books,
'Grape Expectations: A Family's Vineyard Adventure in France'
and the follow-up,
'Saving Our Skins: Building a Vineyard Dream in France'
, were among the first wine books I read after starting my own adventure of buying a small vineyard and wine house in Slovenia 14 years ago.
So, it's safe to say, I'm a great admirer of Chateau Feely, which has been certified organic and biodynamic for more than a decade.
After being pressed on why Chateau Feely is a model estate for sustainable wine tourism, I took a closer look.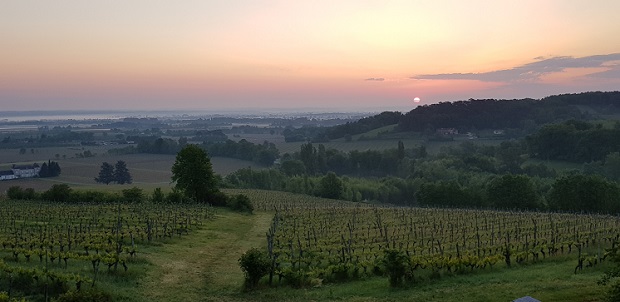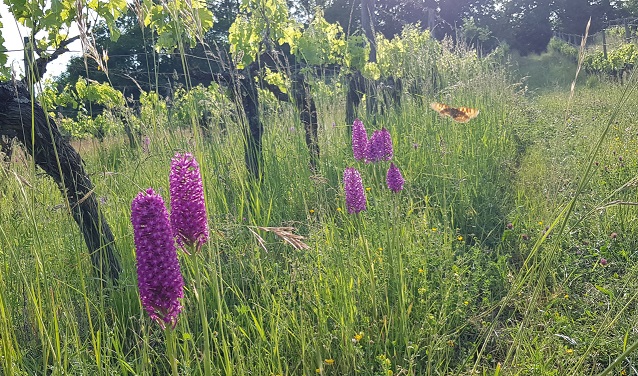 For Caro, these are the cornerstones of sustainable wine tourism:
Leave no trace of pollution whether from greenhouse gasses, pesticides, or plastic.
Educate and uplift visitors, contributing to mindfulness and wellness.
"That's the dream," Caro says.
Caro, who moved from Dublin to Saussignac to renovate the chateau in 2005, is now examining every part of her wine and wine tourism operation and gives other wine producers this piece of advice: "We can assess unnecessary CO2 emissions and seek to remove them. For example, luxury wine tourism cannot offer helicopter rides in good faith even with carbon offsets... True luxury is a quiet vineyard packed with biodiversity. For tours in fossil fuel vehicles, whether 4x4s, quads or other, we can consider changing to alternatives like walking, cycling or low-consumption electric vehicles charged on 100% renewable electric sources. Carbon offsets cannot make up for unnecessary burning of fossil fuel – the fossil fuel should be left in the ground."
When asked for a definition of sustainable wine tourism, Caro replies: "Sustainable wine tourism is about decreasing CO2 emissions, encouraging 'slow' tourism, communication, and education on environment, and working with local partners and community."
She adds: "Sustainable wine tourism puts environmental sustainability at the heart of every decision about tourism at the wine estate and about every choice made. It is thinking beyond this quarter or this year, to the next decade and beyond. Given the global climate crisis it is about making considerations of greenhouse gas emissions central to all decisions about tourism we already offer, and about future wine tourism offers. With the nature and beauty of vineyards we are in a unique position to share our passion for nature, for preserving our amazing earth, and thus encourage and be catalysts for change."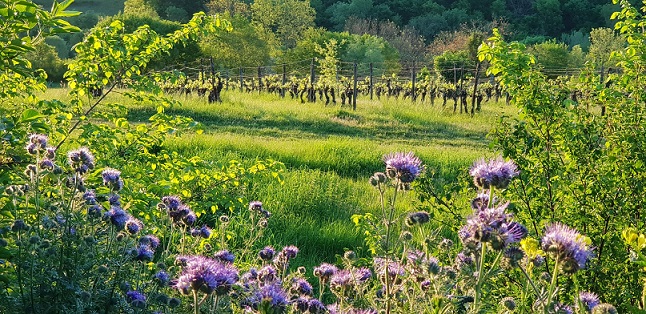 Here are some of the initiatives at Chateau Feely, a 14ha estate with 7ha of vines, 2ha of land that is resting, 1ha of forest and about 4ha of wild conservation area.
Serving food that matches a sustainability ethos. They buy non-perishable products (eg tea, coffee) in bulk rather than individual teabags or coffee pods. They use reusable washable metal tea-balls. "The best is to use homegrown whole leaves that don't even need a tea-ball," Caro says. "We propose mint tea or thyme picked fresh from the garden. Many people go for this garden option."
Using local products and explaining their provenance. For example, their organic bread is from a local organic farmer who grows the heritage wheat, mills it in a stone mill on the farm and makes the bread in a wood-fired oven. "We collect our bread order from them on their stand at the Saturday Bergerac market, making it part of a larger shopping trip and avoiding unnecessary delivery related CO2 emissions, then freeze it in a chest freezer located in a cool cellar and defrost as needed," Caro explains.
Only using organic products for hospitality. "We have been a certified organic farm since 2008. Seeking organic only and ideally local products means getting to know the producers and changing what we offer due to seasonality and availability."
Offering vegan and vegetarian options. The salads, herbs, and fruit they serve are often direct from their organic vegetable garden.
Offering transport options and information. Chateau Feely provides information on means of transport around the location on its website and by email. It has a selection of simple bicycles available for resident guests and Caro can recommend places to rent e-bikes if required. They offer a pickup service at the local station (4.5km away) for resident guests and for full-day tours. Guests with electric vehicles can plug into their 100% renewable electricity on site.
Saving water. Rainwater is captured from rooftops to use on the gardens and for making their sprays and biodynamic teas. Winery wash water is saved in a tank to be used on decorative gardens and young trees, while the vineyard is dry-farmed. All toilets are equipped with dual flush water-saving systems. They also have a composting toilet as a backup facility and that offers an opportunity to educate people on the environment.
Favouring refillable, biodegradable, or compostable packaging for cleaning products, soaps and food purchased. Using sorting bins and making sorting containers and compost containers available to resident guests. Caro says: "The old three Rs for waste – reduce, reuse, recyle – have been expanded to seven Rs: rethink, refuse, reduce, repurpose, reuse, rot, recycle. I find this a good way to think about waste management."
Labelling the CO2 level of each tour they offer. This is an idea Caro would like to implement. "If we measure it, we can manage it, and people can book eyes wide open," she says. "All the walking visits here on the farm are close to zero CO2 – we use a green renewable energy supplier so even the fridge that cools the wine is CO2 friendly. I need to do a bit of work to calculate the CO2 of the food on the longer visits that include lunch."
Composting the grape skins with hay from their fields, chicken manure and plant waste from the gardens and kitchens. The compost unit (pictured below) is part of the vineyard tour, so they can explain their ecosystem.
Selling locally. Chateau Feely sells 60% of its wine through direct sales to end consumers, 20% to local restaurants and 20% to loyal importers in Ireland, Germany and Holland. "We do no long-distance export," Caro points out. "We don't do any international wine shows or travel for marketing and we rely on word of mouth and repeat business. We use a Toyota Prius hybrid for our local deliveries."
Offsetting glass bottles, the biggest generator of CO2 for a winery business, by maintaining a forest. "We calculate that 1ha of our forest area consumes the equivalent of all the CO2 generated by the glass bottles used at Chateau Feely," Caro says. "We use Ecova bottles that are engineered for energy efficiency in production and less weight. We keep pushing our suppliers to provide better solutions. For example, after years of asking for it, our label supplier was able to offer us 100% recycled paper. We encourage change through all our relationships as a business."
Closing the circle. "When we deliver a new order, we collect our used cardboard boxes from local restaurant clients. When the boxes are too worn to reuse, we use them in the vegetable garden. We compost all our living waste. We say no to packaging that is unnecessary. We encourage clients to recycle glass bottles and our corks are made of natural materials that can be composted as is the packaging material we use."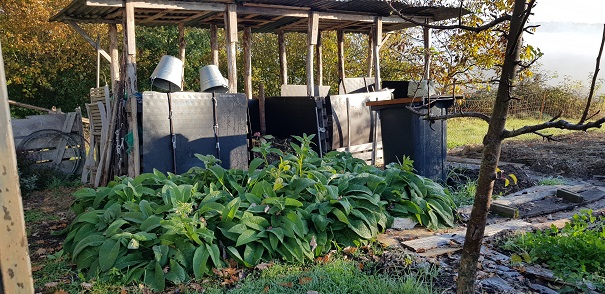 Caro sums up the situation this way: "We have made some progress at Chateau Feely, but we have so much more to do…
"As farmers and tourism providers we have a unique opportunity and responsibility to act and to educate on environment. Every visitor hears about organic and biodynamic farming as part of any Chateau Feely visit from the one-hour visit to a full-day visit. We also set up a short self-guided walking route called the organic and biodynamic trail, a set of boards and online information for guests who have not booked a guided visit. The last board of this visit talks about wider environmental challenges."
A new thing on the tours is discussing the climate crisis with visitors. "I talk about it because the extremes we have experienced over the last few years demand to be talked about," she tells me, continuing: "You have reminded me that I should add more on this to our info boards at the farm and the website. There is more in my latest book, '
Cultivating Change'
, but I haven't translated that into other media yet. It is incredible how unaware people are given the existential threat of climate crisis. I think most people have an idea of what it is and that it is happening but they don't have a clue about what it really means for all our futures – they think it is over there happening to someone else."