The Sake industry has snaffled Ed Sheeran for two limited edition rice wines. The chart-topping solo artist and his cat's paw print appear on the label of a Junmai Ginjo and a sparkling Sake produced by Konishi Shuzo to commemorate the Japanese leg of Sheeran's Divide World Tour 2019.
It's a smart move for the Japanese brewers, who are trying to reach a younger crowd.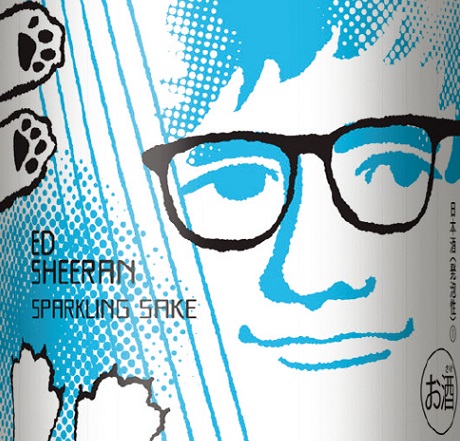 The wine industry doesn't need another celebrity endorsement, but it does need someone like Sheeran to sing about wine. Don't believe me?
This study from Brazil links the rapid rise of sparkling Moscatel with music…
41st World Congress of Vine and Wine:2018:19-23 November 2018:Araujo M V 2018:The phenomenon of moscatel sparkling wine in Brazil
Key findings:
417% growth in consumption of sparkling Moscatel between 2005 and 2017; Brazilian music associates sparkling wine with luxury, romance, festivities, celebrations, special moments, seduction, special gifts, and social differentiation.
Looking through Sheeran's back catalogue, there are mentions of Strongbow cider, Bacardi, whisky, 'Jack', Budweiser, tequila, cheap spirits, 'Jamie', 'Arthur', 'Johnny', beer and, in more recent years, a few mentions of wine.
In 'Galway Girl, wine gets two mentions and in 'Barcelona' Sangria gets a plug.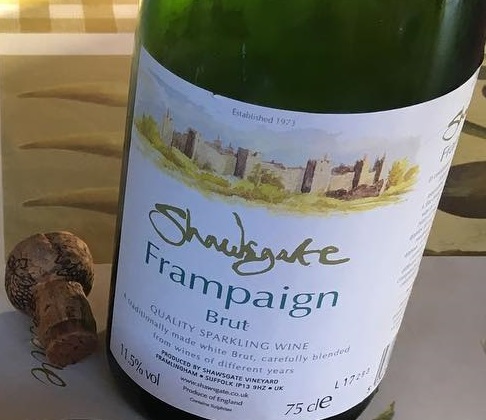 One enterprising wine producer from his hometown in Suffolk, England, shows an image of the 'Castle on the Hill' (Framlingham Castle) on the label of its sparkling brut, which it calls Frampaign.
Perhaps a wine region should offer Sheeran a romantic break during his world tour. It does, after all, take him to the Rhône Valley (Lyon, May 24-25) and he appears to have a few days free before his next concert, in Bordeaux, on May 29. The tour also includes Lisbon, Barcelona, Madrid, Florence, Rome, and Milan, before going on to Germany (Hockenheim and Hannover), Austria (Klagenfurt), Romania (Bucharest), Czech Republic (Prague), and Hungary (Budapest).
If he can make a hit song out of going back to a country town in Suffolk, what could he do for a stunningly beautiful wine region?
Me and my friends have not thrown up in so long
Oh, how we've grown
But I can't wait to go home…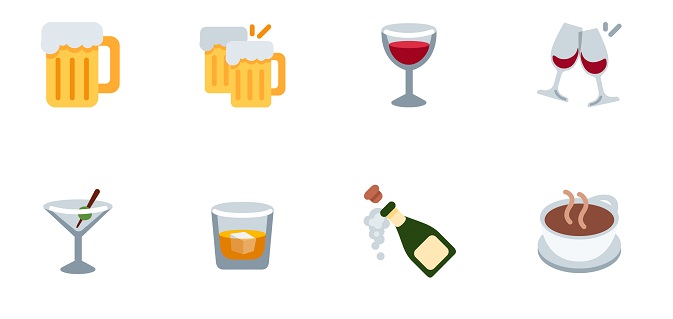 There is definitely an element of 'build it and they will come' involved in wine placement in popular culture. Let's, for example, take a look at wine emojis…
An opportunity for the wine industry to claim date nights
Thank goodness for the red wine emoji and the sparkling wine emoji. If they did not exist 'It has been a long week, let's catch up for a (
red wine emoji
)…' would turn into 'let's catch up for a (
beer emoji
)' And then, all of a sudden, without anyone knowing why, everyone is drinking beer at Friday drinkies… when wine was on the agenda.
Here is a study from China on emojis and semantics in a large database of online usage – Kika on Google Play…
Eleventh International AAAI Conference on Web and Social Media:2017:2017:Ai W 2017:Untangling Emoji Popularity Through Semantic Embeddings
Key findings:
The red wine emoji is popular because it is typically associated with commonly used text such as 'Cheers' and 'TGIF' which appear before it. The most popular emojis have an emotional association, have a clear meaning that is unlikely to be confused – particularly across cultures and are often linked to or replace popular words.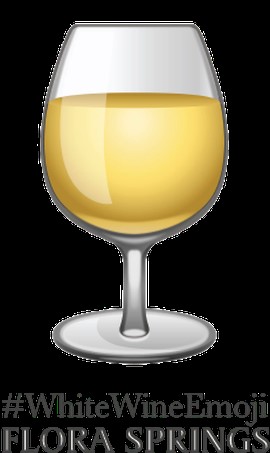 In 2017, Flora Springs Winery in Napa, California, started a great wine industry initiative to develop a white wine emoji so that if people want to send a message specifically about white wine they do not have to use the red wine emoji as a substitute. The resulting emoji has been submitted to Unicode for approval, and the Unicode Consortium is still considering the application (
as of
April 2019
).
But which emoji to use if you are a young romantic and want to ask someone out on a date without talking to them…
'U Me D8?' +(
love heart emoji)
? Might be considered too forward… +(c
ouple holding hands emoji)
? Maybe a bit naff…+(
red wine emoji)
 would work… but what if you are a bit shy of the word 'date'?
As far as I can tell, there is not an emoji that you could use as follows: (
date emoji
)?' and have it meet the criteria set out in the research paper above. So how about the wine industry claiming '
date emoji
' for its own. Two sparkling wine glasses in a toast? Might be confused with 'let's celebrate' or 'let's party'… Two red wine glasses in a toast would work better as it communicates 'let's spend some quiet time together' without saying the date word and without committing to a dinner. Send your thoughts to Editorial
here
.
James Wright is an international viticulture and management consultant and author of www.vitisynth.com and the newsletter VitiSynthesis.