One of the most interesting wine brands I've come across in my travels is Wine People.
The yearly themed range supports unknown independent winemakers in Georgia and forgotten indigenous grape varieties.
The recently released fourth collection, for example, champions grapes such as the whites Kvishkhuri, Chkapa, Tsolikouri, Krakhuna and Kakhuri Mtsvivani, and the light red Dzelshavi. There is also a red blend featuring Aleksandrouli, Dzelshavi, Usakhelouri and Mujuretuli. But the main theme of the fourth collection is talented winemakers who have completed their first harvest, so it also includes a Chardonnay-Sauvignon blend. It's raising these new winemakers' profiles internationally and giving them a massive confidence boost.
The collection – compiled, edited, promoted and distributed by Teliani Valley, one of the country's five largest wine producers – changes theme each year. The first collection, which came out in 2020, was called 'Created in Bolnisi' – where Georgia's winemaking heritage began 8,000 years ago.
The second edition, 'Created by women winemakers', came out in 2021. Last year's theme, 'Georgian Rare', promoted rare grape varieties grown in different winemaking regions. These included unheard-of grapes such as Tetra, Kundza, Tavkveri and a rare, paler mutation of Rkatsiteli.
In Georgia there are more than 500 endemic grape varieties, most of them forgotten. They were replaced during Soviet times in favour of the high-yielding Rkatsiteli and Saperavi varieties, which still account for more than 90% of the grapes harvested in Georgia.
As well as using the Wine People collection to promote rarer varieties, Kakheti-based Teliani Valley has also planted 420 varieties in an experimental vineyard at its Kindzmarauli Marani, where I'm making
my amber wine
from the rare white grapes Kisi and Khikhvi.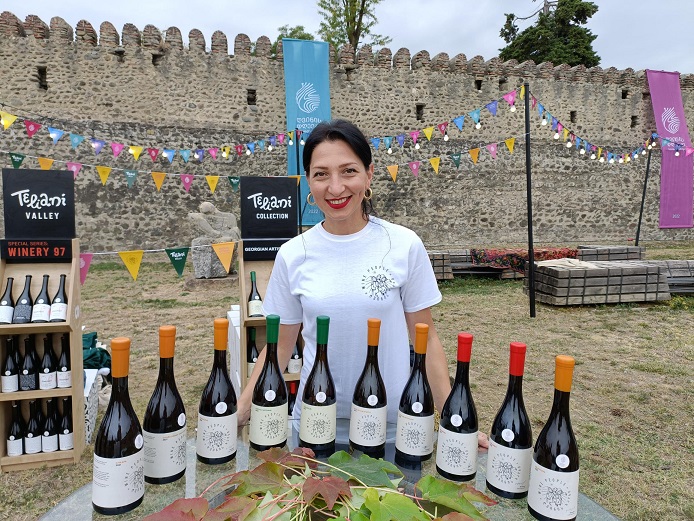 Tiko Chikvanaia (
above
), the project manager of Teliani Collection's Wine People brand, explains why the large wine producer is supporting small producers in this way: "Realising its social responsibility as the biggest wine producer on the local market, in 2019 Teliani Valley launched a new project to support family wineries. This is how the new brand Wine People was created. Within the scope of this brand-new project, limited edition of rare wines, produced by artisan winemakers, made from exceptional Georgian grape varieties were revealed and presented to wine lovers and enthusiasts. Throughout the years, the brand Wine People will present various collections of unique and exciting wines to a larger audience.
"There are many small family wineries in Georgia, which have a little but very good wine and do not have the means to bottle it, label it and deliver it to the consumer in the right way. They don't have experience of promoting their product.
"So far, four collections (one per year) were created, encompassing 32 grape varieties from 28 different winemakers and five different winemaking regions of Georgia. The number of bottles in each collection is approximately 6,000 to 8,000."
'Every wine reflects the winemaker's personality'
Tiko went on to explain how the programme works: "Generally, the cycle of the project preparation needs almost a year. In September-October, our first and the most important step is identifying the concept of the project followed by database of wineries. Later in spring, after the first research and contacts with winemakers, visits to small wineries begin. Most of the time, these kinds of wineries only have a small amount of wine, so we're looking forward to new harvests and new wines readily available for spring. The most interesting and fun part of the process comes next: meeting each winemaker and learning about their attitude about wine, production, and care. Knowing the winemaker makes us anticipate the type of wine we will taste. Every wine reflects the winemaker's personality.
"After the blind tasting and final selection, we start to bottle the wine. Together with the winemakers, we decided to bottle them inside their wineries, to avoid spoiling during transportation. Each year, the collection concept goes through this journey, right up to the bottle, creating the unique selection of Wine People. Regardless of the collection's theme, we always try to prioritise rare varieties. Our goal remains the same: to bring together as many winemakers as possible under the name of Wine People."
All wines are bottled unfined and unfiltered. Each label tells the story of the wine and the winemaker.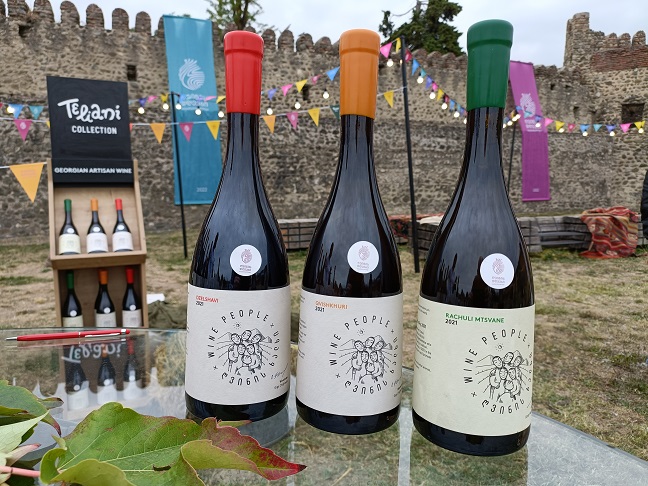 I asked Tiko if the collection is a difficult sell to these young, independent winemakers or if they embrace the opportunity to work with such a large producer.
"Convincing winemakers to cooperate with such a reliable and strong company as Teliani Valley is not difficult," Tiko reassured me, "because everyone has already seen that our goal is to support them. Wine People - Teliani Collection is a great incentive and push for winemakers to actively grow unique grape varieties and engage in this remarkable process – to preserve varietal diversity for the next generation, to search for innovations, and to conduct more experiments."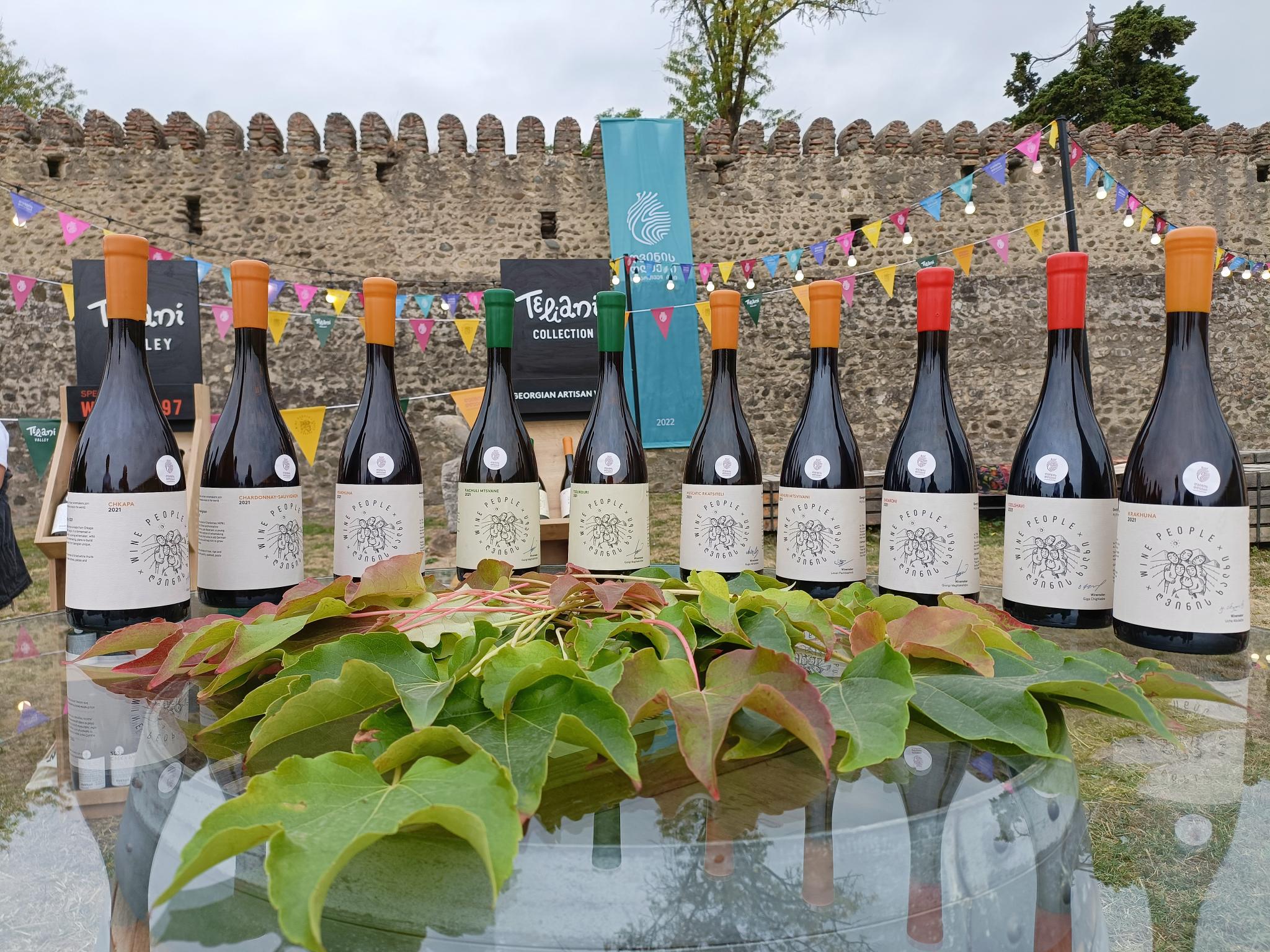 The recently released fourth collection – 'My First Vintage' – comprises 10 wines from five regions and seven winemakers who were making their first attempt at producing wine independently.
The winemakers are:

Giorgi Cherkezishvili, 26. From a family with a winemaking tradition, he has worked in different cellars since graduating from agricultural university, but, spurred on by his friends, decided to make his own wine in one of their cellars – an experimental wine made from the rare grape Chkapa.
Guga Akhaladze, 45. As a younger man, he helped to establish the clubbing scene in Georgia. As he matured, he set up healthy food businesses in the capital, Tbilisi, but, he says, "I felt that all these fields were not fully mine, and in the process of searching for myself, I came to winemaking, and I'm not going to go anywhere else from here". He has set up his own cellar to produce wine from the rare grape Rkatsiteli Muscat.
Levani Pachikashvili, 27. Born in Kvareli, a region where viticulture and winemaking flourish, Levani studied viticulture and winemaking and joined the family business. The plan is "to make my winemaking more interesting and expand my assortment with interesting varieties, improve technologies and increase the quality of wine".
Giga Chighladze, 38. Lawyer and manager Giga wants to continue Georgia's "8,000-year-old wine culture and tradition and produce wine using the traditional method in qvevri". The new winemaking business in the Imereti region, set up in 2019, will promote local, forgotten varieties, such as Kvishkhuri and Dzelshavi.
Giorgi Maghlakelidze, 34. Although winemaking is part of his family's traditions, it was while working in tourism that Giorgi developed a real interest in wine which resulted in setting up a cellar in Kakheti. "When I got into the field of tourism, I realised even better how important it is to me to continue the wine culture and family history, and as soon as I had the opportunity I did it."
Lado Naveriani, 29. Lado studied tourism and started his own winery, Madlieri, in 2021. "Traditionally, my father has been making wine for 25 years in our family and during those years we never thought to sell it," Lado explains. "I have an old German patchwork type cellar, one oak fermentation barrel and one stainless-steel tank. Existing property together with my friends' assertive demand made me decide to make my first wine independently in 2021, with full compliance with the quality rules."
Ucha Abuladze, 28. After graduating from agricultural university and spending three to four years practising his profession, Ucha started his own wine production and brand in Kakheti. "With the harvest of 2021, I was able to produce my first own wine, Krakhuna," he says.
Their output is small and the collection comprises a total of 8,321 bottles.