There are 13 dogs and a pig roaming around the grounds. There is a grand piano in the cellar. There are four hunters camped in the vineyard. This is not a conventional winery or producer.
It's 40 days after veraison and I'm sitting with Croatian winemaker Bruno Trapan at his Wine Station in southern Istria on the eve of a highly unusual harvest – following a brave experiment. During the Covid pandemic – when sales to restaurants and wine tourists dropped off a cliff – he decided to give his vines a rest from all treatments for a year. This is the vintage after that rest.
But the main thing on his mind when I meet him is the local wild boar population. He has spotted their distinctive destructive tracks in the red soil of his largest vineyard (7ha) – and some missing Syrah grapes. The problem is, he wants to leave the grapes on the vine for another week. He knows this decision could prove costly, as these wild boars can easily demolish a tonne of grapes in a night.
"Do I want to sacrifice 500kg or a tonne to the pigs and get the result I want? Yes. It would be best if I got everything, but god and mother nature don't work in this way," he tells me.
He has a potential solution, though. He spreads the word among the local hunting community that there are wild boars in his vineyard near the village of Šišan. Four of them are now on watch overnight. It's a very cost-effective solution. "They are intelligent animals. From the same group, if they lose two in the same place, I don't think they will come again soon," he reasons.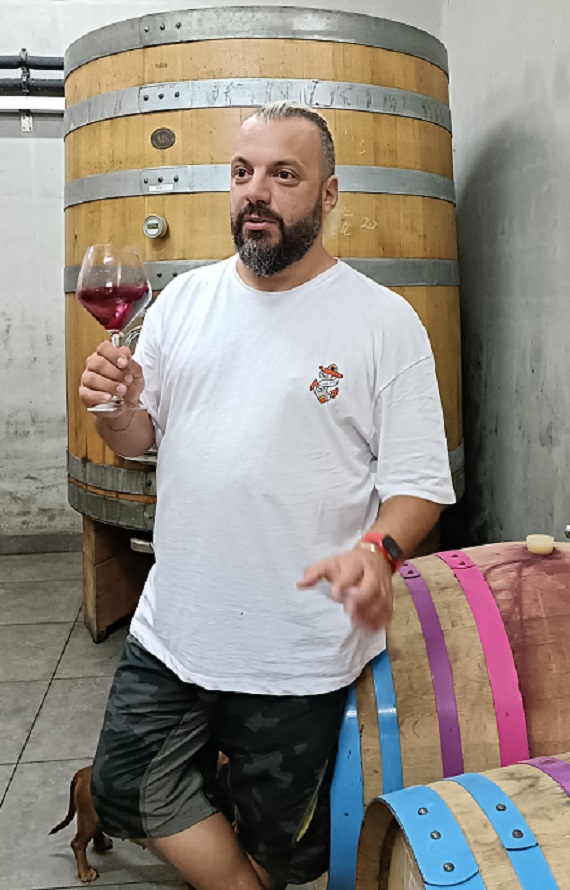 This is a milestone vintage for Bruno (
above
) and his wife Irena. Last year they gave their 11ha of vines a rest from treatments.
They were pruned to just four buds per vine (two on each side of the single guyot system).
Each vine, Bruno says, still produced a kilo of grapes. "It was full of grapes, but we didn't want to do any type of protection. I wanted to see what they can do one year without anything. If it was this year or 2020 it would be no problem, everything would be perfect, but last year in July there were ten days of very moist (conditions)."
From the 2021 vintage, their 11ha will produce about 12,000 bottles, "but the quality is outstanding…. It showed we can do it". About half will be his extreme Malvazija, Istraditional, which underwent two months' skin contact. A quarter will be his fresh Malvazija, Ponente, which will be shipped to his USA importer. The other quarter is a co-fermentation of all his red grapes. "It's a monster with really high alcohol – 14.5%," Bruno says.
This year he has sprayed the vines twice. He summed up the effect of abandoning treatments for a year this way: "From the start, from the budding process until they started forming leaves, it seemed greener and to have much more energy. It's a different colour canopy.
"This year we decided to leave a little more grapes than usual, maybe a kilo or 1.5kg in some parts. If we didn't rest the vineyards for one year, there was no chance that the vineyards would be able to manage six months without a drop of rain. We would probably have been harvesting already and we would probably be having the problems of lots of sugar but not mature enough."
It was Irena's idea to give the 12- to 17-year-old vines a year off. "We didn't actually need the grapes," Bruno explains, because they had plenty of stock left over from the Covid period.
"Covid did a very good thing for the vineyards, not so much for us – we struggled to survive," Bruno admits. "But it was good for our customers – the wines got one more year in the winery, which is now showing to be the perfect time."
His reds have spent up to five years in oak. "This is something we couldn't do before, because we would sell out."
'We basically had to rebuild everything from zero'
He continues: "These are not wines that sell by themselves. The entire international market stopped for us because they are also not going to sell online just like that. They need explaining, they need people to come to the door or to a restaurant. We basically had to rebuild everything from zero."
He had wanted to change things for four or five years, including getting fresh staff, and Covid gave the Trapans the excuse to reset the business. Bruno says he "never had the balls to do this" before.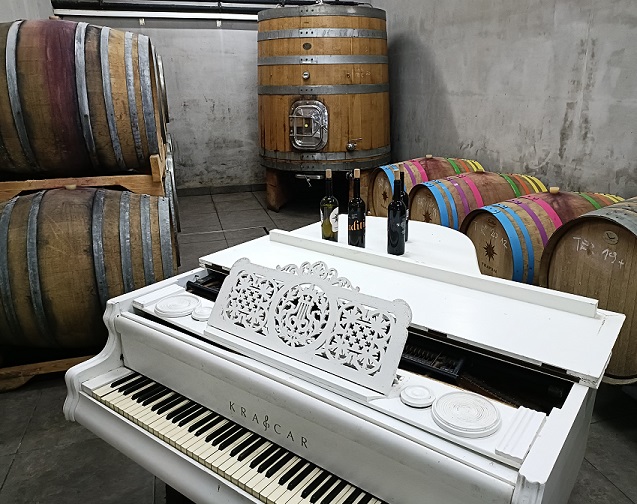 Before Covid, he spent months at a time travelling around the world promoting his wines. Now he spends most of his time at his Wine Station, near Pula. "Now it's much more work for me and my wife," with his father working in the vineyard and his in-laws coming from Zagreb to help during busy periods, such as harvest time.
The reset also started him on the road to low intervention in the vineyards because he didn't have time for anything else. "They are more like jungle style… but the grapes, you just put them in your mouth and they are perfect."
He adds another advantage: "You know you are not putting a very big footprint on the environment… This year we used 300L of diesel; previously it was 2,000L."
The vineyards have been farmed organically since 2009 and now he is working towards Demeter certification. A team come in to prune but otherwise everything is done by the family and one employee – at a much slower pace than before. "Much less effort but the grapes really feel the benefit," he says.
"It's been a little bit challenging and for me it's going from one situation when I was hardly around to going to one where I am 100% here and begging for one day off a week."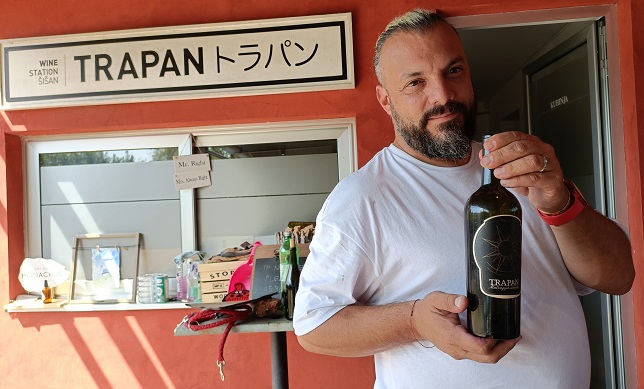 Our chat is constantly interrupted by Bruno conducting wine tastings for a steady stream of wine tourists. Most end up buying a bottle or two.
When Bruno returns, he goes on to explain that it's the second time he's had a drastic reset of the business, which started in 2007 while he was in his second year of studying winemaking.
The winery and winemaking were fairly conventional until 2014. Things were going well and he had grown the business to 90,000 bottles a year. His decision to be more "natural" in the cellar coincided with the awful 2014 vintage, which was hit by two months of rain. Against the advice of many of his oenologist friends, that was the year he decided to start using native yeasts. His decision was vindicated. He tells me: "We made wines that are still alive and still fantastic, with lots of acidity. Different style, different shape."
From that point he decided to abandon oenological tools and reduce the winery's output.
Now Trapan produces 35,000-40,000 bottles a year. "Yes, this is a big drop," he admits. "We dropped also the fresh Malvazija from 25,000 to 5,000-6,000 and mostly we are making it for our US importer."
This wine, Ponente, is the only wine he "works" to get it ready for bottling in spring. He's trying to figure out how he can produce a clear wine quickly without any machines or additions.
He says he switched his philosophy "just because I thought I could. There's not a reason that's sensible to most people. People ask me why I have so many dogs. Because we can. I can afford them, I love them, the guests love them. All these reasons are okay but the most important is because we can.
'The most important is because we can'
"We started this adventure to prove a point – that this part of Istria could be as good as the northern part. Everybody was laughing when we planted the Syrah."
Then his wines started getting critical acclaim. First Uroboros, a Malvazija which gets a five-day cold soak, protected by argon, before fermentation and ageing for a year in used acacia barrels. Then his Teran (Tera Mare). Then his 50/50 Syrah/Teran blend, The One.
"In 2014 I just had this gut feeling that our vineyards can handle this… When we saw that this is possible in one of the worst years ever, it was bye-bye oenology guys, no more yeasts. And then, last year, we threw out everything."
Trapan now produces Istria's flagship white grape, Istrian Malvazija, in three styles. The fresh Ponente, Uroboros, and Istraditional. The current release of Istraditional is the 2016, which had 25 days of skin contact, one year in acacia barrels, and three years in stainless steel with lees, before releasing after five years. The next release, from the 2018 vintage, had almost two months on skins. Bruno tells me the colour is different, but the taste is similar.
It's a natural orange wine by most people's definitions but Bruno doesn't like the term 'natural'. As he pours me a sample of Istraditional, he says: "If you want to make natural wines, I think they should be made like this" – that is, without faults. "They should be made clean, they should be so you get the best out of the grapes but don't ruin them in the process."
It's a beautiful amber wine.
His reds are also excellent.
The One – a blend of equal parts Syrah and Teran, aged for four years in French oak – is my favourite.
The red blend, Revolution, is aimed at the local market because overseas buyers already have enough cabernet blends. It's a blend of 50% Cabernet Sauvignon, 30% Syrah, 10% Merlot, and 10% Teran. For a wine of this quality, the price tag of €17 seems low.
I ask him why he puts so much of the Syrah, which could go into a bottle costing €150, in a blend costing €17.
"Because I can," he smiles. "But also because we wanted to give the sensation of something better (to locals). It's my Robin Hood wine, giving back something to people who cannot afford my €40 or €150 wines.
"We want to make wines that are complicated but not too heavy.
Amabile
in Italian. We are trying to make wines that show the character of this place."
Trapan's first Merlot varietal, LukaLuna 2018, has benefited from an extra two years in used oak. As I taste it, Bruno says: "This wine was not even close to this quality two years ago." He describes it as "an old-style Italian or French Merlot from 10 to 20 years ago with no new oak or new technology".
All his wines are aged in one of the 110 used barriques and tonneaux in the cellar under his home.
Generally, he doesn't macerate his reds for too long – preferring a "delicate infusion of two weeks": five to six days before fermentation, then five or six days of fermentation, and pressing after 12-15 days so the wine can finish fermenting in barriques.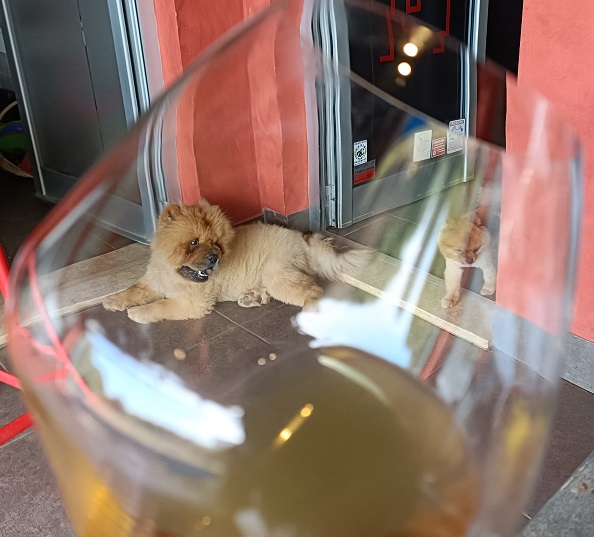 2022 is going to be a tricky harvest logistically for Bruno as the reds and whites are maturing at the same pace. This is due to this summer's extreme heat, rather than last year's extreme experiment.
As I leave, it looks as if he will be picking the Syrah before the Malvazija.
His picking team comprises family and his parents' friends – "lots of old people who come for fun," is how Bruno describes them. "They cost much more than they are worth," he jokes, pointing out he provides them with breakfast, lunch and a bottle of wine. "It's been like that forever." He would like to use three generations but, he says, "My friends don't have time for this." However, he's hoping in the future to get his twin daughters (Luka and Luna) and their friends involved when they become teenagers.
One of the daughters, Luna, plays the piano in the cellar. It was a gift from Pula musician Bruno Krajcar, who had success with an album called Istraditional. "When we named a wine after it, he brought the piano and it stayed here," the winemaker explains.
I knew there had to be a logical explanation for the piano in the cellar, the hunters gathering in the vineyard, the dogs at my feet, and the pig on his way into town.