A visit to Catena Zapata's new wine-focused restaurant, Angélica Cocina Maestra, starts at a gallery leading into the underground distillery where guests can enjoy a glass of Vincenzo, the winery's vermouth rosso.
The tour continues with a visit to the tower, which provides views of the vineyards and Mayan-inspired pyramid-shaped winery. Diners then come down to the main dining area, which has a capacity of just 38. The design recreates a traditional Italian borgo village (
below
) and pays homage to the Catena family's Italian roots.
Rather than focusing on food, diners choose from one of five wine flights encompassing Catena Zapata's portfolio of exquisite wines. They receive the food that pairs best with those wines. The food, in general, is local and seasonal, and some comes from the organic vegetable garden next to the restaurant.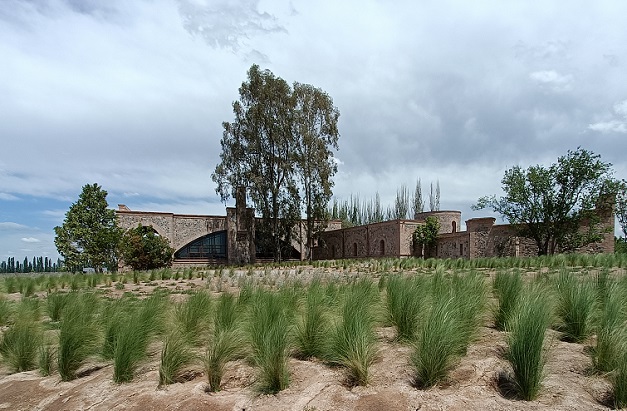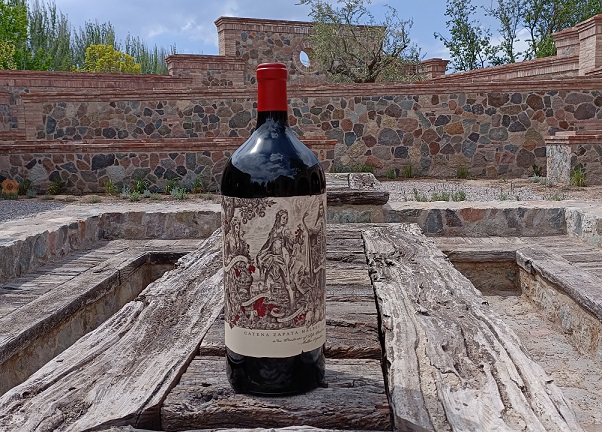 While I'm there, an actor tells the story of Malbec through four points of view: Eleanor of Aquitaine, Laura's great-grandmother Ana Mosceta de Catena, phylloxera, and the new generation of Catena women. It's the story depicted on the label for Catena Zapata's Malbec Argentino (
above
).
The restaurant had only just opened when I visited the estate, in the Lujan de Cuyo region of Mendoza, last year. It came after a memorable tour and tasting in the spectacular winery…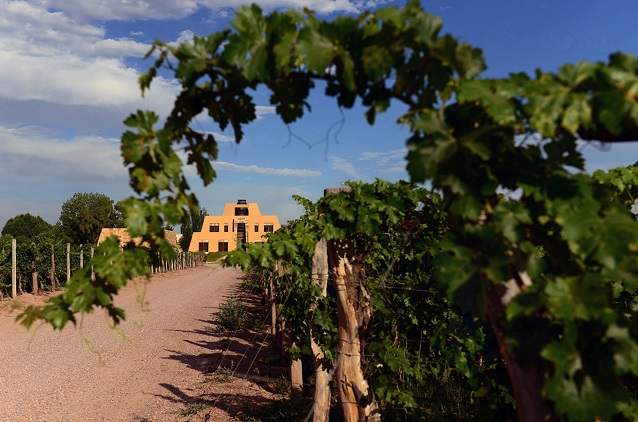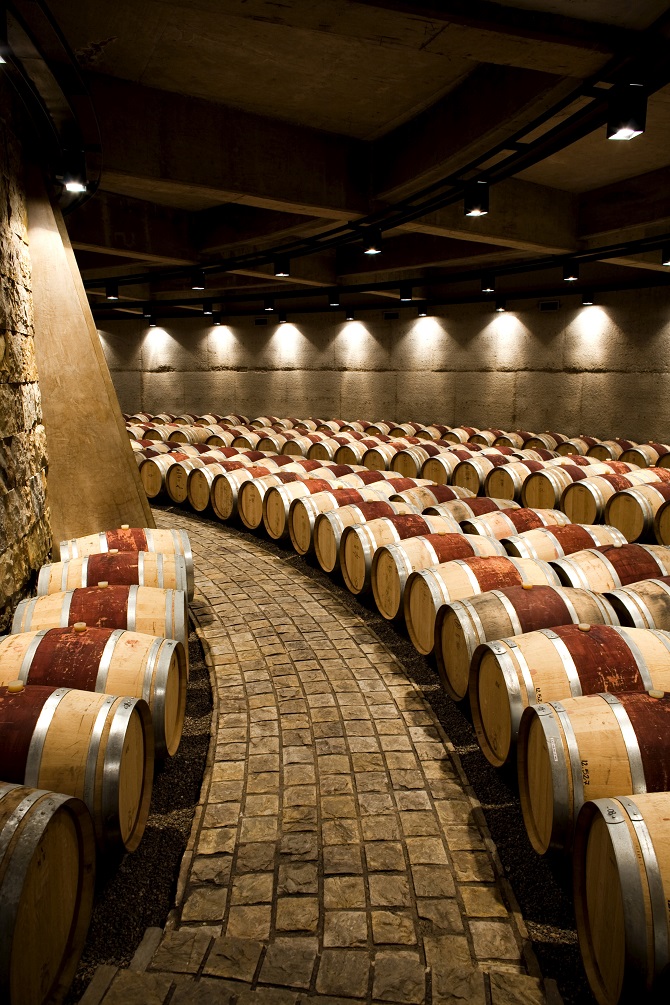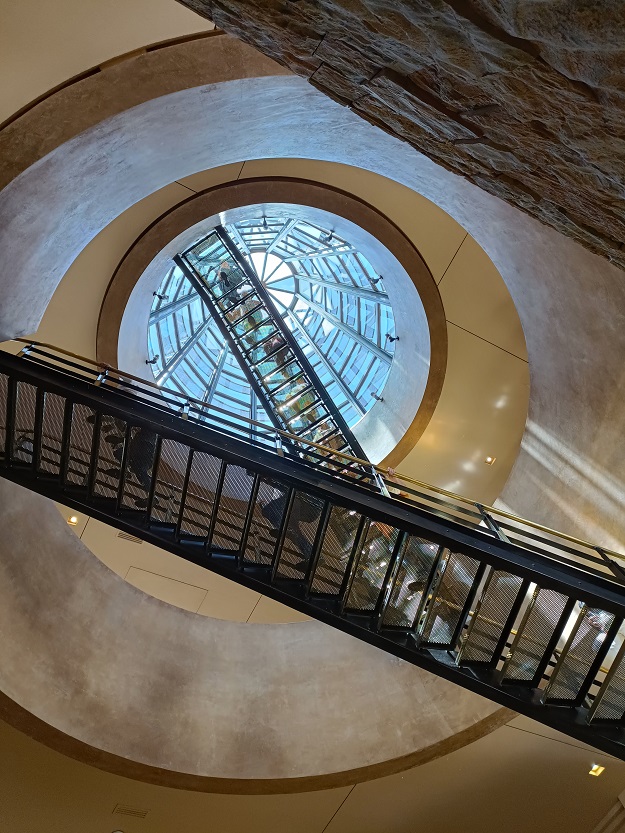 Three diverse tours are on offer here:

The 'Family is Everything' tour outlines the family's oenological progress over the years, from Italy to Mendoza, from Bonarda to Malbec;
The 'Blending Games' experience turns guests into winemakers, giving them five Catena Alta Malbec components and two Catena Appellation White Clay components.
The 'Wine and Music' tour is a multi-sensory session, pairing five Catena Zapata wines with an eclectic selection of music.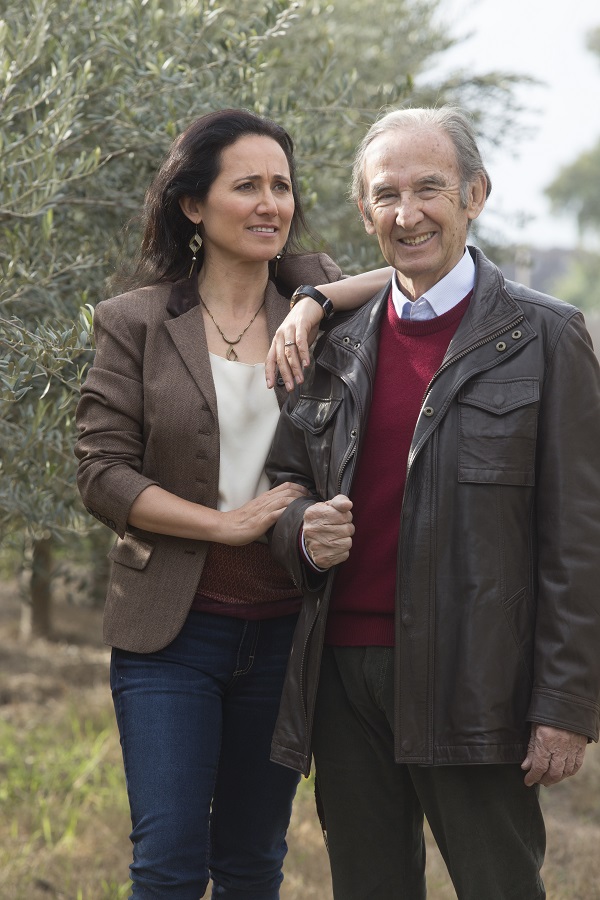 Founded in 1902, Catena Zapata is Argentina's oldest winery still in the founding family's hands. It is known for its pioneering role in resurrecting the Malbec grape and in discovering extreme high-altitude terroirs in the Andean foothills. Following in her father Nicolás Catena Zapata's footsteps, fourth-generation vintner Dr Laura Catena (
above
) leads the winery and the Catena Institute of Wine, which she set up in 1995 to advance winemaking in Argentina. Its research is published in international journals and shared with the wider Argentine wine community.
The tour I went on included a visit to the institute and an explanation of its study on the terroir of Malbec, which showed terroir is not just a concept dreamed up by the French.
The institute studied 23 Malbec single-parcel wines in both the United States and Argentina, produced under standardised winemaking conditions during three vintages (2016, 2017 and 2018). They measured phenolic compounds, volatile compounds and used sensory descriptive analysis as objective measuring tools. They were able to tell the wines from California and Mendoza apart, all the way down to the AVA level. For example, they could distinguish Malbec from Napa and Sonoma and differentiate Malbec from Lujan and Tupungato in Argentina.
The Catena Institute's executive director Fernando Bescema says: "The first conclusion we reached is that there are unique qualities in Malbec in both California and Mendoza."
He continues: "Mendoza wines also had a greater number of associated sensory descriptors suggesting a greater level of complexity. Floral notes, especially violet, and red fruit distinguished Mendoza geographic indications, while black pepper and dried fruit predominated in California AVAs."
He also mentions a study into the effects of ultraviolet light on grapegrowing. The main finding is that a certain band of ultraviolet light called UV-B punches above its weight in terms of its impact on the grapes and resulting wines in high-altitude vineyards such as the Adrianna Vineyard, where there is less atmosphere between space and the vine, so it forgoes some portion of that protection, and the vine is forced to respond. At 1,500 metres high in the Andes, UV light can be just as important as temperature in the ripening process. It can have profound effects on the development of flavour, colour, and fermentation activity.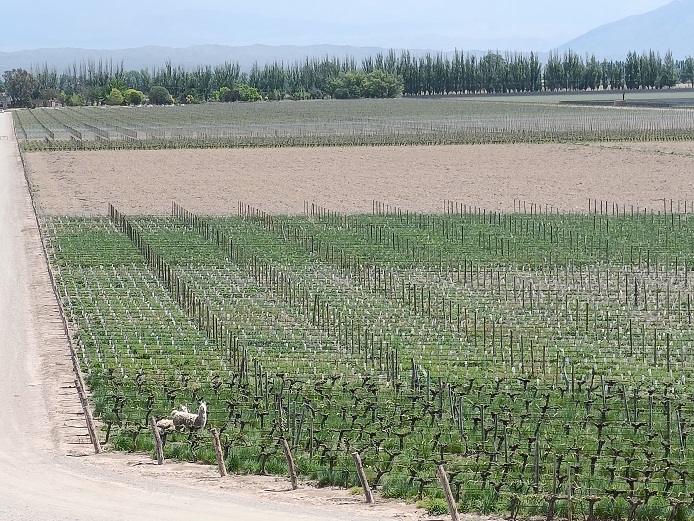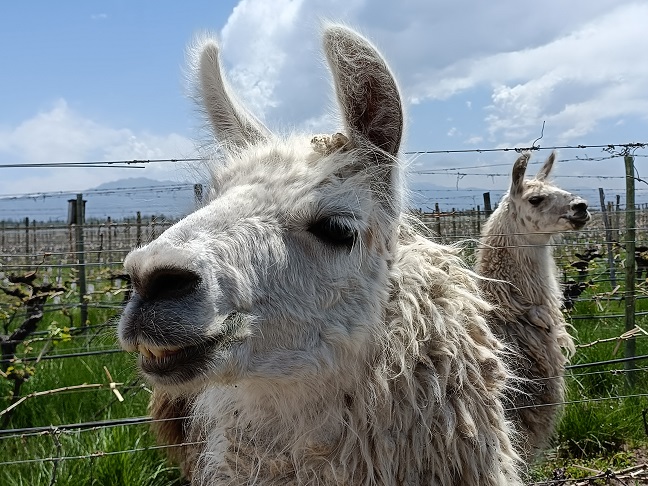 After the tour and tasting, I walk from the winery to the restaurant near the entrance to the estate, passing two magnificent llamas in the vineyard. They are a big hit with the influencers in my tour group – but they are also there because they do a good job of keeping the grass in check in winter.
It comes as no surprise nearly a year later when I watch Dr Laura Catena walk past me to the stage at Bodegas Beronia in La Rioja, Spain, to collect two trophies from World's Best Vineyards – as Catena Zapata is named the best vineyard to visit in South America and the world. She tells the audience of wine producers: "It's a great honour. Let's keep on making great wine and being kind and warm and loving to our guests, so that we can continue to make wine for... another 500 years. So gracias."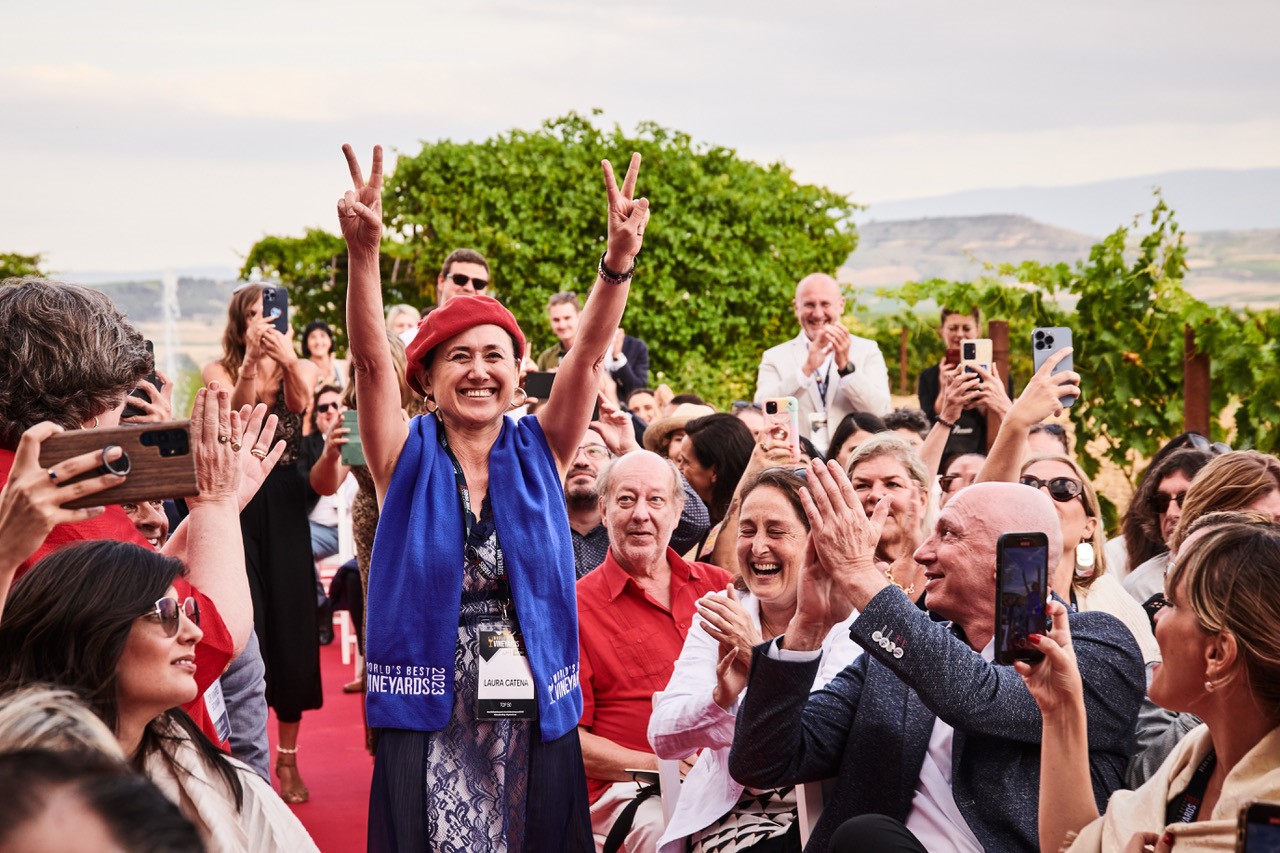 Take a risk
Dr Laura Catena's story and vision for the future in her own words...

'Through elevating Argentine wine, I can actually help hundreds of thousands of millions of people in my region'
I'm the fourth generation of my family making wine. My family winery was started by my great-grandfather, Nicola Catena, who came from Italy to Argentina, and he was followed by the oldest son of the family, my grandfather, Domingo Vicente, who was followed by the next oldest son, my father, Nicolás Catena. So, not only did I have the wrong sex to follow my grandfather, but also, I had absolutely no interest in following anybody into the family winery because my objective in life was to help people and I didn't think I could help people with wine, but I did think I could help people by being a doctor. So, I decided to study medicine.
But one day, in the mid '90s, my father called me, and this was after I had finished my studies in biology at Harvard, medicine at Stanford and the emergency medicine residency at UCLA, and he said: "Laurita, we need your help. You need to go represent the winery at the 'New York Wine Experience', this very prestigious event in New York. They have invited us as the first South American winery and nobody here speaks English well, so you must go."
So, I bought my first suit that I'd ever had, I went to this event, and I was in New York with my little booth, next to all the other wineries at this event, and I was all alone because the long lines were at the Californian wineries, the French wineries, the Italian wineries, and, worst of all, I had a very well-known Californian producer next to me… and people would taste their wine and then use my spittoon to spit, but they would not drink my wine.
The next day I called my father and said: "Papá, this dream you have…" Because my father had this dream of making Argentine wines that could stand with the best of the world. He had been to California as a visiting scholar at Berkeley and he had heard of the Californian wine revolution, he had heard of the Judgement of Paris and he had said: "I want to try and do this in Argentina." He was trying to make Argentine wines that could stand with the best in the world. But I said to him: "This is an impossible dream because maybe you can make some good wines, but you won't be able to sell them because there's no market." And so, I decided to come work with my father to help him and our family. But I continued as a doctor (part-time in San Francisco) because I still wanted to help others.
The next step was applying my knowledge because I didn't know that much about wine, but I did know about science and research. And, you know, in medicine, we have something we call "evidence-based medicine", that you apply what you learn through science. What I found in wine was that there were lots of opinions, but often they weren't science-based opinions. But first, I decided to go and do some research with my father, and we travelled to France. And the news we heard was not good. We went to see a friend in Bordeaux, we presented one of our wines from the more traditional regions, a Cabernet Sauvignon and he said to us: "This wine makes me think of a really nice Cabernet from the Languedoc." And today the Languedoc is a very important region, making fantastic wines, but at that time for somebody from Bordeaux to say "your wines taste like Languedoc" was an insult. And what he was saying was: "This wine is from a region that's too warm." Then, you know, we talked to another producer in France, and he said: "Oh, you irrigate your vineyards…you can't possibly have 'terroir' if you irrigate your vineyards." And I was terrified… You know… We don't have terroir… We cannot make one of these great wines. So, my father's first solution was to hire consultants. He had consultants from France, from Italy, from the United States.
But what we found very quickly was that these consultants were trying to apply the knowledge from a different region to our region, which is by the Andes mountains and is a desert; it's completely different from anything you have in Europe or even in other parts of the Americas. And for example, one of the consultants said: "You must remove the leaves, let the sunlight come into the vineyard." And what happened in high altitude at 5,000 feet elevation? The grapes burnt. Then, another consultant told us: "You need to make Malbec like Cabernet Sauvignon, because it's a Bordeaux variety." And when you make Malbec like Cabernet Sauvignon, with very long macerations, you lose the fruit, and you don't actually acquire anything in the flavour. Malbec actually needs to be made more like Pinot Noir, more like a white wine. This is what we discovered.
When I started working with my father after all this exploration, I decided to found the Catena Institute of Wine in 1995. And at the Institute we started studying our climate and what we found was that we did have a cool climate in Mendoza, in fact at 5,000 feet elevation, in a place where there were no vineyards. But we decided to plant. This was basically the Burgundian-Champagne climate. But because of the cold weather in this place, we were told the grapes would not ripen, not red grapes like Malbec. But Malbec did ripen because of the sunlight.
So, you know, some of the things we did were following science and some of them were basically taking risks. And this is another thing I think will be important for the winery of the future. You need to take risks; you need to test hypotheses and then you need to use science to know if they are working or not.
Today, the Catena Institute of Wine does over 1,000 micro-vinifications per year, we collaborate with local universities, with UC Davis, with University of Bordeaux, the University of Burgundy… But, basically, what we found was that we needed to have our own internal team to understand our terroir, our altitude. And what we were able to find was that we could produce these great wines because we have this cool climate, and actually, that without irrigation – which was the way our land became fertile, we are a desert, the irrigation canals were created by the native people hundreds of years ago – we would not have farming in Mendoza. But actually, these irrigation canals and our traditional methods of irrigation that involve looking at the vineyard with the eyes – it's like art – actually did give place for terroir.
And at the Catena Institute of Wine, we did research and found that in two different parcels, one next to each other, we have completely different flavours and aromas of Malbec. So actually, our traditional way of irrigation did lead to deep root systems, two-metre root systems, and we did have terroir.
A lot of this research that has happened over the last two decades has led us to a vision for the future. And we call this vision the Catenamics – our family name Catena means "chain" in Italian and, for me, Catenamics stands for the chain of life. And the 'namics' comes a little bit from biodynamics because my initial thought was 'let's do something that's been tried somewhere else, like biodynamics,' but then I thought: 'Why should I use something that has been used 100 years ago in Austria, in Argentina?' So, the concept of Catenamics is to use science to preserve nature and culture. And lastly, I want to talk about preserving culture. So Catenamics is science to preserve nature and culture. And I think this needs to be the vision for the future.
So, you know that for example, in Burgundy they have the name of World Heritage and I wanted Malbec to be recognised as a 'world heritage' grape because it's a grape that's 2,000 years old and that almost went extinct. And so this became one of our goals: 'How do we preserve Malbec?' And actually, we've done a really exciting wine label with the Malbec variety and I want you to take a look at it: 'Malbec Argentino' – it tells the story of the variety through the art, through the label.
So, just to finish, my journey first starting with 'how could I help people make wine,' and leading up to today, I believe that I actually help a lot more people making wine than as a physician – although I do help people as a physician – because if you were to see Mendoza when I was growing up, a very poor region, and you were to see Mendoza today, how it's been transformed by viticulture, and because we are not exporting bulk wine or low quality wine, wine that would be a commodity, but high-quality wine, wine has brought prosperity to my region. And through wine, through elevating Argentine wine, I can actually help hundreds of thousands of millions of people in my region… And so that's how my journey has ended.