Spanish winery Vilarnau, part of the González Byass group, has introduced a couple of wines that could lift the image of Cava and Penedès – especially the addition of an Organic Brut Reserva to Kylie Minogue's range of wines.
While the rest of the Australian singer and actress's portfolio of six wines is French – including a Sauvignon Blanc, a Chardonnay, a Merlot and a Provence rosé – Kylie's Cava is distinctly Catalan.
Although Vilarnau's top Albert de Vilarnau wines are made from Chardonnay and Pinot Noir and its Brut Nature Reserva and Gran Reserva Brut Vintage feature Chardonnay, the Kylie Minogue Cava is a blend of the region's traditional grape varieties, Macabeo (50%), Parellada (35%) and Xarel-lo (15%), aged for 15 months and topped with 8g/L of sugar.
"This Cava is very Cava-style," winemaker Eva Plazas tells me.
She explains Kylie's choice of a Cava for her sparkling wine this way: "She loves Barcelona, Costa Brava, Catalunya and Cava."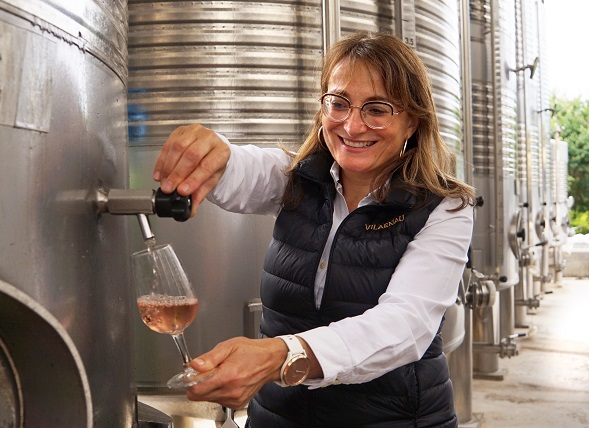 Eva, who was born in the capital of Cava, San Sadurní d'Anoia, and studied agricultural engineering, viticulture and oenology nearby in Barcelona, sees Kylie's endorsement as "very important for Vilarnau and for the Cava region too".
Eva (
above
) worked on the project with Kylie and London-based distributor Benchmark Drinks, sending them samples of base wines and sparkling wines during the blending trials.
It seems that it was important the wine was both organic and vegan.
Eva, who joined Vilarnau in 1996, started producing vegan-friendly wines in 2016 – replacing isinglass and casein in the clarification process with pea and potato proteins.
"I like to put potato in the first part of the process – when we make the must clarification – but in the final clarification I use pea protein. But it depends on the style of wine, the pH…"
On the differences in performance, she says: "I think isinglass is more efficient. If you use 1g/hl isinglass, in three days you have the wine completely clear. But if I use pea or potato protein, you need perhaps seven days. I need more time to have the same effect. With animal protein the clarification is easier and faster.
"But, if you have the time, you can obtain the same effect."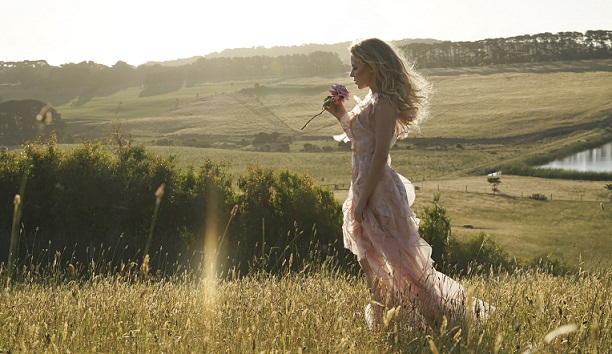 Making the base wines
To make the base wines, Eva separates the vineyard blocks and treats the varieties slightly differently.
The more aromatic, complex and powerful Xarel-lo grapes are destemmed, chilled and macerated in the press for 1-1.5 hours at 10°C. Pectin enzymes are added to break down the skins and pulp "because I want to extract the aromatic precursors," Eva says.
With the less aromatic Macabeo and Parellada, Eva says: "I don't want to have any maceration. I don't want to have contact with the skins because, with these two grapes, the skins don't have any good (qualities)."
These two varieties are destemmed on arrival in the cellar, chilled and pressed "directly" without any pectin enzymes.
She says she likes these varieties, but she prefers to work with the musts.
The varieties are inoculated with different yeasts.
Parellada – a delicate variety, with low alcohol potential and high acidity – receives a "yeast that works at a low temperature, like 10-12°C", so it's a very slow fermentation to bring out the floral aromas.
For the Xarel-lo, she uses a yeast that works up to 18°C and produces "more volume and structure on the palate".
For the Macabeo, Eva uses Vilarnau's own selected yeast – the Saccharomyces cerevisiae bayanus that's also used for the second fermentation in bottle. 
By the time the blending starts, she knows the base wines inside out. She has tasted the grapes in the vineyards; she has followed them every step of their journey. So, come winter, she knows each tank – its origin, its flavours, the evolution of its aromas, and its potential.
"When I make the harvest, I know in which tank this grape goes," she explains. "I know the fermentation temperature. I know its evolution every day because I taste all the tanks every day. And when the must is fermenting, it's in this moment when we can start to know if this wine will be very good, or this wine will be regular… It's very important to work every day with the wines and finally, when the moment of blending arrives, you know everything about them. You know that this tank, number one, is a Macabeo from this vineyard, fermented at this temperature and at the end of the fermentation it had some difficulties or not."
Making six wines every year for the standard Vilarnau range, she uses a top-down approach for blending, starting with the Gran Reserva Vintage and the percentages from the previous year.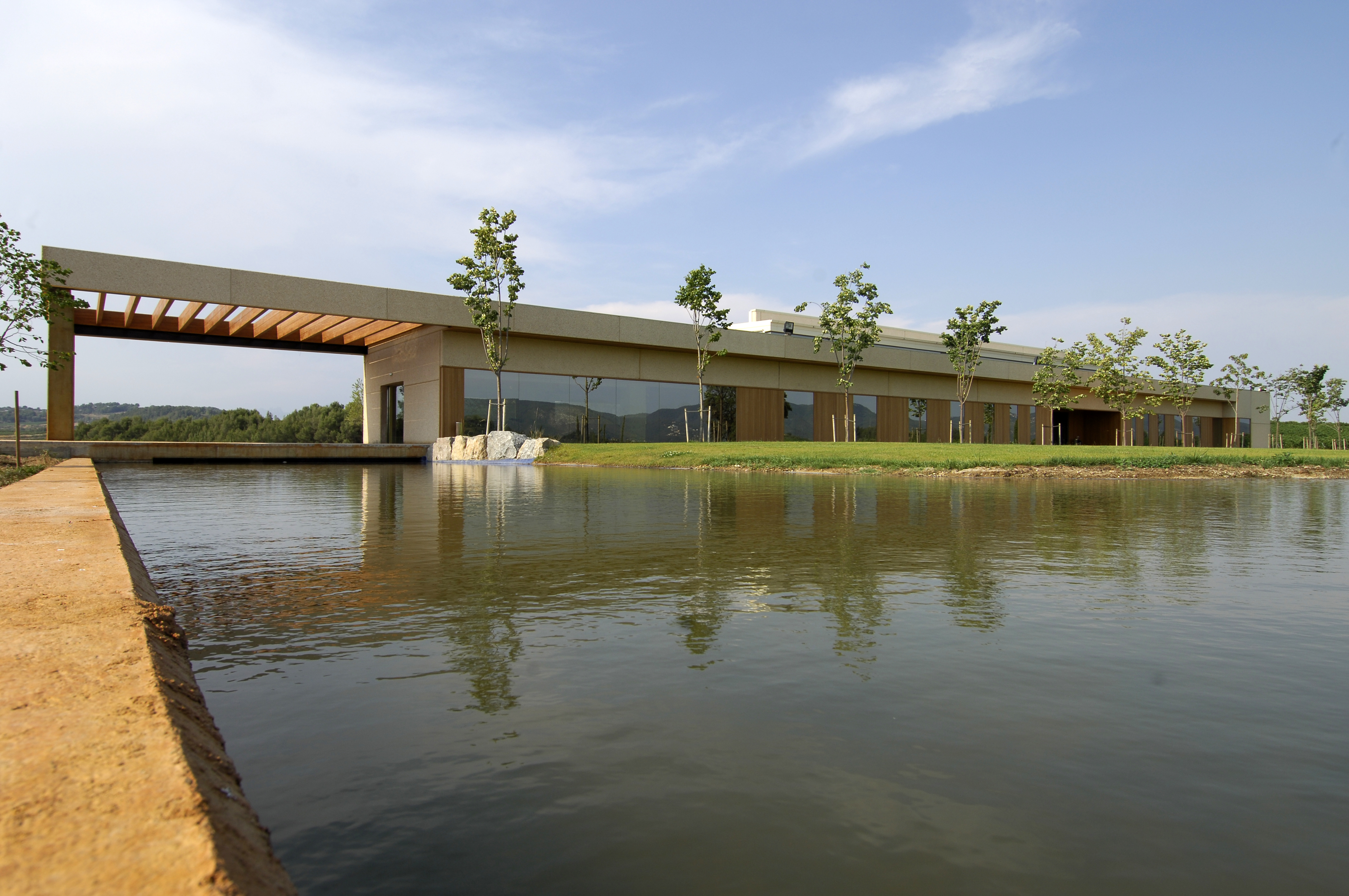 0.0% fizz
Another important development for Vilarnau is the launch of its first alcohol-free fizz.
White and pink organic sparkling drinks, labelled 0.0%, have been created in response to the growing demand in international and domestic markets for lower alcohol wines. Eva says: "It's taken us a while to perfect, but we really believe that the new 0.0% Vilarnau fizz fits with the global trends towards mindfulness, balance and healthier lifestyle choices."
She adds: "Creating this organic, alcohol-free sparkling isn't very different from making traditional wine. We select grapes, carefully choosing sites that beautifully express the characteristics of each grape variety. Following harvest, our winemakers craft each wine using traditional methods, achieving rich flavour, alluring texture and excellent balance."
The alcohol is extracted in another winery using a spinning cone column, which removes and recovers volatile compounds using steam, under vacuum conditions. This is a far gentler process compared to standard extraction techniques, enabling the winemaking team to remove the aroma and flavour compounds first and add them back after the extraction of the alcohol.
The fizz is created by adding CO2.
Experiments
Being born in San Sadurní d'Anoia, Eva had her first taste of sparkling wine during her baptism, as it is a local tradition to dip babies' dummies in Cava.
She also grew up with Cava, as her maternal grandfather was a viticulturist and her father worked for wineries on the transportation and logistics side. Although Eva initially studied agricultural engineering, she went on to gain a masters in viticulture and oenology from the Universitat Politècnica de Catalunya and a masters in wine marketing and communication from the International University of Catalonia.
She continues to learn at Vilarnau by experimenting. One successful experiment is Els Capricis by Vilarnau – with Xarel-lo grapes fermented in 250L barrels made by a local cooper, using chestnut wood from the Montseny forests. It's the revival of the traditional method of ageing white wine, practised in the masÍas of Catalonia for centuries.
One ongoing experiment for the past two vintages is making an organic Cava with no-added sulphites. Thinking out loud, Eva says: "It's very important if you want to make Cava without sulphur that it's fast. Normally we make the blending in November-December and make the second fermentation in January-February. Perhaps it's necessary to make the tirage in October, just when the first fermentation finishes."
Her efforts are not being helped by climate change, and rising pH levels.
"When the pH is high, you have a lot of microorganisms and more bacteria and yeasts. If you want to protect the wine, you need a low pH. This is the problem we have now – if you want to work without SO2 or CO2 you need a low pH."
They are working with two labs to help solve the problem.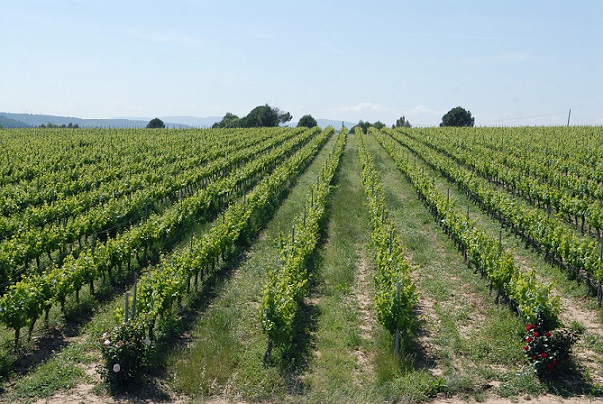 Climate protection
To help tackle the problem of climate change, Vilarnau has joined Wineries for Climate Protection (WfCP), which aims to become the international benchmark in winemaking and the environment, seeking solutions and best practices for wineries.
Developed by the Spanish Wine Federation (Federación Española del Vino - FEV), WfCP certification is geared towards ongoing improvement and sustainability in wineries, based on four key areas:
Reduction of greenhouse gases
Water management
Waste reduction
Energy efficiency and renewable energy
Vilarnau, located 6km outside of San Sadurní d'Anoia at the foot of the Montserrat mountain range, is:
Reducing energy consumption at every phase of the process. This includes installing solar panels and a biomass boiler, which uses the waste from pruning along with organic material from the woods in the area. "This has two advantages," according to Eva. "Firstly, we can use the vine shoots for energy and another important point is that these vine shoots are burned and it's not in the soil, because there are a lot of vine illnesses."
Collecting rainwater from the winery's roof and using this lake to irrigate the winery gardens and the vineyards when necessary.
Reducing chemical and phytosanitary treatments by 50% and cutting out herbicides altogether.
Separating, re-using and recycling the waste generated, and selecting suppliers on the type of packs and packaging they use.
Using capsules made from PLA (polylactic acid) film, an eco-friendly product made of a compostable material such as corn starch.
Vilarnau has also created a composting area so they can recycle the organic waste generated in the cellar.
It all adds up to a positive story for Vilarnau and Cava – probably one you can't get out of your head.