A new wine brand, started in lockdown by three friends "for friends", has debuted with a pale rosé made in the south of France.
The wine, wine brand and ecommerce website are the brainchild of Abbie Roden (
below, left
) and Will Sandbach (
centre
). Missing their friends during the lockdown in England, they dreamt of a wine they would want to share with them. They settled on a French rosé and realised there was an opportunity to tap into the rosé market with a cool and affordable direct-to-consumer wine brand with free delivery.

Will, a director of The Oxford Wine Company (a leading independent wine and spirits merchant in England) and fiancée Abbie, a marketer and photographer, quickly brought another friend onboard – Hermione Underwood, a branding and PR expert (
above, right
).
Together they brought 'amie' (after the French word for a female friend) to life.
Then another close friend joined the effort to create the brand's design. Acclaimed artist Jessica Yolanda Kaye, another Australian living in London's Notting Hill, created the logo and label design.
Jessica
was inspired by the vision of friends drinking amie, imagining the final setting for the bottle, and seeking for the illustration to 'blend' into that scene.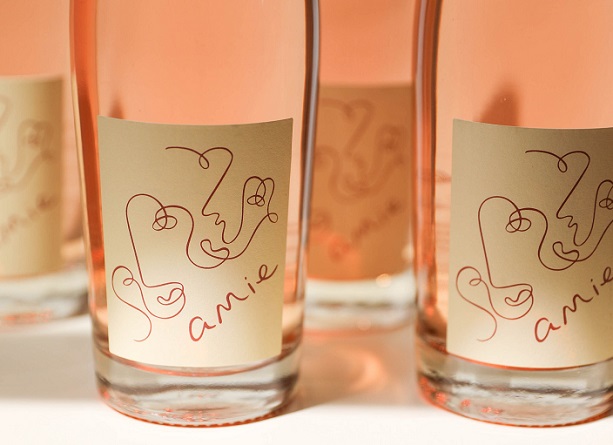 They also chose a cause close to their hearts to dedicate £1 from each sale to, charity: water, which helps provide safe drinking water around the world.
The £15 vegan rosé is made from 100% Cinsault sourced by Will's contacts at French wine producer LGI, who got the grapes from their co-operative partner in the Minervois area (
pictured below is the winemaker Frédéric Garrabou
).
Will said: "We used LGI as I have an existing relationship with them through The Oxford Wine Company. We had a couple of rounds of tasting, with them sending samples to the UK. We decided on 100% Cinsault for various reasons, then narrowed it down further to come up with the final product."
As well as providing the bottled wine, LGI's designers produced the legal front and back label.
The wine is being sold in the UK through the
amie website
. "We wanted a clean and simple website showcasing the story behind the brand," Will explained to
Canopy
. "Our free delivery also capitalises on the home delivery wave which has been accelerated due to Covid-19."
The wine and website were launched with much Instagram fanfare in mid-June.
"We've been thrilled with the success so far, which is mainly due to Abbie's photography skills and the support we've received on social media, such as Instagram," Will said. "We've raised almost £2,000 for charity: water too, which is a great result. The wine has been really well received with many repeat customers already. We are now looking into developing a red and white wine and are looking at more wholesale options."
Will concluded: "It's been a fun lockdown project!"