Having analysed the 2021 World's Best Vineyards Top 50 list, I can see six stand-out ingredients for boosting any wine tourism offer and a simple strategy for gaining a great reputation as a wine tourist destination.


The six pillars
You probably need four of the six to be considered among the world's best.
Zuccardi Valle de Uco, voted the World's Best Vineyard for a third successive year, has them all. From the architecture of the winery (
main photo
) to the wines created there, every tiny detail has been thought out by the Zuccardi family. The scenery is as breath-taking as the high-altitude wines and no visit is complete without a meal at Piedra Infinita Cocina (
below
), where you can enjoy a four-course lunch of regional produce while gazing at the awe-inspiring mountain landscape.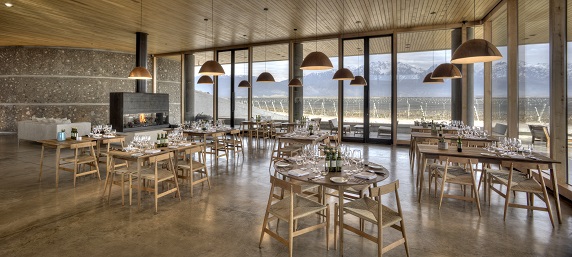 World-class wines
Third generation
Sebastián Zuccardi
established a research and development centre in 2009 to analyse each step of the production process – from vineyard to winery – and to make ever purer single site and single varietal expressions, including Malbecs, Cabernet Sauvignons, and Chardonnays. Further down the list are even more famous wines – and many of my favourites: Château Margaux, Château Mouton Rothschild, Champagne Taittinger, Penfolds Grange, Antinori nel Chianti Classico, and Henschke's fabled Hill of Grace (
from the special vineyard below
).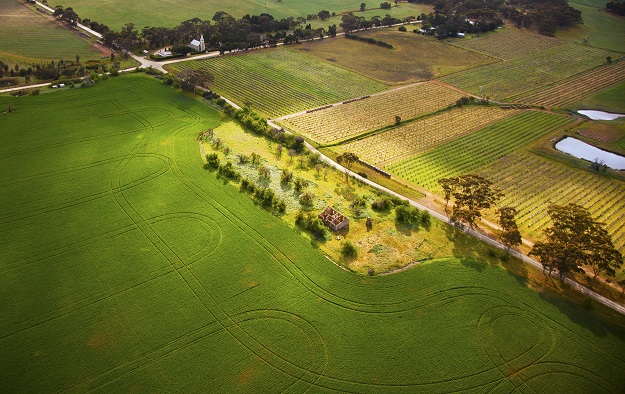 A stunning building
Zuccardi's magnificent winery, finished in 2016, uses only natural, local materials both inside and out to reflect the landscape. There is a wide range of architectural wonders on the list, from Catena Zapata's pyramid-shaped winery, inspired by Mayan temples, to the d'Arenberg Cube, a mirrored four-storey construction inspired by a Rubik's Cube. Then there is the winery at Marchesi Antinori. Made of locally sourced wood, glass, terracotta and COR-TEN steel, with a vineyard for a roof, it blends into the landscape and appears only as two graceful slits in the hillside.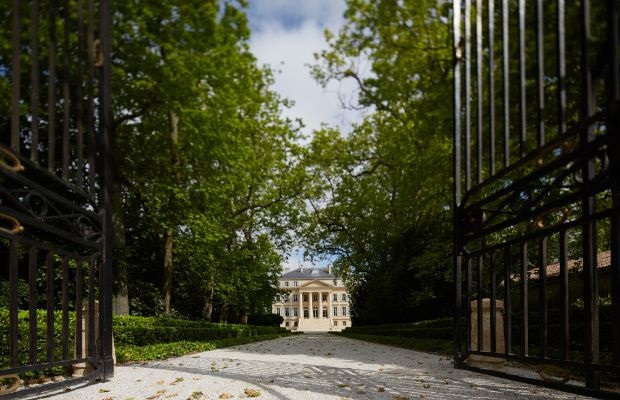 At no2, Bodegas de los Herederos del Marqués de Riscal, in Rioja, Spain, probably has the most eye-catching building. The twisted aluminium ribbons swathed over the Hotel Marqués de Riscal gleam in the Spanish sunlight, their purple, gold and silver hues mirroring the wines and their bottles made in the bodega below. The Frank Gehry masterpiece is now a familiar sight on the Rioja landscape, a futuristic aesthetic belying the history it encases. At the other extreme is the classic 19th-century Neo-Palladian villa designed by Louis Combes at Château Margaux in Bordeaux (no3 in the list,
pictured above
).
Amazing views
They don't come much better than the view from Zuccardi's onsite restaurant, Piedra Infinita Cocina, where you can gaze across the Piedra Infinita vineyard to the snow-capped Andes. Most wine destinations have views of vineyards, of course. Many on the list have that extra element, like the mountain backdrop. Viña VIK (no8) has views of the other side of the Andes, in Cachapoal Valley, Chile. In a remote place named 'Place of God' by the native people, VIK is more than a wine tourism destination, it is a wilderness retreat on the crest of a hill overlooking expansive valleys and a lake.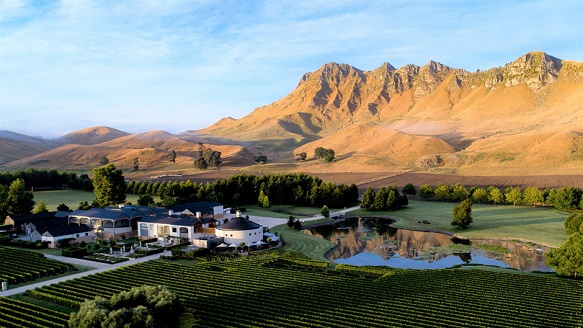 The 500 wine and travel experts who form the voting academy for World's Best Vineyards appear to enjoy the pairing of mountain scenery with their wines. The Craggy Range Winery (no11,
above
) is nestled in the foothills of Te Mata Peak in Hawke's Bay, New Zealand. At Delaire Graff Estate (no30) you can sip wine while basking in a vista that stretches from South Africa's famed Stellenbosch vineyards out to Table Mountain and the Indian Ocean at False Bay. The upper terrace of Château Mercian's Mariko Winery (no33) in Nagano, Japan, offers panoramic views of vineyards and volcanoes (Mount Tateshina and Mount Asama), as well as the production room and cellar.
Meanwhile, in Europe, Marchesi Antinori's restaurant, Rinuccio 1180, has a roof terrace with panoramic views over Tuscany's tumbling hills.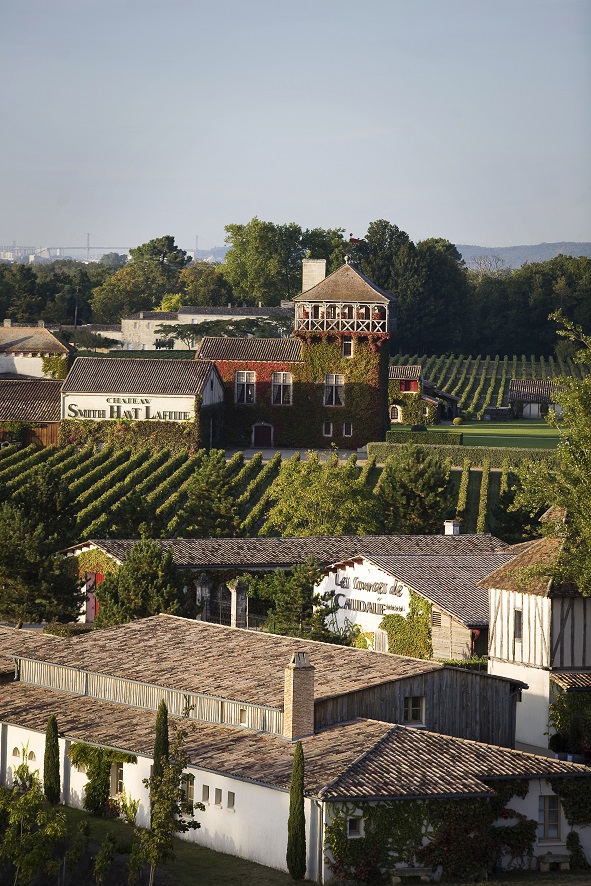 A fantastic restaurant
Or two. Bordeaux's Château Smith Haut Lafitte (no12,
above
) offers the two-Michelin starred Le Grande'Vigne, or more rustic fare at the cosy countryside inn La Table du Lavoir. Craggy Range's head chef, Casey McDonald, who comes from a Michelin background, offers chic, contemporary cuisine made from local ingredients whose distance from the winery is listed on the menu. He also looks after the neighbourhood eatery, Mary's, within the village of Havelock North.
Patagonian superstar chef Francis Mallmann, who has a penchant for open-fire cooking, is involved in Bodega Garzón's 120-seat restaurant in Uruguay, and Viña Montes' restaurant in Chile. With the firepits used to smoke, roast and grill the dishes, it blends gastronomy with theatre and nature's fiercest weapon.
Local dishes and local ingredients are also the focus at Bodegas de los Herederos del Marqués de Riscal's Michelin-starred restaurant, headed by local superstar chef Francis Paniego, and also at Marchesi Antinori's Rinuccio 1180 and Viña VIK's new al fresco restaurant, La Huerta, where 100% of the ingredients are harvested mere moments before being prepared. Cookery lessons at the retreat get guests foraging for their own food in the organic garden, which has about 150 varieties of fruit, vegetables and herbs.
A great tour
At Zuccardi, guests receive a full introduction to the diverse terroirs of the family's Uco Valley sites, including the flagship Piedra Infinita vineyard on the alluvial plains of the Tunuyán River in Altamira. At Champagne Taittinger (no13), a private tour of the cellars leads visitors 18 metres underground via a spiral staircase. Walking through this UNESCO World Heritage Site, they see graffiti left along the walls by the soldiers and refugees who sought shelter there during the First World War and sometimes riddlers at work.
At Clos Apalta (no17) in the Colchagua Valley, Chile, visitors can tour the vineyards on horseback, bike or foot, taking a gourmet picnic with them. Uruguay's Bodega Garzón (no4) goes one step further – offering vineyard tours by foot, horse or hot-air balloon. At Viña Santa Rita (no28), in Chile's Maipo Valley, the options are by foot, bike, horse-drawn carriage or pedal bar (a roofed wooden bar with stools on either side and pedals underneath, transporting groups in a novel yet sustainable style). Fellow Chilean winery Viu Manent (no45), in the Colchagua Valley, not only offers vineyard tours in antique horse-drawn carriages (
below
) but also offers an equestrian programme, which includes jumping classes and equine therapy.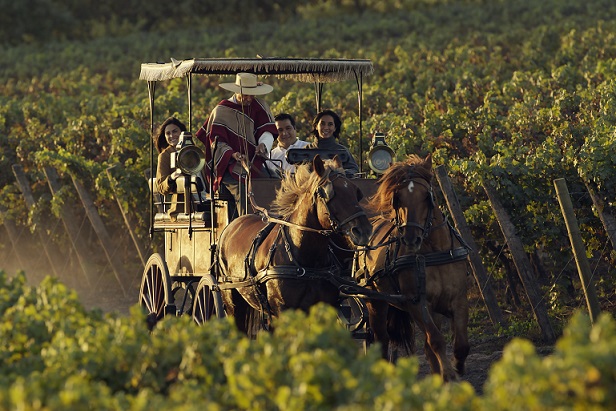 Antinori nel Chianti Classico offers four types of tour at its Marchesi Antinori site (no6). All begin with an introduction to the Antinori family's history and philosophy. Visitors can absorb the unusual architecture, contemporary winemaking facilities and museum area: now run by Albiera Antinori with the help of her two sisters, Allegra and Alessia, Antinori nel Chianti Classico houses much of the family's extensive art collection. As well as preserving and restoring historical works, they also commission new ones, hosting exhibitions and seminars to celebrate all art forms reflecting Tuscan culture.
Catena Zapata (no7) offers three types of tour around its Mendoza estate. The 'Catena Pyramid Visit' introduces guests to the wines via the vineyards and main barrel room. The 'Renaissance of Malbec Visit' is a deep dive into the Catena Institute's vineyard work paired with wines, cheeses and charcuterie. And the 'Adrianna Grand Cru Visit' guides them through the country's most famous vineyard before they taste wines from specific parcels of it directly from the barrels.
Something extra
This could be somewhere to sleep, an art collection, a captivating family story, eco-friendly credentials or something else.
Somewhere to stay.
González Byass's Bodegas Tío Pepe (no9), in Jerez, Spain, opened the world's first sherry hotel last year in what were once cottages for winery workers. Viña VIK's wilderness retreat comprises 22 themed suites and seven glass-walled bungalows. Soalheiro (no27), in Portugal's Vinho Verde, has its Herbal Teas House, a rustic three-bedroom cottage that only opened last year and sits in the middle of its tea plantation. Abadía Retuerta (a new entry at 32) has turned a former monastery in Spain's Ribera del Duero into a five-star hotel complex (including Michelin-starred restaurant) and winery.
Something to see.
Art and wine are a tried-and-tested pairing. We've already mentioned Antinori nel Chianti Classico's extensive art collection. Bodega Colomé (no35), in Argentina's Salta, has an onsite museum dedicated to American artist James Turrell, who helped design the building. Visitors to Château Mouton Rothschild (no36) can view the artwork that has decorated its bottles since 1945.
Something else.
Viña VIK not only has an enviable contemporary art collection, but also a wine spa. Bordeaux's Château Smith Haut Lafitte (no12) also has a spa, plus a shop, wine bar, pool, gym, sauna, and tennis court.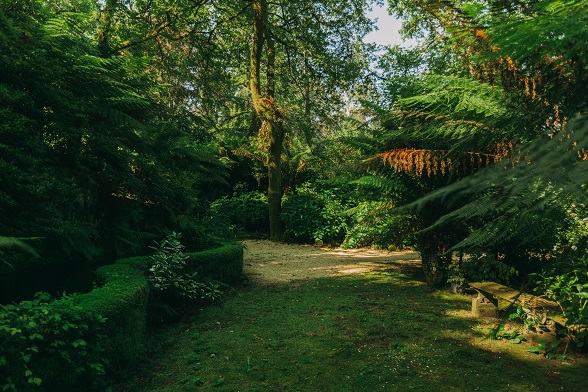 Portugal's Quinta da Aveleda (no19) has more than 8ha of historical gardens (
above
), containing over 114 floral species and century-old trees (a Japanese cedar and swamp cypress are particular draws). The fauna is just as engrossing, with peacocks, swans, chickens, geese, dogs and more calling the grounds home. The goats even have their own three-storey stone tower to keep them happy, a stairway winding helter-skelter-style around the exterior.
Austria's large cooperative Domäne Wachau (no22) offers a host of water-based activities including boat tours, private yacht hire and paddle-boarding classes on the beautiful River Danube (
below
). For guests who would rather stay on dry land, the water's edge can be explored by foot, e-scooter or Segway. There is even a helicopter option for groups who want a bird's-eye view of the spectacular vineyards.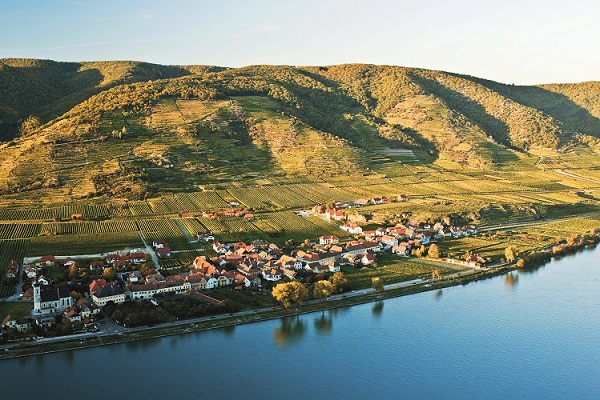 Viña Montes' winery, opened in 2004, incorporates feng shui design, highlighting the elements of metal, wood, earth, fire and water wherever possible. So, the entrance is accessed via a wooden path over a small lagoon of water flowing towards the building; at its core, a fountain resembling a lily opens up to a skylight above, connecting the building with the outer world. Elsewhere, you'll find metal in the stainless-steel tanks that ferment the wine, wood in the French oak barrels used to age it and the 445ha forest, earth pushed to its true potential by the promotion of biodiversity, and some serious fire at the Francis Mallmann restaurant.
Respect for the families.
The families and individuals behind many of the wine brands on the list are highly regarded – respected for what they have done for their country's wines. The Zuccardi and Catena families, for example, have raised the bar in Argentina. Laura Catena has created the Catena Institute, developing Argentina's sustainability code and collaborating with top universities around the world to get the best out of her own vineyards and, more broadly, to help Argentinian wines reach their full potential. Chilean winemaker
Aurelio Montes
received the IWC Lifetime Achievement award this year. The Antinori family has been making wine in Tuscany since 1385. Robert Mondavi (no40) is a legend in California's Napa Valley.
Respect for the land.
Many of the vineyards are farmed organically. Many are also biodynamic, including Bordeaux's Château Smith Haut Lafitte (no12), Rippon (no15) in Central Otago, New Zealand, Clos Apalta in Chile's Colchagua Valley, Australia's Henschke (no25) and d'Arenberg, and Argentina's Bodega Colomé (no35) and SuperUco (no42). Nearly all the wineries on the list claim to be using sustainable practices. Familia Torres' Pacs del Penedès (no26), in Catalunya, Spain, is the leader. Its Torres and Earth initiative solidifies the family's commitment to reducing carbon emissions and protecting the environment. Uruguay's Bodega Garzón holds a Silver LEED certification (Leadership in Energy and Environmental Design), and the winery was built with sustainability in mind.
Creation Wines
(no10), in Walker Bay, South Africa, is a member of Integrated Production of Wine (IPW) and EnviroWines, and a WWF-SA Conservation Champion. Eco-friendly practices across the estate include a microbiome wall at the entrance of the tasting room, encouraging natural flora and purifying the air, and a solar-powered self-catering cottage.
A simple strategy
Having studied the list in depth, the following simple strategy came to mind as a way wine producers can make their mark in this now very competitive world of wine tourism.
Get noticed – through your wines, winery, reputation, or story.
Wow guests. When people who have noticed you for one of the above reasons visit your vineyard and winery, enchant them with your wines, story, hospitality, tours, views, food, ambiance, and friendliness…