Content sponsored by Washington State Wine to celebrate Taste Washington Wine Month in March
The story behind Washington State's 1,000th winery is unusual.
Uva Furem, which is due to open in April, was founded by disabled US Air Force veteran Jens Hansen, who spent more than 23 years flying as a special operations helicopter gunner before becoming an in-flight refueler 'boom-operator'.
His distinguished career took him across the world and included deployments to Bosnia, Kosovo, Afghanistan, Iraq, Africa, Libya, and "a few undisclosed locations".
"My first deployments were as a peacekeeper flying out of northern and southern Italy (to Bosnia and Kosovo). We would fly food and medical supplies to the camps and towns affected by the conflicts. On the off days I was invited to visit the homes and vineyards of my fellow Italian support crews – which sparked my interest in winemaking," Jens tells
Canopy
.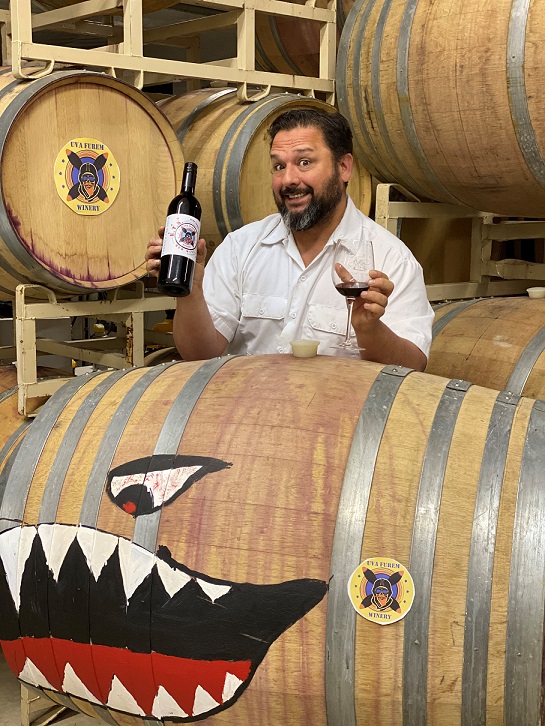 "During the rest of my career I had opportunities to stay in some great wine areas, from Spain to Napa. That furthered my interests in the art of wine."
Unfortunately, after a few "hard landings" and thousands of hours of intense flying, Jens was medically retired and returned to his home state of Washington. He enrolled in the Northwest Wine Academy's wine production program in 2016 and became a cellar assistant for the boutique winery Long Road. The owner/winemaker Galen Krone was also on the course and invited Jens to start dabbling with his own small production. Unfortunately, Galen passed away in the spring of 2019 and his heartbroken family decided to leave the industry. Jens finished the season and made plans to start his own label. After graduating, Jens gained additional experience at Sparkman Cellars in Woodinville under his former wine academy professor and friend, Francis Linn Scott, the winemaker there. "He basically kept me from face-planting during the start of my new venture," Jens states.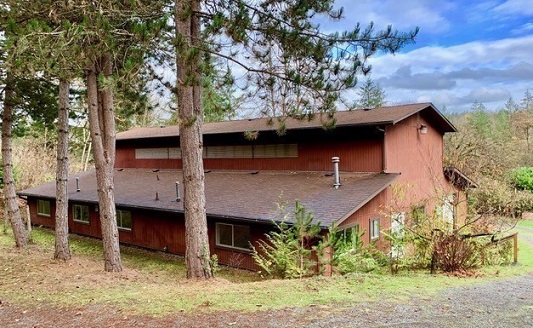 With the help of his brother TJ (also a USAF veteran), Jens bought an old honeybee farm in Maple Valley, Washington, and plans to open a winery with a tasting room there this spring.
The plan, he says, is to make wine "worthy of a toast to my fellow aviators and friends".
'From humble beginnings, the Washington wine industry now contributes more than $7bn to the state's economy'
There are now 1,010 registered wineries in Washington State, according to the Washington State Wine Commission.
"To think about where we started and where we are today is absolutely thrilling," says Steve Warner, president of Washington State Wine. "From humble beginnings, the Washington wine industry now contributes more than $7 billion to the state's economy and generates roughly $2.4bn in revenue."
In the early 1980s, there were only 20 wineries in the state. That number grew to 74 in 2000 and has been steadily increasing for the past 20 years.
"The fact is, Washington is a great place to open a winery," Steve states. "The climate is perfect for growing grapes, plus we are a young industry full of optimism and drive. Our winemakers and farmers love to experiment, push boundaries, work together and want to see each other succeed. It's an exciting place to be."
Jens confirms this: "I feel like the Washington wine community is a lot like the Air Force in that everyone looks out for each other. Everyone works together to get the mission done, and the mission here is to make really great wine."
Vineyard acreage in Washington also continues to grow at a rapid pace. Twenty years ago, there were four American Viticultural Areas (AVAs) with 24,000 acres of vines producing 70,000 tons of grapes. Today there are more than 59,000 acres of vineyards across 14 AVAs producing 260,000 tons of grapes.
That makes it the second-largest wine-producing state in the country.
"We still have so much room to grow, both on the winery and vineyard side," says Steve.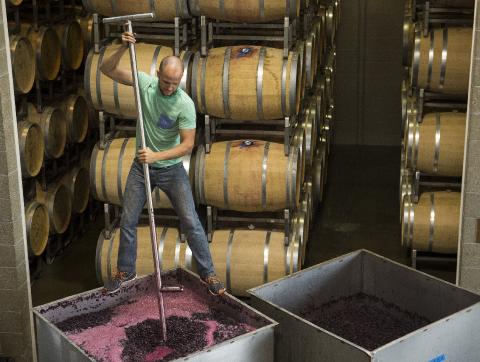 The key grape variety is Cabernet Sauvignon.
One of the up-and-coming Cabernet Sauvignon specialists is Doubleback, a boutique winery founded in 2007 by former NFL quarterback Drew Bledsoe and his wife, Maura. The CEO and director of winemaking, Josh McDaniels, says: "Our winemaking philosophy is to create elegant Cabernet Sauvignon that shows off the uniqueness of the Walla Walla Valley through our estate vineyards. Our wines have rich texture, balanced natural acidity, and stay true to the varietal of Cabernet Sauvignon. Doubleback usually benefits from at least a couple of years of bottle age prior to enjoyment. Walla Walla has enormous potential in not only exploring the new areas that we can plant vines in but also in that we are a young region and are only beginning to fully understand the sites we have been working with as our vines are becoming mature."
More than 70 grape varieties are grown in the state, with Chardonnay, Riesling, Merlot, and Syrah also producing impressive results.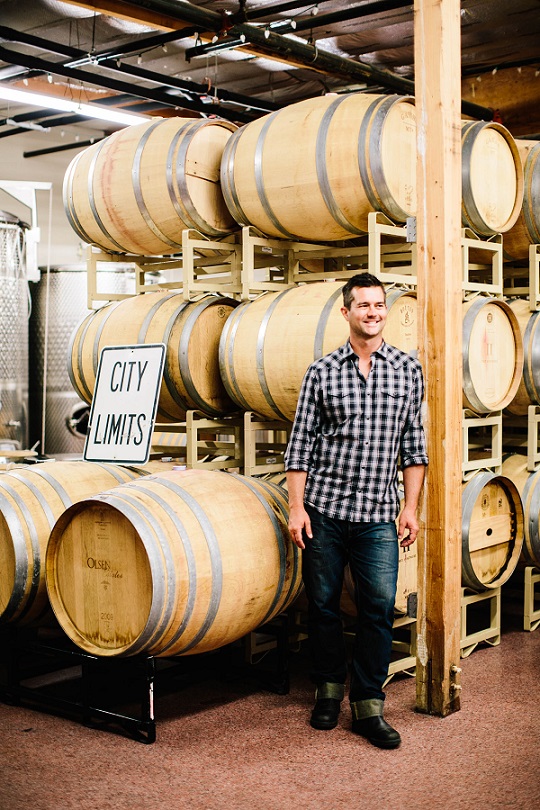 Morgan Lee (
above
), winemaker for Two Vintners (which he set up in 2009 in collaboration with Covington Cellars), thinks these two reds have great potential in the state. He tells
Canopy
: "My personal conviction is that Syrah and Merlot, in particular, are the very best wines that Washington State has to offer the planet and I set out to make some of the best expressions that the world has to offer. In the past 10 years, we pushed that ethos forward and gained a tremendous amount of acclaim, especially for Syrah.
"My approach to Syrah is to embrace the sense of place. Syrah is so expressive of terroir in Washington and it makes it very exciting to work with each individual patch of soil. I treat all of our sites the same: native yeast fermentation, at least 50% whole cluster stem inclusion and minimal use of new oak. Our Syrah is fermented for 10 to 20 days on the skins and often foot-stomped during the first week and aged in 15% to 20% new French oak 500L puncheons for 18 months before bottling."
Originally from the Midwest (Indiana), Morgan took a big risk at a young age to leave his family and carve out a future in Washington, but, he says, "I believed in it then as I do now. The potential is huge, and I truly feel as though we are only getting started. The past decade has seen unprecedented growth and it has not shown signs of slowing. All we have to do now is win the hearts and minds of the rest of the world."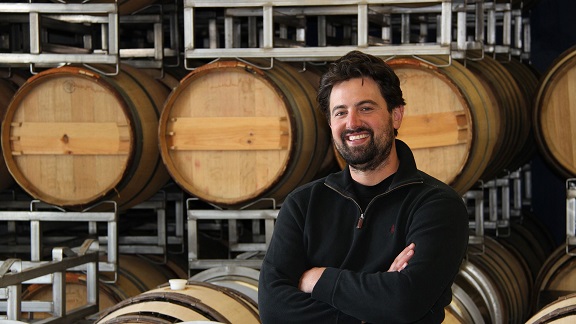 There's also an unusual story behind Reynvaan Family Vineyards, which produces Rhône-style red and white wines from two organically farmed vineyards in the Walla Walla Valley – one in a dried-up riverbed called In The Rocks and the other at the base of the Blue Mountains on the Washington/Oregon border called 'Foothills in the Sun'.
The winemaker, Matt Reynvaan (above), walks the rows or rides a tractor between them most mornings before spending the rest of the day in the winery. He could so easily have been walking golf courses and riding golf carts. After dropping out of college in 2004, he moved back in with his parents, Mike and Gale Reynvaan, and took a job at the Walla Walla Country Club, training to be an assistant golf pro. But, thankfully for the wine world, he got the calling to ride a tractor and make wine. Six years later, Reynaan's Stonessence Syrah earned 98 points from
Wine Spectator
and the 2013 In The Rocks Syrah ($70) took the number 13 spot in
Wine Spectator's
Top 100 Wines of 2016.
In the Rocks Syrah is co-fermented with Viognier, while The Contender Syrah is co-fermented with Marsanne. Queen's Road White is a Marsanne/Viognier blend. "We produce wines only from varieties that we love and farm ourselves, which now includes five Syrahs, a Bordeaux-style blend and up to three white wines (Viognier, Marsanne and Grenache Blanc)," Matt explains.
'Almost everything we do is by hand'
"Almost everything we do is by hand, planting each vine in the vineyards, trellising, pruning, dropping fruit and then picking and sorting the berries at harvest.
"Our philosophy about producing distinct and authentic wines is grounded in a very traditional approach utilised by many of our favourite wines from some of the most successful wineries around the world. This traditional philosophy not only includes carefully farming organically our estate vineyards, but then letting the wines evolve in the winery with as little interference as possible. Once the fruit is in our winery, it is fermented solely with native yeast, is unfined and unfiltered, then aged in French oak.
"For us, it is a privilege to grow grapes and produce wines that our customers around the world love as much as we do."
Wine lovers will get the chance to taste many Washington State wines in March at events associated with Taste Washington Wine Month.
To learn more, visit
www.washingtonwine.org
.