Austrian winery Winzer Krems has installed Europe's most modern bottling line. The new €7m plant is part of a €37m investment and modernisation programme at the co-operative.
It's the largest investment in the winery's 84-year history. But managing director Ludwig Holzer tells
Canopy
it "was absolutely necessary because, on the one hand, we had to renew decades-old, dilapidated parts of the building. On the other hand, we have to adapt our entire production to the changing climate conditions. In the future, the wine harvest will be done earlier, at higher temperatures and in a shorter period of time. We had to create appropriate structures for this. However, we are not building any additional capacities, but only renewing our infrastructure at existing locations. We are not building on any new green spaces as a result."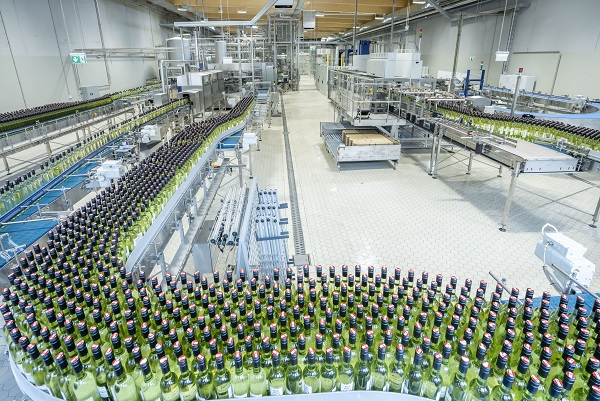 The new bottling line, from German manufacturer Krone AG, can fill, label and package 15,000 bottles an hour – a 20% increase in capacity for the winery, which is also known by its address Sandgrube 13. The winery processes grapes from 1,200ha of vineyards belonging to 800 member growers in Lower Austria and produces about 10m bottles a year, making it "the largest winery in Austria", according to chairman Florian Stöger.
About 60% of the wines, from grapes such as Grüner Veltliner, Riesling, Gelber Muskateller and Zweigelt, are exported to countries such as Germany, the Netherlands, the USA and Japan, "so we can't stand still and have to rely on the latest technology", Florian adds.
The new bottling plant has been up and running since January, and was installed during ongoing operations. Ludwig explains: "We had a warehouse here for three million bottles. We tore it down and installed this new bottling plant in its place. The previous one, which was already 22 years old, continued to run and was dismantled when we put the new one into operation."
Clemens Fuchs, the technical manager, adds: "This system is the most modern that is currently on the market. One of these has already been installed in America, and it is unique in Europe."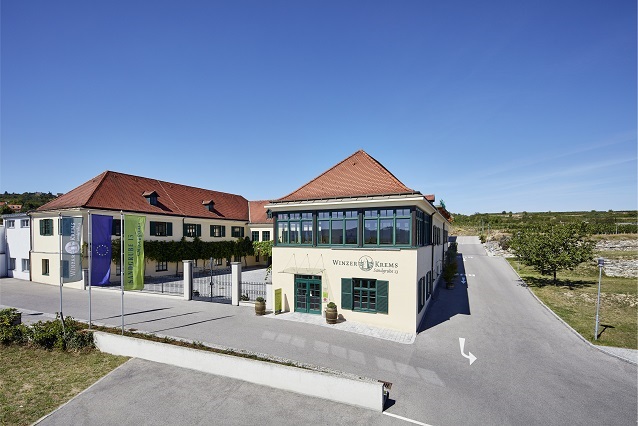 Continuing a partnership with Krone that has lasted more than 40 years, the new plant is not just about increased capacity, it also improves the quality of the entire process from filtration, sterilisation and bottling to packaging. The filter system is self-cleaning and "gentler on the wine"; there are no longer any exchangeable filters.
There are environmental gains, too. The new plant should save a third of the water compared to the old one, and some of the electricity comes from a new 125kW peak photovoltaic system on the roof.
The other part of the roof is 'green', helping to store water, reduce the CO2 content in the air and has a temperature-regulating effect on the rooms below.
To clean up the rest of the winery's energy use, Winzer Krems has switched from gas to district heating, which uses waste heat generated during electricity production.
Dormer windows and a large windowfront ensure there is plenty of natural light, while a special noise protection blanket reduces the noise level. Such measures are designed to improve working conditions.
The bottling plant completes the second construction phase.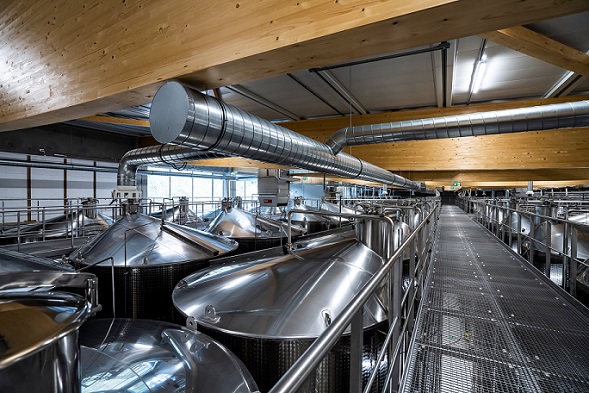 The first phase included a new fermentation and maturing cellar. The large cellar, completed in October 2020, has a capacity of 6.5m litres. Ten metres underground, it is 1,500sq m and has a height of 15 metres, allowing some daylight in.
A second, smaller cellar was completed in October 2021. This is directly under the bottling hall. 1,700sq m in size, it houses an increased number of smaller tanks. There are now 75 stainless-steel tanks in the cellar with volumes ranging between 5,000 and 40,000L.
The work on the bottling plant and cellars was completed without interrupting operations. Ludwig admits this was a logistical challenge: "We could have built a new winery somewhere and in the meantime continued to use the existing one. That would have been easier, but we didn't want that because we see it as a task to save resources, and therefore also to save land. That's why we're renovating during ongoing operations."
However, he believes the disruption is worth it. "Such a large investment always means a disruption," he says. "But we are convinced that it is worth it because we are investing extensively in product quality and sustainability and thus in our future and that of our winegrowers."
The remodelling and modernising should be finished in 2023. "The last construction phase is currently under way," Ludwig says. "The remaining part of the old warehouses and the old bottling hall are being demolished. By summer 2023, the bottle warehouse, the commissioning and the outdoor facilities will be completed."
Much of the work has been carried out by local building companies and craftsmen.
Ludwig concludes: "With our new filling hall and plant, we can look forward to the future with optimism, even in the challenging times ahead."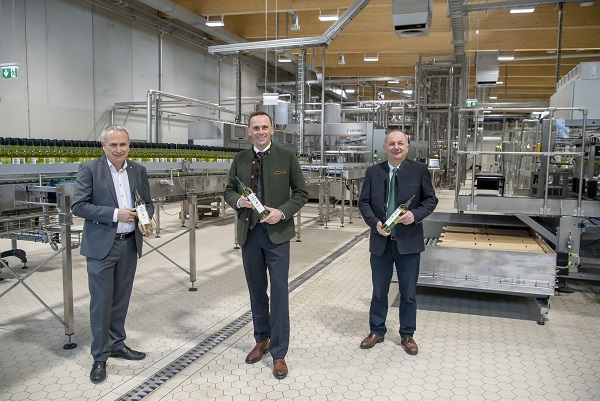 During a visit to the winery, Lower Austria's regional councillor for economic affairs and tourism, Jochen Danninger (
centre
) commented: "Winzer Krems is one of our flagship businesses and an international flagship for Lower Austria. With this forward-looking investment, Sandgrube 13 not only sets standards in terms of sustainability, digitisation, and quality assurance, but also massively strengthens the domestic economic output in these turbulent times."
Jochen is pictured with Ludwig Holzer (
left
) and Florian Stöger (
right
) in front of the bottling plant.
Photo by Point Of View/DI Robert Herbst.