The variety of the destinations in the new list of World's Best Vineyards is impressive. There are modern architectural wonders, UNESCO-recognised ancient cellars, Michelin-starred restaurants, and small, family-run wineries where the owners conduct the tours.
After examining the list in detail, we have come up with this 'recipe' to inspire those who want to make their own wine tourism offer extra-special.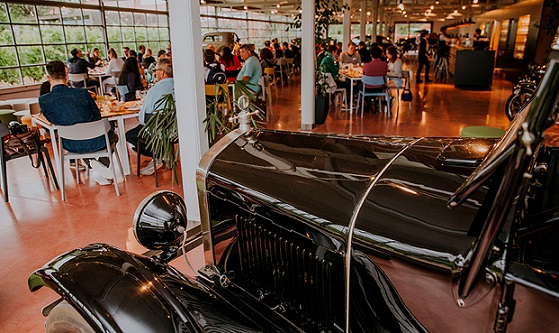 Add something different
Bodega Bouza
in Uruguay – number 26 on the list – has a large collection of classic cars. It's Juan Bouza's own collection of more than 30 perfectly restored 1920s cars and motorcycles. From Model T Fords to Messerschmitt three-wheelers, these eye-catching classics can be admired while enjoying tapas and wines from the growing Bouza range. There is also a 1929 English railroad wagon under restoration in the garden right next to the winery.
Chile's
Viu Manent
(no43) offers horse-drawn carriage and e-bike tours of its vineyards in the Colchagua Valley. Viu Manent also has its own equestrian club, offering everything from horseback tours to pony trekking for children and equine therapy classes.
Another Chilean winery with something different to offer is
VIK Winery
(no10), in the Cachapoal Valley. It offers TWO luxury spa retreats alongside the more usual vineyard tours, wine tastings, cooking classes, hiking, horse-riding, biking, picnics, and yoga experiences. The spa retreats – Vik Chile and Puro Vik – are resorts in their own right. Amenities include a marble infinity-pool, gym, sauna and wine spa.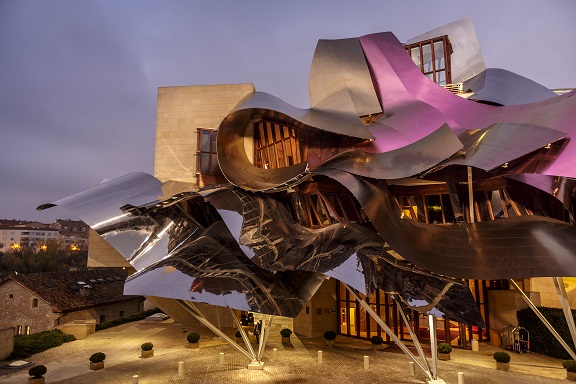 Add somewhere special to stay
The Frank Gehry-designed hotel at Rioja's 
Bodegas de los Herederos del Marqués de Riscal
(
above
, no6) offers a choice of two stunning restaurants. First choice for many is the Michelin-starred Gastronomic, which puts the Basque-Riojan cuisine of superchef Francis Paniego in a wondrously inventive El Bulli-style light.
Few winery owners in the whole of Bordeaux have invested more in their visitor experience than Florence and Daniel Cathiard of
Château Smith Haut Lafitte
(no7). From the sculpted beauty of the vineyard landscape and the architecture of the château itself, right through to the on-site luxury hotel and spa, Les Sources de Caudalie, and the visionary 8ha 'Land Art Forest' – comprising a stunning art trail with monumental contemporary artworks amid the vines – the indulgences on offer at this the Graves Cru Classé estate are every bit as impressive as the Cathiards' stately wines. A stay at the Sources de Caudalie, located opposite the château, gives the full 'deluxe Bordeaux' experience, with its first-class accommodation, 'Vinotherapy' spa, and no fewer than three restaurants – one of which, La Grand'Vigne, has two Michelin stars.
Rooms at the
Clos Apalta
Residence (
below
) in Chile's Colchagua Valley are individually decorated with reference to the grape varieties that make up the estate cuvée. Each room offers a breathtaking view of the vineyards and surrounding mountains. The residence also houses a gourmet restaurant, which showcases regional produce, and an infinity pool.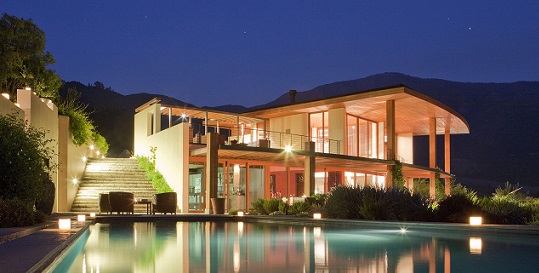 Add a great tour
Tío Pepe
's 'Super Deluxe' tour begins in the morning at the elegant Viña Canariera vineyard, where guests have breakfast and learn about the region's Palomino Fino and Pedro Ximénez grapes. Then it's on to the bodega in Jerez to discover the criadera and solera systems in which Tío Pepe (no18) ages its wines, brandies and vinegars, before enjoying exclusive access to the world's largest collection of Sherry, featuring bottles from the 19th and early 20th centuries. This VIP tour culminates in a wine pairing lunch in a specially reserved dining setting.
Guests arriving at
Craggy Range
(no17), in New Zealand's Hawke's Bay region, are in good hands. On a typical cellar visit, former New Zealand sommelier of the year Michael Bancks greets guests at the door and begins the tour in the main cellar building, 'Sophia', where visitors learn the history of Craggy Range. Then it's on to the subterranean barrel hall, 'The Quarry', where guests taste from the estate's unreleased prestige collection wines still in barrel. From there the tour moves on to the restaurant garden in the shadow of Te Mata peak. Finally, it's on to the sun terrace to enjoy a guided tasting of Craggy Range's diverse multi-region wines, with a variety of flight options available to suit each guest's tastes.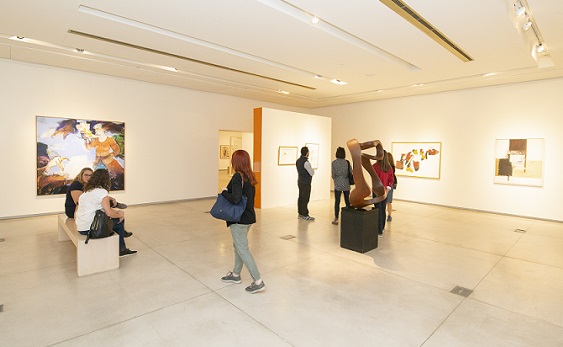 Add art
Housed within no23
Salentein
's winery in Argentina's Uco Valley, the Killka cultural centre (
above
) has become as much of a destination for art lovers as the bodega is for lovers of wine. It is home to a hugely impressive collection of Argentine works from the second half of the 20th century as well as a permanent exhibition of 19th and 20th-century Dutch works. The chapel built within the property is a work of art itself.
Château Mouton Rothschild
in Bordeaux (no33) distinguishes itself not only by its stratospherically priced wines, but also by its intimate connections to the art world – especially its collaborations with celebrated artists for the design of its labels. Pablo Picasso, for example, was engaged to design the 1973 label to commemorate the chateau's accession to the
premier cru classé
. Visitors are also able to see the family's practically priceless collection of historic and modern art. Situated in a former barrel hall, the Museum of Wine in Art houses a cornucopia of historic treasures, from medieval Dutch tapestries to ancient Greek pottery. Meanwhile outdoors, Baron Philippe's goal of making Mouton a temple to "the eternal and fruitful dialogue between art and wine" is apparent wherever one looks.
Robert Mondavi
always conceived of Napa as a place where one could enjoy the good life – where fine wine, food and art could come together in a life-enhancing trinity. Guests visiting the Robert Mondavi Winery can view the permanent collection of Napa Valley artwork (including artists from Beniamino Bufano to Pablo Picasso) and totemic sculptures, attend celebrated music festivals (such as the Margrit Mondavi Winery Annual Summer Concert Series), and indulge in its various tastings, tours and restaurant offerings.
Stellenbosch winery 
Delaire Graff Estate
's hybrid architecture, sculpture gardens and opulent décor provide a magnificent indoor and outdoor gallery to showcase artworks from owner Laurence Graff's personal collection, representing some of South Africa's finest contemporary artists, including Deborah Bell, Dylan Lewis, Lionel Smit, Kendell Geers, Ndikhumbule Ngqinambi and William Kentridge. It's no14 on the World's Best Vineyards list.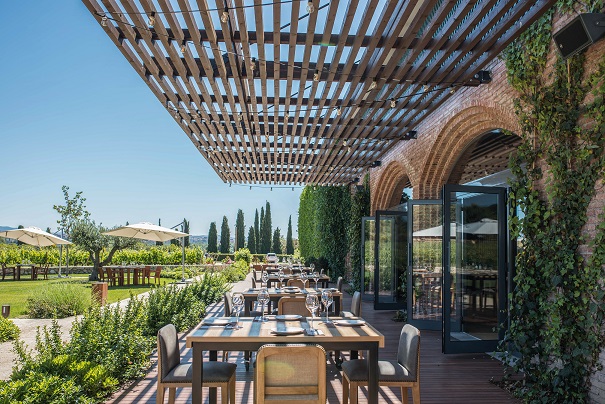 Add an amazing dining experience
Spain's
Familia Torres
(no42) opened the Jardí El Celleret restaurant (
above
) at its visitor centre in Pacs del Penedès last year. Set amid Torres' famed Mas La Plana vineyard with a spectacular view of the Montserrat mountain, it takes wine and Mediterranean food pairing to a new dimension.
Possibly the star attraction at
Viña Montes
(no4), in Chile's Colchagua Valley, is the gastronomy. Fuegos de Apalta, situated in the middle of the vineyards, is the restaurant of the fire-loving Argentine chef Francis Mallmann. Meat, fish and vegetables are prepared with different types of fire in a specially designed dome located in the centre of the restaurant.
The 120-seat Restaurant at Uruguay's
Bodega Garzón
(no2) was also conceived by Patagonian superstar chef Francis Mallmann. Cooking classes, in which guests learn all about Mallmann's Seven Fires technique of open-fire cooking, are also on offer, followed by a four-course wine pairing lunch.
At new entry
Trapiche
's Espacio Trapiche restaurant (no50) in Mendoza the menu is largely based on fresh products from the restaurant's own biodynamically farmed herb, vegetable and fruit garden, while head chef Matias Castejon also makes his own cheeses and charcuterie, as well as harvesting honey from the bees kept in the vineyards.
The on-site restaurant at
Chateau Heritage
(no48), in Lebanon's Bekaa Valley, serves traditional, rural Lebanese foods 'like grandmother used to make'.
Add an architectural wonder
To venture through the futuristic wine wonderland of the
d'Arenberg
Cube (no34) – a five-floor Rubik's Cube-shaped building set in the middle of the estate's vineyards – is to take a dizzying trip into owner-winemaker
Chester Osborn
's kaleidoscopic mind. The Cube features, among many mind-bending oddities, a fully automated 'natural winemaker', an inhalation room and an 'Alternate Realities Museum'. The Cube also houses a tasting room on the top floor, where you can sample from the huge d'Arenberg wine range – including the 'icons'
Dead Arm Shiraz
, Coppermine Road and Ironstone Pressings – with 360-degree views of Australia's McLaren Vale region.
Distinguished by its pyramid-like design based on the architecture of the Mayan civilisation, there are few more visually striking winery properties than
Catena Zapata
(no11) in Mendoza.
Built in Chile's Aconcagua Valley in 2010,
Viña Errázuriz
's Bond villain HQ-style new winery complex stands beside the historic cellar built by Don Maximiano Errázuriz in 1870. The juxtaposition of the two is a marvel to behold: on the one hand, the age-softened charms of the old bricks-and-mortar cellar – which today houses an historic collection of Viña Errázuriz icon wines – on the other, a monument to swish modernity, conceived as a ship sailing through a sea of vines, combining the latest winery technology and geothermal and solar energy use.
Antinori nel Chianti Classico
's winery in Tuscany is a true architectural marvel – postmodern, industrial, sacred and invisible. Yes, practically invisible, so subtle is the design of this three-level, mostly subterranean structure. It appears from a distance as two elegant horizontal slits that cross the Tuscan hillside, its composition echoing the sinuous profiles of the surrounding hills, studded with Sangiovese vines, olive groves and historic churches. The building's three levels are connected by a spectacular spiral staircase, the winery's most distinctive feature. Below ground, the winery was designed for gravity-flow winemaking while terracotta vaults, with their reddish-brown tones evoking the earthy hues of the region's soil, cradle the family's wines like sacred treasures.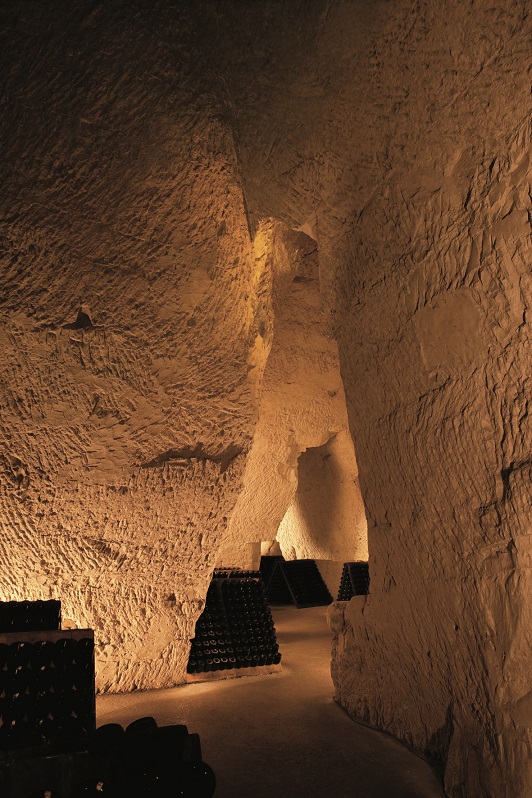 Add a cellar of wonder
The UNESCO-recognised crayères chalk cellars of
Champagne Taittinger
(
above
, no28) were created during the fourth century. 18m below ground level, they were carved out to extract chalk blocks for building work. 900 years later, they became the cellars for the Saint-Nicaise Abbey, their network of galleries, crypts and vaults used for storing wines first made by Champagne's Benedictine monks.
Maison Ruinart
's (no44) cellars date back to the 13th century and are also recognised by UNESCO. The crayères extend over approximately 8km and rise over three levels.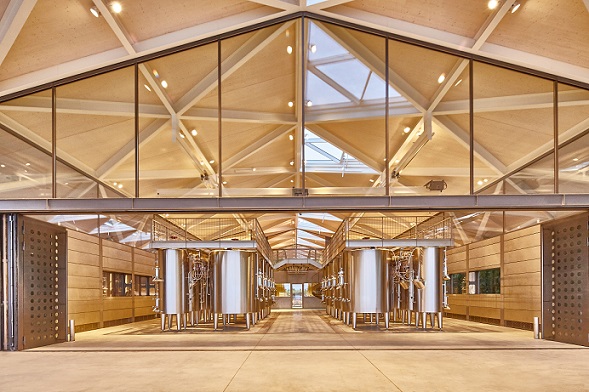 Stir in special wines
The wines of Bordeaux 'First Growth'
Château Margaux
(
above
, no22) are idolised the world over. Former US president Thomas Jefferson regarded it as the best claret in the world – indeed a 1787 vintage from Jefferson's private cellar, valued at $500,000, was for a time the most expensive bottle of wine ever sold. Margaux's recent reputation for producing great wines owes much to the late cellarmaster Paul Pontallier (now succeeded by Sebastian Vergner), who became convinced that Cabernet Sauvignon was the key to Château Margaux's greatness, thus reducing the proportion of Merlot in the Grand Vin blend.
With
Opus One
, Robert Mondavi and Baron Philippe de Rothschild embarked on a challenge of creating a bona fide Napa First Growth, an ultra-premium Cabernet Sauvignon to rival the best
cru classé
wines of Bordeaux's Left Bank. Entering the grounds of
Opus One Winery
(no20), one is given no room to doubt its iconic status. From its elegant colonnaded reception building to the pristine gardens, this is a winery whose every detail speaks of an uncompromising commitment to quality that is reflected in its iconic wines.
Napa's
Stag's Leap Wine Cellar
(new at no47), now owned by the Antinori family, continues to demonstrate that Californian cabs can rival the
premier cru classé
superstars of Bordeaux's Left Bank. Founder Warren Winiarski coined the oft-repeated phrase "iron fist in a velvet glove" to describe his supple yet structured Cabernets. One only needs to take a single sip of the celebrated Cask 23 and SLV cuvées to understand what an apt description this still is.
Regarded by many as the last word in great sweet wine,
Château d'Yquem
's reputation is as legendary as the palate length of its wines. Thomas Jefferson regarded Yquem as the best white wine in France, ordering 250 bottles of the 1784 vintage for himself. Yquem's success stems largely from its location's susceptibility to noble rot – the highest hill in Sauternes. Personalised 90-minute tours of Chateau d'Yquem (no31) – including a tasting of its nectar-like wine – take place every day of the week. The ultimate experience is the 'Anthology' tour, which offers the rare opportunity to taste three older vintages.
An unbroken line of vintages of Australia's legendary Shiraz, Penfolds Grange, stretching back to 1951, are lovingly stored in a hushed recess deep within the century-old Magill Estate in Adelaide Hills (no24).
Penfolds Magill Estate
is where the late Max Schubert first conceived of and produced his now legendary Shiraz. 
Bodegas RE
's founder Pablo Morandé – assisted by son Pablo and daughter Piedad – is on a constant quest to 'REdiscover' and 'REinvent': think unusual co-ferment blends of old-vine varieties aged in traditional terracotta tinajas, or complex reds aged under flor and kept back for several years before release. For any wine lovers visiting Chile's Casablanca Valley, Bodegas RE (no32 for the second year running) is the place for something special.
A visit to
Gaja
(new at no36) is an opportunity to taste some of the most highly prized wines in all of Italy. From their flagship Barbaresco DOCG (sourced from 14 different vineyards) and five single-vineyard Barbarescos to their cru Barolos, Gaja's signature elegance, concentration and ethereal complexity shines through. Though long known for its closed-door policy, Gaja opened to the public for the first time in 2014. Unusually, Gaja has set up its visitor offering to support non-profit organisations. For this reason, those interested in visiting the Gaja winery are invited to make a donation (minimum €300 per person) to a specially chosen charity. Gaja's commitment in exchange for this generous donation is to offer a personalised tour of the surrounding vineyards and cellar followed by a tasting of wines selected by the Gaja family.
At
Domaine Marcel Deiss
(new at no45), visits are all about the quality of the wines and discovering the unique diversity of Alsace terroirs. Winemaker and custodian of the domaine Jean-Michel Deiss (Marcel's grandson) is one of the forerunners of the biodynamic movement in Alsace, having converted in 1998, and believes in field blends.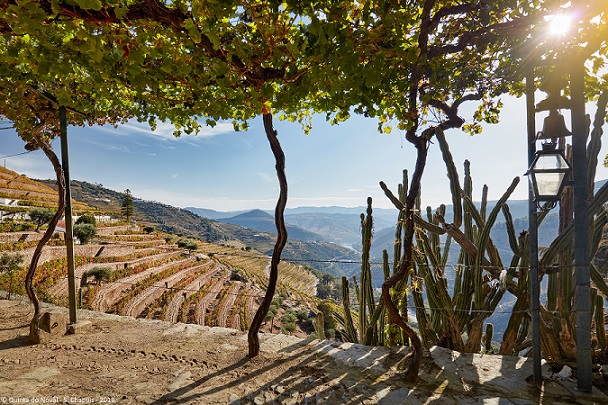 Soak in extra-special views
A visit to
Quinta do Noval
(
above
, new at no49) offers a window on the magnificent stone terraces which blanket the steep schist slopes shaping the course of the River Douro. With 45ha of vineyards in the valleys of both the Pinhão and the Roncão tributaries of the Douro river, Noval occupies one of the most privileged positions in the valley. Tasting vintage Ports and modern reds in the heart of this UNESCO World Heritage Site is also a privilege.
Rippon
(no13), in New Zealand's Central Otago, offers jaw-droppingly beautiful views from the shore of Lake Wanaka. When you work, as Burgundy-trained fourth-generation winegrower Nick Mills and his team do, in a place of such pristine beauty, it makes sense to farm as naturally as possible. So it is that organic and biodynamic methods and intensive handwork are standard at Rippon. The result is terroir wines – Pinot Noir, Riesling, Gewurztraminer and Gamay – of such crystalline purity that after tasting them on the terrace you would be forgiven for wishing to up sticks and take up residence here on the lakeshore.
Ceretto
(new at no21) in Italy's Piedmont offers superlative views of the practically symphonic Langhe hills. These can be enjoyed from The Berry (l'Acino), a glass structure perched on the front of the property and overlooking beautiful vineyards as far as the eye can see. There may be no better spots in the whole of Langhe from which to appreciate the rustic beauty of the region.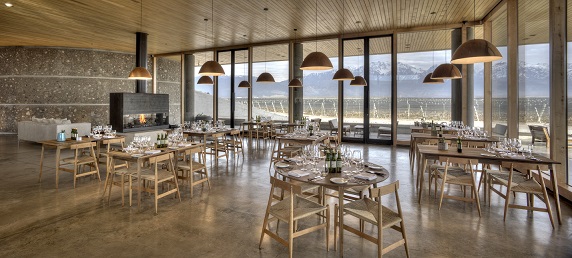 World's Best Vineyard
The number one for the second year running –
Zuccardi Valle de Uco
in Argentina's Uco Valley – has it all: stunning high-altitude wines, the Piedra Infinita Cocina restaurant (
above
), and Andean scenery as unimprovable as its architectural vision of a winery (constructed with rocks from the Piedra Infinita vineyard, and water and sand from the nearby Tunuyán River). Tastings take place under a church-like cellar dome. For our interview with owner José Alberto Zuccardi,
click here
.