The McManis Family Vineyards winery, located on 16ha (40 acres) of rural land near Ripon, California, has no access to city water or wastewater facilities and is therefore responsible for managing and properly treating its own process wastewater.
Good farming practices and regulations prevent Californian wineries from sending process wastewater back to the land, because, due to its high sugar content, winery wastewater would quickly deplete the soil and water sources of oxygen and adversely affect the grape crop and the greater ecosystem. Instead, wineries most commonly send their wastewater to treatment ponds, where through the passive and natural process of solar evaporation, pure water vapor returns to the atmosphere.
When grapes are crushed to extract juice during receiving (prior to fermentation), resulting waste products include grape solids such as leaves, seeds, pulp, stems and skins. If not removed, these can significantly increase the amount and quality of sludge headed to the treatment pond. As previously described, these high-sugar biological solids deter the evaporative process and decrease pond capacity (which ultimately leads to more frequent and expensive sludge removal).
For wineries, grape solids represent more than half of the total biological oxygen demand (BOD) loading of the entire wastewater system and therefore are the biggest target for cleaning up process wastewater. BOD is a measure of the amount of oxygen required to remove waste organic matter from water through the process of decomposition by aerobic bacteria. The higher the BOD of wastewater, the more energy is required to clean it. Water in a treatment pond with an abundance of sludge must be treated biologically with aeration and chemicals, which creates expense, increases energy use and impacts the environment.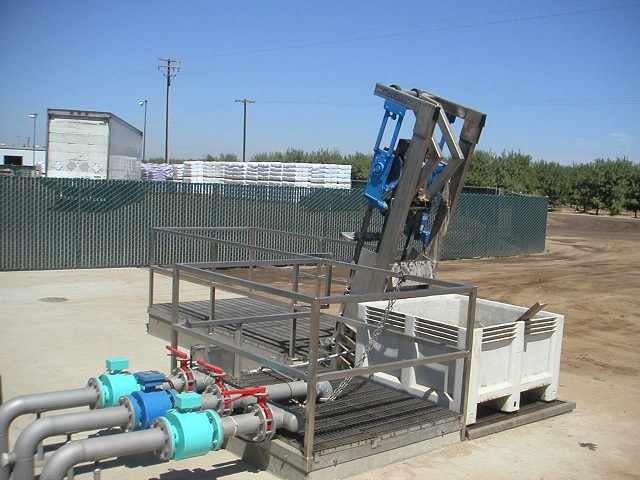 The solution?
Dynamic screens.
The environment and the winery alike benefit from water that is as free of sludge as possible when it enters the ponds.
In 2005, the vineyard employed a rotary drum screen for the task of separating the grape solids from the process wastewater to prevent them from contributing to sludge in the pond. "We just weren't happy with the performance," said winemaker Mike Robustelli. "It didn't do a good job of removing the solids, and it wasn't reliable. We had a lot of downtime, lots of clogging, and lots of times when the equipment was inoperable. We wanted to improve on that."
They selected the Duperon FlexRake Fine Screen (
above
), which provides a T-shaped Wedgewire screen that can filter from 0.020 to 0.125 inches. It uses very little energy and adapts to a range of known conditions and unpredictable debris and flow variations, which is useful on a vineyard where flow is dependent on both harvest volume and weather. At McManis, the FlexRake also manages stormwater runoff from 16ha of surrounding vineyards using a flexible valve system that can be deployed during a rain event.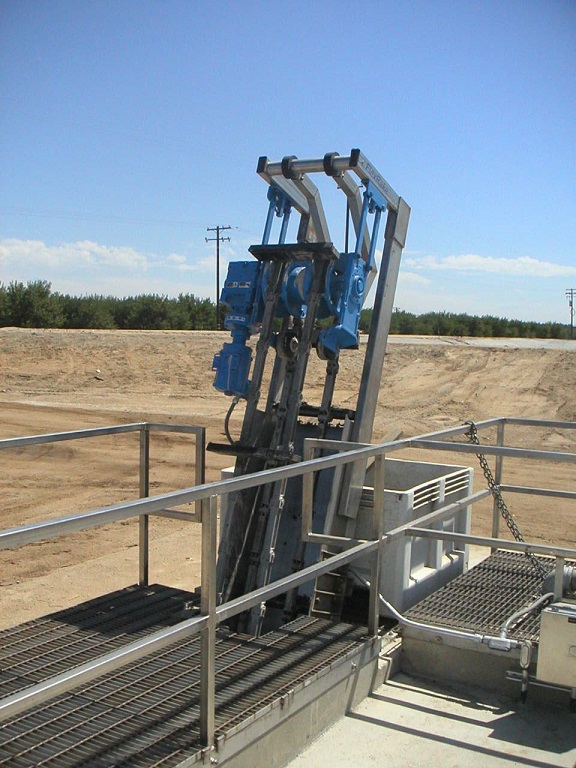 In 2019, the McManis Family Vineyards winery installed a second screen to handle increased wine output while continuing to meet water conservation and sludge reduction goals. This addition was accompanied by upgrades to the treatment ponds and aeration systems to compensate for the increased flow. At 18ft (5.5m) deep, the two process wastewater ponds – each holding two million gallons – employ aerobic digestion for the upper layer and anaerobic digestion for the lower layer. Aerobic digestion is facilitated by several brush aerators (one 30hp aerator and one 15hp aerator in one pond, and one 15hp aerator in the second pond). A third pond, which can hold four million gallons, is reserved exclusively for stormwater runoff.
All water onsite comes from the winery's own well system. As regional droughts continue to reach historic levels, water conservation is a top priority. Since replacing the rotary drum screen with the FlexRake Fine Screen, which doesn't use spray water, the winery is using much less water to treat its process wastewater. With primary screening, a large percentage of grape solids are removed and composted onsite, resulting in significant cost and environmental benefits. Theoretically, a fine screen system can save 3,000 gallons of water a day over an equivalent rotary drum system. Additionally, the composted solids become a valuable soil amendment applied on the McManis vineyard or sold to other users. And in compost, the high-sugar waste content is an asset rather than a liability as it increases bacterial growth to speed up decomposition.
"The benefits are multi-faceted," said Robustelli. "We save water, we create compost, we reduce the energy required to keep the ponds healthy and we extend the time between pond cleanings – from every two or three years before the screens to every five to seven years with the screens."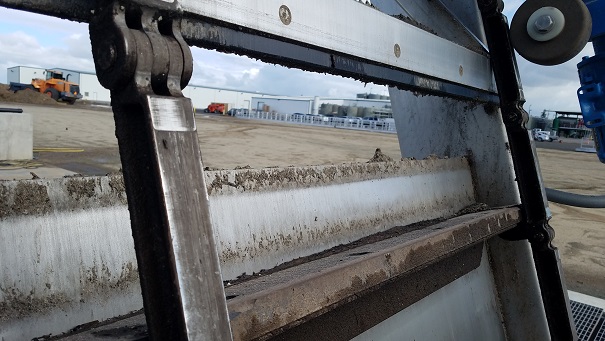 By doing a better job of removing grape solids during primary screening, McManis is minimising the sludge that ends up in its treatment pond. This results in cost savings in the form of lower energy demand and water consumption, reduced pond treatment and less frequent dredging. These cost-savings benefits have positive impacts on the environment as well, with the additional environmental benefits of more efficient return of water vapor to the environment, lower pond BOD and a ready-made, onsite soil amendment that doesn't have to be trucked in.
For McManis, switching to the FlexRake Fine Screen has enabled the winery to achieve a wide range of business and sustainability goals.
The winery, which produces nine different varietals from grapes grown on its 1,457ha (3,600 acres) of vineyards, is run by Ron McManis, wife Jamie, their two children, Justin and Tanya, and son-in-law Dirk Heuvel. A certified California Sustainable Winery, McManis meets specific requirements that are verified by an annual third-party audit. Since 2016 McManis has also been a Lodi Rules certified vineyard, a designation that confirms responsibility and sustainability across six primary standards, one of which is water management.


This McManis Family Vineyard case study first appeared in
Water Technology
magazine.
Steve Aiken is a regional sales manager for
Duperon Corporation
, a Michigan-based manufacturer of simple, adaptive screening technologies.