In Switzerland's main wine-producing canton, Valais, the lines between art and wine are blurred. The local producers' association, Les Vins du Valais, promotes the winemakers as artists, organises a competition to find original artwork for their labels, and publicises its rare grape varieties with parties in galleries.
Les Vins du Valais also goes to New York and London to encourage sales at home, and organised a "blockbuster" photoshoot for its new advertising campaign.
Such avant-garde approaches are the best way for a small region to gain attention, according to Gérard-Philippe Mabillard, director of Les Vins du Valais.
"We have to think completely differently," he explained when I met him at a trendy restaurant and bar in London's Shoreditch area. Wringer & Mangle in Hackney had been turned into an art gallery for the evening, with the winning wine labels from the region's latest IVV Art Challenge displayed on easels. In front of these canvases, some of the winemakers poured their varietal wines. As the evening progressed, London DJ duo ApexApe took to the decks. They were recruited by the association as this year's ambassador for the art challenge and designed the label for the Humagne Rouge varietal.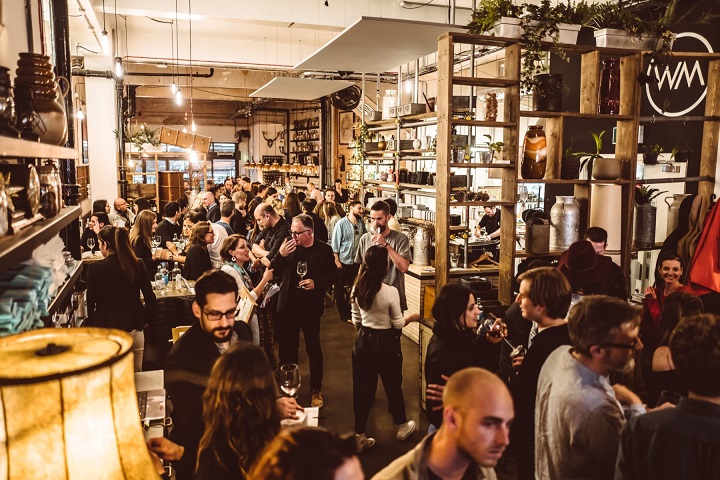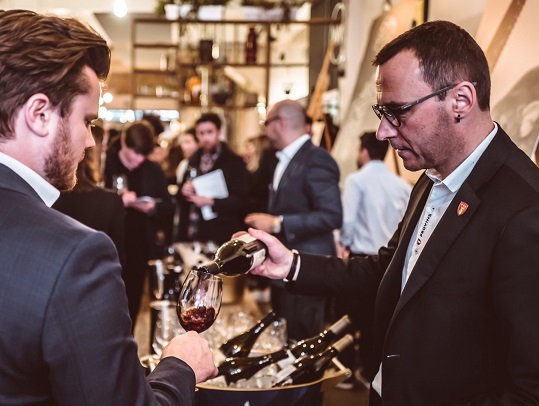 It was a great evening, but what was the purpose?
Over a glass of Fendant (Chasselas), Gérard clarified things: "This operation is not in order to sell wines. We think in terms of image."
In particular, Les Vins du Valais wants to raise the image of Swiss wines among the Swiss. "You have to know that in Switzerland 67% of the wine which is consumed is from abroad," Gérard continued. "You can find, for example, restaurants in Zurich where you have no Swiss wines. And for us it is very important to show to Swiss people, not only Valais people, that our wines have a lot of success abroad and please wake up."
They want the Swiss to see that wines from Valais are being drunk in hip places like this former laundry, but it also raises awareness of Swiss wines abroad – and shows the potential of the region's rarer grape varieties.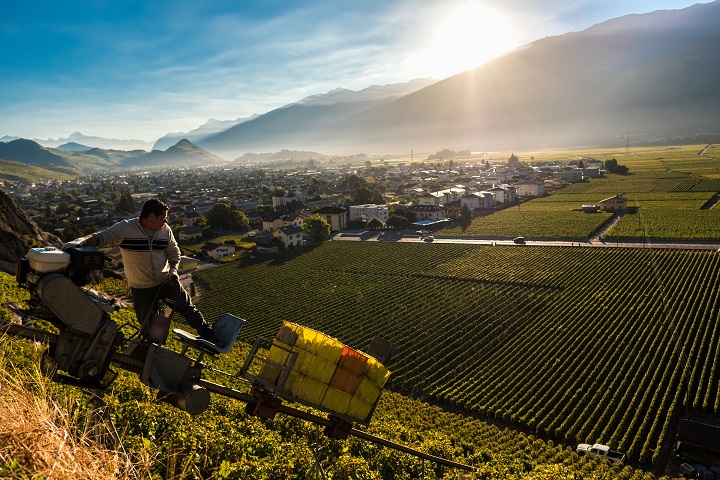 Chasselas, Pinot Noir, Gamay, and Sylvaner are the region's main varieties but the AOC-quality specialties that the art was promoting were Fendant, Petite Arvine, Heida (aka Païen or Savagnin Blanc), Cornalin, Humagne Rouge, Syrah, and the red blend Dôle (Pinot Noir and Gamay).
'Art conveys emotions and connects with an audience better than grape varieties ever will'
The objective of the tie-in with art is to help consumers understand and connect with the wines through the labels, "because art conveys emotions and connects with an audience better than grape varieties ever will".
Gérard, who photographs celebrities drinking wine for charity books in his spare time, sees a strong link between wine and art. "They are fields that are totally the same," he said. "Winegrowers are artists in the way that they do something extraordinary with their hands, their spirit. Winemakers are very creative people, so we try to do something with these two fields."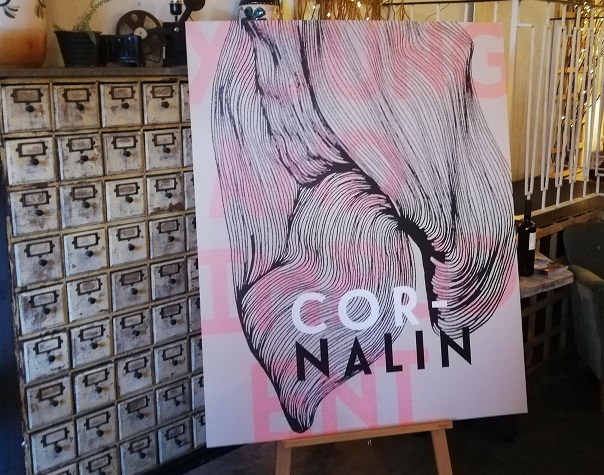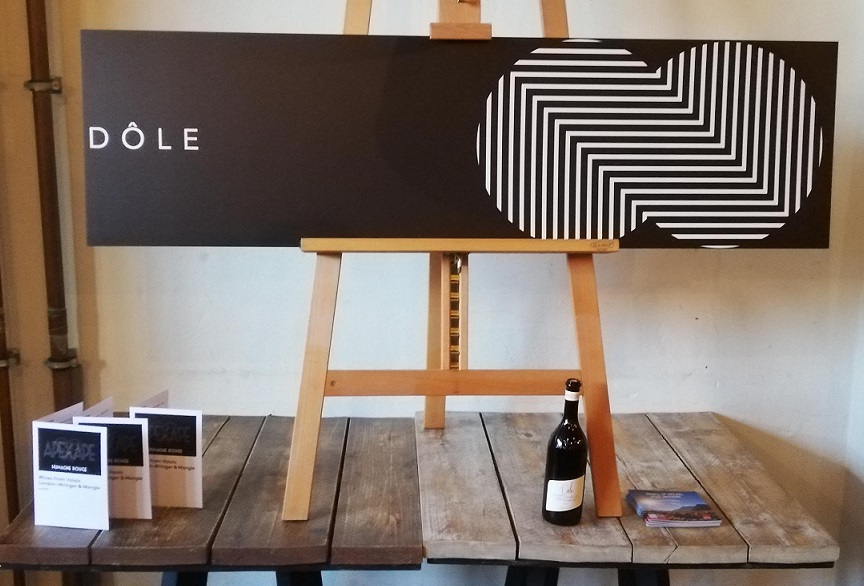 It's the second time the valley, which has a mere 5,000ha of vines in the heart of the Alps, has run its IVV Art Challenge. The inaugural event, four years ago, was in New York City.
The format has been the same both times:
Launch a competition to find artists to represent the local grape varieties in artistic terms on wine bottle labels;
Find the eight best local wines through a contest called La Sélection Vins du Valais;
Show off the artwork and wines in a trendy setting;
At the beginning of October, back in Switzerland, launch the eight wines, dressed in their specially designed labels, in wooden gift boxes;
Promote and sell The Art Challenge box online in the run-up to Christmas and give the profits to a local charity. The new line-up goes on sale on October 4 on this website: lesvinsduvalais.ch
Gérard believes this approach is a good way to reach millennials. He says every year an increasing number of youngsters visit one of their other big events, Caves Ouvertes (Open Cellars,
pictured below
), in which 230 cellars fling open their doors for three consecutive days (May 30 to June 1).
"Every year we see more and more young people," Gérard confirms. "But not young people who come to this event in order to drink and drink, but to taste and to share."
Sharing is also the theme of the association's new advertising campaign (story below).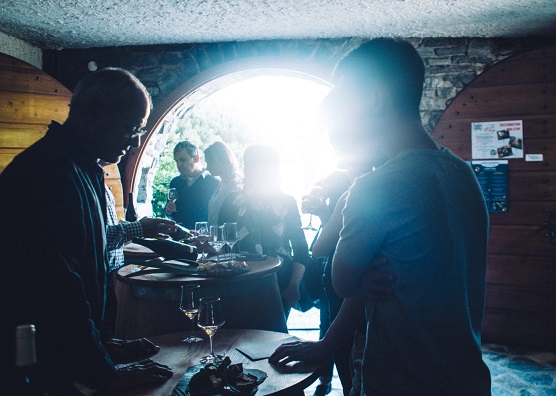 The winning wines
Fendant de Sierre 2017:
Cave de la Place, René-Pierre Zufferey, Chippis
Johannisberg 'Siccus' 2016:
Domaine Mont d'Or, Marc-André Devantéry, Sion
Heida Visperterminen 2017:
St Jodernkellerei, Markus Burgener, Visperterminen
Petite Arvine Maître de Chais 2017:
Provins Valais, Sion
Mazarine 2017 (Dôle):
Cave Ardévaz Famille Boven, St Pierre de Clages
Humagne Rouge Vieille Vigne 2016:
Cave Gilbert Devayes, Leytron
Syrah Noble Cépage 2017:
Les Celliers de Sion, Sion
Cornalin 2017:
Cave du Crêtacombe, Chamoson
The winning artists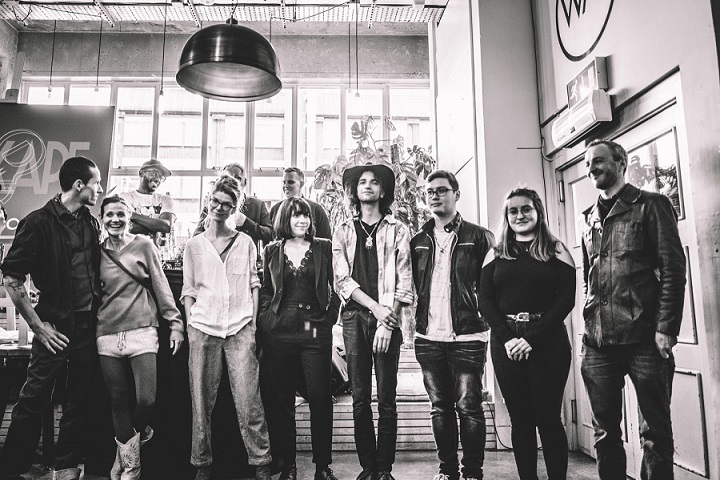 Shep Proudfoot
– Syrah
Annette Weber & Fred Bodmer
– Petite Arvine
Marie Bussereau
– Dôle
Manon Siriot
– Johannisberg
Martin Vonlanthen
– Heida
Jeannette Hunziker
– Cornalin
Thomas Vogel
– Fendant
ApexApe
– Humagne Rouge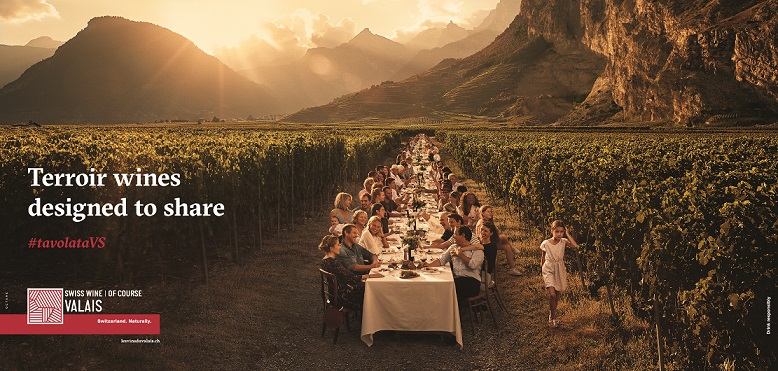 The new advertising campaign
Les Vins du Valais' new marketing campaign, which launched on the first day of spring, celebrates the region and the idea of sharing: 'Local wines, made for sharing' is the theme.
The campaign is fronted by the image above: a generous table in the heart of a vineyard, bathed in sunshine and framed by the region's emblematic landscape. Shot by photographer Sébastien Agnetti, this image required considerable planning and investment.
The director of Les Vins du Valais, Gérard-Philippe Mabillard, has been thinking about this idea of people enjoying wine around a large table for more than ten years.
"I've been waiting for the right moment," he said. "In communication nowadays, you need more than wine. With the popularity of wine tourism, we need to promote a broader experience. By focusing on wine's power of bringing people together, we distinguish ourselves from traditional advertising."
Creating the 'tavolata' image and video required the dedication of a 'blockbuster' film shoot. Incredible logistical and human resources were brought together to get the right atmosphere, lighting and mood. A long period of location scouting was necessary to select the perfect spot. A casting session was held to find the extras. A production agency took on the responsibility of the coordination and shooting. In total, 30 technicians, seven actors (for the near-end of the table) and 40 extras were involved.
"In terms of production value, this is one of the biggest images ever created for a Valais product. There is great attention to detail, like an artist with a painting. In the end, the viewer should simply say, 'I'd love to be there!'" said Bernard Moix, the campaign's artistic director.
'I only had 15 minutes to capture this moment'
Photographer Sébastien commented: "Such an important shoot with so many extras required a team worthy of a blockbuster film. For me, the biggest challenge was keeping the authenticity and natural aspect of the table, despite the significant staging involved. I only had 15 minutes to capture this moment with the right light of the setting sun falling perfectly on the table.
"I am very proud of the result, it's very realistic, almost like a documentary. You can feel the human warmth and well-being in this inspiring landscape. This image is not an artificial advert, it really tells a story."
The image is used in a large-scale poster seen throughout Switzerland. The broadcasting of the advertising campaign and the digital campaign launch on social media will follow shortly. The 'tavolata' theme will be used over the next four years.
In case you are wondering about the vineyards
, they are between Chamoson and Ardon, at the foot of Six de Gru's imposing cliffside with the Ardève and the Muverans mountains in the background.
The vines are spread over parcels of land belonging to five different owners.
And in case you are wondering what they are eating
, it's pork tenderloin with a mixed, colourful salad, and Valais wines, of course!