Since its first vintage in 1985, Bolgheri-based Ornellaia has established itself among the world's iconic wine estates. In recent years, the Frescobaldi-owned winery's 'second wine', Le Serre Nuove dell'Ornellaia, has also become a prized cuvée.
With the recent release of the 2018 vintage acting as a teaser for next spring's unveiling of the 2018 Ornellaia,
Canopy
caught up with winemaker  and estate director Axel Heinz and asked him about the changes that have helped Le Serre Nuove dell'Ornellaia become a highly regarded expression of its appellation, Bolgheri Rosso DOC.

Canopy: What's changed in the winemaking from the first release in 1997 to the latest release?
"I'm not sure there has been a huge change in winemaking really," Axel replied. "I think the main difference today is that we're just in a completely different condition when it comes to the estate overall. I think the biggest difference lies in the vineyards because in 1997 the oldest vines at Ornellaia were barely 15 years old and we had just done some new planting so, in those very first vintages, most of the wines that went into Le Serre Nuove would have been wines coming from very young vineyards because everything that was above 10 years of age probably would have made it into the blend of Ornellaia.
"Today, we have a much more varied situation. The overall average age of the vineyard tends to be still relatively young, around 20 years of age, but we have now over 60% of the entire surface that are vineyards older than 20 years and all steps in between, from some new plantings – because we've replaced some older vineyards already – to vineyards that are between five and 15 years old and vineyards that 20 years ago would have already made it into the blend of Ornellaia.
"That has been the most important evolution really. It has greatly contributed to making Le Serre Nuove more complex and a wine that has developed its own personality because it is not relying on the youngest vineyards of the estate, but it relies on a broad range of different types of vineyards."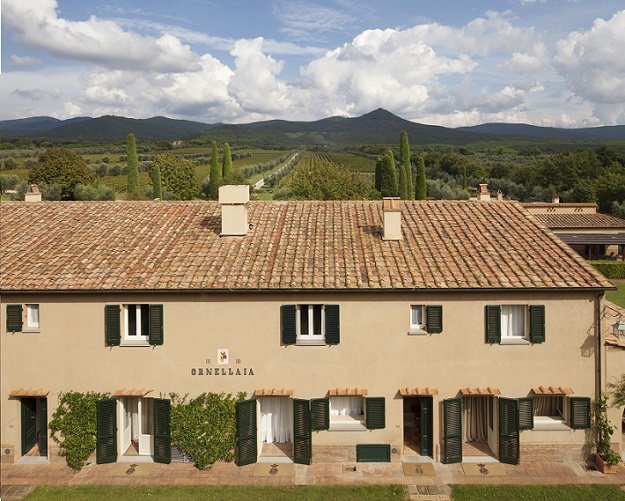 Are there any other changes, apart from the age of the vines?
"There has been evolution in the proportion of grape varieties that we grow at the estate," Axel continued. "The turn of the late 1990s and early 2000s coincided with a phase where we planted quite a lot of Merlot which we had little of during the 1980s and 1990s. And that increasing Merlot has in part benefitted the blend of Ornellaia but mostly has really shaped the profile of Le Serre Nuove. Today, it is a blend that is usually dominated by Merlot, whereas in the earliest vintages there tended to be much more Cabernet Sauvignon. That is another important evolution for the wine."
The 2018 is a blend of 33% Cabernet Sauvignon, 32% Merlot, 18% Cabernet Franc, and 17% Petit Verdot. Each variety was handpicked and vinified separately, as were the 70 different plots within the estate's 115ha.
When Axel joined the company in 2005, the winery had stainless-steel fermenters of 150-250hl capacity, but with the upgrade of the winery came the opportunity to increase the number of fermentations. He ordered a variety of smaller tanks – of 65, 75 and 100hl capacity – to enable him to make 70-80 vinifications each vintage.
"This has become something at the heart of our vinification philosophy, which also means that we do not necessarily have a vinification regime specifically for Ornellaia or specifically for Le Serre Nuove," Axel stated. "We really try to react to each single vineyard site and apply a vinification protocol which we feel is the most adapted to each single terroir, to each single grape variety, but also to each single vintage because not every vintage has the same approach in terms of maceration times and extraction."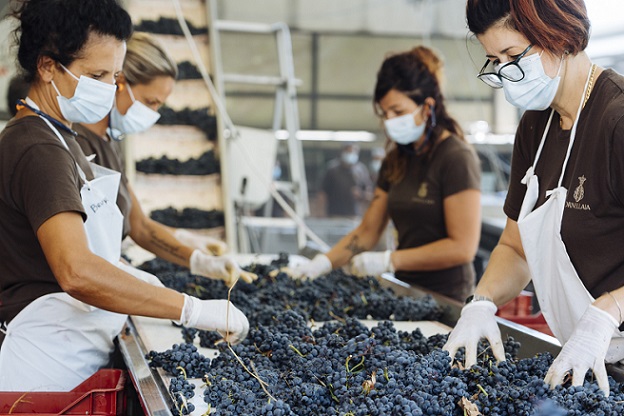 Another change has been the inclusion of an optical scanner since 2016. The grape bunches are sorted by hand prior to destemming and the grapes are sorted by machine afterwards.
Fermentation is at temperatures of between 26 and 30°C for two weeks followed by maceration of around 10-15 days. Malolactic conversion is started in stainless steel and completed after transfer to barrels (25% new).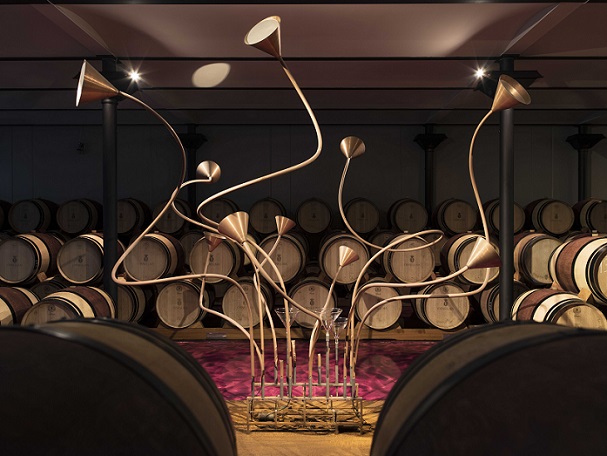 The wine remains in Ornellaia's temperature-controlled cellar for 12 months of refinement in barriques before blending. The blended wine is aged for a further three months. After bottling, it is aged for an additional six months.
This is slightly different to the top wine. Ornellaia is aged in oak barrels for a total of 20 months and two-thirds are new.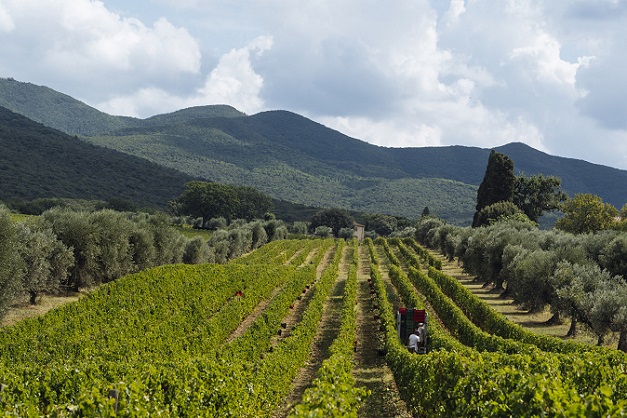 As the 2020 harvest had just finished when we spoke, I asked Axel if he did anything different this year?
"It's quite interesting because, if you take a very superficial look at the vintage characteristics – at the growing season – you might think that the two vintages would have been fairly similar because those were relatively warm years, relatively rainy years, and yet they've had some differences at specific moments which make both vintages quite different. 2018, in terms of vinification, was a fairly easy vintage but not a vintage of great concentration and we deliberately tried not to achieve a level of concentration in vinification that would be, let's say, a little bit artificial… We accepted this would be a softer, less powerfully structured vintage... 2020 is a much fuller, richer vintage than 2018."
'In 15 years you acquire a little more confidence'
Is it my imagination or has the wine become more refined in recent years?
Axel:
"I think the fact that the vineyards on average are much older is helping a lot because it seems the grapes are ripening in a more balanced way and there's more depth to the flavour without having to somehow force it out of the grapes, which is something which frequently happens when you've only young vines to work with, so you tend to compensate for the lack of complexity and depth of flavour by trying to make a wine that is a little more extracted, a little more powerful.
"On the other hand, I think in 15 years you acquire a little more confidence with the place and with the things you can do and which work well in terms of vinification and the ones that don't, so I think there has been a natural learning process which has let us also be a little more confident in having a slightly more hands-off approach in winemaking which is not something you do very easily when you come into a place – you have to discover it, you have to learn from it. So, probably, that slight insecurity you have as a winemaker, trying to compensate that with more spectacular winemaking, then after 15 years we feel we probably don't need that anymore because we know the place better, we know where the limits are and, therefore, I think we're able to make more refined and finessed wines than probably we would have done 15 or 20 years ago."
Have you been influenced in any way by the natural wine movement?
Axel:
"Not directly… Very early on we acquired the idea that if you have good grape material you should keep the vinification process as simple and as straightforward as possible. But, certainly, we're keeping an eye on the movement and in some minor way it might influence us. We really try to make wine with little more than grapes that have been fermented. We still use sulphites, but we try to reduce everything we add to the wine to the absolute minimum necessary."
'We went to the safer side'
What about yeasts?
Axel:
"We used to do all of the fermentations spontaneously but in the mid-2000s, because of the sheer quantity of different wines we were starting to vinify – because of our approach of vinifying all vineyard sites separately – we went to the safer side and started to inoculate with selected yeasts, but we're considering going a little bit back and starting fermentations on their own again. It's definitely something we have in mind. Maybe doing what a lot of other colleagues are doing – try to do a little bit of research exploring what kind of specific yeast strands we have on our grapes naturally and then try to select them and use them."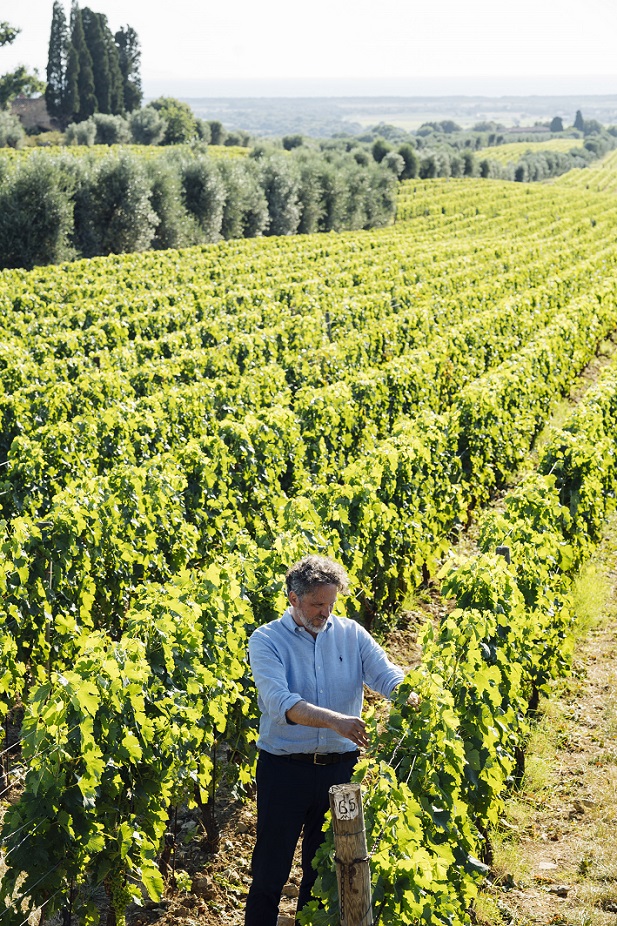 Axel was born in Munich to a French mother and German father. He studied agricultural science and oenology in Bordeaux and was working in Saint-Émilion at an estate called Château La Dominique before joining Ornellaia.
How does what you're doing now compare to what you were doing in Bordeaux with the same varieties?
Axel:
"There are not that many differences. I think it's maybe the other way around. A long time ago we had to slightly modify the vinification approach in order to adjust to the slightly different climatic conditions and the different profile of the grapes – the fact that we have slightly higher sugar levels, the grapes are usually very ripe – so there are a few things that have been in place for a long time which weren't necessarily very typical in Bordeaux: fermenting at relatively low temperatures, for instance; also the distribution of the cellar work. Here, it's 24 hours – we have three shifts to do the pumpovers and make sure the fermentation is as regular as possible. Those are things that you didn't need in Bordeaux because it was a cooler climate, the grapes were less rich and less ripe, but we're seeing now that a lot of the problems we historically had to deal with – ever since we've been making wine at Ornellaia and ever since we've been making wine in Tuscany – are becoming much more frequent problems in Bordeaux because a lot of the recent vintages (maybe starting in 2009, 2010) have climatic profiles and profiles of the fruit that tend to be much more similar to what we are experiencing every year here. So, I think, there might now be an influence coming from the warmer regions to Bordeaux."
What about the grapes – is it just the ripeness levels that differ?
Axel:
"Although the grapes are very often riper here in Bolgheri, they tend to keep still high and very healthy levels of acidity. That's the kind of balance you rarely find in Bordeaux because when it gets very ripe and very rich it usually means you have very low acidities and that, for whatever reason, doesn't happen in Bolgheri. So, even if the grapes get very ripe, very rich, they still maintain a high level of acidity which is one of the secrets that allows us to produce harmonious and balanced wines even under such a warm climate."
How far have you got with going organic?
Axel:
"We have just under one-third of our surface (about 30ha) which is farmed entirely organically. We've been farming those vineyards for a little bit more than 10 years entirely organic. The rest is, I suppose, what you would call integrated farming so, on parts of the surface when required, we can intervene with pesticides which wouldn't be authorised in pure organic farming but all our viticulture is very much influenced by organic. We haven't crossed the step for now to convert the entire estate to organic but it's definitely something we're thinking about."
In what timescale?
Axel:
"I think we would be ready. What probably prevents us from crossing the gap is that recently we had quite strange vintage patterns and we still want to wait to find out if those weather patterns are going to be exceptions or something consistent."
Can you taste the difference in the parcels that come from organic?
Axel:
"I've always found it quite difficult frankly to find a great difference, which is probably linked to the fact that for most of the truthful part of our farming the approaches are quite similar. For instance, we have exactly the same soil management in the parcels where we're working organically and in the parcels where we're applying integrated farming, so I think the crucial steps in the viticulture that really define the quality and expression of the grapes are similar to a point where you cannot spot the differences."