The Garage Wine Company takes grapes that were once destined for jug wine – earning growers a pittance – and turns them into fine wine for export, giving the growers a fairer price and more security.On one level, the winemaking behind these wines is very simple:
Co-founders Derek Mossman Knapp, his winemaking wife Pilar Miranda and their oenologist friend, Dr Alvaro Peña, use traditional methods to ensure the wines are both authentic and sustainable.
This means handmade wines (manual punchdowns and a basket press), native yeasts, and small tanks.
It means a little sulphur after malolactic and prior to bottling, but no other additions.
The Garage Wine Company (GWCo) works with small-scale farms in the Maule and Itata valleys in southern Chile – where traditional farming methods are still used: dry-farming, turning over the earth to capture scarce seasonal rainwater, with nutrients coming from seasonal cover-crops that in turn help sequester carbon from the air, and the use of horses to get into rows too narrow for tractors.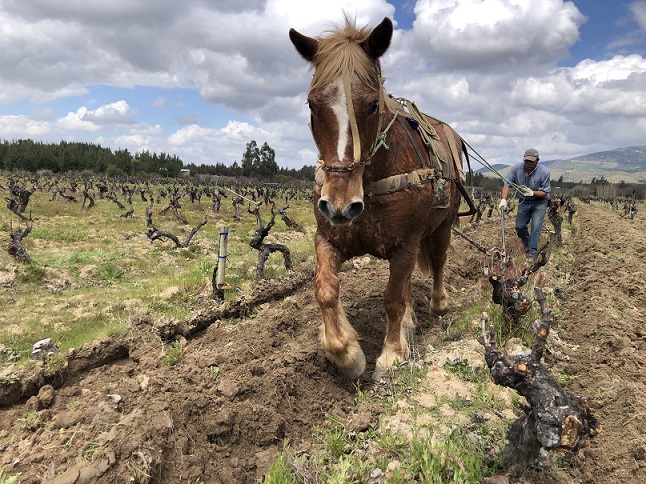 "It's one of the easiest places anywhere to make natural wine as long as you're clean and the cellar is spotless," Derek tells me, adding: "But we don't want to play that card. I don't like the category – there's too much defect that people consider is hip or cool."
He insists GWCo is showing "you really can make proper wines naturally, so why go that (other) way?"
On another level, though, the winemaking is extremely complicated:

Most of the vineyards are off the beaten track; none is more than a couple of hectares in size.
The hand-harvested grapes – 2,000 kilos at a time – are towed back to the winery in trailers behind pickup trucks.
They produce 17 wines from 11 locals (such as Bagual, Calivoro, Guarilihue, Puico, Sauzal, and the flagship Truquilemu).
There is a wide range of grape varieties, including Carignan, Cinsault, Cabernet Sauvignon, Cabernet Franc, Mourvedre, Grenache, and País.
Each parcel is vinified separately and gets a slightly different treatment to bring out the best of the bunches. For example, the Single Ferment Series features País and Cinsault – stacking the fermenter when fruit from different farms arrives on different days. "One single ferment, one single wine, no tweaking," is how Canadian Derek describes the technique. The Fieldcraft Bottlings come from "tiny forgotten vineyards that… have everything against them". This series includes a Semillon "painstakingly separated from the Sauvignon that had crept into the vineyard". The Isidore Vineyard Maule Valley Semillon is partly fermented and aged in amphora (about 60%), with the seeds removed when they float to the surface, but the wine is left on skins for 11 months. The portion in amphorae goes through malolactic, while the portion in stainless steel does not. The range also includes the Old Vine Pale Rosé, which Derek describes as "a grown-up rosé" made from 12 barrels of Cariñena and one barrel of Monastrell "fermented on the skins for eight hours and aged in barrel for one winter".
All this winemaking takes place in someone else's winery – they rent space at the Erasmo estate's ancient Caliboro cellar in the Maule Valley.
As the business started small, in Derek and Pilar's garage – as a way of keeping winemaking on new mother Pilar's CV – it has always been low-tech and low intervention. And sustainable... by accident.
Derek tells me they use native yeasts because they "lower costs and make better wines – that's our means of saving the world. If improving the way we do business or improving the way we treat the earth or community is good business, then I obviously believe we can actually change things."
'I obviously believe we can actually change things'
They have never used much oak, either. "We could never afford it," Derek says matter-of-factly.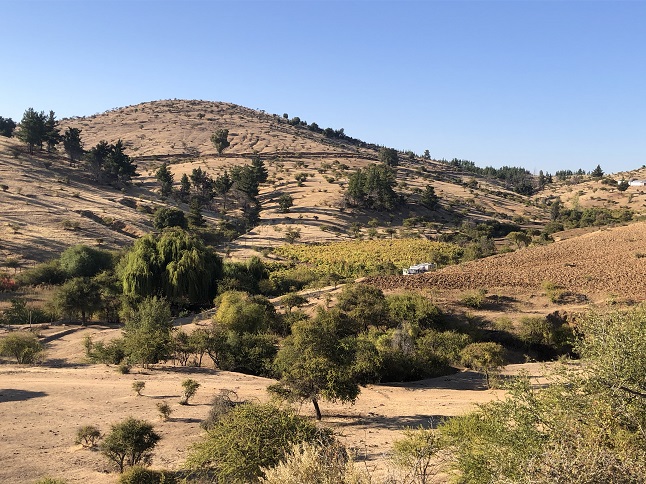 As much as he dislikes the term 'natural wine', he also dislikes the industry's penchant for 'greenwashing'. He admits he didn't set out to be sustainable – he built the company "by the seat of my pants" and discovered along the road "that it's just a better means of doing business".
He explains: "Sustainability for us was never about seals and certifications. We became sustainable just trying to survive being small in an industry geared to the big. Vintage after vintage we made our way through a series of necessary workarounds, finding a way forward, that only later would be seen to be sustainable.
"Our bottles – people look at them today and say 'so beautiful'. It was a time when there was no digital printing so we learned to silkscreen bottles to get around the fact that we couldn't afford to do label printing. We put crayon wax from a school supplier on the necks of the bottles because we didn't want to buy 10,000 capsules, the minimum back then, but it was food safe."
The bottles initially came from a local bottle recycler. "Those were the only bottles we could buy that were delivered without needing a forklift which we didn't have because we were work illicitly in the garage.
"People look at it today and say you've done such great marketing – but this was survival."
They started making their wines in plastic bins and moved to lagars pieced together from scraps of stainless steel in a local welding shop.
"We became a much more sustainable company with this vision of doing things in a different way because we were forced into that. Necessity is the mother of invention. Necessity is the mother of our sustainability."
Even though they are now more established and successful, they still continue with many of their original ideas: using earth-friendly inks for silkscreening, recycled materials for cases, and recycled bottles. "What we learned is that when bottles are manufactured, they have a limited shelf-life on the factory patio – a best-before date if you will. Today, we buy these bottles and wash them before use. This is glass that would otherwise have been smashed and melted and remade – without ever having been used."

Latest project
The Garage Wine Company's latest project, launched in lockdown to revive small parcels of old vines in southern Chile, goes beyond sustainable to "regenerative, eco-friendly and mindful", according to a company statement.
The Chilean company works with individual farming families to regenerate their vineyards and the project currently supports 14 local families growing the ancient grape variety Pais, which has been dry-farmed in Chile since 1548.
The venture centres around working with small farmers to revive vineyard plots neglected due to poor grape prices, as well as some burned in the bushfires of 2017. "The plots are simply too small, too far from a paved road and their rows are too narrow to get a tractor between to be considered feasible by the mainstream," Derek says.
"When we started, the vineyards did not look like much, but we realised the value of old vines is not in their photogenic candelabra profile above ground but in their roots. These roots that have spent literally a century and more adapting to their place. Old roots have a tremendous life-force, drinking deep and acting as shock absorbers for vintage swings, drought and even fire."
During Covid, GWCo realised that the success of Chilean wine had created a van culture where vineyard workers travel up to an hour to work, mixing with people from other towns in the vehicle. GWCo built a project so these workers could stay closer to home and tend the neglected vineyards in their own backyards.
Funding for this Old-Vine Revival Project came from the company's Swedish importer, Handpicked, and new UK importer Freixenet Copestick, who paid for the wines in advance. GWCo had used this "en primeur-style" system to pay for the Ploughman Cariñena project after the severe earthquake in 2010, which killed more than 500 people in Chile.
"For me it was very interesting to take what was a dire situation of the pandemic and turn it into something positive," Derek (
below
) tells me. "I'm not sure this is going to be a runaway hit; I'm not sure how big this gets; but I was really happy Jascots (part of Freixenet Copestick) stepped up alongside our Swedish partner Handpicked and they gave us cash to do this."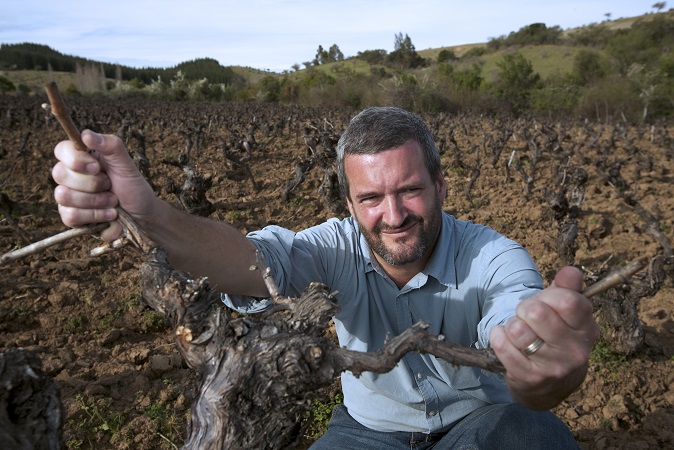 Future plans
GWCo is aiming to "own a third, rent a third and buy kilos from a third" in the next two to three years. This will give them between 20-25 hectares of old vines to play with.
"It will be a means of trying to raise the bar on a good portion of the production whilst helping secure and regularise certain families' incomes," Derek says. This model will also enable them to "always be nimble and open to trying new things and exploring".