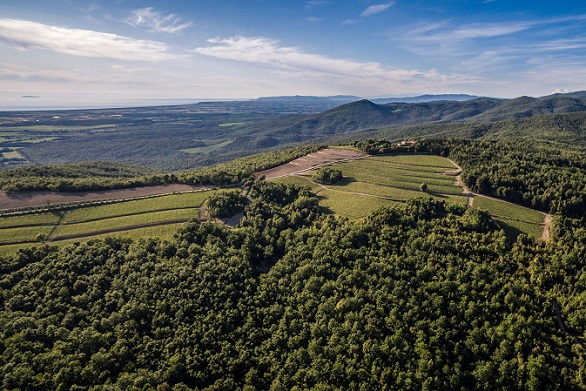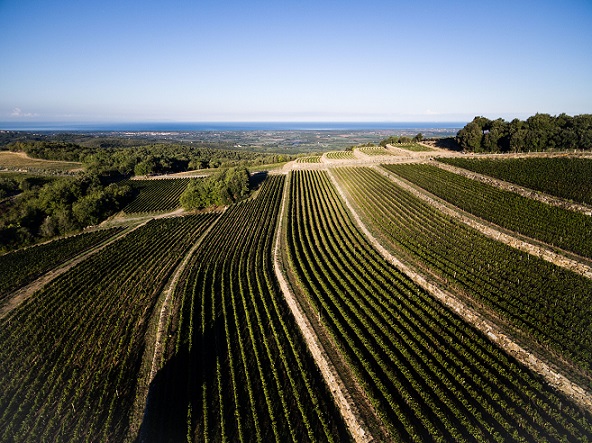 These are the views which persuaded Erika Ratti, daughter of a wealthy Italian silk printer, to move from Lake Como and set up a boutique winery in Tuscany in 1998 when she had intended to buy the abandoned fields to breed horses.
These are the hills in Bolgheri – north of Castagneto Carducci – where her son, Ambrogio Cremona Ratti, grew up before joining his mother in running the new business, Tenuta Sette Cieli, taking sole control in 2012 and further expanding the family's landholding. The winery currently owns 120ha of land, of which 15 are under vine – 10ha in Monteverdi Marittimo at 400m above sea level and 5ha in the much lower Castagneto Carducci (70m asl).
These are the views which tempted Elena Pozzolini, a highly regarded young winemaker, to return home to Tuscany and make wines from Bordeaux varieties after gaining experience with Malbec at Bodega Renacer in Argentina, Syrah and Pinot Noir at California's Santa Ynez Valley, Pinot Noir in Australia's Mornington Peninsula, and Sangiovese, Canaiolo and Colorino back in Italy, working for Bibi Graetz in Florence.
I get a glimpse of the view – the ribbon of deep sapphire blue, which I'm told is the Tyrrhenian Sea nine miles away, and the vineyards of their famous neighbours, Sassicaia – during a Zoom meeting with Ambrogio and Elena. But the internet connection is so poor they switch off the camera and resort to audio only, leaving me to imagine the winery, cellar and the vineyard's 3.6m-high terrace walls created from stones and rocks found in the soil.
'Selling an overly young wine feels a little bit odd to us'
The focus of our virtual meeting is the newly released Indaco 2016 and Scipio 2016 – their top wines from their highest vineyards.
Indaco is made from equal amounts of Malbec, Cabernet Sauvignon and Merlot; Scipio is 100% Cabernet Franc – and a stunning expression of this variety.
Ambrogio explains why their new releases are from the 2016 vintage whereas many other producers from the region are already selling their 2017s. "Selling an overly young wine feels a little bit odd to us," he says.
"The idea is to make wines with good ageability and we think the high acidity (from the vineyard's high altitude) should really help out and keep the wines fresh, even after quite a while."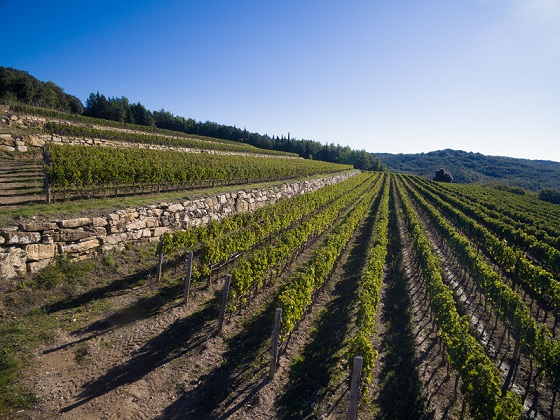 The vineyards
Nestled between Bolgheri and Castagneto Carducci, in the heart of Tuscany, the first 7ha were planted with Cabernet Franc, Cabernet Sauvignon, Malbec and Merlot in 2001-2002. Another 2ha of Malbec and Merlot and 1ha of Sangiovese followed in 2016. In 2018 Ambrogio bought another 32ha, this time in the lower-lying Bolgheri DOC area and has planted up 5ha already.
The guyot-trained vineyards are farmed organically and entirely by hand.
Soil is ploughed under the vines to thwart grass and weed growth.
Barley is sown between the rows of Malbec to absorb moisture, as powdery mildew is a problem, and also to offer competition for water – with the aim of producing smaller berries with thicker skins and less compact bunches.
One of the main problems with the high vineyards is the animals in the surrounding woods – especially the birds, wild boars and deer. High, deep fences have been installed to keep mammals out; gas guns and recordings of predator birds are used to scare birds away.
But Elena (
below
) told
Canopy
the isolated, remote sites are great for organic farming. "I prefer to fight with some animals instead of some neighbours," is how she puts it.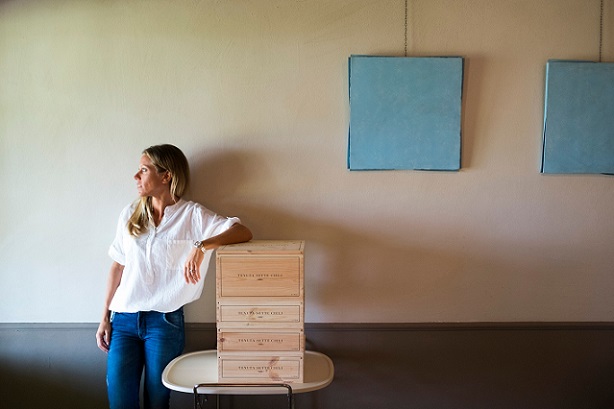 The wines
Tenuta Sette Cieli launched its first wine in 2004. There are now four wines in the portfolio: Indaco, Scipio, Noi 4 (Cabernet Sauvignon, Merlot, Petit Verdot, Cabernet Franc), and Yantra (Cabernet Sauvignon, Merlot).
Total production is about 90,000 bottles, of which about 75% is exported. The main markets are the US, Switzerland, the United Kingdom, Benelux, Germany, Russia, Canada, Japan, Brazil and Austria.
When Ambrogio took over in 2012 and recruited Elena the following year, the goal was to "push the boundaries and see what the best wine can be from these vineyards".
Each variety and each single plot is vinified separately, which is how the Cabernet Franc varietal was born.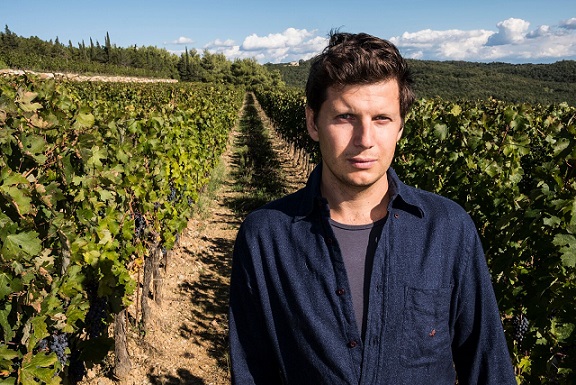 Tenuta Sette Cieli Scipio 2016
Tenuta Sette Cieli didn't set out to make a Cabernet Franc in 2007 but it was kept separate for blending and tasted so good they launched it as a varietal. "The idea is to really explore what can be done with Cabernet Franc up here," Ambrogio (
above
) says, referring to the cooler, drier, higher area of Bolgheri where the grapes can take up to a month longer to fully ripen.
They did not make this wine in 2011, 2012 or 2014. But they have produced it every year since – which Elena attributes to climate warming.
The grapes are picked late or, as Ambrogio says, "when the pyrazines are more soft and integrated and the herbaceous note is gone".
Variety:
Cabernet Franc
Cultivation:
100% organic; all work is done by hand
Vineyard size:
7ha
Soil:
Medium-textured; black slate, granite rock and clay
Elevation:
400m
Density:
9,300 vines/ha
Training:
Guyot
Fermentation:
In stainless-steel tanks at controlled temperatures; with indigenous yeast; 100% malolactic
Maceration:
Cold with dry ice for 6-7 days
Ageing:
24 months in French oak (40% new)
Alcohol:
14.5%
The grapes for
Indaco
– equal parts of Malbec, Cabernet Sauvignon and Merlot – come from the same 7ha vineyard and are treated similarly as far as the separate fermentations and macerations are concerned. The major difference is in the ageing:
12 months separately and a further six months after blending for a total of 18 months in French barriques (35% new).
Elena, who has a degree in viticulture and oenology from the University of Pisa, doesn't believe in recipes or protocols as "every year is different".
"Every day we taste the juice and decide what to do," she says.
"What I want is not a wine people like, but a wine that speaks of a place, and has personality and balance."
However, there are some things that are common to all the wines:
Indigenous yeasts to respect "the identity of each terroir and, consequently, of each wine". In case of stuck fermentations, they have a choice of four yeasts isolated from 50 found in their vineyards during a four-year project in collaboration with the University of Pisa.
Fermentation in stainless-steel tanks so it's easy to control the temperature and clean afterwards.
All parcels are vinified separately and grapes from the lower and higher vineyards are never blended. "We want to explore the two worlds a little bit separately," Ambrogio says, "and keep what's special up here separate. If we start blending, we lose a little bit of the personality that these wines definitely have."
Maturation in medium-toasted oak barrels from Bordeaux. 30-50% are new. However, this may change. Elena told Canopy: "From next year we are trying some light toast just to maybe increase the percentage of new oak but reduce the toast."
Ageing for two years in bottle before release. Elena says: "We believe the result is better."
Future wines
They are already selling a 100% Malbec in Hedonism, the glitzy wine shop in London's Mayfair, to test the market and may make this wine more widely available if there is enough interest in it.
A 100% Sangiovese from the 2019 vintage is heading for release in 2022.
"I'm very happy with what I've tasted so far. I think there is great potential," Ambrogio says.
Having seen what they can do with French grapes, we are excited to see what can be achieved with an Italian varietal. And if they can't improve their internet connection, I will just have to visit Bolgheri to see for myself.