'The danger of Nebbiolo away from Piedmont is that everybody wants to make Barolo'
It was Chardonnay, followed by a lighter, more elegant style of Shiraz, that showed the potential of Beechworth for producing stereotype-busting Australian wines.
Now one of the region's leading winegrowers, Julian Castagna, is showing the potential of Italian varieties grown on the northern foothills of the Victorian Alps.
Julian, who was born in Italy and came to Australia when he was two, believes Sangiovese and Nebbiolo have a bright future here.
"With Nebbiolo, it's been a fairly long haul," he admits. "While I always knew that Sangiovese suited this land and had the potential to produce something profound, I wasn't so sure about Nebbiolo. We've had it in the ground for 14 years but until the 2015 vintage it was always blended because it didn't seem to be quite there for me. As the vines have aged, they are at last starting to produce something quite serious.
"The danger of Nebbiolo away from Piedmont is that everybody wants to make Barolo – which, I think, is a mistake. I think what we will do here in Australia is make something which has an understanding of Barbaresco, more Pinot like, lighter in colour but dense and serious and (full of) flavour.
"We've only bottled two vintages so far but I'm very happy where it's going."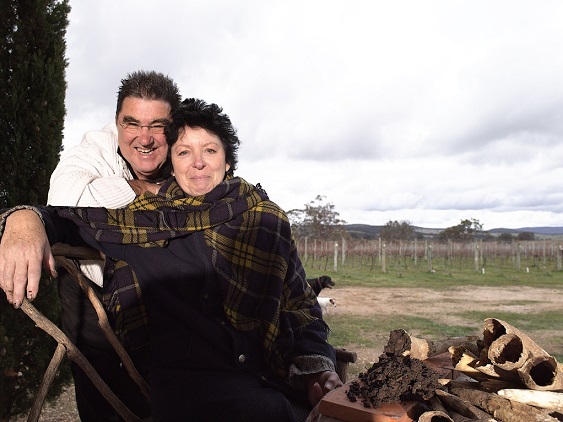 For the current release, Julian and his assistant, son Adam, have blended the 2017 and 2018 vintages. Julian explains: "After the first release of our cru Nebbiolo, Barbarossa, last year – which, by the way, is really starting to come into its own – I wanted to follow with something at least as exciting. I believe we have achieved that by blending together two vintages, 2017 and 2018.
"I know it's unusual, but I believe the blend has delivered an exciting wine."
The Nebbiolo – which is grown in granitic-loam soil, high up in the Beechworth appellation – also appears in a blend with Shiraz and Sangiovese, in Adam's Rib The Red.
Wine lover Julian, who called 'cut' on a long filmmaking career to turn grazing land into a 4ha vineyard back in 1997, says that many Nebbiolos in Australia don't have the tannins or acids for which the variety is known, "but here they do" – with the reddish soil offering good water retention and the 500m-high altitude helping to retain the acids.
Julian – a proponent of low-intervention winemaking and biodynamic viticulture from the beginning – says fruit flavours and aromas are not a problem in Australia, "what's difficult is acids and tannins. And if you can get those two things talking to each other, you have a good chance of making seriously good wine".
Julian, wife Carolann (
above
) and Adam have been making wine from their single vineyard (about 1.5ha) of Sangiovese outside the beautiful town of Beechworth for more than 20 years. The Castagna La Chiave is frequently named among Australia's best Sangioveses.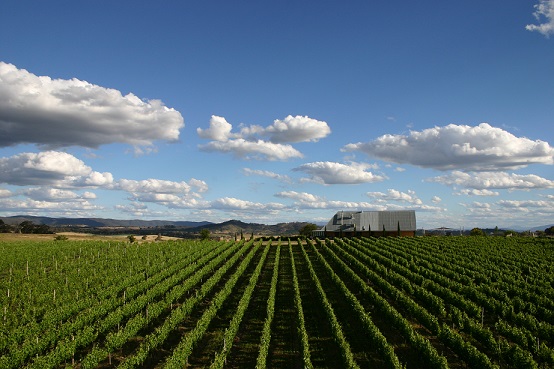 Here's how it's made
Castagna La ChiaveGrape:
Sangiovese
Vines:
100% Brunello clone
Vineyard:
north facing and at an altitude of 500 metres; the soil consists mainly of ancient decomposed granitic loam on a base of clay
Climate:
distinctly continental with hot days and cool nights during the important part of the growing season
Viticulture:
biodynamic
Harvesting:
handpicking at optimal maturity into 12kg boxes to sorting table before 11am
Vinification:
native yeasts – with 7 days' cold soak. Fermentation in an open vat at temperatures up to 30°C. About 20% whole bunch. The wine stays in the fermenter "until it tastes dry", then it's pressed and incubated in oak barrels. Natural malolactic conversion.
Élevage:
22 months in fine-grain French oak (20% new), with only one racking.
Bottled
without fining or filtration.
'We really don't do anything. We just pick good fruit'
Although the wine has the weight and structure of a Brunello, Julian says: "My intention is never to make wines that are copies of other wines but to use what I've learned of those wines to make what our terroir is come alive."
Sangiovese is also used in one of Castagna's signature wines, Un Segreto (60% Shiraz, 40% Sangiovese), and Sauvage – a blend of Syrah, Sangiovese and Viognier made from the barrels that don't quite make it to cru status.
At a tasting in London before lockdown, Julian revealed the secret to his winemaking: "We really don't do anything. We just pick good fruit...
"The secret is just to let the vineyard tell you its story."
The ranges
The wines, made in a winery built of straw bales to lessen its carbon footprint, are divided into three ranges.
The 'Estate and Cru Wines' are made from estate fruit grown biodynamically. They are only released "when vintage smiles upon us". The family sees them as "very much the voice of our vineyard". They include the Genesis Syrah, La Chiave, Un Segreto and Barbarossa.
Adam's Rib range is made from younger vines, sometimes augmented with fruit bought from neighbours. It includes The Red (Nebbiolo, Syrah) and The White (70% Chardonnay, 30% Viognier).
The Growers Selection is made from fruit purchased from local "growers who care". It gives Julian and Adam "the opportunity to play with varieties we like, but don't yet grow". This range includes the Beechworth Rousanne, Harlequin (a skin-contact blend of Chardonnay, Savagin and Riesling with a touch of Roussanne and Viognier), and Quasibianco (Riesling with 30 days on skins).
Regarding this wine, Julian told
Canopy
: "It's made from purchased fruit from the King Valley which is about an hour away from us. I'm not a fan of high-acid Riesling, so skin contact, which is so successfully used in Germany, was, I thought, a possibility for me. Skin contact can give a wine structure and tension, and adds complexity. For me it is still very much a work in progress, but I'm enjoying the challenge."
'Skin contact can give a wine structure and tension'