South African winemaker Pieter Ferreira, promoted to chief operating officer at Graham Beck after 32 years in the cellar, says he is still searching for the perfect bubbles.
Over dinner at the wonderful Wild Flor restaurant in Hove, in southern England, we discuss three of his Cap Classique wines from the Western Cape. In my humble opinion, they all come close to perfection. But Pieter believes there is always room for improvement and searching for the perfect bubbles "just keeps us on our toes".
I suggest he must have come close after 33 years in the same winery.
"Yes, but we haven't had the cigar yet," he replies. "Every year we can find something new that we can introduce."
We are drinking wines from the 2017 vintage. Pieter points out: "Up to three years ago we were harvesting in the middle of the day at 40 degrees but since the last three vintages in Robertson, we only pick at night."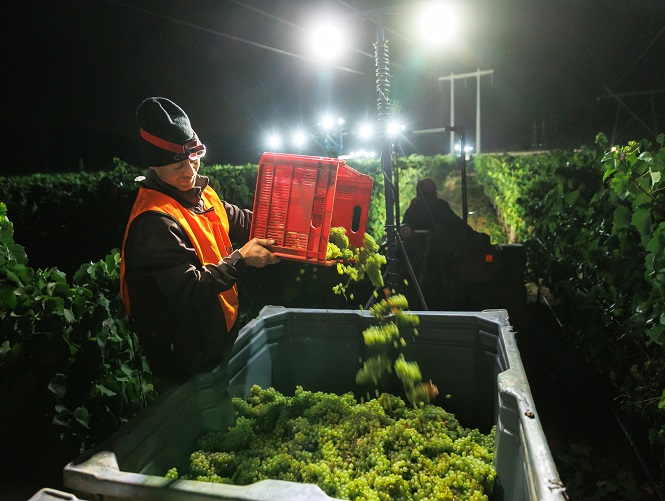 Handpicking at night, he says, is "a massive operation. It's a nine- or ten-hour shift. We're catching the cooling off period up to the coldest period, which is between 6 and 7 in the morning, and before ten o'clock.
"It's definitely around 25% slower – but that's not a bad thing."
The grapes don't need chilling, so there's a saving there and he says the primary aromatics are better preserved.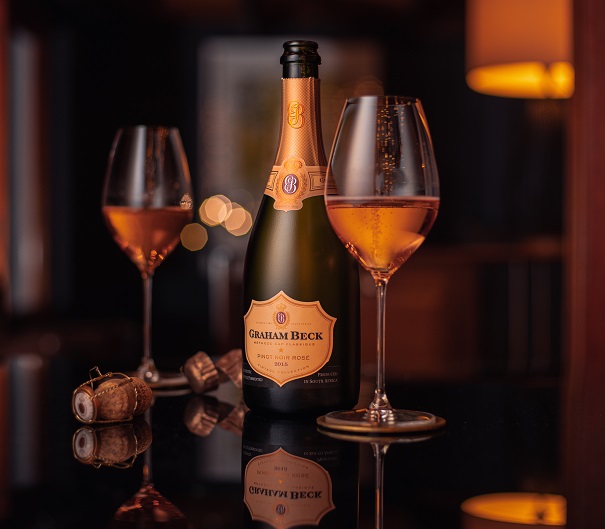 In 2017, they didn't manage to pick all the Chardonnay on the same day because it was too hot. The following day, the last small lot of Chardonnay came into the winery first, followed by several loads of Pinot Noir. The crew asked what to do with the Chardonnay. Pieter told them to put the bunches in the press and top it up with bunches of Pinot Noir. Pieter says he was thinking: "If it doesn't work out, we can have a party wine. But as soon as the juices were together, they were a little bit more perfumed, with a little more savoury aromatics."
The result was a "really special" sparkling rosé, Pieter says. I sip the wine, which is paired with Sussex lamb. It is delicate, delightfully demure, and superbly complex. The salmon-pink hue, ripe berry aromas and flavours, and subtle spiciness come from the Pinot Noir; the creamy complexity is from the Chardonnay.
They have produced their vintage sparkling rosé the same way ever since – as a co-fermentation of 90-95% Pinot Noir and a little Chardonnay.
Pieter tells me they now put eight to nine loads of Pinot Noir grapes into the press and then add one Chardonnay. "Over the years, we've realised that Chardonnay's natural acidity at that point of harvest fixes the colour of Pinot Noir, so there's no skin contact, nothing involved, it's just a natural impression of Pinot Noir."
Pinot Noir Rosé 2017
The handpicked Pinot Noir (89%), from four vineyards in Elgin, Durbanville, Stellenbosch and Robertson, and the handpicked Chardonnay (11%), from Graham Beck's estate in Robertson, were whole-bunch pressed together. 
Only the best quality juice (tête de cuveé) was selected for fermentation in tanks at 14-16°C, using Champagne yeasts.
After fermentation, the base wine was lightly fined and bottled for the secondary fermentation, after which the wine underwent four years of lees contact before disgorging.
"There's no oaking involved in these wines," Pieter comments. We're really expressing beautiful complexity from Pinot Noir in this wine after four years on the lees… You've got brioche notes, you've got yeasty aromatics, you've got texture, you've got complexity."
Alc:
11.87%
TA:
6.5g/L
RS:
6.1g/L
pH:
3.09
Regarding the amount of residual sugar, Pieter says you need much less when you have four years on lees.
"Sugar is lipstick and eyeshadow. I can make a wine look very sexy in the final stages but if you want to express a wine with no sugar you have to have purity, you have to have balance – which comes with that extra year on the lees."
In Graham Beck's 11-strong portfolio of sparkling wines, the Brut Rosé Vintage adds an element of elegance.
'Sugar is lipstick and eyeshadow'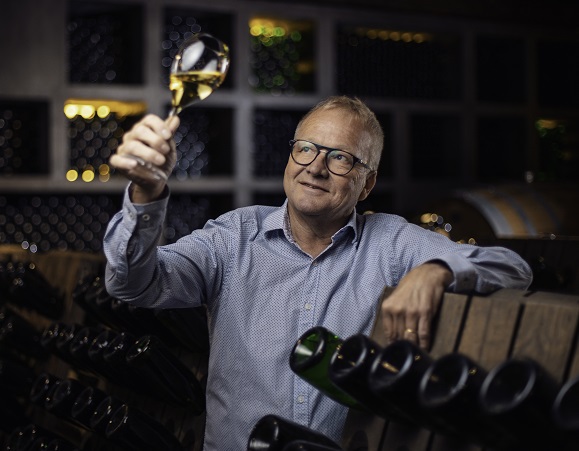 Pieter 'Bubbles' Ferreira (a
bove
) has been at the Beck family estate since the maiden vintage in 1991 and helped to make the winery one of the world's leading producers of premium Cap Classique.
Nearly threequarters of the fruit comes from its own estate, the 3,900ha Robertson-based Madeba farm. "We'd love to be at 100% but it would be quite boring because there's other geographical areas such as Stellenbosch and Darling that provide such diversity in flavour profiles that we use as the colour palate for our consistency and continuity through the years."
The rest of the fruit is sourced from eight other geographical areas in the Cape Winelands: Napier, Bonnievale, Slanghoek, Stellenbosch, Elgin, Durbanville, Darling and Malmesbury.
The only wine in the line-up of sparkling wines that uses 100% estate fruit is the blanc de blancs – which is also Pieter's favourite style of fizz. Graham Beck's most awarded sparkling wine uses hand-selected Chardonnay grapes from the limestone rich vineyards at the Robertson estate (
below
). They are a mixture of clones, including Champagne clones 277 and 548, old Dijon clone 55 and also UC Davis clone 96, while they are planting 308 and 5. "It gives you diversity," Pieter comments.
Yield was between 8-10 ton/ha.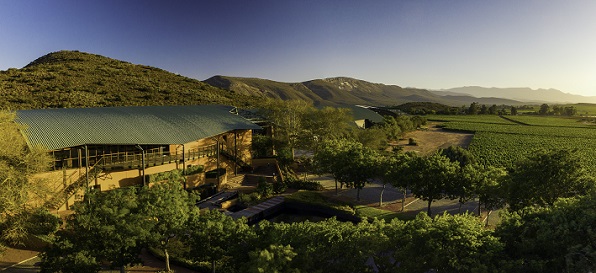 Blanc De Blancs 2017
The Chardonnay was handpicked at 19 to 20°Bx during the third week of January. Grapes were put into lug boxes and then transferred to fruit bins for transport to the cellar, where the whole bunches were tipped into the presses for a gentle and slow pressing cycle to extract the juice as softly as possible.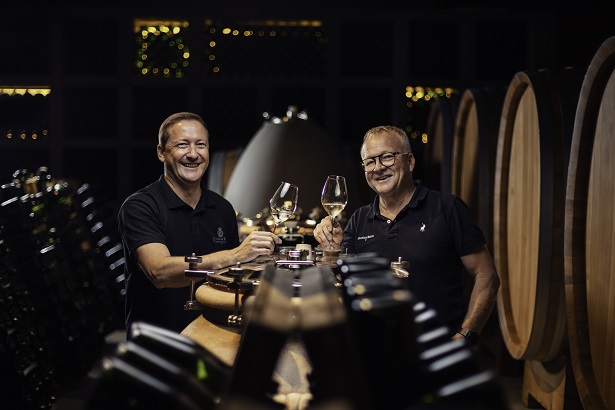 Again, only the tête de cuveé was selected for fermentation with Champagne yeasts. Pieter and his successor in the cellar, Pierre de Klerk (
left
), are experimenting with non-
Saccharomyces
yeasts to start the fermentation, but always add Champagne yeasts to complete the job. Of the cuvee, 50% was fermented in tanks at 14-16°C and 50% in 205L 'pièce champenoise' barrels to ensure richness, an extra dimension of flavour and a creamy texture. Only 7% new barrels are added each year to the balance of older barrels (up to 20 years old) to ensure harmony of the wood integration during fermentation.
The barrels are kept in a room that's cooled to 14°C, so the barrel fermentation is around 19-20°C.
After fermentation, the wine was aged in oak for four to five months and then blended with the best Chardonnay from the tanks. The resulting base wine was then bottled for the second fermentation with yeast contact of at least 48 months before disgorgement.
The wine we are drinking has had four years on lees; whereas the Ultra Brut has five years on lees.
They are also experimenting with amphora and a 400L ceramic tank, which Pieter believes is "great for Chardonnay" as it produces "precise, knife-edge stuff. You always need a bit of purity".
'You always need a bit of purity'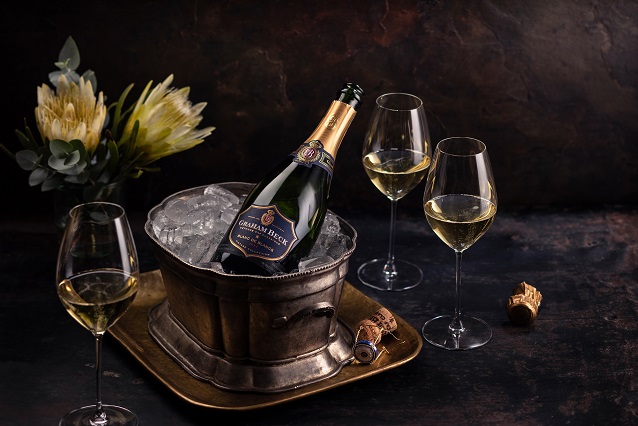 The wine is a bright lime green colour with rich aromas of fresh limes, green apples, pears, and lemon zest. The balanced flavours of citrus, brioche and spice combine with layers of texture and a long finish.
It's a lovely wine. Pieter puts this down to three things: "the limestone soil, the massive diurnal shift between day and night temperatures, and the other one is our secret weapon. It's called sunshine. We have consistency, we never have to skip a vintage or anything like that. Robertson has proven the really true character for Chardonnay out of South Africa."
Alc:
12.17%
TA:
7.5g/L
RS:
6.4g/L
pH:
3.31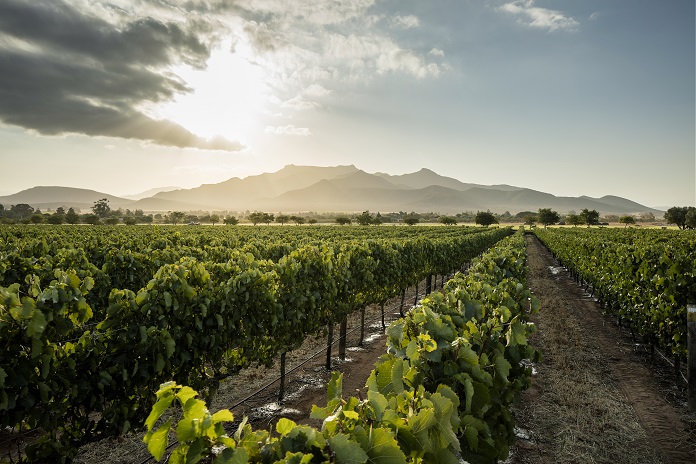 Cuvée Clive 2017
Graham Beck's top wine is Cuvée Clive, named after Graham and Rhona Beck's late son. It's made in limited numbers in the best years and is the closest they can get to the perfect bubbles.
Completely different from year to year, elegance, finesse and complexity are the hallmarks of this prestige cuvée.
Pieter says this is their "wine with no rules". It's been 100% Chardonnay; it's been 94% Pinot Noir. In 2014 it was a barrel-fermented Chardonnay "that was boom".
After most harvests they will have about 160 individual base wines to choose from. Some years Cuvée Clive will be one component; other years it will be a blend of three to nine components. The aim is "to choose the best as an expression of Cuvée Clive".
"If we don't manage it, we simply don't produce it," Pieter says.
From 2005 to 2017 they released seven wines under the Cuvée Clive name. But, from 2017 onwards, they have been able to produce it every year.
The 2017 in my glass is a classic blend of 60% Chardonnay, 40% Pinot Noir. 40% of the blend originated from an exceptional block of Chardonnay in Napier, close to the Cape South Coast, with the remaining 20% of Chardonnay sourced from a single block on the Robertson estate. The Pinot Noir came from Table Mountain sandstone soils in Durbanville.
The Robertson Chardonnay was meticulously handpicked in the cool early hours of the morning in the third week of January, while the Pinot Noir was picked on January 12 and the Napier Chardonnay on February 1.
The individual portions were delivered to the Cap Classique cellar in the early hours of the morning and gently whole-bunched pressed, with only the cuvée fraction (first 400L per ton) used for this elegant, refined wine.
The individual Chardonnay portions underwent their primary fermentation in neutral pièce champenoise barrels, while the Pinot Noir was fermented in a stainless-steel tank at 14-16°C. The three components were blended after three months of primary lees contact and then bottled for secondary fermentation, after which the wine was aged for 50 months.
Pieter says the Chardonnay portions bring rich peach, apricot, apple and citrus aromas, with alluring hints of spice and toasted almonds from the barrels, while the Pinot Noir adds layers of complexity on the palate with fresh cranberry, pomegranate and spicy undertones. The lengthy time on lees has contributed a succulent texture which lingers long after the last sip. It's an exceptional sparkling wine. But still not perfect in Pieter's eyes.
Alc:
12.89%
TA:
7.7g/L
RS:
3.5 g/L
pH:
3.26
The idea behind the range is to take wine lovers on a journey from the Non-Vintage Collection (Brut NV, Bliss Demi Sec NV and Brut Rosé NV), to the Vintage Collection (Blanc de Blancs, Brut Zero and Brut Rosé ) and then to the Prestige Collection (Cuvée Clive).