It's fascinating talking to Jean-Frédéric Hugel about the impact of Covid-19 on the coming harvest in Alsace and of climate change on future wines in northeast France – because the reference points are 1939 and the Middle Ages.
Jean-Frédéric is the 13th generation to represent Famille Hugel, one of the most highly regarded family-owned producers in this unique wine region which, he says, has either been producing Germany's "ripest, biggest, fleshiest wines" or France's "most elegant, delicate wines" during its turbulent history.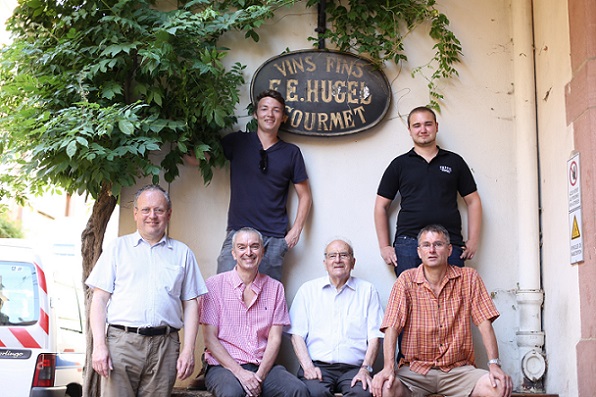 Based in the beautiful village of Riquewihr since 1639, Famille Hugel is now run by 12th-generation Marc Hugel (
front row, far right
) as technical director and CEO, with 13th-generation cousins Marc-Andre (back 
row, left
) in charge of viticulture and oenology, and Jean-Frédéric as sales and export director.
The harvest in Alsace has already begun, for those making Crémant d'Alsace, but Jean-Frédéric expects Famille Hugel's pickers to arrive around September 7 or 8 – five weeks earlier than his grandfather's regular harvest start date. Then, the harvest would last six weeks; now it lasts four to five weeks.
'I'm not sure we have all the angles covered at the moment'
"Are you ready?
"
I wonder.
"I'll be honest with you, I'm not sure we have all the angles covered at the moment," Jean-Frédéric says during a video conference. "It's already a challenge today to make sure everybody's safe – so far we've been quite successful.
"We have a lot on our plate. We are going to need some more transportation to make sure there is less density of people in the trucks going to the vineyards. We are thinking and brainstorming, asking everyone – but it cannot be compulsory in France to test prior to arriving for harvest. So, it's a difficult matter.
"We have enough masks for everyone. We have enough gel for everyone. Then we need to have proper access to water. We can't have the big banquet like we generally have during harvest, so it's a lot of things that we're trying to figure out.
"I think it's going to be a pretty sad harvest on that side because we won't be able to share bottles, we won't be able to share – so that means no wine glasses, everybody brings his own bottle of water. That means we won't be able to have the regular meal, it's going to be more of a quick bite or a bring-your-own. No microwave. It's all these tiny things that you have to think about. When you have to think about them for 35 employees it's already a challenge, when you have to do it for over 100 it becomes a nightmare.
"Other than that, the vineyards look fantastic and the crop is over-reasonable and the weather has been absolutely with us. So, this is a good start, but we need to figure out how to bring the grapes from the vineyard."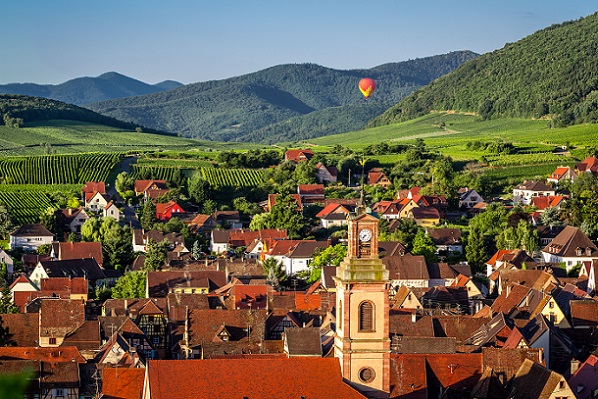 The family has 30ha of vines around Riquewihr (
above
) – half in Grand Cru sites – and purchases grapes from another 80ha, from growers under long-term contract.
Thirty years ago, winemakers in the region expected two exceptional vintages every 10 years, six average or good, and two poor. "This does not happen anymore," according to Jean-Frédéric. Now he expects four to six to be exceptional.
Rain, frost, fruit flies, and birds can still wreck a vintage, Jean-Frédéric says, "but we do not see any vintage that is poor for the reason of not enough ripeness".
Although they are picking earlier than ever, the sugar content in the grapes is much higher – with the Hugels' Pinot Gris and Gewurztraminers often reaching 14-15% of alcohol. "We have to blend in order to safeguard acidity rather than blending to maximise ripeness," he explains.
Global warming is the main reason.
The first grape variety to be snipped from the vines is Pinot Gris. They have just three days to pick 4.5ha – "from the time it's ripe to overripe, otherwise it's too late. So, I can tell you, when we start picking Pinot Gris it's full throttle".
'When we start picking Pinot Gris it's full throttle'
Due to climate change, Famille Hugel has modified its top Pinot Gris, Grossi Laüe, which used to be a blend from the clay-rich Sporen vineyard and the best chalky plot, Pflostig.
"In 2016 we decided to split the two because Sporen was becoming too ripe to even blend to lower the sugar content, and so we decided to make a sweet Sporen (with 30g/L of residual sugar) and a dry Pflostig," Jean-Frédéric states.
Pinot Gris Grossi Laüe is fermented in temperature-controlled barrels (at 18 to 24°C) using native yeasts and aged on fine lees with bâtonnage until the following spring. The wine is then lightly filtered, bottled and stored for eight years to gain complexity before release.
For someone who makes a Pinot Gris in Slovenia, this ageing period seems excessive to me, so I ask Jean-Frédéric if today's riper grapes mean they will be able to reduce the length of ageing?
'I believe the wines will need more ageing'
"I believe the wines will need more ageing in fact," he counters. "The ageability of the wines produced today is expected to be better than in the past, and the higher RS will likely mean more ageing will be necessary to round the wines and digest the sugars."
"How does reduced acidity affect the ageing process?" I enquire.
Jean-Frédéric says: "People often overestimate the role of acidity in the ageing process. Concentration has much more importance than acidity, and concentration increases as you delay the picking. Acidity is often lower because of the increased temperatures. But, in the meantime, we have seen major changes in the viticulture. Since 2010, all the great vineyards of the estate are farmed organically. As a consequence, we have noticed a 20% increase of acidity in Gewurztraminer. Quite unexpected, but a pleasant surprise, I must admit."
"Has climate change affected any other aspects of winemaking?" I ask.
"Yes, we are already changing our approach to reds. Imagine 20 years ago, it was a challenge to find ripe Pinot Noirs in Alsace. Now we are trying to find ways to reduce extraction, limit colour and tannins. Since 2018 we have adopted whole-cluster maceration on Pinots, with convincing results. The wines are lighter in colour and tannins, but not in depth or character. It still isn't the norm at Hugel, but with the increasing number of warm vintages expected in the future, we foresee doing this more often."
He reflects that the wines his ancestors used to make will most likely never be made again. But he also believes that Alsace, where the main problem for 2,000 years has been selecting for maximum ripeness, could be re-entering another golden era – when Alsace wines will once more be recognised as the finest white wines of Europe, "as they used to be from the 11th to the 16th century".
"For now," he says, "we're still starting every vintage as if it was going to be underripe and adapting as time goes with more shading, picking of less leaves, with less trimming than we used to do, etc.
"We still have a lot of margin to play with in order to reduce that crazy, crazy ripeness. We're not at a point where we should do it, but we still have that option."
What about long-term?
'In 30 years, we're going to have a completely different set of grapes'
"In 30 years, we're going to have a completely different set of grapes and we're going to be able to maximise freshness, reduce the production of sweetness, so this is a thing that is being seriously considered and researched," he says.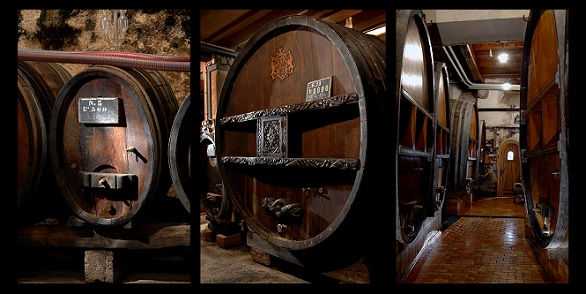 The region is researching yeasts that produce less alcohol, rootstocks that temper sugar levels, and vine training techniques with a view to extending the ripening period.
But he likes the way things are currently. "I'd rather have an overripe vintage that I have to pick a little earlier than an underripe vintage where you just go, 'OK, too bad, next year'."
He reminds me that before the Thirty Years War (1618-1648), when Alsace was the largest and most renowned wine-producing region in the Germanic Holy Roman Empire, there were more red grapes than white and that at the end of the First World War Alsace's 'noble varieties' (Pinot Blanc, Pinot Gris, Pinot Noir, Riesling, Gewurztraminer and Muscat) represented less than 10% of the total vineyard area.
Jean-Frédéric's ancestors pioneered late-harvest wines in Alsace, Vendange Tardive and Sélection de Grains Nobles, and his namesake Jean 'Johnny' Frédéric Hugel (1924-2009) helped draft the Appellation d'origine contrôlée guidelines for the Alsace AOC and Alsace Grand Cru AOCs, laying the foundations for another revival in the region.
Famille Hugel survived the French Revolution, the Napoleonic Wars, the Franco-Prussian War of 1870, and two world wars, so I'm sure they will take Covid-19 and global warming in their stride.
The family knows no vintage could be as bad as the one in 1939.
"1939 was bad for every possible reason, including wine," Jean-Frédéric says. The grapes' potential alcohol only reached 7% by mid-November. "They were the best grapes – literally green," he clarifies.
With the German army on the march and Alsatians advised to abandon their homes, the Hugel family "chaptalized the heck out of the vintage," according to Jean-Frédéric. "My great-uncle always said that the only good thing that happened during World War II was that the Germans drank all of the 1939 vintage."
Hugel's best wines in the International Wine Challenge.